Fondazione Prada presents the exhibition "K", by visual artist Martin Kippenberger, film director Orson Welles, and electronic music band Tangerine Dream in its Milan venue.
This project, featuring Martin Kippenberger's legendary artwork The Happy End of Franz Kafka's "Amerika" accompanied by Orson Welles' iconic film The Trial and Tangerine Dream's late electronic album The Castle, is conceived by Udo Kittelmann as a coexisting trilogy and will be on see from 21 February to 27 July 2020.
At the heart of "K" lies Martin Kippenberger's installation The Happy End of Franz Kafka's "Amerika" (1994), on view at the ground floor of Podium and never exhibited in Italy before. Based on the novel America published in 1927, the work re-imagines a section of the book when the protagonist Karl Rossmann, having travelled across America, applies for a job at the "biggest theatre in the world". German artist Martin Kippenberger (1953-1997) explored the fictional utopia of universal employment, adapting Kafka's idea of communal job interviews into an extensive artwork. The second element of the trilogy is Orson Welles' filmThe Trial (1962) based on Kafka's book of the same title and to be screened at Fondazione Prada's Cinema. Orson Welles (1915-1985) wrote and realized a dream-logic black comedy drama movie, considered by the critics as one of his masterpieces. "K" is completed by Tangerine Dream's album Franz Kafka The Castle (2013) to be played on a loop in the Cisterna. This enclosed exhibition space will be transformed in an evocative and comfortable environment, where visitors can hang out and listen to the music by the German electronic music band founded by Edgar Froese in 1967. – from Fondazuibe Prada
Visitors will be invited to experience three possible creative encounters with Kafka's oeuvre through a simultaneous presentation of art, cinema and music works.
All these parables really set out to say merely that the incomprehensible is incomprehensible, and we know that already. – Kafka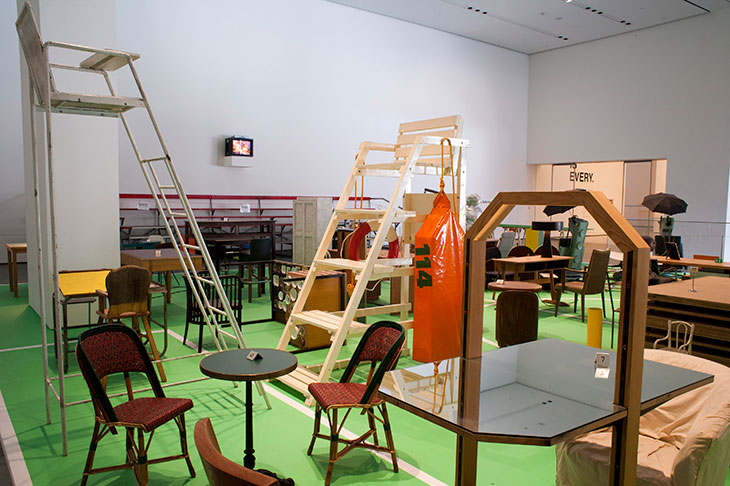 "K" is inspired by three uncompleted and seminal novels by Franz Kafka (1883-1924) Amerika (America), Der Prozess (The Trial), and Das Schloss (The Castle) posthumously published from 1925 to 1927.