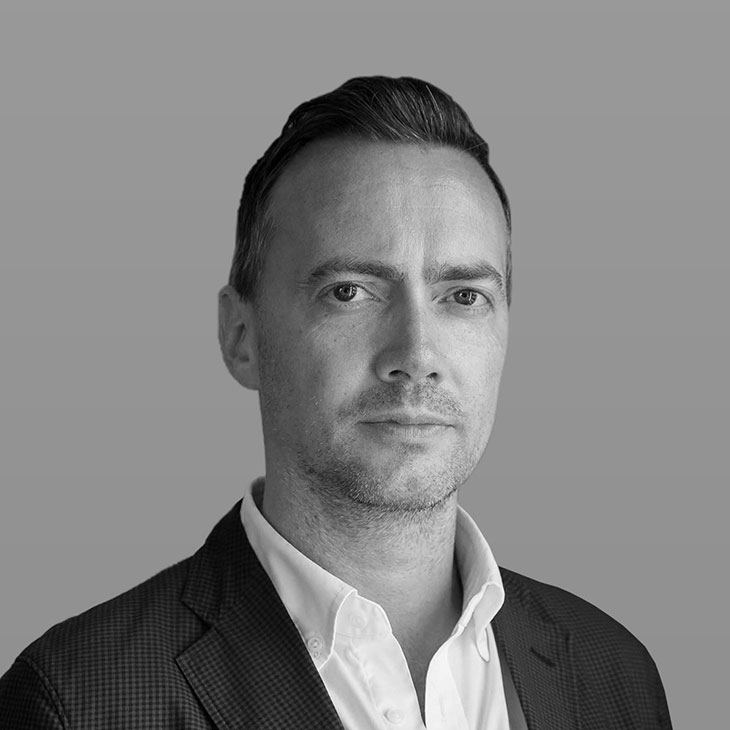 LuxDeco's chief creative officer Jon Sharpe on why these 8 leading interior designers exemplify modern interior design.
Modern interior design reflects contemporary art, but there's no single definition of modern interior design that truly satisfies. And while clean lines, muted colours and minimalism certainly can be part of this design movement, not every leading designer eschews the ornate or the opulent.
There are no rules to modern interior design, and I particularly enjoy designers that incorporate something extra. Whether playful, reactive and provocative or soothing, classic and light, interior design should evoke an emotional response. I'm always on the look out for designers to champion for their inspirational interiors, so here are some of my favourites.
8 leading modern interior designers to fall in love with:
1. India Mahdavi
A modern design genius, India Mahdavi is probably best known for the candyfloss pink interiors at sketch London. The French interior designer is all about colour and manages to turn fairy-tale themes into trend-forming spaces, while maintaining a sophisticated finish.
India has collaborated with all kinds of high-end luxe brands, including designing wallpaper for De Gourney, table and tray for Louis Vuitton, and fabrics for Pierre Frey. She also has a long-standing partnership with Laduree and Valentino. Recent commissions include reconstructing the women's fashion floor at KaDeWe in Berlin where she referenced Bauhaus geometric shapes in her patterned interior.
2. MR Architecture + Décor
Based in New York, MR Architecture + Décor works with the best of the best – think Christion Dior and Lanvin. The studio boasts a team of modernist designers able to turn a creative and critical eye to projects ranging from residential interior design to architecture and commercial decoration. Whatever the remit, their focus is always on proportions and light, with a bespoke design for every client, no matter how challenging. The studio's residential work always stands out, thanks to the mix of fine art, unique and bold accessories and exceptionally pitched lighting.
3. Deborah Oppenheimer
For exceptional modern interior design, look no further than South African designer Deborah Oppenheimer. Her work clearly demonstrates that innate understanding of materials necessary for a truly great designer. Deborah particularly excels at communicating a specific mood through symmetry and balanced light. While distinctly modern, her designs are also completely timeless.
Having lived in Zurich and Switzerland, Deborah launched as an interior designer from Hong Kong in 1993. Today, she continues to go from strength to strength, and always challenges expectations through her designs. You can see her luxury touches in commercial and residential spaces all around the world, with Hong Kong's International Finance Centre (IFC) one of the most famous examples of the former.
4. Marmol Radziner
First and foremost architects, Marmol Radziner also turn out fantastic modern interior designs. Launched by Leo Marmol and Ron Radziner in 1989, the firm is today a full-service designer creating award-winning concepts in the US and New Zealand. With a mission to "design homes to absorb stories of a hundred years", the firm excels in bespoke client centred design using pared back, classic materials.
5. Jeremiah Brent
A truly exciting name in the world of interior design, Brent landed his big break as assistant to A-lister stylist Rachel Zoe in the early 2010s. Despite no formal training, his natural design flair has allowed him to launch a successful interior design studio. His work revolutionising Zoe's interiors didn't harm his portfolio either. His firm works on all kinds of projects, ranging from luxury residential to quirky clubrooms. No matter how niche, Brent's never descends into clumsy kitsch. Rather it always maintains a contemporary freshness that gives a timeless consistency.
6. Marcel Wanders
Maverick interior and product designer Marcel Wanders has been injecting his unique flavour into his designs for more than 30 years. For Wanders, design is not just about functionality but must incorporate passion, romance and love.
After opening his Amsterdam-based studio in 1995, Wanders caught the eye of the luxury design world with his Knotted Chair design just 12 months later. A collector's item ever since, the chair encapsulates his conflicted designs, which use surprising materials and tactile feels with industrial high-tech processes. The chair earned a place in the permanent collections at the V&A Museum in London, New York's Museum of Modern Art (MoMA) and Amsterdam's Stedelijk Museum.
After co-founding designer label Moooi in 2001, Wanders also heads up around 50 communications and design specialists from his Amsterdam studio. His avant-garde vision stands out among modernist designers as he remains unafraid of flamboyance, ornate patterns and overstated sculptural additions. He's always unpredictable and his collaborations with some of the biggest brands in the world (MAC, Puma and Swarovski to name just a few) consistently showcase one of the biggest personalities in the game.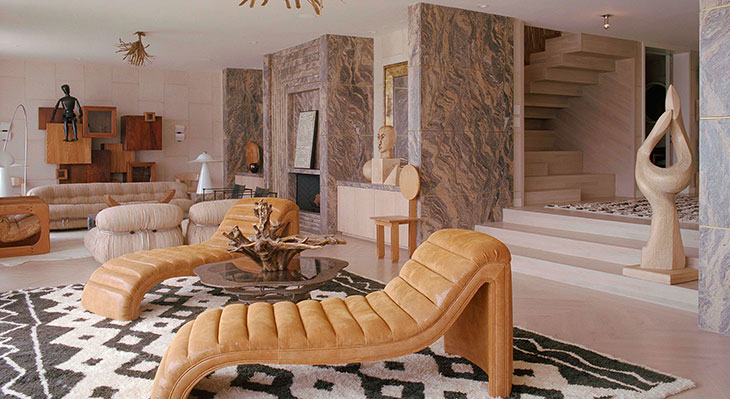 7. Kelly Wearstler
Expect fearless interiors from American interior designer Kelly Wearstler. She's one of the most popular and in demand celeb designers and is renowned for her maximalist sensibilities. Her distinctive interiors intuitively blend vintage and contemporary, organic and architectural and instinctive and graphic to create multi-layered sensory experiences.
Hallmarks of Kelly's iconic finished projects include the unexpected shapes, fascinating textures and surprising colours found in her spaces at the Four Seasons, Anguilla, the Viceroy Hotels in Miami and Santa Monica and the Bergdorf Goodman in New York. Away from interiors, Kelly has also spearheaded her own distinctive lifestyle brand that encompasses everything from jewellery and décor to lighting and wallpaper.
8. Joseph Dirand
French interior designer and architect Joseph Dirand reinvents minimalism with his coolly sophisticated designs. Inspired by the minimalism of John Parson, the precious of Carlo Scarpa and the vision of Eero Saarinen, Dirand offers a uniquely styled combination of architecture and environment.
He adapts his core minimalism to the client's needs, and every project retains a quintessentially French touch. Based in Paris, he is one of the most influential interior designers around. His low key-luxe designs can be seen restaurants like Le Jardinier and Shun in uptown New York. Elegance, poise, polished… these are words frequently used to describe his interiors. He also manages to incorporate nostalgic nods to art Deco and the past in a way that doesn't seem overwrought or too obvious. Expect minimal colours, maximised light and perfectly spaced furniture, more than likely surrounded by marble.
RELATED: Interview With ASYMPTOTE Architecture Founder HANI RASHID