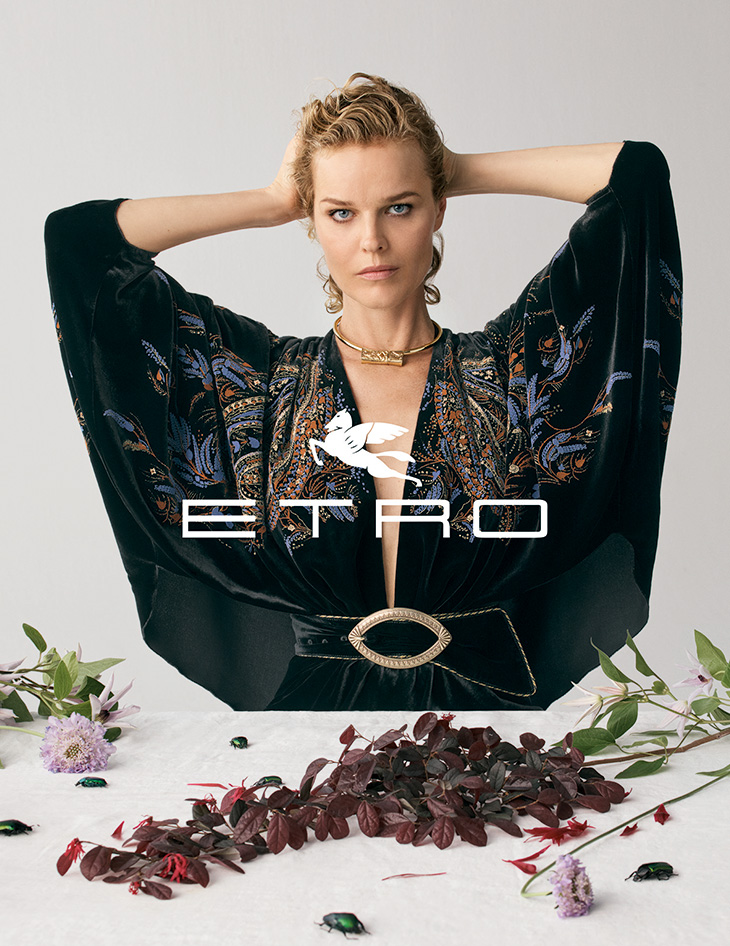 ETRO has released its fall winter 2020.21 ad campaign captured by Fashion Photographer Dario Catellani as a beautiful node to nature itself. Gimmo Etro, the founder of ETRO, is joined by top models Mariacarla Boscono, Fernando Cabral, Maty Fall Diba, Eva Herzigova, Felice Nova Noordhoff, Parker Van Noord, actor David Kammenos as well as the photographer's daughter Olivia Catellani.
On this occasion Etro fashion house is putting forward their ongoing partnership with WWF Italia. Etro is supporting the organization's work on the preservation of the rapidly extinct wolves, who are considered a true symbol of the country. The 'We are not alone' message quickly moves to the 'We Are All One' statement with the images featuring the models in a fairytale-like setting alongside baby ducks, swans, frogs, snails and peacocks.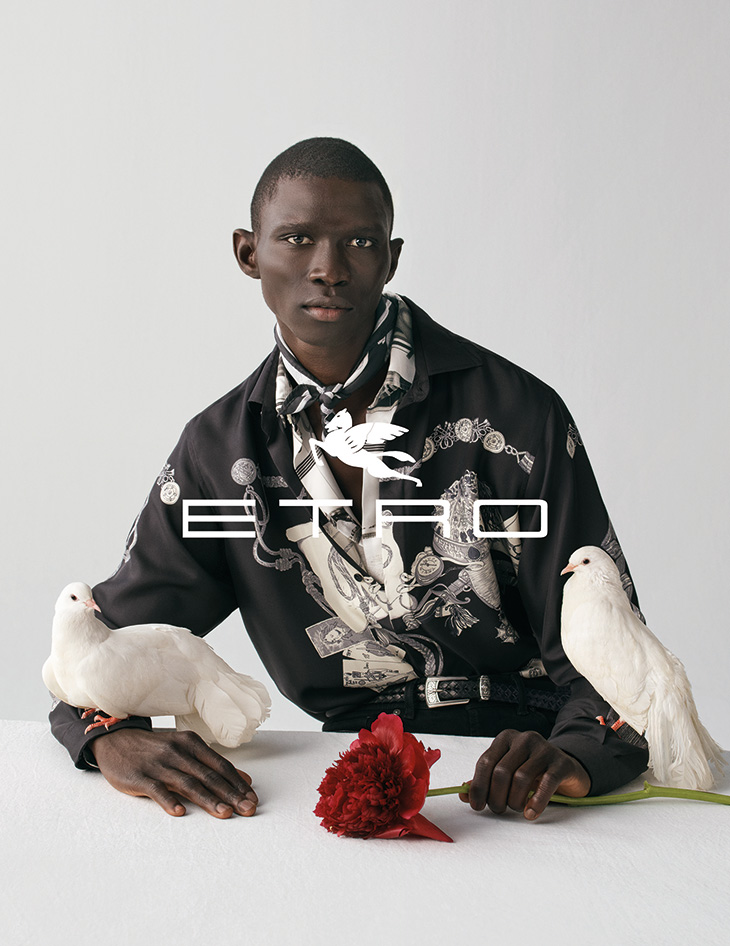 Etro team reflects on the ongoing concern of sustainability in fashion by proposing their timeless pieces – featuring archival garments: "The vision of a concrete and sustainable commitment is also reflected in the choice of featuring in the campaign's shots, together with the Fall Winter 2020/21 collection, some items and accessories from the brand's archives. For ETRO quality does not wear out, is never fast or out of style: just like authentic beauty it withstands time, to be handed down."
The sustainability of vintage fashion is an integral part of a consumer's far more conscious relation with fashion industry, thus an investment piece lasting you for seasons to come is a strong answer. That said top brands such as Etro are pivotal in this equation, in addition to emphasising the timeless of their garments our journey towards sustainable fashion is not an easy task.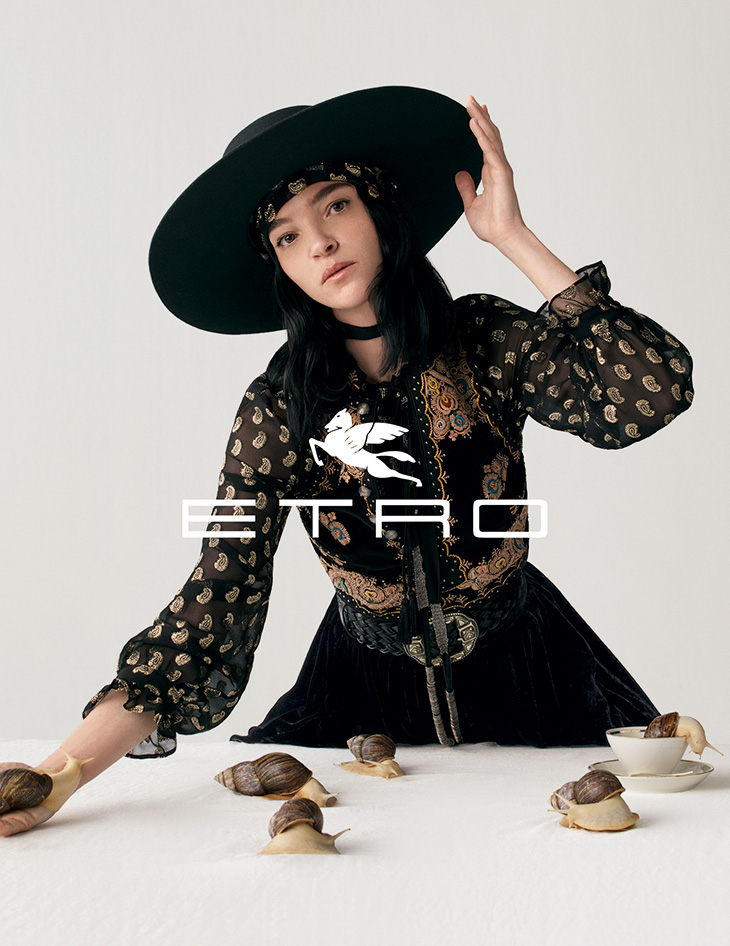 A partnership such as the one with WWF Italia and Etro is no doubt a great example of fashion investing resources in the well being of our planet. Kean and Veronica Etro also shared: "Today, more than ever, we are aware of how much the Earth is a unique and precious Mother for us all, to be preserved and protected. In the past months, we observed, from our homes, the rebirth of nature and the free expression of many animals. With this campaign, we wanted to reproduce in images a harmonious balance with the animal kingdom, remembering that as human beings we are part of it as well."
Discover more of the campaign shot in Milano this June by Dario Catellani: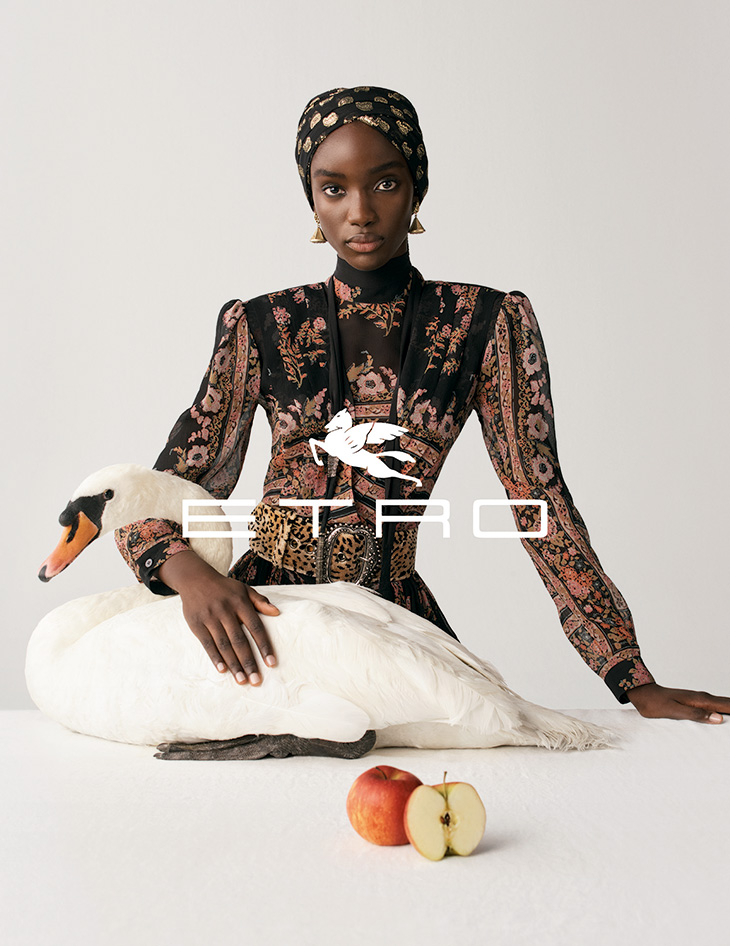 Photographer: Dario Catellani
Stylist: Sissy Vian
Talents: Gimmo Etro, Mariacarla Boscono, Fernando Cabral, Olivia Catellani, Maty Fall
Diba, Eva Herzigova, David Kammenos, Felice Nova Noordhoff, Parker Van Noord
Creative Director: Macs Iotti
Casting Director: Piegiorgio Del Moro
Make Up Artist: Luciano Chiarello
Hair Stylist: Pierpaolo Lai