Stylist Francesco Tizzano got in touch with 10 models from different parts of the world to show us their feelings and thoughts while in quarantine.
The two videos are an experience of digital closeness at the time of social distancing. But above all an authentic testimony of the lives of models within the walls of their houses during the quarantine.
One video involves all 10 models and cheerful aspects of this experience. The other video features three models talking freely about these moments.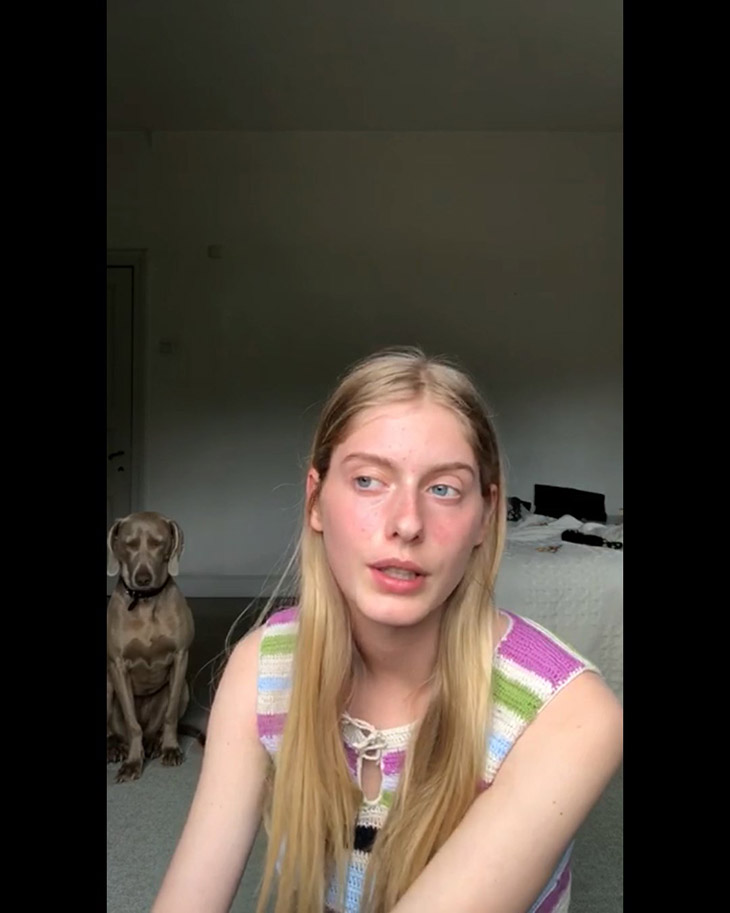 The idea of this project was born during the long period of lockdowm caused by the COVID-19 paralysis, in which, as a stylist stopped for months, I felt the need to document this singular historical moment.
I got in touch with some models, those who have always given the opportunity to turn the invisible into the visible for us professionals, involving them in such initiative.
The project consists of a series of video calls made via WhatsApp , during which I had the opportunity to get in direct contact with 10 models in 10 different parts of the world, and to chat with them about their confinement at home, their mood, and their specific positioning in the global COVID issue.
Consequently, the project unfolded in a completely spontaneous and natural way: we explored their personal wardrobes together to create, through their most representative pieces, singular and different looks describing their different, transients moods. Beyond this first moment, we managed together to concretize and show their personality and essence in a crystalline and rough way, a fundamental trait too often eclipsed within an aesthetic dimension where, most of the time, the character exceeds the simple human being.
Through this essential 'relational' work, I wanted to document their, and as a mirroring play, my quarantine in order to capture an intimate, sincere testimony showing how the models were experiencing this confinement, giving them the opportunity to express themselves in total freedom, especially through the platform and the space of their wardrobes.
Since the beginning, I received great support from my friend director Johnny Dama, who was immediately interested in the human potentiality of the work. Johnny was fundamental for the realization of the videos, which he edited step by step, following almost daily the development of the project. Another great support came from the Paris casting director and friend Remi Felipe, who backed me non-stop during the almost 4 weeks of work and who oversaw the casting of 5 girls. For the remaining 5 models, I went through a sort of branched mapping through my memories, involving several girls with whom I worked or whom I simply had the fortune to meet.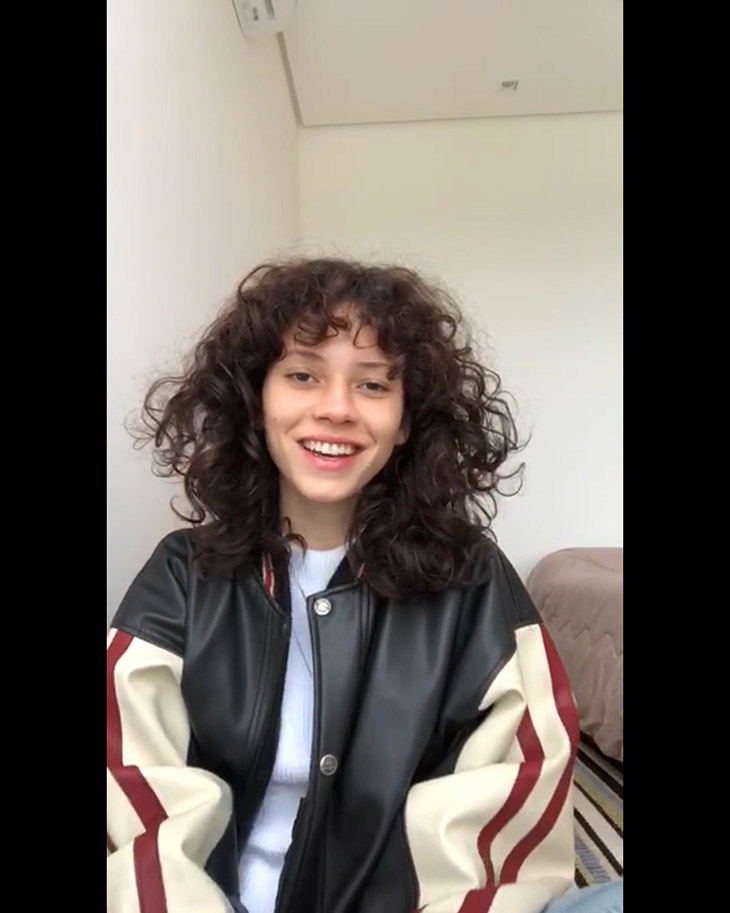 The unexpected and beautiful part of this little travel, beyond touching different parts of the world trying to reconcile time zones and commitments, was "capturing" a snapshot of this historical moment, portraying it in its emotional and visual complexity through my sincere and poetically fragmented perspective, which was completed by the experimental and emotional space of the models. This emotional and unexpected space, where the girls were able to react in different ways, trying and exposing their unique moods and atmospheres, was the basis of this architecture, and the aspect of satisfying this fluid and real experimentation without constraints was the essential poetic turning point of this project.
Saturday April 18th. It all starts with Diana from Poland answering me from her room. In the beginning, the connection is poor and soon I understood that it would have been a rather recurrent nuisance. Diana is a very young girl, professional to the limits of truth, that I met on a set in Naples in 2019. She was the first model confirmed and in fact she was immediately enthusiastic about the project, at the same time amused and intimidated. She wasn't at all sure of her teen wardrobe but her super funny t-shirts immediately won me over. We choose together a white tee by Rick and Morty, one of ours favorite cartoons, which, among other things, I saw worn in one of the posts of another model, Calis, who I will present later on (I live for these providential signs). The rest of the outfit, from pants to hat, arrived in a rather intuitive way, while Diana told me that she had been at home for twenty days and that the issue of quarantine had almost gone into the background.
Isadora from Brazil is a very sweet and smart girl. She walked the catwalks of Vivienne Westwood, Ben Taverniti and posed for Vestiare Collective. She was lovely from the beginning: she "welcomed" me into her home by taking me on a small tour, while drinking a juice directly from the coconut with a straw, which ended towards the end of the call in the pool, her favorite corner of the house. Everything was really natural and fluid with her, as if I had known her for so long that she immediately told me how the Brazilian government was managing the crisis. Isadora is very grateful for this time spent with her family, she considers it a great opportunity of relearning how to value the small important things of life, considered profound and essential. She spends a lot of time watching movies and listening to her favorite music, going through this opportunity with depth and gifting me a beautiful gesture, that of showing me the photo of her parents' wedding that she had never seen before. Rummaging through her things was like a flash, we understood each other immediately. The highlight was when I fell in love with her bi-colored bomber jacket with an American flag printed on the back. After this, we just choose one of her favorite jeans, worn with a white top and with her converse all star that she usually uses for castings. Her curly hair is the frame for an 80s look that reminds me of a Stranger Things character. I love Isadora and we say goodbye with the promise to work together soon.
Jada from Los Angeles, who I met in the same Californian city last year, during a commercial I was involved in. She quickly understood what the project was about and gladly accepted to collaborate. I had to wait until 1 am of an Italian night, to talk to her but it was worth it. The call was quite calm, since the lockdown in California was really "soft" and she had been home for just 10 days. We didn't discuss the situation too much because the quarantine issue was almost inapplicable in relation to the stronger Italian lockdown measures, and rather we directly focused on her basic but contemporary wardrobe. We were undecided between two dresses, one long and one short, and finally she preferred the black dress with long white polka dots combined with white sandals because after all she wanted to feel sexy and beautiful in what seemed like a slow summer afternoon, while accompanied by a glass of white wine.
Martina from Montenegro is first of all a friend and it was really nice to be able to involve her despite we have never worked together yet. Usually she lives in Rome, but due to the quarantine she had to return to her mother's house in Montenegro. She had no clothes with her as she had to flee quickly and so we rummaged in her mother's wardrobe. After a first attempt, we pulled out a brown suede trench coat that hit both of us, pairing it with a flared jeans with a white shirt and her beloved scruffy vans, thus displaying something she would have seriously worn. Martina repeats that she is aware of the terrible situation but she is bored and would like to return to Rome to her friends but in the meantime she entertains herself with video chats, TV series, and a lot of music with her home laptop because she forgot her beloved macbook in the eternal city.
Carla is in Milan, I have never met her but we had exchanged few messages on instagram in view of a job that we should have done together, just before the start of the lockdown. Carla is a model based in Milan, she shot for Heron Preston and walked several Milanese catwalks. To tell the truth, she was not a big talker but rather focused on the project, in such a way that she almost immediately wore a rope-colored dress bought the day before online. She was obsessed with that dress, I could not and did not want to upset her and she wore it. Her shoes were almost all sneakers, but we wanted something that would break the "seriousness" of that dress so after choosing an oversized blazer from her mother she wore her favorite boots and voilà, she was ready to pose in front of the lens.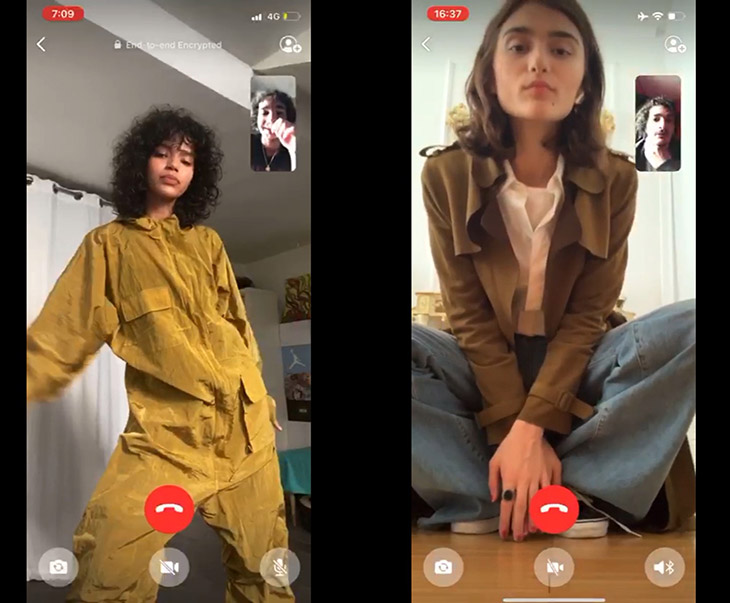 Ania from Switzerland is formidable, I had known her since a job we did together many years ago, before she became the extraordinary model she is today. She featured the campaigns of Fila SS20, Dolce & Gabbana, Nina Ricci and she catwalked for Balmain, Prada, Chanel, Alberta Ferretti, Etro, Hermes and several times for Dolce & Gabbana. As soon as she answered the video call she blinded me with that wonderful blue hair and her contagious smile. She had already unpacked her suitcase and put her wardrobe on the bed, and with the only premise of showing an explosion of colors we started to work. We put on a layered look with some of her favorite pieces that excited her so much, she said she wanted to go around during fashion week dressed like that. It was a hurricane of emotions as she was happy to share this experience. Ania usually lives in Paris but wanted to return to Sicily, where her mother lives, but then she stayed with her partner in Switzerland, at his parents' home, cheerfully confessing that there everyone stared at her for her "bizarre" looks and for her beautiful blue hair, but I love her!
Lis is in Holland, at her countryside home, in company of her family and her beloved dog, who never leaves her alone. She featured in a Off-White photoshooting, walked for Vetements, Ami Paris and Rokh among the most relevant. Lis is serious and concise. She had already worn something that represented her when I called her. She had put on a black skinny jeans and a white shirt but I asked her to show me something she was seriously attached to and she showed me a rainbow top, a gift from her grandmother. So we paired such top with her favorite black and white biker; then she went down to the basement and took a pair of moccasins, (I literally have a fetish for this item), all running smoothly and precisely, I would say impeccably. Then I asked her if she had some denim pieces, because her light complexion and very blonde hair made me think of the blue of the jeans, and she showed me a wonderful total look that she wore with pleasure. She was serious and brief because she wanted to talk about this period, how much time she was dedicating to herself and her mother, being far from the set. She wanted to tell me that nature was finally recovering its spaces and that experiencing this miracle was influencing her a lot. Moreover, she also highlighted how significant our impact on earth is and how necessary it is to reevaluate our needs. Finally she greeted me saying "I hope this is an alarm for a better and healthier world". In short, this is Lis.
"Don't forget to wash your hands, i catch you out" is the slogan of Calista, or Calis for friends. Calis from Paris is wonderful, she shot for Maison Kitsunè, Givenchy Beauty, Balenciaga and Asos. In the beginning we couldn't understand each other well, the project was only partially clear to her. She was a bit mechanical, almost demonstrative; then I told her to relax, that the project could be a spontaneous and fun exchange and then I discovered her unstoppable energy. A sunny and beautiful girl. The conversation with her was a crescendo, she has a very strong sense of style, that she channeled in wearing a comfortable jeans and a leather top, simple but cool! I asked her to wear her favorite piece, and without hesitations she took an oversized one-piece suit with a central zip and hood that she immediately styled with high boots. She added that this is her most versatile piece, which she often wears. She was very excited and showed me her dog amused, then she introduced me to her boyfriend. After this, she was wearing an oversized black denim sleeveless jacket with colored denim patches, a shorts and a pair of tall camperos, while she was telling me about her artworks and the her passion for painting that kept her busy most of the time. Bodies Freedom is his favorite painting. The COVID time, she explains, is not a prison for her, but rather a gift to dedicate to herself: she watches many documentaries, cooks, listens to music and dances, she dances a lot because she abounds of energy. She tells me that in this period she has found herself to be very productive: in fact she does multiple activities at home, even if sometimes she is bored but only for a moment, a very short moment because the lockdown has not affected her slightly (haha).
Nyagua replies from Kenya, I already knew her, I had seen her on the catwalk of the Balenciaga FW20. She is unbelievable . When I see her, she almost doesn't fit the screen of my smartphone, she has very long legs, she is sweet and it gives me huge smiles. She had already worn something that she happily wanted to show me: a black skinny trousers, a leopard-print top and a leopard-print fishing hat, a really nice and studied match. I liked this proposal, she looked amazingly, but I wanted to deepen and understand what else she instinctively liked. She changed in a flash, white micro top, light jeans with two prints of Tupac and Biggie on the legs, red Air Jordan and another fisherman's hat this time black but that covers her beautiful braided hair :(. She then ran to her room and took 5 bags, she explained how she would match them and on which occasions she would wear them. I really liked that she wanted to share all this with me, she is extraordinarily at ease. She had also been in lockdown for a long time and she was proven. It was visible, and what she was missing most was definitely traveling, understandable for such a young model, but chatting she calmed down, aware that this situation will have an end and will resume her normal life rhythm.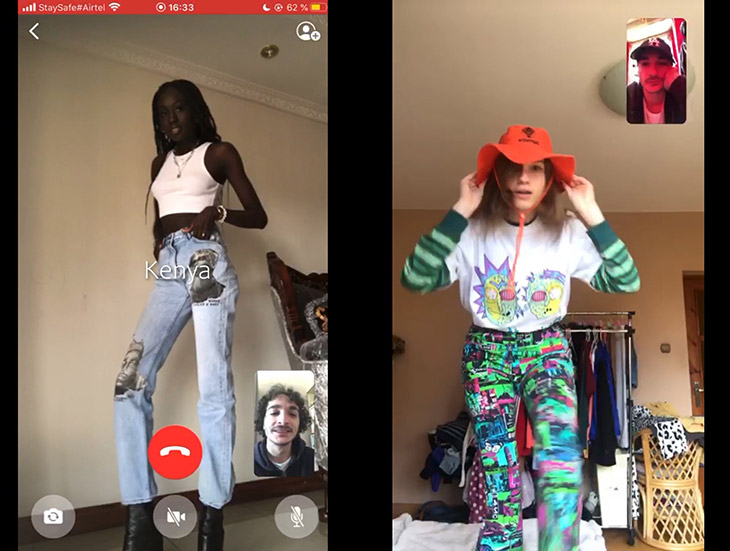 Chenlu is in China and it is my last appointment, and for this reason it seems to be a little complicated. I planned it with the casting director Remi a couple of times before meeting virtually, the time zone was a boring aspect of the project, then one afternoon unexpectedly here she is calling me. Chenlu did not speak very fluent English but has understood the project and married it in full even if unfortunately we were unable to chat about the quarantine, her testimony would have been interesting. It matters little, the plan was to get in touch during confinement, to express yourself despite the quarantine and she dis it in a remarkable way. I did not know much about her and her career but I saw her on the Louis Vuitton fw20 show, a world exclusive show, a very important step that doesn't no need explanations. When she called me she was wearing a light skinny, almost knee high boots and a leopard shirt. I appreciated the initiative and I understood that we had to be quick and concrete because Chenlu was shy and the conversation was not easy. I asked her if she had something to put on the shirt to balance the look. She disconnected the call, she called me back wearing a leather blazer, and suddenly she revealed herself as a dream: perfect, silent, determined, she walked undisturbed in her imperturbable room and I could not help but admire her in silence and thanked her infinitely. It was Monday 11 May and I had just finished my project.
Project and Style, Written by Francesco Tizzano – @francescotizzano
Video Edit Johnny Dama – @johnnydama
Producer Imola Fedor – @fedorim
Casting Direction Remi Felipe – @remifelipecast
Models Lis Rutten, Isadora Ribeiro, Chenlu Xu, Calista, Nyagua, Ania Chiz, Carla, Diana Skowron, Martina, Jada Selexman