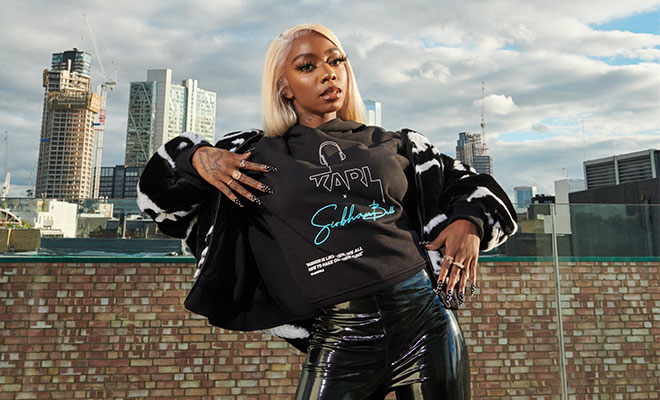 For their latest capsule collection KARL X MUSIC, KARL LAGERFELD collaborated with three DJs that edited their favourite pieces from the labels' Autumn/ Winter 2020/21 collection. Being significant for this fresh line is a creative play with logos and pictures. In addition to this, individual playlists have been added that were created especially for KARL. This range takes its inspiration from Karl Lagerfeld's own words:
Fashion is like music: there are so many notes…you need to play around with them. We all have to make our own tune.
– Karl Lagerfeld
In the following, we would like to introduce you the three DJs. Read more after the jump:
Siobhan Bell
"My favorite thing about the KARL LAGERFELD brand is that it manages to stay true to the true essence of who Karl was. When you wear his clothing, you feel like you're wearing a part of him." Siobhan Bell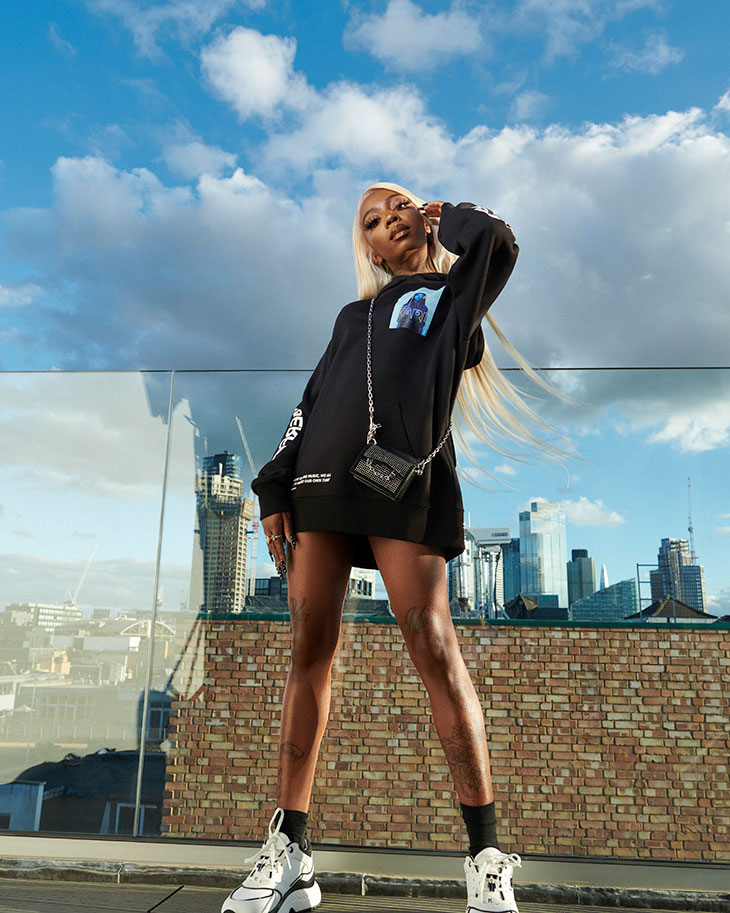 Siobhan Bell is a London-born and raised DJ, Producer and influential tastemaker. Her tracks combine R&B influences from the '90s, Garage, Grime and Jersey Club. She started working in the music scene as an intern at Atlantic Records in the UK. After that she started DJing in the East London music scene. Her music selection quickly gained respect and got popular. Nowadays she commands solo Boiler Room sets, has held residence at NTS Radio and is joining many big names for line-ups for major festivals. At the moment she is working on her debut music, which will be released next year.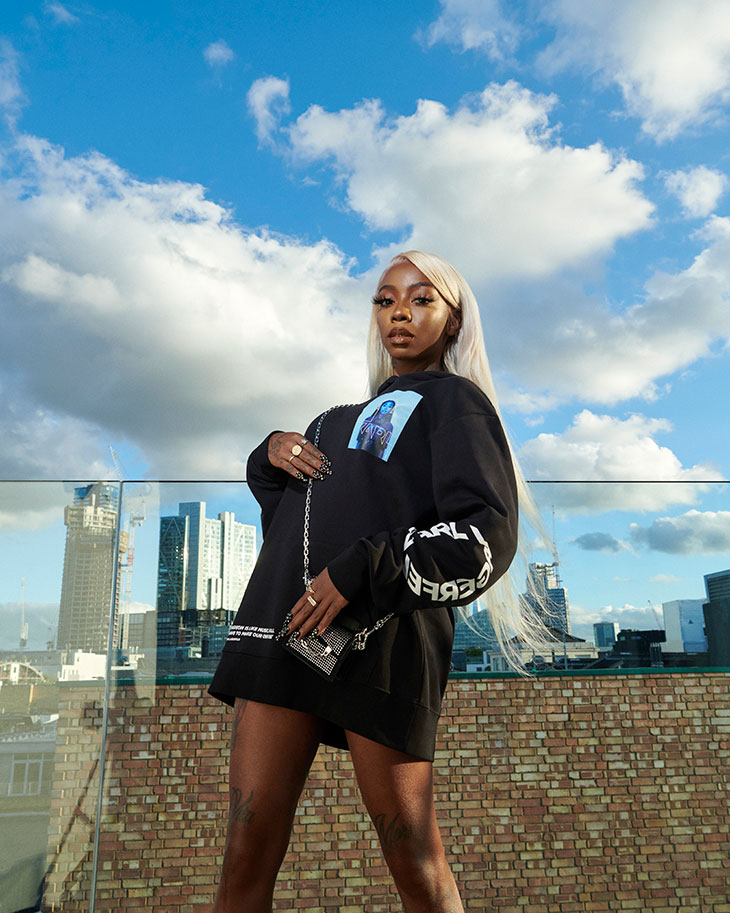 Her streetstyle looks contain an Oversize-Hoodie, a Cropped-Hoodie, leggings made of imitation leather, a reversible bomber jacket and a Nano handbag with a sparkling finish. Regarding her collaboration with KARL LAGERFELD, she stated: "Karl was a visionary and it feels like I've joined a family."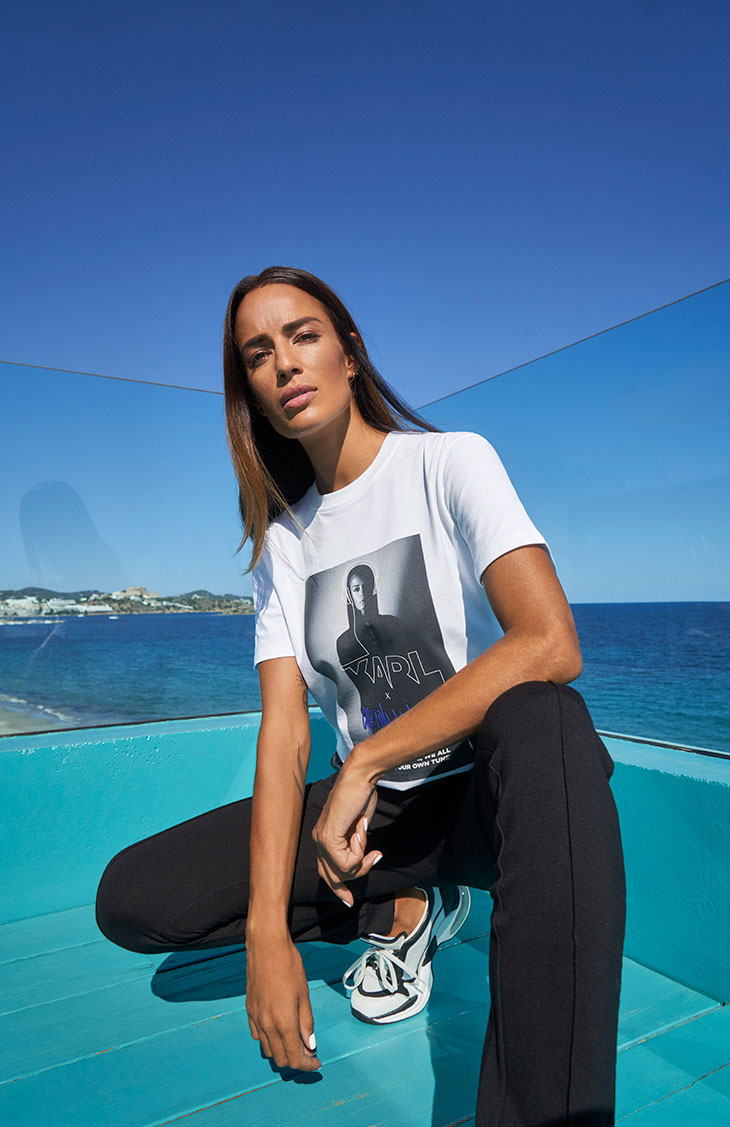 Chelina Manuhutu
"I love to be a part of this team! It's bringing together different artists who share a passion for fashion and music. Karl was someone who spoke his opinion in fashion, like DJs and producers do with their music. For me, Karl was always so inspiring as a designer —bringing in new things and points of view that people had never thought about. He was always daring to do things differently from others; he gave people a bigger dimension of fashion." Chelina Manuhutu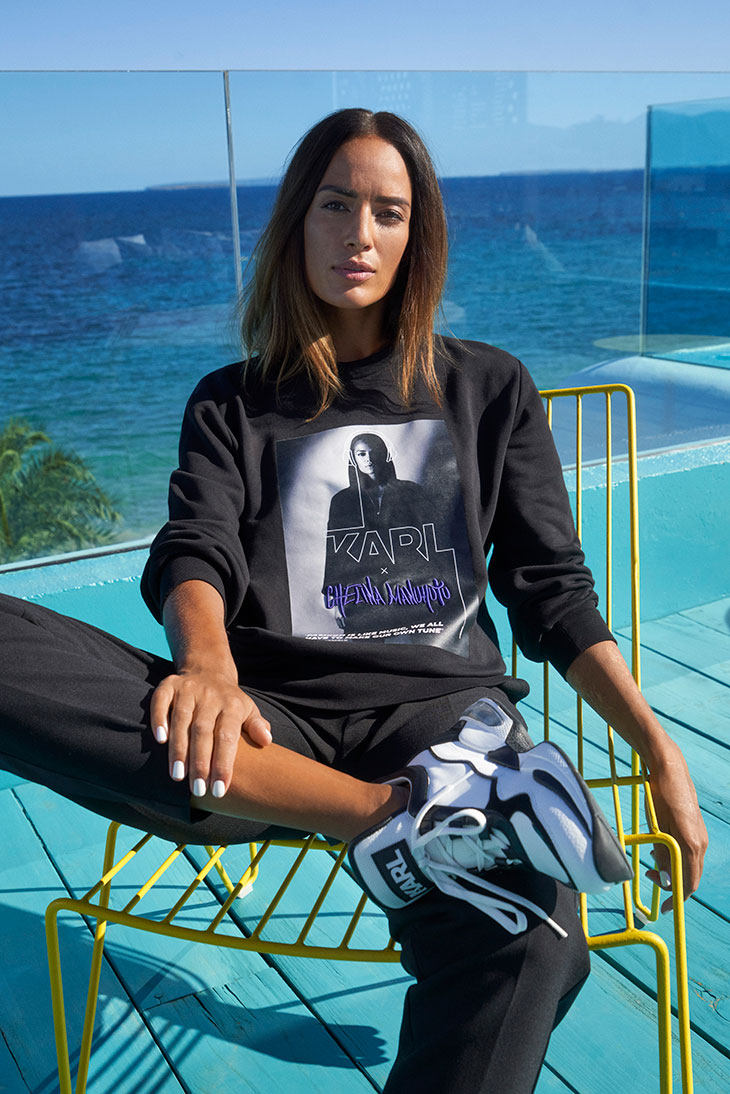 The Dutch-born, Ibiza-based producer and DJ stands out in the underground music scene because of her groovy-powerful stream of high quality mixes. Furthermore she can be described as a talented, strong and exotic feminine force and one of the most promising female musicians in the underground music scene. After ten years of high level modelling, she decided to dedicate her career to music. Since then, she made herself a name as an excellent DJ in the electronic music industry and can be both heard in Ibiza, but also lines up at some of the best festivals worldwide.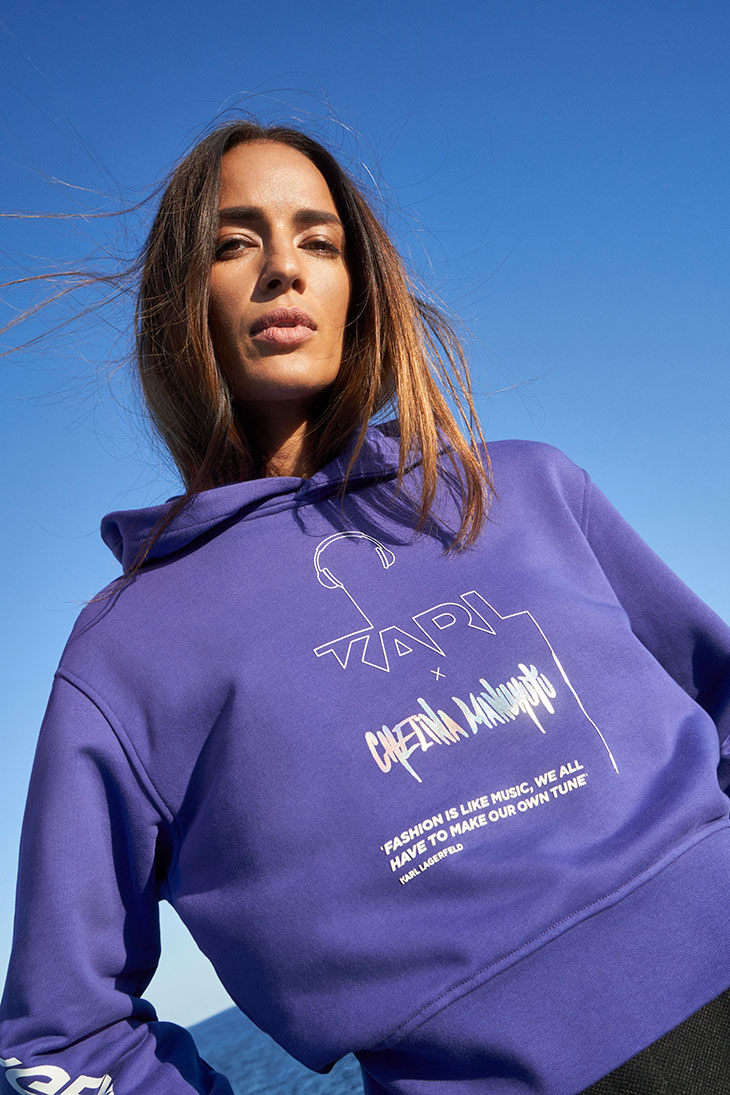 Her editorial includes a Hoodie, a Sweatshirt and a T-Shirt. Additionally, a Trousers provided with a Logo Ribbon and Chunky Sneakers can be bought as well. When she was asked what her favourite thing about the KARL LAGERFELD brand was, she explained: "The way that Karl always pushed the brand forward and was looking to the future. I felt a continuous flowing energy, and it can be seen in the evolution of the collections."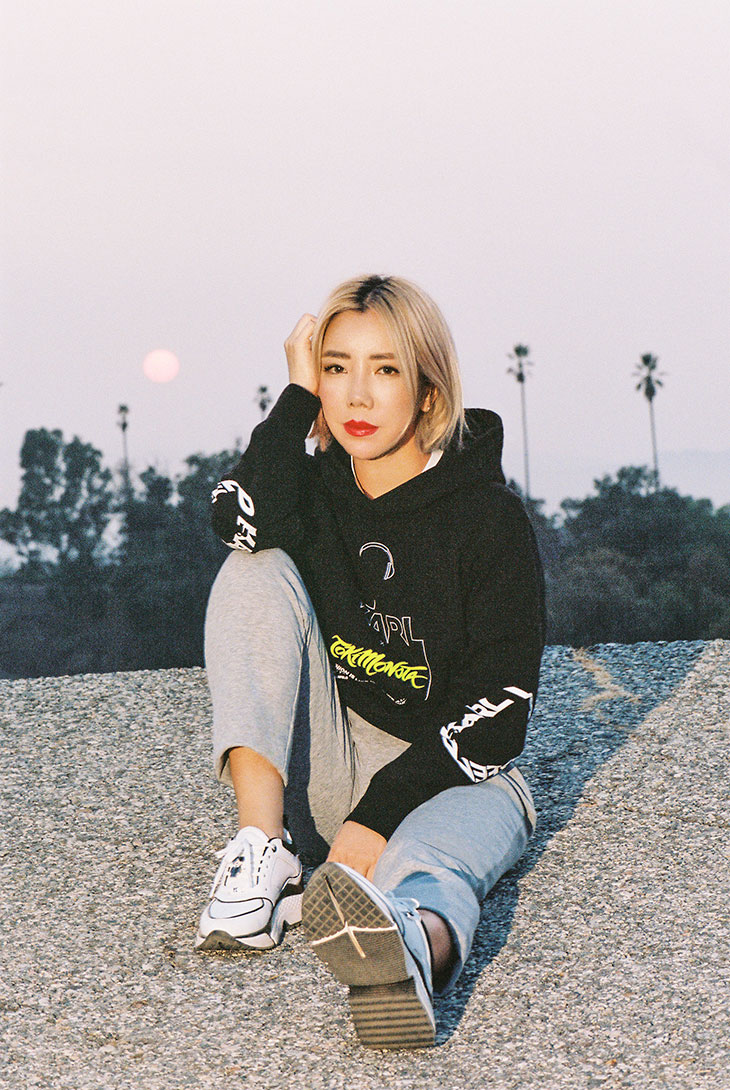 TOKiMONSTA
"Inspiration can come from anywhere: going to a concert, watching a film, visiting an art gallery, fashion. Anything that puts me in a creative mood is fuel to start a song." TOKiMONSTA
Over the last decade, Los Angeles-based producer and Young Art label boss, TOKiMONSTA contributed to define the sound of modern dance and beat music. Before she started to produce music, she has been trained as a classical pianist. Since then, her career has been incredibly versatile and dynamic: she released six albums and was nominated for a Grammy Award as "Best Electronic/Dance Album". Interesting fact: She was not only the first Asian-American producer to be up for the award, but also the first woman. Worth of mentioning is also the fact it is extremely rare to be nominated for such an important price as an independent artist without a major machine baking them. Her laid-back vibes are interpreted in a KARL Hoodie, a T-Shirt and a custom- made Trousers that is paired with a pair of extravagant Chunky Sneakers. Regarding her collaboration with the KARL LAGERFELD brand, she declared: "I love the support and uplifting of strong females."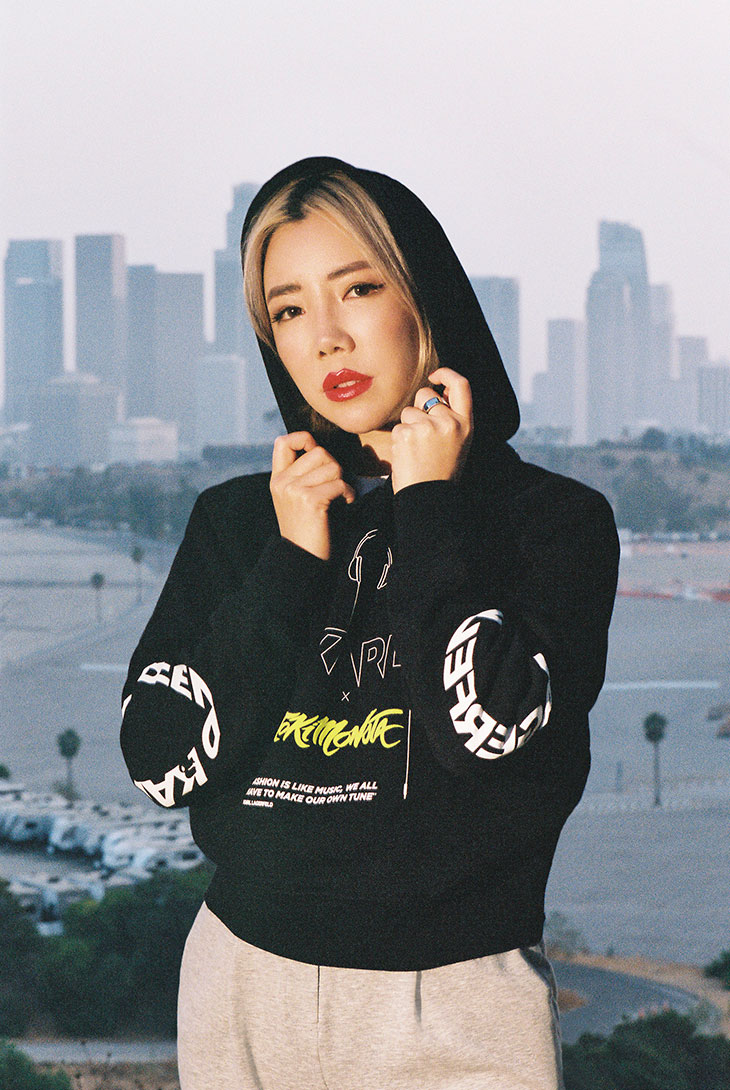 KARL X MUSIC can be understood as an homage to Karl Lagerfeld's preference for music. It contains stylish and unique looks with a contemporary approach.