Miuccia Prada presented her Spring Summer 2021 collection for Miu Miu during the ongoing Paris Fashion Week with a no audience runway. The latest collection perhaps reminiscent of Prada-like colour blocks still celebrates the stand out Miu Miu cuts.
The runway casting also features a runway debut of Lila Moss, daughter of Supermodel Kate Moss. After the show Miuccia shared with the press:
This Miu Miu collection is about polarity – these are polar times. Everything is opposite. Sportswear and evening wear, a moment of reality, a moment of fantasy. In life, you need both.
Prada has infused fifty-three new looks with sportswear like never before for Miu Miu. Discover all the looks in our Gallery: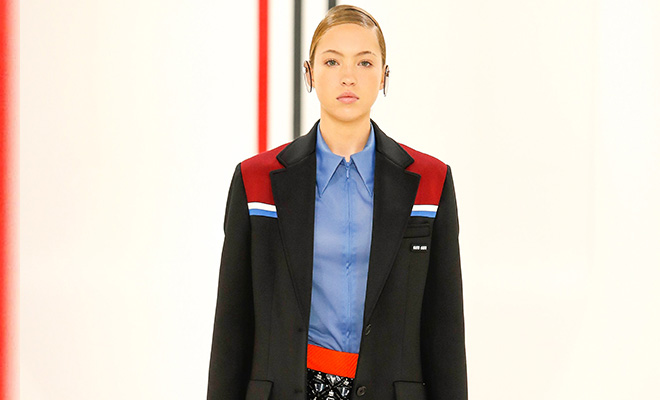 Designer: Miuccia Prada
Stylist: Katie Grand
Hair Stylist: Guido Palau
Makeup Artist: Pat McGrath
Casting Director: Anita Bitton
Models: Aliet Sarah, Dohyun Kim, Isabel Thuma, Juliany Moraes, Justi Ageitos, Kaila Wyatt, Kayako Higuchi, Laiza de Moura, Levi Achthoven, Lila Moss, Melissa McConnachie, Sasha Knysh, Sydney Sylvester, Valeria Buldini