VALENTINO goes back to Milan for Spring Summer 2021 season presenting the new collection during the just wrapped Milan Fashion Week. The collection presented under Valentino Collezione Milano tag is in tow with the reasonably cautious predictions for the coming Spring. Label's creative director Pierpaolo Piccioli celebrates the essence of Valentino's signature aesthetic while setting the new trends for the coming season. After the show Valentino team shared:
Being radical is an act of awareness, the will of an individual gesture. It requires both knowledge and freedom in personal expression. The signs and the codes of Valentino, today, are being re-signified: in Milano, in an industrial space that still resonates with the human activities that took part within its walls. In a factory that has been filled and defaced with flowers, a vision of what romanticism can be today takes shape and nuances as interpreted by women and men of all walks of life. Romanticism is first and foremost a gaze on things and life, not on a set of rules. The individual vision of Pierpaolo Piccioli touches the individual spirit of each person, and what comes out of it is a suggestion of what Valentino can be now, following another perspective. It is about the values that make an ever-evolving identity, not the aesthetic that solidifies it.
The runway mainly focusing on womenswear looks is exploring the proportion and instantly recognizable Valentino sentiment through ready to wear pieces. Piccioli  and his team delicately use a spring inspired colour palette fused with nuances of nude. Flower prints when present take a striking colour blocking interpretation, while lace treatment itself gradually goes into a floral form.
With a maison with heritage such as Valentino's eveningwear is an integral part, thus the Spring Summer 2021 collection even in the unpredictable year to come reserves the space for the same. Floor long dresses, flirt with draping and lush yet light materials for next Spring.
When it comes to accessory the rockstud as one of Valentino signatures is now larger than ever, enhancing the design of bag designs. Allowing daywear accessory a new transformation for evening. Rockstud even turns into a had turning bag of it's own this season. When it comes to daywear Valentino also explores denim in the new collection with a special collaboration. The famed LEVI's 1969 517 gets its own style for VALENTINO.
Menswear looks while flirting with the sartorial boast with streetwear confidence both in their form as well as the styling. Piccioli manages to bring out the zeist of streetwear even with a full lace-knit menswear looks.
To discover all the men's and women's looks from Valentino Spring Summer 2021 collection visit our gallery: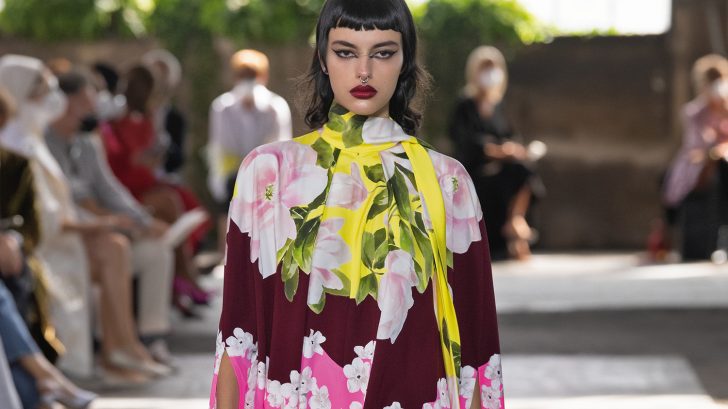 Take a closer look of Valentino Spring Summer 2021 details: