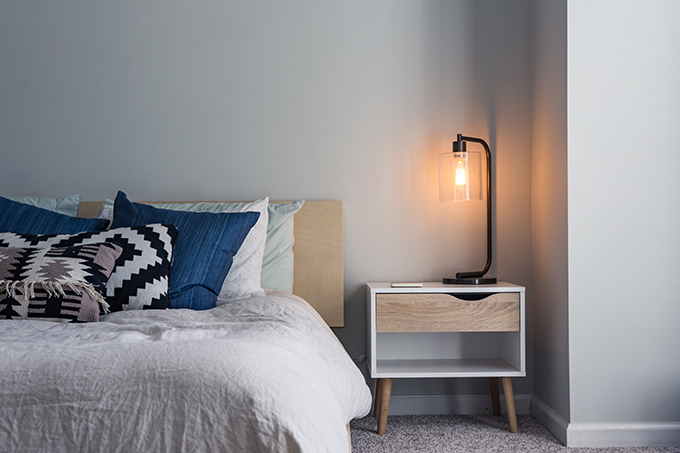 If you're wondering how to integrate more feng shui bedroom décor into your space, there's a couple of tips that can make the process a whole lot easier. Feng Shui is based around an ancient Chinese philosophy that believes in balancing the energies of your environment for a better sense of wellbeing.
In traditional Feng Shui, your space should be able to emulate a sense of balance, organization, and health, all of which can help contribute to your own personal sense of peace and mood. Whether or not you believe in the existence of external energy, being more intentional with your space is really going to contribute.
From making sure you're investing in the right kinds of bedroom furniture to picking the best mattress from your online mattress reviews, here are some top tips for being left with a bedroom that has positive, and calming energy.
Creating A Calming Environment Using Feng Shui
When it comes to choosing bedroom décor that's going to make your room feel a sense of stillness and peace as you head to bed each night, thinking about how your bedroom furniture makes you feel is an important part of the process. This is part of every choice you make for your bedroom, from the bedroom colors you choose to use in your space, to the types of bedding you might want to layer on your bed. Figuring out what this balance looks like for you is going to be important as you try and decorate your bedroom.
Arranging Your Bed For Good Feng Shui
There are a few different factors that go into making sure your bed is arranged with good energy in mind. Mattress size can be an important part of this – making sure you have the best mattress size for your bedroom is going to be essential in your decorating of a space.
When you're trying to figure out how to choose a mattress for a Feng Shui focused bedroom, you're going to want to think about how much space there is left around your bed. The right mattress size is going to allow you to have at least two inches of space around your bed. Picking out a mattress size that's going to give you plenty of room to navigate your bedroom is incredibly important. Figuring out how to find the right mattress size for your space is going to contribute significantly to the energy in your space.
Mattress position also plays a role in the way you arrange your bedroom. Try not to line your bed up with any doors that open directly into your space – this is known as the 'coffin position' and is interpreted as having negative energy.
You must also be sure to place your headboard against a solid wall, ensuring there is space on all sides of your bed. The positioning of your headboard is especially important because it
Making Sure Your Bedroom Is A No-Clutter Zone
Clutter is going to have an adverse effect on the energy of your space. Keeping your bedroom neat and free from anything that you're holding on to from your past is essential for space in your bedroom to feel and look freer.
Be especially careful of the clutter you might pile up under your bed – this carries potent energy that you carry with you during your sleep, so it's especially important you keep your bed clear of any negative energy for a peaceful night's sleep.
Try investing in bedroom furniture that double as storage solutions to optimize your space without having to worry too much about what you're going to do with everything you own. A good nightstand or closet organizer can do wonders for your extra stuff.
Minimize The EMFs In The Bedroom
EMFs or electric and magnetic fields are created by electronic devices and power lines. These fields emit from our personal devices, such as mobile phones, laptops, and even television sets. While this might not sound like a bedroom decor rule, it is a handy reminder to keep your television set closed or hidden when you're trying to set up your bedroom.
Though this might sound a little outlandish, there is a truth to the fact that the blue lights present in our devices can be seriously disruptive to the way your sleep cycle functions, so it's important to try and get a hold of that before things snowball into mindless scrolling as you're trying to fall asleep late at night.
Stay Away From Bold Or Strong Colors
While you may choose to use bolder, more saturated tones for the rest of your home, your bedroom decor is not a space in which you should be experimenting with this. Earthy and neutral tones are generally Feng-Shui approved for positive, grounding energy.
If you're looking for healing and vitality, you'll want to try out blues and greens – pinks and shades of peach are better colors for attracting a partnership.
Don't Keep Books In Your Room
e Feng Shui bedroom decor rules that are pretty strict include not being able to have any books in your bedroom. If you tend to have trouble sleeping, it might be due to the 'active energy' present in books, stirring our minds and encouraging a greater sense of focus through the night.
Plants are also something to be cautious of when you're integrating into your space. Be careful about the kinds of plants you choose for your space, since many also contain similar active energy, and can therefore be a challenge to integrate into your wider home.
From figuring out what the best mattress size for your space is, to look out for colors that add peaceful energy to your space, sticking with Feng Shui bedroom decor rules can be quite the challenge. Working through these one at a time and making a plan for your space is going to help you rest and recharge in an intentional way. You'll be resting with more energy and more balance in your sleep before you know it.