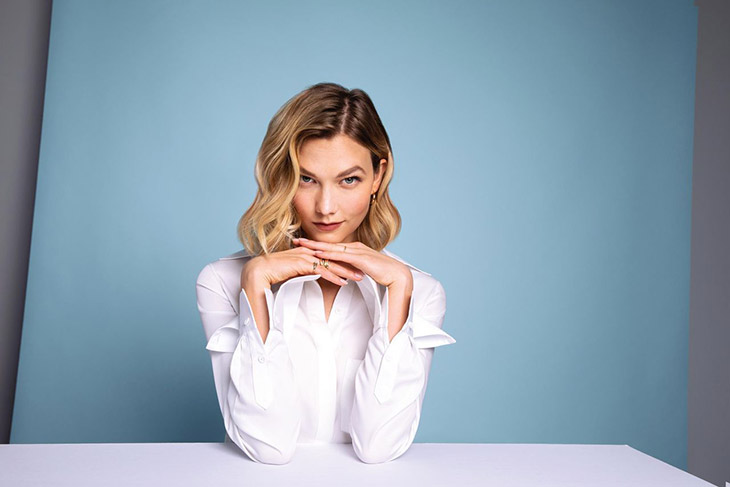 Supermodel, entrepreneur and philanthropist Karlie Kloss stars in WSJ. Magazine's My Monday Morning series. Karlie talks about how pregnancy has affected her routine – I normally love running but I have to say I'm out of breath these days just talking or going up a flight of stairs. – her investments, beauty routine, and more.
Where to begin? Christy Turlington [Burns] has been a role model and mentor of mine. She is somebody who I feel really lucky to have to look to for guidance and advice. Her work with Every Mother Counts is one of the reasons why early on in my career I realized the opportunity to make the most of having the platform. And as a mom, I think she's just the coolest. Cindy Crawford is an incredible supermom as well. Natalia Vodianova, I mean, she has five kids. I still to this day don't understand how she does it. I'm really excited for all of my friends who are entering this next chapter of life at this time too, so excited for some new mom groups. – Kloss on supermodel moms
What time do you wake up on Mondays, and what's the first thing you do?
I normally am up at 6:30, 7, but I feel like these days, more into winter, I'm hitting the snooze button more and more. I like to get my workout in first thing in the morning, so I almost force myself to get out of bed and put on my leggings, my sneakers and my sports bra. I brush my teeth and go straight to my workout, which, by the way, is like the shortest commute of all time now that it's basically just my Zoom workouts.
Do you have any go-to classes?
I've been loving Tracy Anderson workouts because you can do them anywhere. I have my little ankle weights, whether I'm in New York or my parents' house or down in Miami. [The workouts are] full body weight workouts. And then I've really gotten more into yoga. I normally love running but I have to say I'm out of breath these days just talking or going up a flight of stairs. Being pregnant has put a little bit of a damper on my running routine but I still have been trying to stay active no matter what, going for lots of long walks.
Is there anything about your beauty routine or diet that's out of the ordinary?
I've always had bizarre cravings, so it's kind of nothing new, but I've really been loving everything salty and crunchy.
Do you have a best time management or efficiency hack?
In a weird way, I feel like I've been able to become much better with my time management [during the pandemic]. I feel more productive and more involved than before, [not] being on an airplane and in transit all the time. Today, I did an Instagram Live for Adidas with Alexis [Williams], this amazing [Kode With Klossy] scholar who was in the campaign with me. Then I went straight to a board meeting, we had our first ever W board meeting. This year, we acquired W magazine in the middle of a virtual world which has been an amazing endeavor.
And then I had a quick 20 minutes to go pee and grab lunch and then race back. And then we have a big Kode With Klossy presentation this afternoon. It's been really interesting and exciting to see the innovative ways for us all to communicate or [for] brands to reach people. This past summer, Kode With Klossy went virtual for the first time ever. For the past five years, we've run in-person summer camps across the country… [but] by going virtual, we were able to scale in a whole new way. We had students from 20 countries around the world, so it allowed us to grow in an unprecedented way.
What's your media diet like?
I love The Wall Street Journal. I get a lot of my news from newsletters and I love listening to podcasts. I scroll through Instagram and Twitter but I also limit myself; otherwise, I go down rabbit holes. But in the morning first thing, especially on a Monday, I read through all my newsletters and make sure I get abreast of what's going on. I love the W magazine newsletter, a Wall Street Journal newsletter, a Washington Post newsletter and a New York Times newsletter.
What's your involvement at W like?
It's so exciting to be involved on the other side of a publication like W. My entire career I've been on more the editorial side, so [now I'm] more on the strategy and supporting the creative team. Sara Moonves is an incredible editor-in-chief, but also what I get excited about is thinking about the opportunity that exists to continue to evolve where fashion and media are going, building out new revenue streams.
What do you look for when you're deciding whether to make an investment?
I've invested in quite a few startups over the past years. I really love to support female-founded businesses…. I have quite a little portfolio at this point, in my heart I'm very entrepreneurial.
What's one piece of advice you've gotten that's guided you?
I keep a running list of notes on my phone and computer. There's this one that I love: "Success is not the key to happiness; happiness is the key to success." That is a quote that I love.
For more visit WSJ. Magazine – www.wsj.com