Mexican Artist ESTEBAN FUENTES DE MARIA meets in Paris with our Editor ZARKO DAVINIC to discuss his inspiration, working in different scales and politics versus art.
SHOP DESIGN SCENE #35 in PRINT OR DIGITAL
Read the interview after the jump: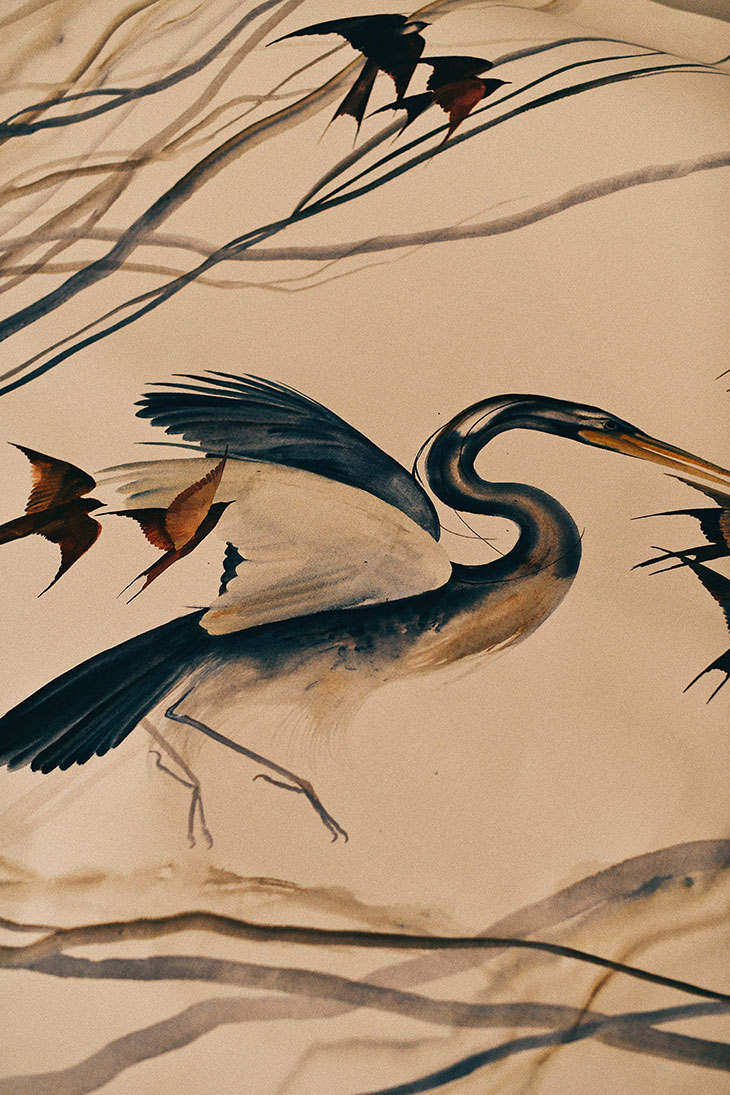 Esteban I have to start the conversation with birds as an omnipresent inspiration appearing in your work. Why do birds inspire you?
My family has been studying birds for the last 250 years. So basically everyone in my family passed away but mom and I. So right now it's a very small family, but I received all this knowledge and interest in the Mexican diversity of life since I was a little kid. I literally learned how to paint before learning how to speak. I was so connected to painting since my birth. I was born next to a canvas and a piece of wood and brushes. Since I was very young my way to communicate was painting. And also that narrow link between me and birds explains the fascination I feel towards human relationships, and how connected we are to nature. We relate to each other. Even relationships such as love. Something as pure as love is similar to how birds connect. And also as a society we should start establishing connections as a flock. Because flocks are very delicate, they have something we can't understand yet. How birds connect when they have to fly away in their seasonal migration. Nobody can explain truly yet how they communicate.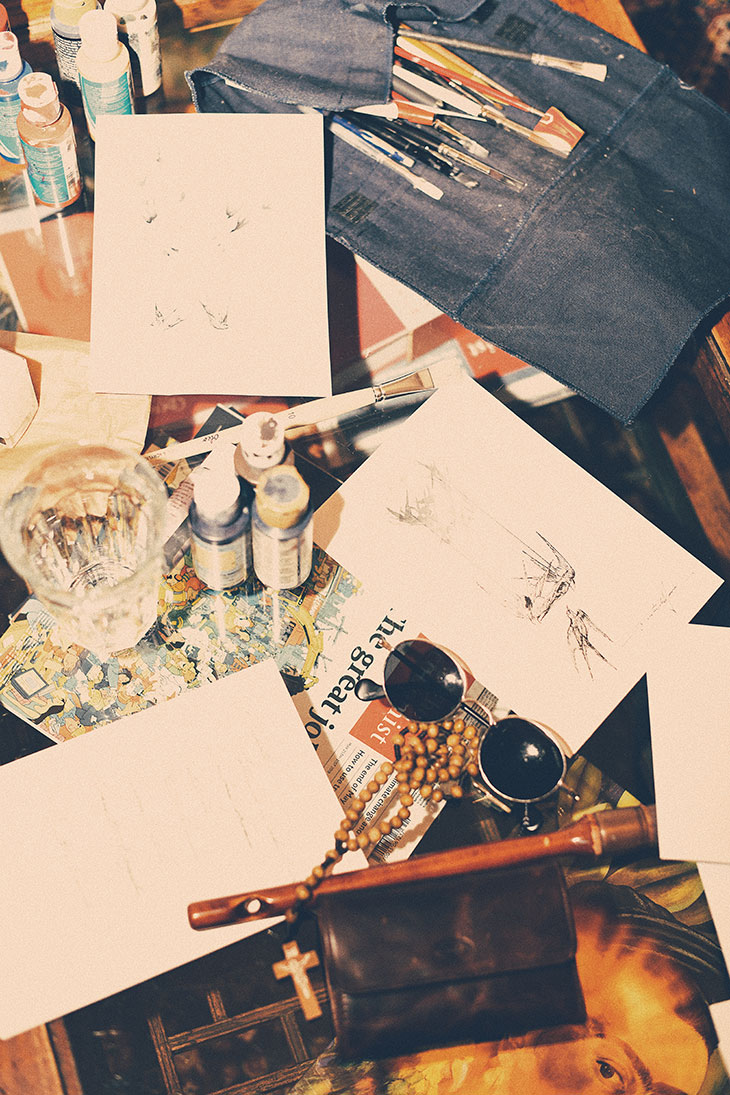 Did you have drawings of birds from your family?
The oldest pieces we found are 250 years old and the first time i saw them was five to six years ago. It was pretty rescent when I started studying my family's archives. I live in a country with a very diverse wildlife, it's a very complex place. Human diversity is also quite hard to grasp for so many people who don't know Mexico. We all live in a different Mexico. My hometown is Puebla, an hour and a half drive away from Mexico city, where I am mostly based. However I go back to Puebla to create my work, where my studio is based in a 488 year old house.
We have to open our eyes to the people who do not live the same way we do. Art is a way to sensitise people.
It's a remarkable home you have in Puebla, and you filled it up with so much of your work but also the candle light.
I only paint in candle light. I have this issue with fire and it could be a bit dangerous. Also the relationship between my art and fire is also very powerful. I think fire is one of the most precious gifts we received from the gods.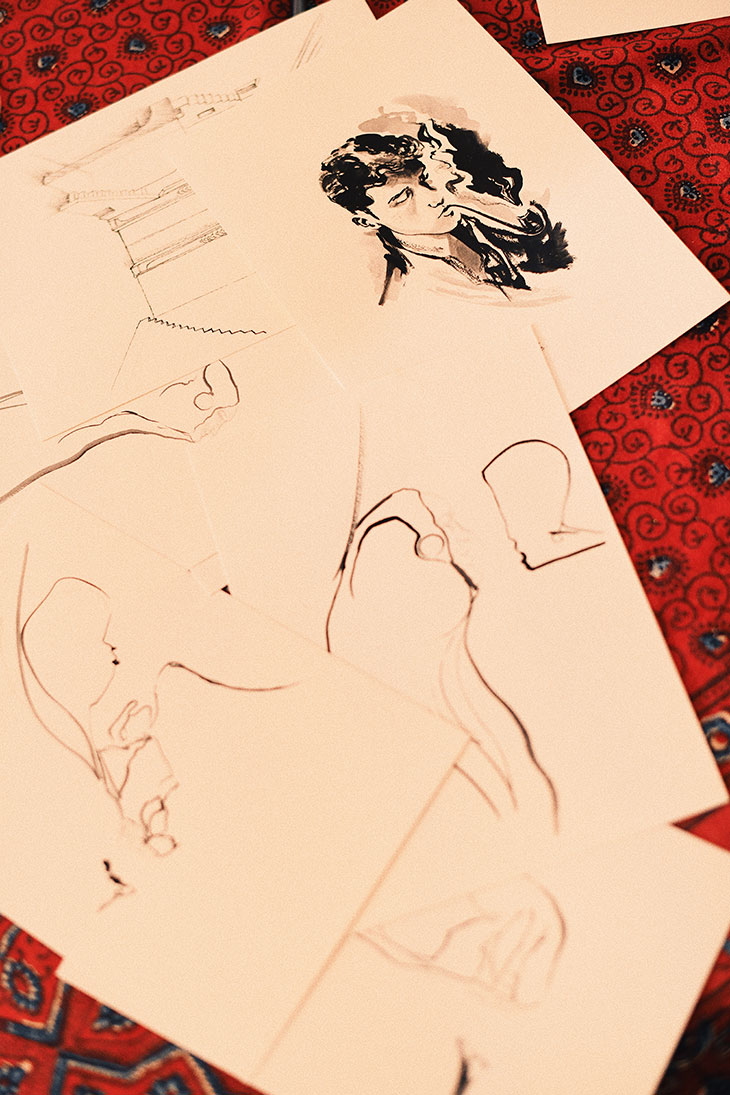 Is this connection with fire that inspires you to use gold leaves and paint while creating your artwork?
Yes as one of the reasons, but also any metal that we have domesticated is a gift from fire to us.
Your pieces vary in scale, is there a reason for that? You go from murals to small pieces.
Talking about scale is interesting, there's also a way to fit a huge piece in my pocket. I think my topics define the size of the piece. I think my abilities are focusing always on the space in front of me and I love to play with it. I am also interested in exploring sculpture. The murals are on the other hand something very different. I have to use my whole body as a compass. I have to become the tool. Honestly no matter how big or small the pieces are, I love to get lost inside it. My largest mural is here in Paris, created for a hotel client. When creating a mural, the body has to understand the proportion. You have to be the one staring at your back. No matter how small or big pieces I love using myself as a tool navigating in the pieces.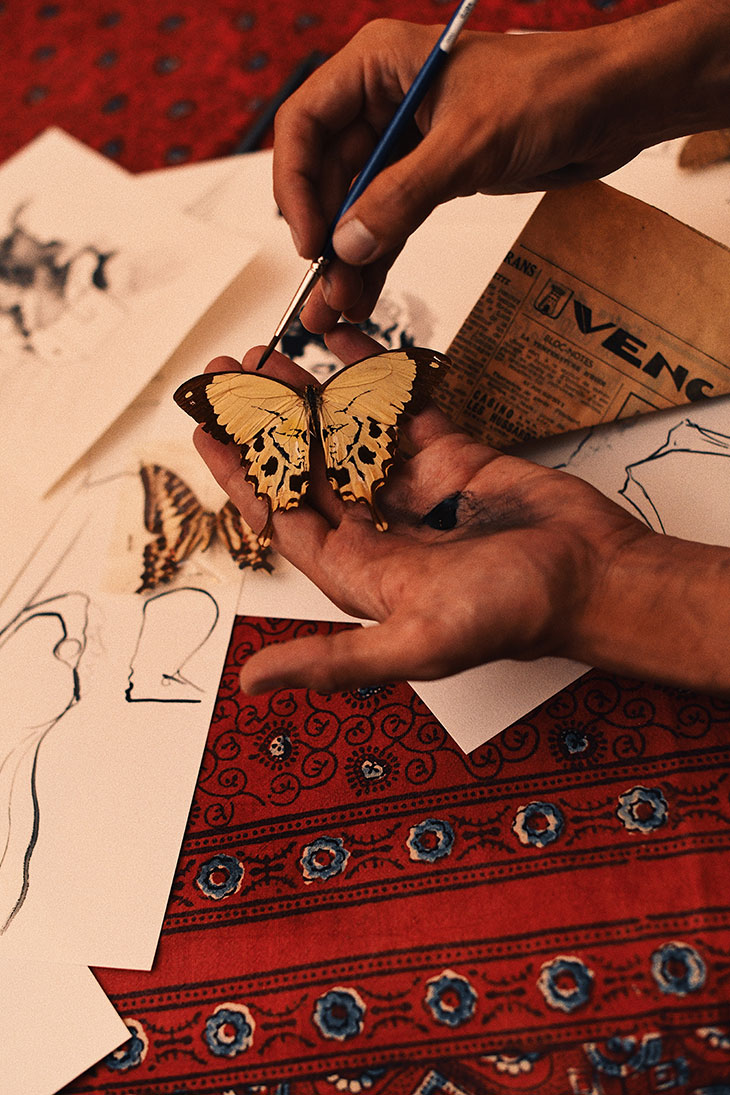 When you are creating such a massive piece, do you sketch in advance?
I usually do not sketch in advance unless i have to present the project. My work changes a lot from paper to the actual piece.
When we talk about this mixing with other mediums, from interior design your artwork shapes you have recently also done a fashion collaboration. Can you tell me more about your collaboration with Salvatore Ferragamo?
I created a capsule collection to exclusively sell in Mexico. It was very important for me, because it showed also how art can relate to so many mediums. Fashion of course, but it can also touch the life of people. This was the first time Ferragamo collaborated with a Latin artist. Six months after that a friend of mine was going to a metro in Mexico City. He went to a very dodgy shop and found a copy of the Ferragamo sneakers with my artwork. But seeing it got knocked off for the black market as well also made me super proud.
Even when my murals get erased I can wake up every single morning and paint a new one. We are going to fly over the wall. Let's paint the wall.
What can you tell us about the art scene in Mexico city?
It is truly a cultural place. It is all inspiration as well, walking through the streets of Mexico city is a crazy experience. You have this contrast that has been inspiring artists for centuries. It is a mix between Spanish, the indingenous people, the arabs. You really can find the new belle epoque of the Latin America. That very rich contrast makes everyone rich. Everyone is happy in Mexico city. Maybe not with the politicians tho. It is a lot of inspiration.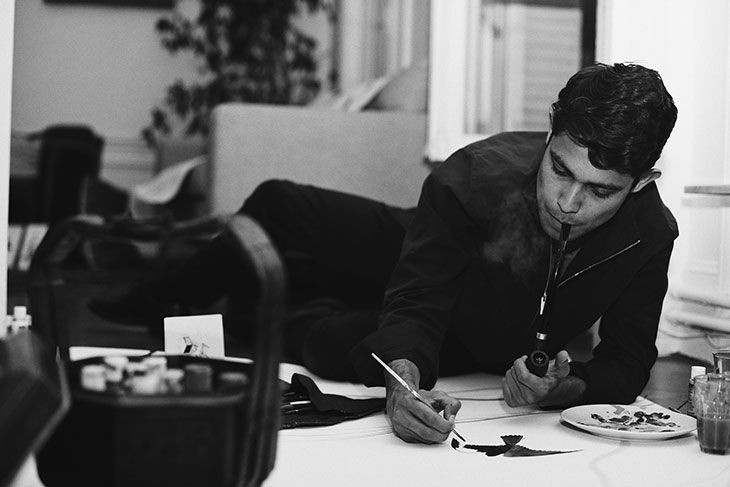 But you are living now between Mexico City and Paris, how can you compare ?
I think you can not. It is unbelievable when you think you go into this metal bird and you just land in two such different places.
Do you think the political situation will change in Mexico soon?
I am sure so. But I am an artist and have a revolution in my veins. I believe they will.
What is your opinion on representing Mexico art scene?
What we consider the world of art, galleries, shows and art fairs. I am honestly not into it. I hope my work is lucky enough to find it's way.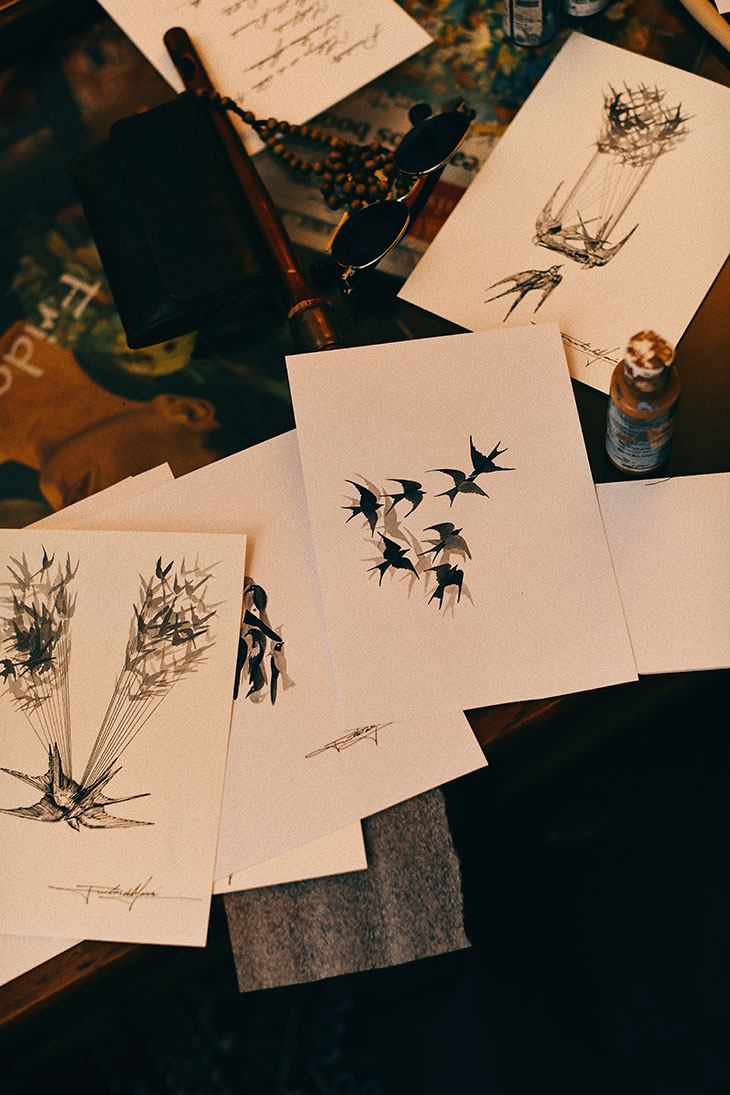 Does social media help you to present your work?
Especially now, because it is my best way to present my work and my country. And it is very important for me at this moment when my work got banned by the Mexican government last January. They think that I am promoting the social differences between rich and poor. And we have a very big gap between the rich and the poor.
How did it come to that?
I had a problem with the president and his establishment. They think the way I present my work is dangerous for the social situation Mexico is going through. But I think it is the opposite. I want us all to be together. I want us to exist together, cause it's a beautiful concept. This very diverse mix of people needs to still continue mixing. The flag of Mexico has a huge eagle eating a snake, and what I feel that happens now it's the opposite of that. Snakes are eating the eagles. That was referenced in my recent pieces, and the establishment got very upset. Today I am no longer allowed to exhibit my work in government galleries anymore.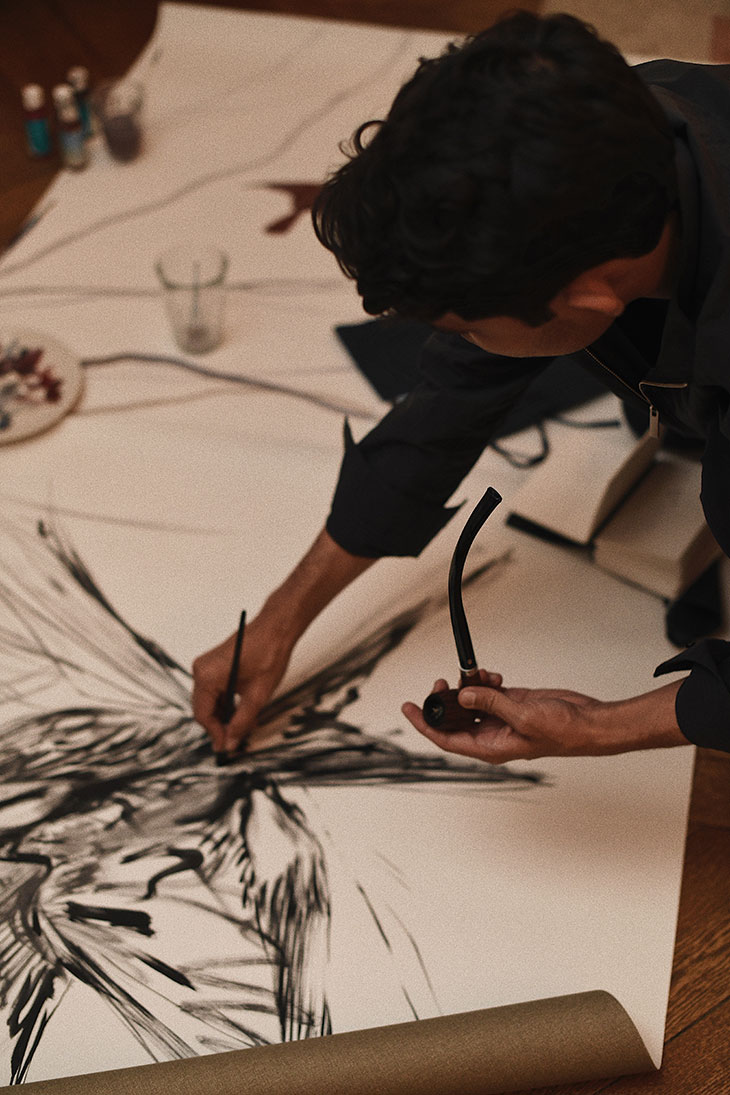 It is always very hard for artists who fight the government, but those that do often succeed in the long run. But for you to grow would you go somewhere else?
I have two ways to stay in Paris, to get married or to ask for a political asylum. But I am attached to my country and it's my big inspiration. I have many projects connected to Mexico. We need to start this new revolution, with art and brushes. Art is a great tool to give consciousness to all of us. We all have to see ourselves as Mexican even though we live differently. We have to open our eyes to the people who do not live the same way we do. Art is a way to sensitise people. So we have to promote art in our schools and in our families. We have to work on that in latin America. For me taking art to the streets is very important. Even when my murals get erased I can wake up every single morning and paint a new one. We are going to fly over the wall. Let's paint the wall.
As every artist, how do you handle deadline situations?
I have an exhibition in Geneva in a couple of weeks, with forty pieces to present, quite a lot left to finish. But I work quite well under pressure. I believe humans are easily motivated by pain and love. And right now I am in love, so it's easy to work.