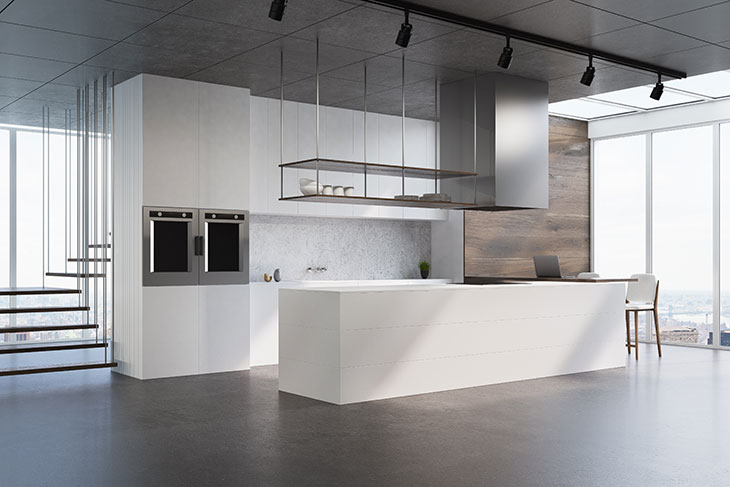 Backsplashes are crucial kitchen components. They can make or break the kitchen's overall design. Choose the wrong backsplash material, and you'll end up with an unsatisfactory kitchen. You have to get it right. With all that pressure, deciding on the best backsplash material can be challenging.
Don't worry. Below are the seven best kitchen backsplash materials we could find.
Granite
It's simple. Granite is among the best kitchen backsplash materials. It's one of the few natural stones that are both beautiful and durable. In addition to that, it's also available in a wide range of colours and styles. Its only worthy rivals are marble and quartz. Keep on reading to understand why. Granite is more than a backsplash material. It's also commonly used as countertop material—Having a granite countertop and backsplash will forever change your kitchen. Furthermore, granite is surprisingly strong and durable. You can count on it to resist wear and damage. Along with that, it's also affordable and easy to install. It's not surprising why so many people are in love with this material.
Nonetheless, granite has its shortcomings. Granite is porous. Therefore, it's vulnerable to water. Upon exposure, granite will absorb a lot of water and stains. You must apply a sealant to maintain its quality. Additionally, maintenance is a big deal with granite backsplashes. Quickly wipe the surface to prevent permanent staining.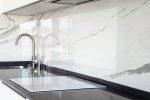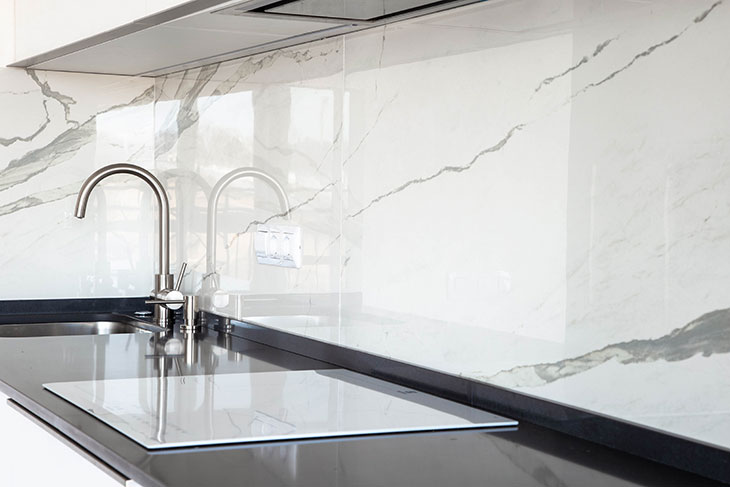 Marble
Marble is the most beautiful backsplash material. It's the best design-wise. It's the main reason why the natural stone has continuously been the builder's best friend.
Just like granite, marble is also available in a wide range of colours and designs. There are so many options. It's almost overwhelming. Besides looks, marble is also relatively strong and durable. However, it requires more care than granite. Apart from applying the sealant, seriously polish the surface at least once every few months. In short, marble is a high-maintenance backsplash material. If you are willing to sacrifice looks for maintenance, then marble is your go-to material.
Nonetheless, what if we told you there is a backsplash material that is just as beautiful as marble and more durable than granite?
Quartz
Quartz is also known as "engineered stone.' Yes, quartz is an artificial stone made to bring together marble's beauty and granite's durability. One might even argue that quartz is more durable than granite. Quartz offers more colour and design variation than all other backsplash materials. You can mould the miracle stone to complement any interior decor theme. You can never go wrong with a quartz backsplash or countertop.
Quartz's durability is similar to that of granite. However, quartz is almost zero-maintenance. First, it's non-porous. It doesn't absorb water. Therefore, you don't need a sealant for your quartz backsplash. Also, it's stain-resistant and doesn't require as much care as marble. All you have to do is treat the surface at least once a year. You can easily wipe away stains using a soapy piece of cloth.
Quartz's only downside is its initial investment. Nonetheless, it's more than worth it if you consider its long-term benefits.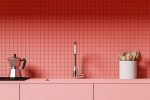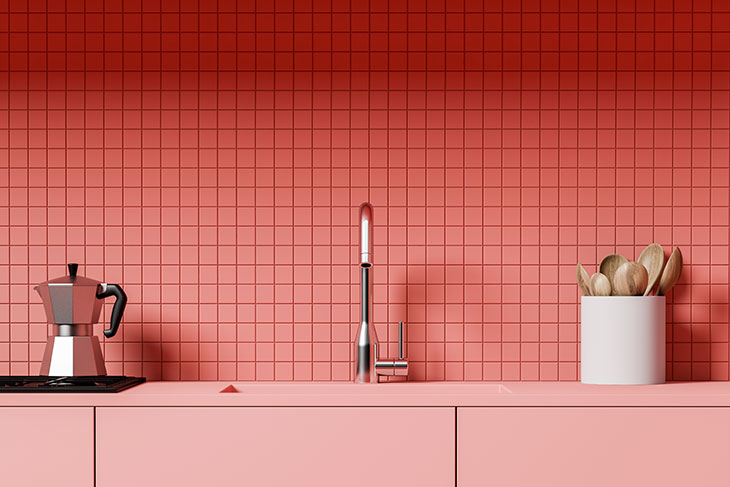 Ceramic or Porcelain Tile
In my opinion, ceramic or porcelain is among the best-looking natural stones. Sure, it doesn't have as much shine or glitter as some of the other stones. Nonetheless, there is still something to its appeal.
Ceramic is versatile. You can opt for the "natural stone" look that is popular among our minimalist brethren. Or, you can go for its tile-like appearance achieved by mixing it with bold colours. It's not only about looks. Ceramic is also water-resistant and will hang around for a couple of years. Moreover, ceramic is also relatively cheap and easy to install.
Glass tiles
Do you want a shiny and eye-catching backsplash? Then glass tiles are your go-to materials.
Just like ceramic, glass tile is water-resistant and naturally non-porous. Therefore, there is no need for sealants. You always count on it to retain its shine and brighten your kitchen. Glass tiles aren't new to the kitchen. They've been around for quite some time ever since they made it to "the trending list." Because of this, some might argue that glass tiles are a bit old and out of trend.
Sure, we might have gotten used to them. However, glass tiles have a lot more to offer. Just like ceramic, you can mix glass tiles with colours to unleash stunning designs and patterns. Not to mention, glass tile colours never fade. They are also stain-resistant and easy to maintain. Just wipe the surface, and you are good to go.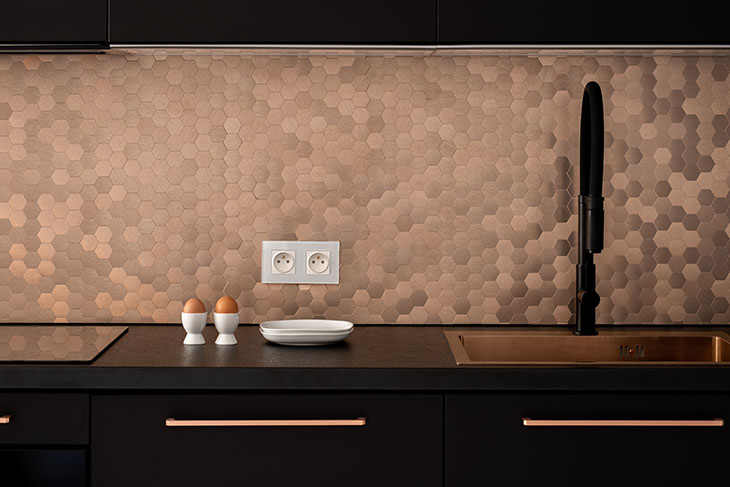 Metal tiles
Maybe you are into "the industrial look" and are looking for a backsplash to match your personality. If that's the case, then we advise you to consider metal tiles.
Just as the name suggests, metal tiles are metallic. They are a mixture of stainless steel, copper, tin, and aluminium. As expected, metal tiles can add a unique flair to your kitchen (especially if you have a lot of wood). When polished, they can have a shiny appearance that rivals that of glass tile. There is so much style you can achieve with metal tiles. Recently, there has been an explosion of small metal tiles used to achieve incredible designs and patterns. Also, metal tiles are insanely durable.
However, nothing is perfect. Metal tiles require more attention than natural stones. You'll need a sealant to protect the copper and iron from oxidation. Also, be careful when cleaning. For stainless steel tiles, you'll require a special stainless steel cleaner. In addition to that, immediately clean stains upon formation (especially tomato and lemon stains).
Travertine Tiles
Travertine tiles are for those who are into classical "old school" interior decor. When pulled off well, its all-natural earthy appeal is phenomenal. Who said travertine tiles are dull? They also come in a variety of colours like brown, ivory, gold, and reddish-brown. Did you know that iron content determines travertine's colour?
Besides looks, the texture is also part of travertine's appeal. Fortunately, travertine tiles have a wide range of finishing. It's all up to you. You can go for the classical rough finishing or the modern soft finishing. Also, travertine is easy to replace. Since it's all-natural, it will be easy to find a similar-looking tile. Coloured ceramic tiles are relatively difficult to replace. You'll have to go hunting for a specific tile that matches your backsplash design.
Just like metal tiles, travertine tiles require more care than other backsplash materials. First, they are brittle and easy to break. In addition to that, travertine tiles are also porous and tend to absorb water and stains. Therefore, you'll need a sealant to counter its porosity.
Because of their reactive nature, travertine tiles are particularly vulnerable to acidic stains. A small orange juice stain can permanently disfigure your travertine backsplash. Be careful with travertine cleaning—Try your best to apply as little alkaline solution as possible.