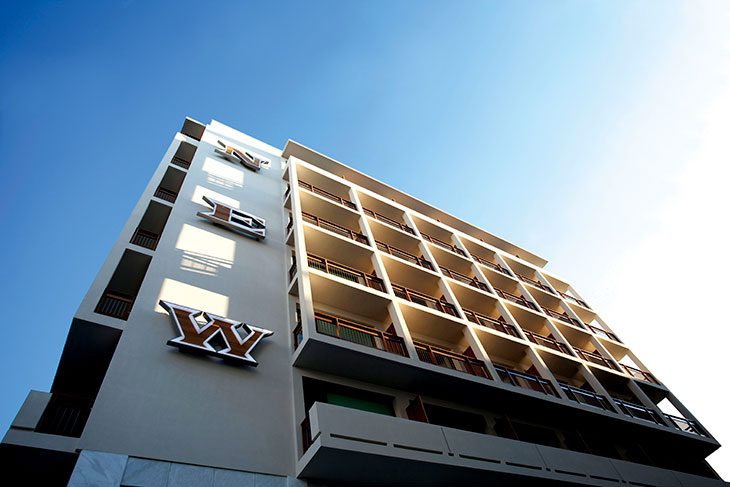 As our readers couldn't travel in the past months because of the pandemic, we would like to take you on an imaginary journey to Athens, the capital and largest city of Greece. When you ask Athenians to describe their city, most will answer you: Athens is not just any city, it is a lifestyle. When visiting Athens, you will get to know one of the world's oldest cities that is full of history, impressive architecture, culture, arts and vivid life. The city is as diverse as it is lively: on the one hand it is full of history and antique buildings, on the other hand it offers a bunch of contemporary shops and a joyful city life. However you can also spend a day at the beach which can be easily reached in less than an hour from the city center.
On our last trip to Athens we discovered NEW Hotel, a member of YES! Hotels Group, which opened its doors in July 2011. Its central location in Filellinon Street definitely deserves devotion. When staying there, you are situated directly in the city center, within walking distance from the main attractions of the city, such as Syntagma Square. It is the perfect location to explore the most significant sights, for instance the ruins of Plaka. This downtown area, which is one of the oldest areas in Athens has a lot to offer: it reaches from the subway station "Acropolis" to "Monastiraki" and invites its guests to discover the most charming boutiques, cafés and taverns. Even better and one of the highlights of every Athens visit: the Acropolis and its museum can be reached within walking distance as well. When discovering Athens, you shouldn't miss getting to Acropolis. The pedestrian streets that lead there offer a large variety of restaurants and cafés. Therefore you will, without any doubt, enjoy your walk up the hill. When going there on a Sunday, you can even visit Monastiraki market, which is located at the foot of the hill at Monastiraki Square. Another tip for those of you who prefer a chic and cosmopolitan lifestyle: you should visit Kolonaki which is just around the corner from the hotel! Its chic lifestyle paired with unique boutiques and restaurants is one of a kind.
Read more after the jump: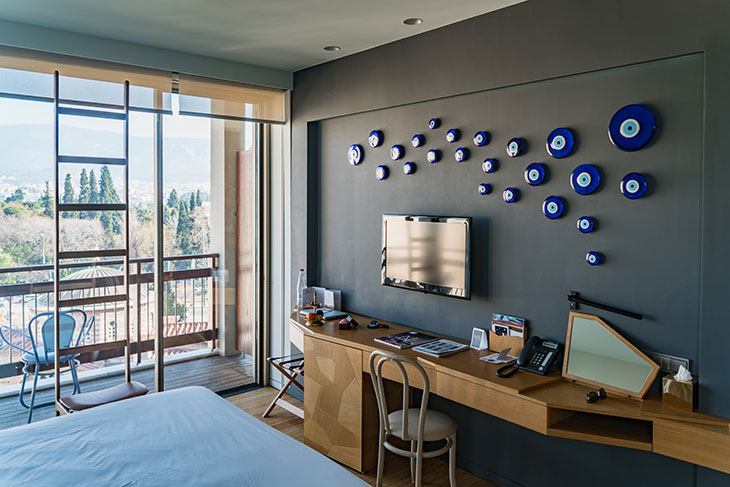 Worth of mentioning is also the fact the 79-room and suites establishment stands out because of its incredible interesting architecture. It can be even described as one of the city's finest examples of modern architecture. The interiors are cosmopolitan, charming and completely comfortable. Furthermore the custom- made furniture and handmade fixtures make guests feel like living in an art installation. That style perfectly matches one of the main influences of Athens, a city that is renowned for its art scene. Due to their simply sophisticated and unique character, you will have a lot to discover in every single room.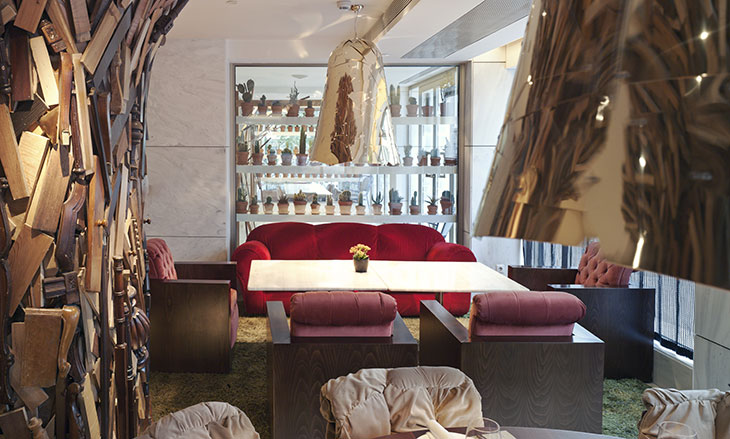 Due to their outstanding hospitality and excellent customer- centered services, NEW Hotel is the first ever hotel project of award- winning designer duo Fernando and Humberto Campana, who were awarded for their eco- friendly philosophy, their dedication to contemporary materials and their sensitivity to local culture. This ethos, which certainly hits the zeitgeist, is clearly visible in every aspect of NEW Hotel's design. This design can be even interpreted as an ode and honor to its surroundings.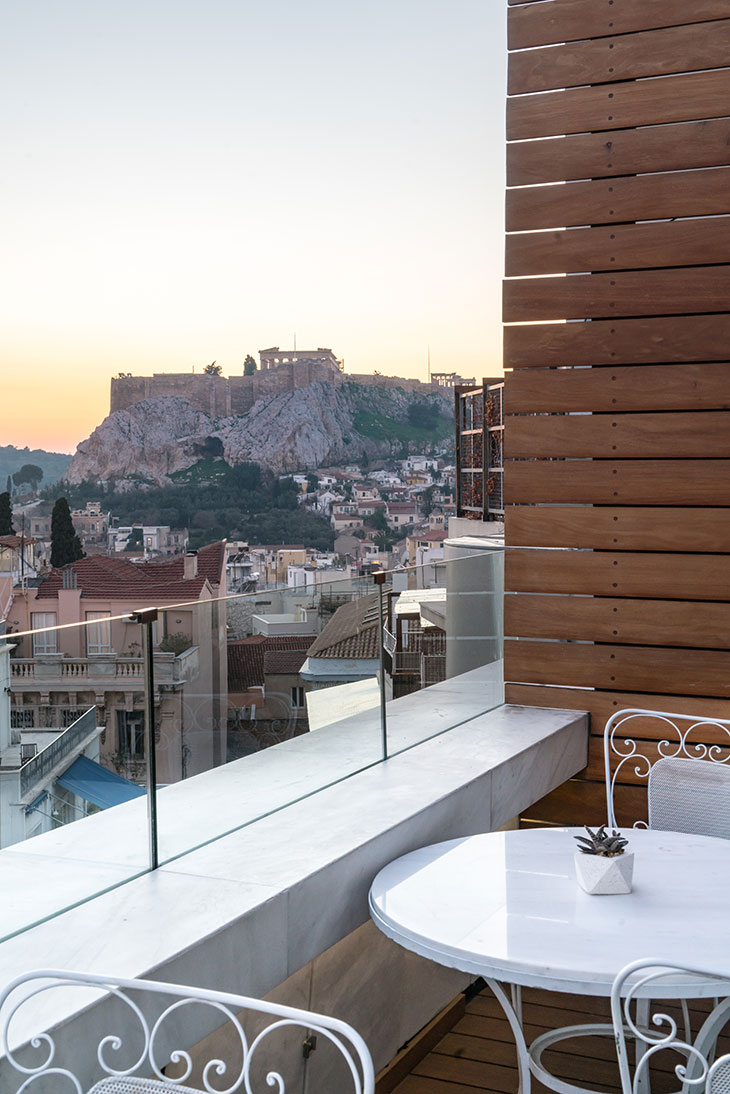 Another fact why NEW Hotel symbolizes Athens so incredibly well is the fact it unites the heritage of the past with contemporary elements: as location the former Olympic Palace Hotel has been chosen. NEW Hotel honors the heritage of the past by using recycled parts of the old hotel and reinterpreted local materials to create a complete artwork. Therefore this hotel can be described as the only contemporary boutique hotel in the city of Athens. Old elements are harmoniously united with new ones, and thus, these old elements are paired with innovative modern art, sculpture and design on the inside.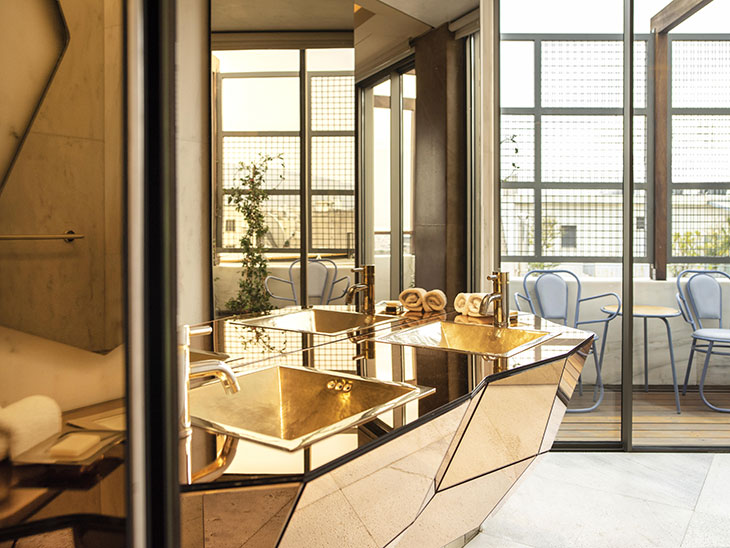 Another interesting insight: for this project, the Campanas collaborated with local architecture students from the University of Thessaly to find the perfect mingle of design and culture, which can be noticed on every floor. Each of the 79 bedrooms includes one of the three concepts stemming from Greek culture, with postcards, local Athenian sculptures and shadow puppets. Moreover custom- made furniture and fixtures can be found throughout, underlining the character of living in a major art installation.
For relaxing hours from the vibrant city life, we suggest you to visit NEW Sense. The gym and Wellness Club of NEW Hotel offer a wide range of services, such as a Jacuzzi, steam bath and a fully- stocked fitness room with brand new equipment, open around the clock.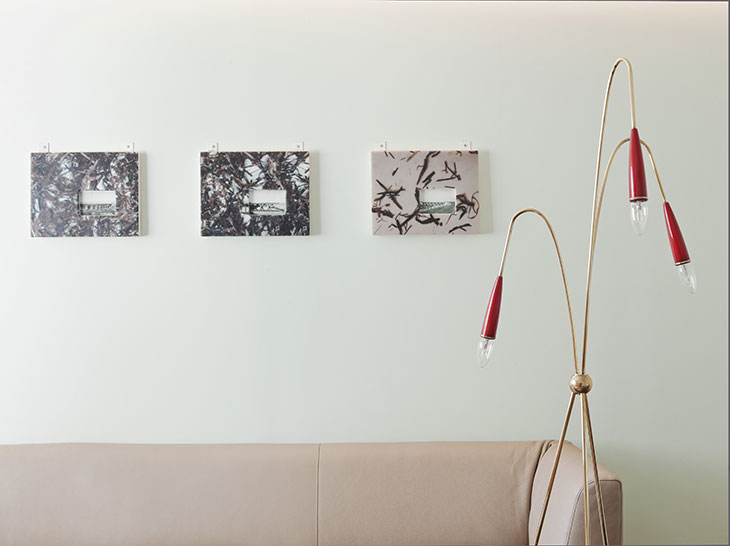 When staying in NEW Hotel, you shouldn't miss dining in NEW Taste the restaurant. It is situated on the ground floor and is based on the iconic Favela Chair, with an interior existing of columns covered in long narrow strips of wood, reminiscent of the favelas in Brazil. In addition to that, pieces of furniture of the former Olympic Hotel, are used as well. The all- day restaurant focuses on simple dishes from the Mediterrean, which are prepared by using the finest and freshest ingredients. Now days it is a popular place for tourists and Athenians alike. On the 7th floor, the Art Lounge, serves outstanding food and cocktails and convinces you with panoramic views of Athens.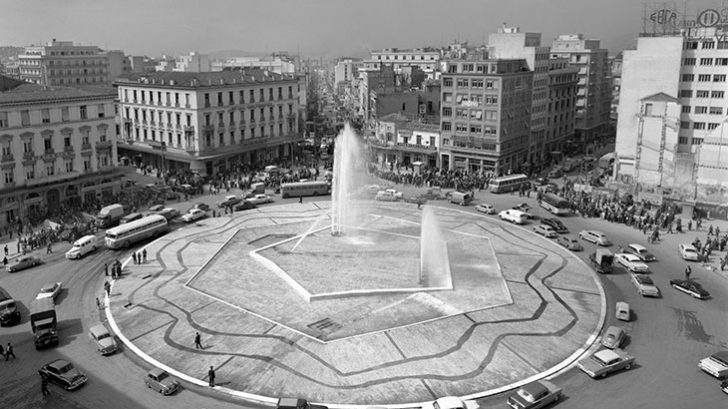 New Hotel Athens, Greece
16 Filellinon Str., Syntagma Square, 10556 Athens
Telephone: (+30) 2103273000 Fax: (+30)2103273100
For more information, please feel free to visit: http://www.yeshotels.gr
Instagram: @yeshotelsgroup Facebook: @YesHotels Twitter: @YesHotelsGroup LinkedIn: @YES! Hotels Group
Review by Sussan Zeck for DSCENE Magazine.