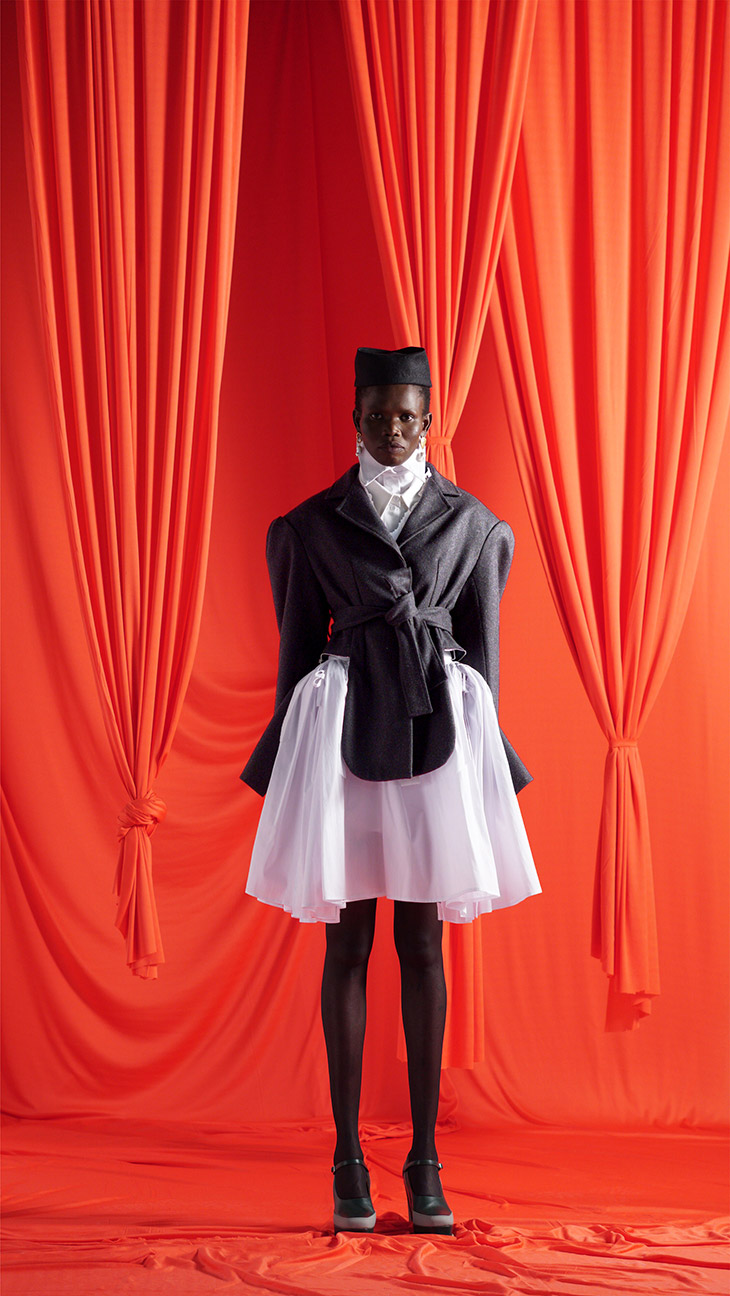 Discover RICHARD MALONE Fall Winter 2021.22 Collection, that was inspired by two books 32 Words For Field by Manchán Magan, and A Ghost in the Throat by Doireann Ní Ghríofa. The collection explores forgotten crafts and a distinct sense of place, and celebrates women as well as weavers and workers who make vital contributions to brand's practise.
Film director and photographer Isabel Garrett captured the lookbook and video starring model Hakima Athuai. In charge of styling was Nell Kalonji, assisted by Rebecca Perlmutar, with set design from Thomas Garnon, and casting direction by Holly Cullen. Beauty is work of hair stylist Shunsuke Meguro, and makeup artist Pablo Rodriguez at Illamasqua.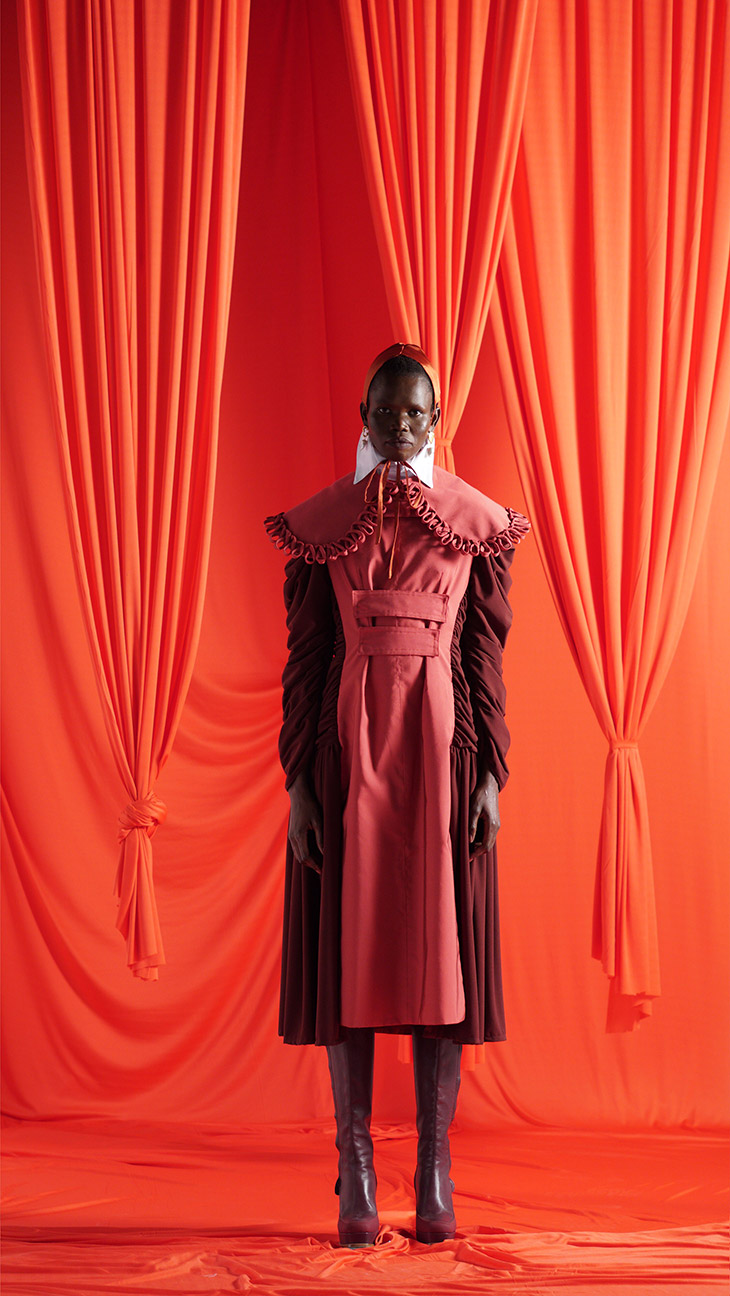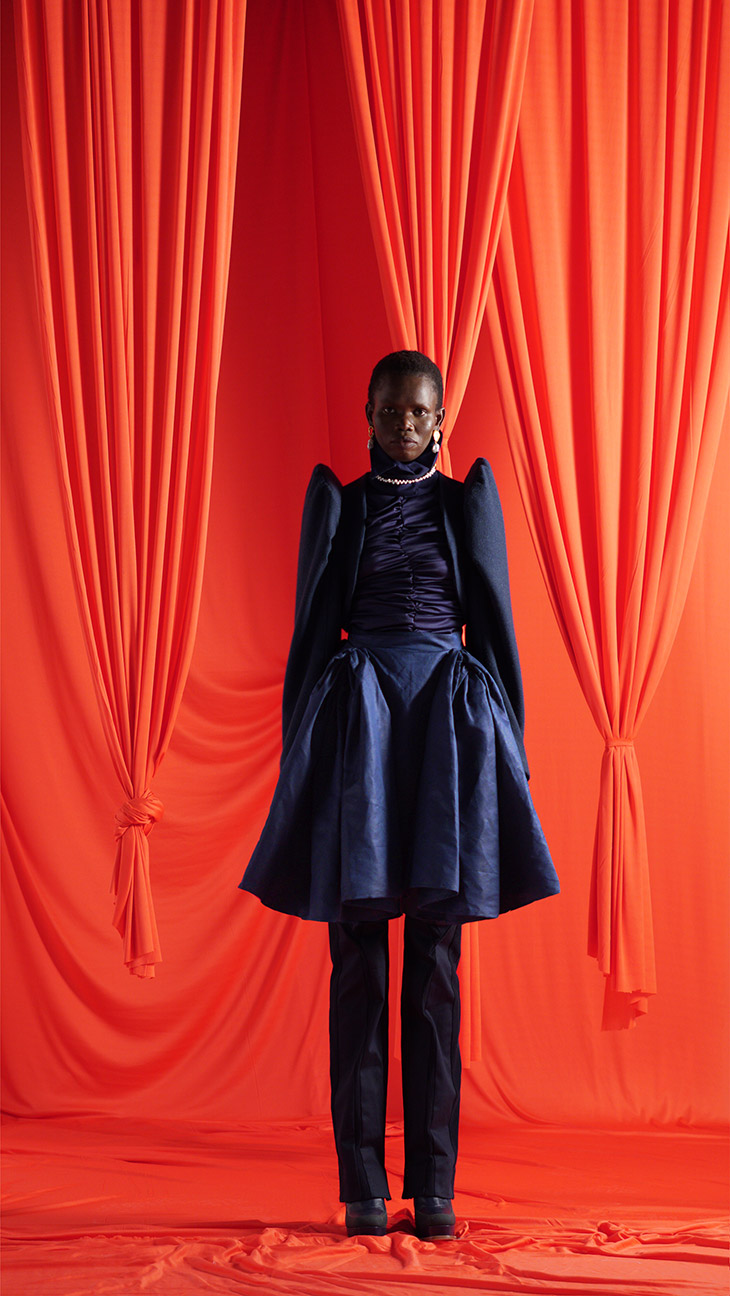 "Hailing from a time before English was spoken in Malone's native Ireland, two words – ceantar and alltear – communicate a belief in two worlds, the physical state and the 'other.' The Otherworld is considered the domain of nuanced female energy, of creativity and nurturing community spirit – as Malone would bill it, of "female graft." The mother of all things (Mother Nature) and the Bó Bainne (force of life) are all female. A sense of something ancient permeates the collection; collars are sky-high or hyper-extended down to the waist, heavyweight knitted dresses – decadent and functional – are timeless, trend-less, permanent, moving between centuries. It's the output of a team comprised entirely of female and queer voices; free of any constraints inflincted by the heteronormative gaze. There is an allowance for queer voices to be exceptional, new, daring, and create outside of existing stereotypes in an unrestricted world of newness, class-less-ness.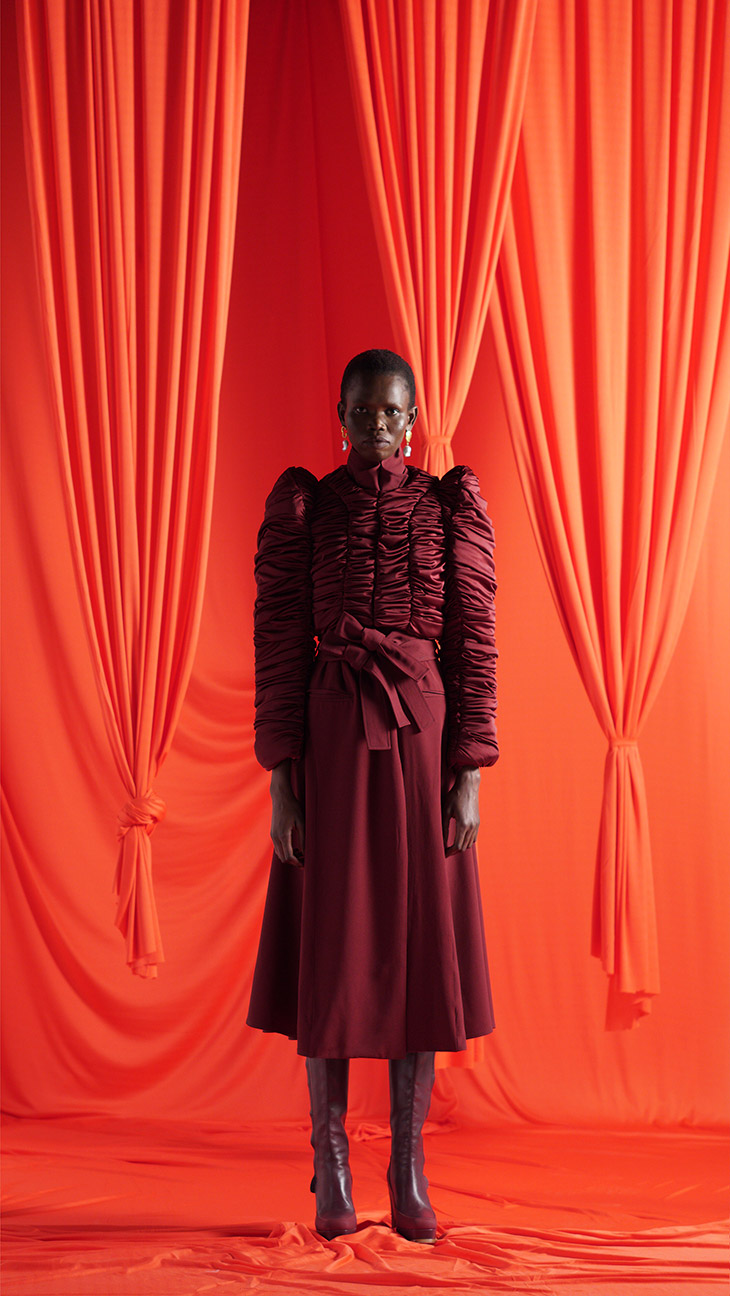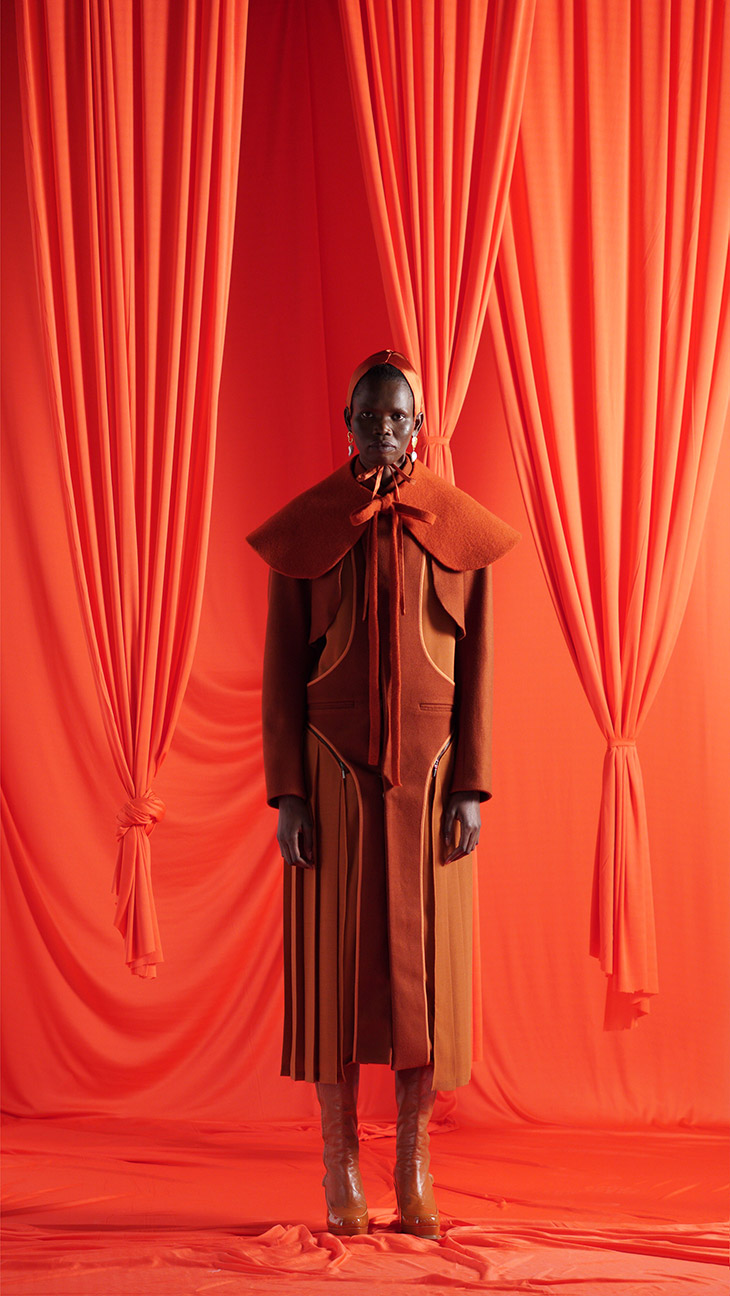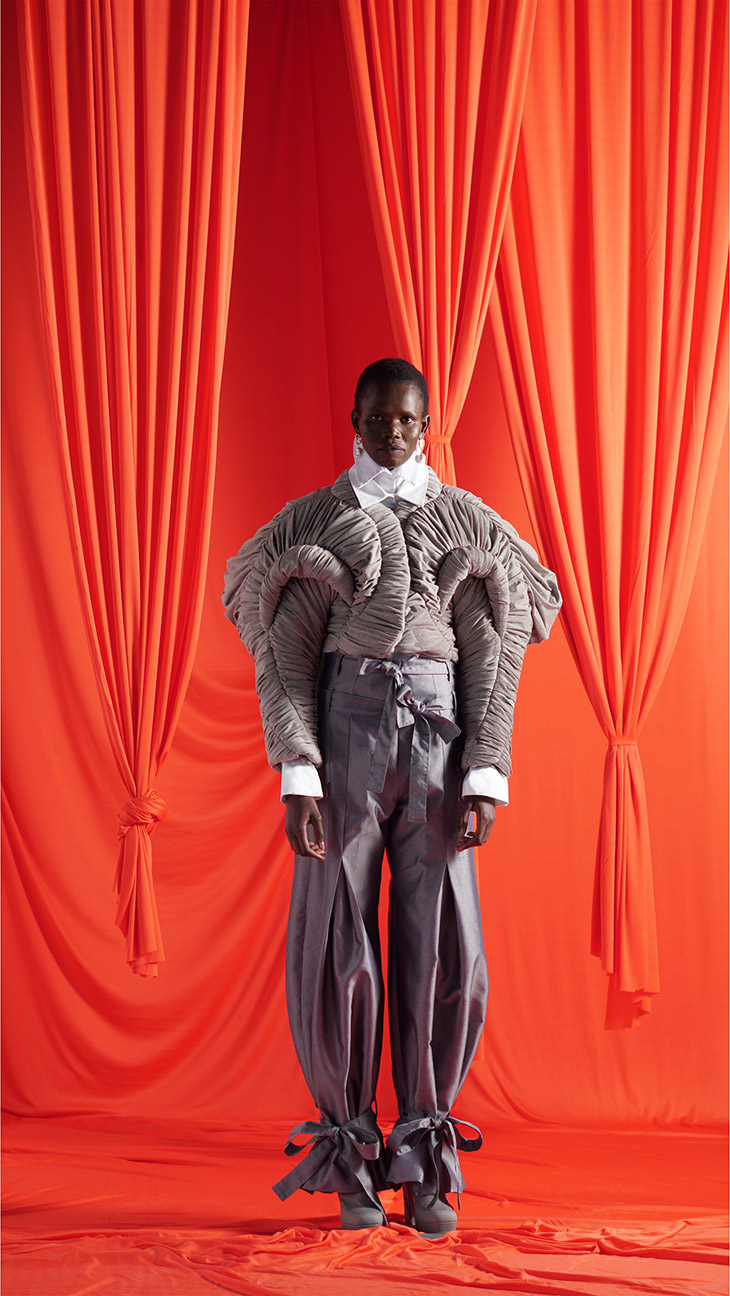 Malone has embedded subtle celebrations of working-class codes within his clothes from the beginning. His goal is to profoundly elevate: respectfully nodding to every hand involved in the creation of each piece and refusing to self-fetishise his own backstory. This collection is no different. Deconstructed coats, meticulously tailored trousers feature delicate ties at the calf and detachable pannier-hip aprons; a rigorously belted dove-grey woolen coat looks to medical uniforms. Shoulders are extended, elevated and collapsed across hyper-constructed, abstract blazers. Skirts congregate volumes to the front, still allowing movement, sitting, working. Crisp white shirts appear in the Richard Malone armoury for the first time. Malone's sensitivity to colour, structure, volume and form was built not in the hallowed halls of university libraries or during his years within the ateliers of French luxury houses, but nurtured on building sites and observed in his grandmother's kitchen. During formative years moving between spaces where craft, and making, was placed centre stage. Where female voices have been the centre of home and work spaces: protective, educational, tolerant." – from RICHARD MALONE