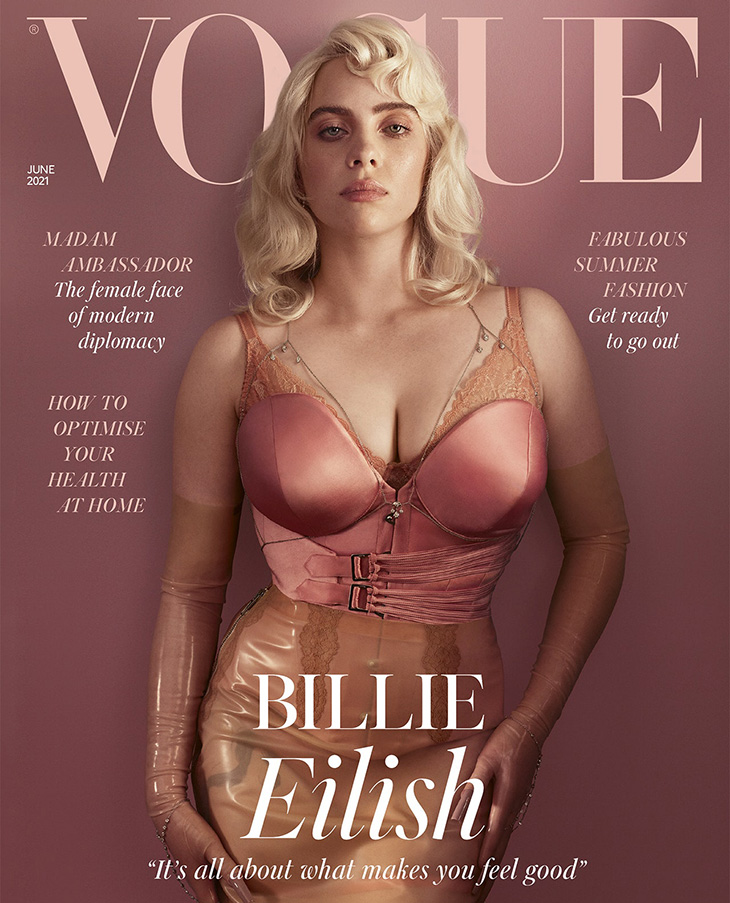 Music superstar BILLIE EILISH takes VOGUE UK's June 2021 cover with a glam shoot by Craig McDean revealing the songstress like we've never seen her before.
Billie's cover look is a custom corset and skirt from Italian fashion house Gucci, bra and knickers by Agent Provocateur, latex gloves by Atsuko Kudo Latex, while the jewellery coomes from Jacquie Aiche and Anita Ko Jewellery.
"British Vogue's June issue, cover star Billie Eilish wanted nothing short of a transformation. So she came to Vogue with an idea. What if, she wondered, she wanted to show more of her body for the first time in a fashion story? What if she wanted to play with corsetry and revel in the aesthetic of the mid-20th century pin-ups she's always loved? It was time, she said, for something new. Billie collaborated closely with the team here, led by style director Dena Giannini, and I think it's safe to say the result is Billie Eilish as we've never seen her before – but as always with Billie, it goes deeper, and it is the story behind the transformation that is key. See the full story in the new issue, on newsstands Friday 7 May," shares Edward Enninful Editor in Chief of British Vogue.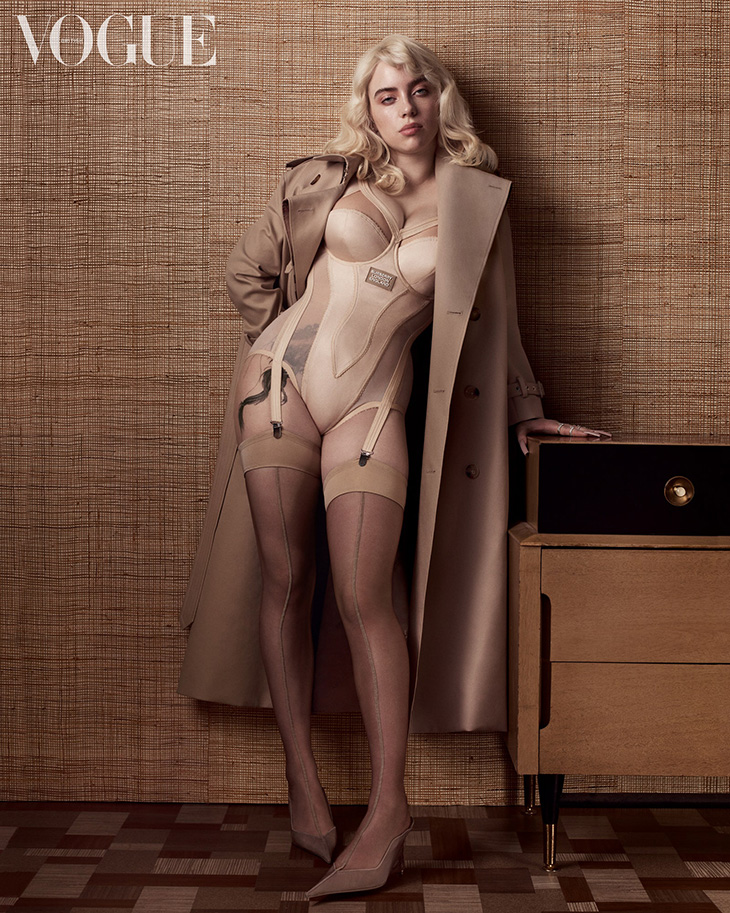 In charge of the photography was legendary fashion photographer Craig McDean while the corset taken styling was work of magazine's Style Director Dena Neustadter Giannini.
"Thank you to Edward Enninful, Dena Neustadter Giannini, Craig McDean, Jill Demling and the British Vogue team for respecting my vision and making this come to life," shared the songstress on her Instagram.
The cover shoot precedes Billie's upcoming Album Release on July 30th, the latest album is titled "Happier Than Ever". "This is my favorite thing i've ever created and i am so excited and nervous and EAGER for you to hear it. i can't even tell you. i've never felt so much love for a project than i do for this one. hope you feel what i feel," shares Eilish on her social media with her fans.
First single from the album titled "Your Power" is out now. British Vogue June 2021 edition hits the newsstands in UK followed by international on May 7th. Hair and makeup by Benjamin
Makeup Artist Rob Rumsey
Manicurist Tammy Taylor
Set designer Stefan Beckman
Find more on British Vogue web page: vogue.co.uk