Pop superstar, actress, and producer Selena Gomez takes the cover story of Vogue Australia's July 2021 edition lensed by fashion photographer Alique. In charge of styling was Patti Wilson, who for the cover selected Burberry shirt, skirt and choker and New York Vintage earrings (image above), and for the digital cover, produced in collaboration with Vogue Singapore, look from Versace. Beauty is work of hair stylist Chris McMillan, makeup artist Hung Vanngo, and manicurist Tom Bachik. Set design by Ali Gallagher, with casting direction from Rikki Keene, and production by Gabe Hill.
I think most of my experiences in relationships have been cursed. I've been way too young to be exposed to certain things when I was in relationships. I guess I needed to find what was that word for me, because I felt so less than in past relationships, and never really felt equal. And so that word to me – when I first heard it [used in the single Rare] with Nolan [Lambroza], one of the writers, I just said this is what I want to feel about myself. So it wasn't even necessarily like: 'Oh, I feel that way, let me sing it.' It was almost like: 'Actually, I need to feel that way about myself. – Gomez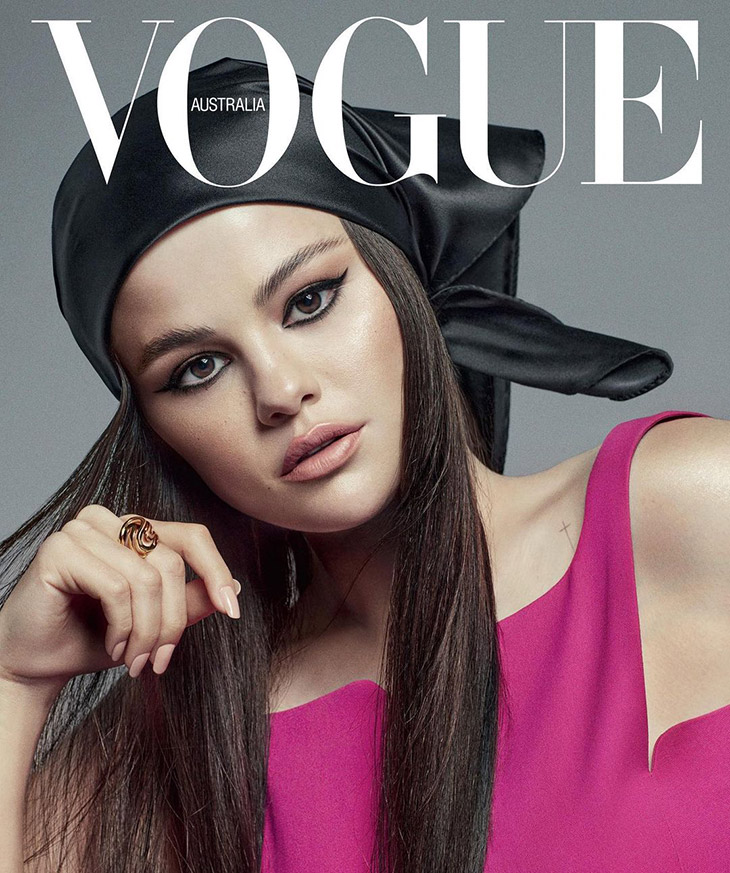 Selena will star in Hulu's new TV series Only Murders in the Building, alongside movie legends Steve Martin and John Hoffman, set to premiere on August 31th, 2021. The comedy / crime / drama show tells a story about three strangers, who share an obsession with true crime and suddenly find themselves wrapped up in one.
I'm really, really trying to support my industry. I'm buying every movie that I want to rent, and I've been buying music and making sure that I'm contributing. I watched The Undoing, The Queen's Gambit, Succession, Broad City, and Saturday Night Live [SNL] – that's actually been one of the biggest things. I've never followed SNL consecutively, I just watch it wherever I can, but I became such a fan, and now I watch that as my little calm-down thing … As far as podcasts, it's really funny, the TV show that I did [Only Murders in the Building] is kind of based on murder podcasts, because there are so many out there and so many people have these fascinations, and we kind of make fun of that in a way, because everybody is obsessed with them … I'm very much into [them]. It's so weird to say because it's kind of morbid, but I think I just like the psychology and how they figure it out, because I'm not as smart as that. – Gomez
Photography © Alique for Vogue Australia, for more visit vogue.com.au