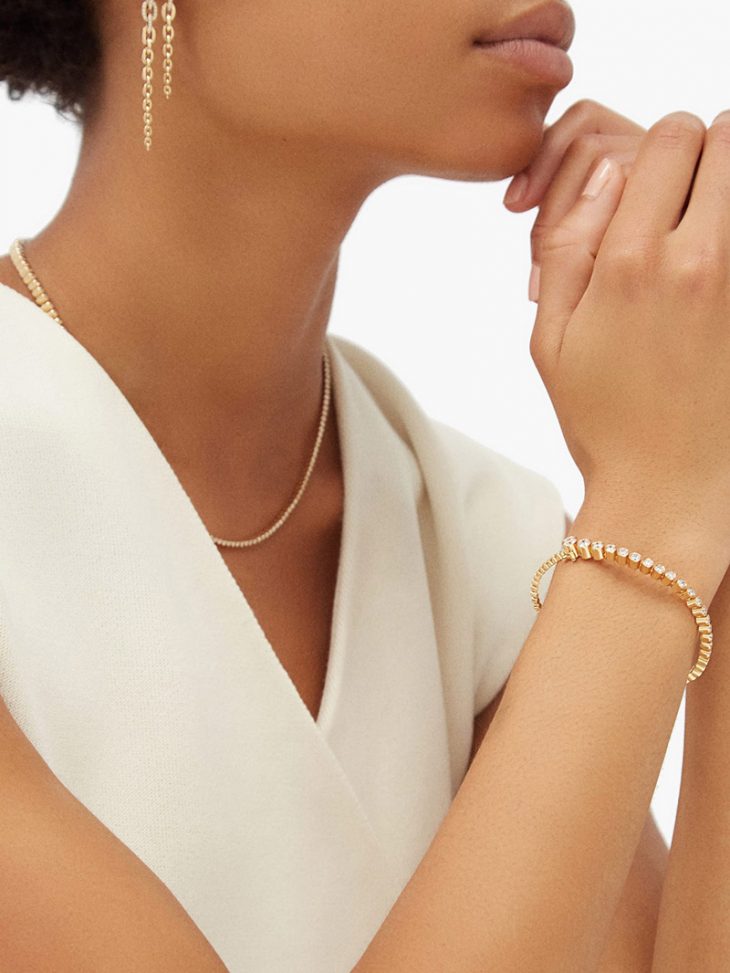 The tennis bracelet has always been praised for its timeless looks, elegance, and sleek design. The design of the eternity band is simple yet stunning – an array of sparkling diamonds arranged neatly in a single line over a platinum metal casting. Although, the minimalistic and classic bracelet may have some tough competition with a variety of other equally alluring jewelry pieces.
These alternative picks are statement-worthy and add the perfect amount of shine and sparkle to your day.
2021 is not about flashing chunky solitaires or elaborate blingy designs; it instead focuses on a person's personal growth and minimalistic styles. This is why gemstones are becoming increasingly popular amongst jewelry designers who want to play with fun shapes and forms without taking away the stone's natural beauty. While diamonds come with endless sparkle, gemstones are known for their powerful healing properties. Women can opt for a more polished and sophisticated look with these bracelets and style them for special occasions or everyday looks. If you're looking for bracelets that are extraordinary and rare, then glance at the list below to pick your favorites:
Shungite Bracelet
Shungite jewelry is the perfect option if you're looking for a sustainable jewelry option that can do more than just elevate your outfit. Women can use the black matte bracelet made from natural stone in numerous ways – such as personal protection against the emission of EMFs from daily gadgets. You can style the bracelet multiple ways – with a lighter shade of monochromatic look to break the color or as a minimal accessory with a formal outfit. The natural luster of the stone is complementary against all skin tones, making for a perfect gift for a special person in your life too! Help balance your body's energies which allows you to focus better at work and to remain optimistic in tough situations.
Tanzanite Bracelet
Women who desire modernity and urban chic can switch from the typical diamond-encrusted tennis bracelets to an even more visually stunning treat for the eyes – a Tanzanite bracelet.
Tanzanite jewelry features brilliant oval-cut jewels with diamond sparkles laying flush in between each stone. The extraordinary beauty and sophistication of the bracelet add an exquisite touch to your outfits. You can wear the bracelet with confidence to elegant dinner parties, a formal gathering, or even as an everyday accessory. The bracelet is the epitome of royal perfection; the shimmering elegance of the cool-tone metal reflects an inner radiance in the person carrying the piece.
Personalized Bracelets
If you're planning to go for a slightly more exclusive accessory with your outfits, then personalized bracelets are the perfect pick. They give a more contemporary yet refined appeal to the overall outfit and can feature dazzling diamonds or colored gemstones for a richer look. You can go for removable charms in different styles and forms to give them a personal touch. The major benefit of going for a customized jewelry item is that it can be tailored according to your personal interest and always look refreshing with new ways of styling. Going with a warm-tone bracelet will ensure that it lasts all year and can be an excellent way for the person to express their personality through elegant jewelry pieces.
Garnet Bracelets
One can instantly brighten their day by adding Garnet bracelets to their outfit – it's the epitome of style and polished perfection. Garnet bracelets have unique healing properties that can benefit the wearer in numerous ways – they can balance a person's root chakras, promote a healthy heart and give overall protection against evil energies. In a deep, gleaming burgundy tone, the January birthstone can be styled individually for a minimal look or layered with one or two more bands for a relaxed, polished look.
Amethyst Bracelets
Women who're looking to transform their life can choose the elegant and intensely beautiful purple-colored Amethyst bracelets. They're an excellent healing source and add balance to your mind/body holistically from harmful spirits and energies. Women can opt for an amethyst bracelet to add peace and calm to their surroundings or help them with their anxiety. They are also known to help optimize a person's performance and improve focus at work. The visually soothing stone can be worn every day for overall protection and healing and can be styled with any outfit easily because of its sophisticated and elegant beauty.