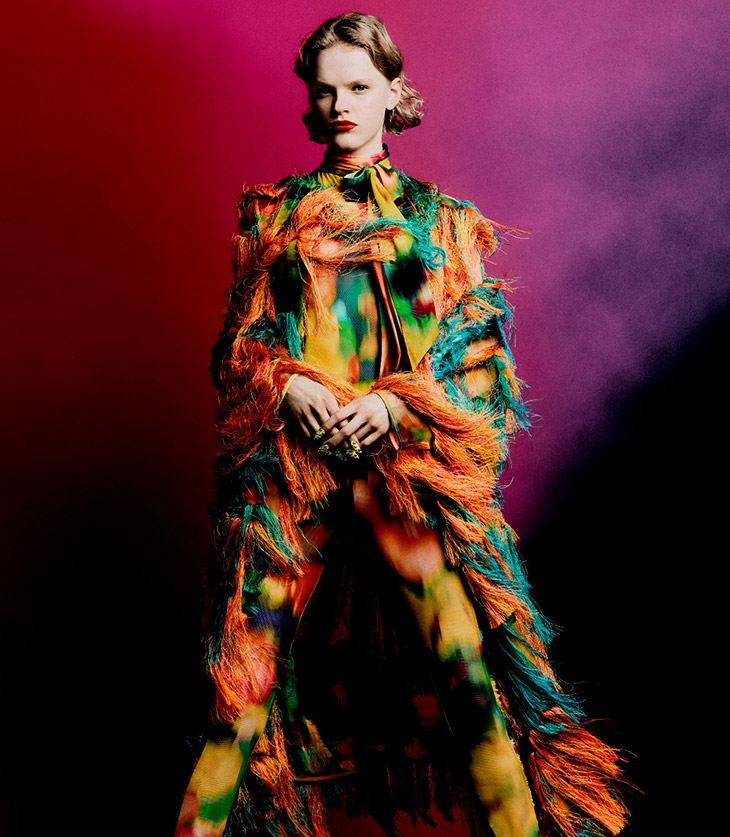 Fashion designer DRIES VAN NOTEN presented his Spring Summer 2022 Womenswear Collection, that was inspired by the Holi festival in India, on September 29th, during the ongoing Paris Fashion Week. The collection explores the collective energy and joy of a rowdy audience, fireworks, and concerts. It brings festive spirit and bold looks. For the season pieces are more sculptural with fitted shapes that emphasize the body; colors are powerful, pigmented, and saturated. The color palette includes all hues of yellow from imperial to florescent, orange, blues from electric, neon to royal and baby, purple, mint, turquoise, chocolate taupe, fuchsia, cloque with stripes in black.
SPRING SUMMER 2022 WOMENSWEAR COLLECTIONS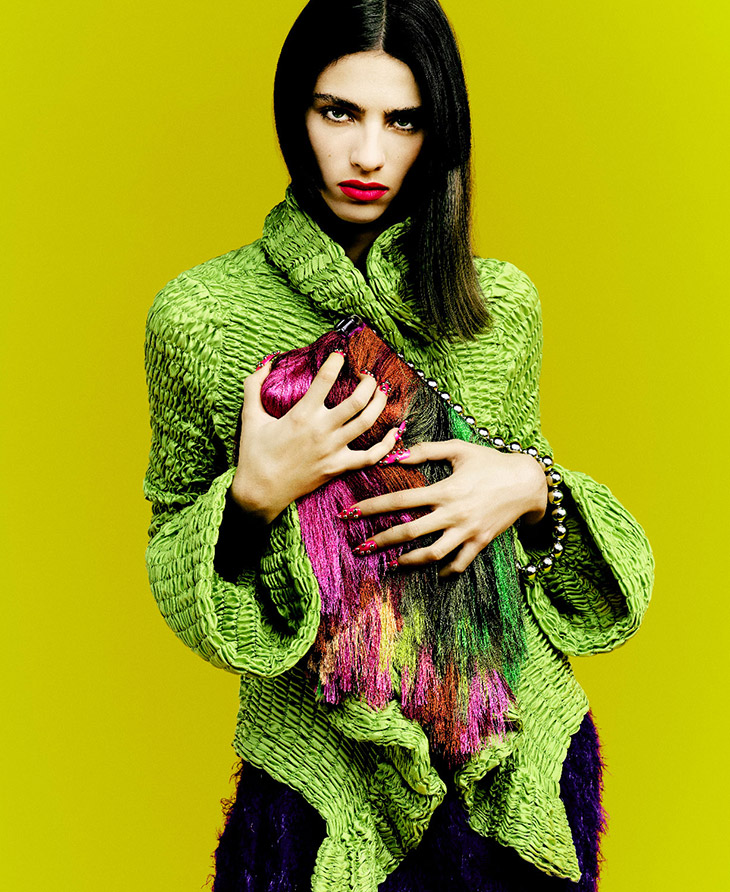 "All variations possible, from the masculine, weighty and dry to the light and fluffy. Textures brings support and definition to colour choices. The art of hand stitched smocking is pushed to its limits creating sculptural shapes and shaping a new silhouette. A wide panoply of textiles build the story this season, the techniques of producing jacquards are challenged further and seem even embossed, wool gabardine, cotton taffeta, photo-printed silks, silk mousseline and pongee evoke the first Dries Van Noten collection and that of 1996-97, textured polyesters, Retro swimsuit ruching, Classic cotton poplin, voiles and drills, the transparency and structure of transparent polyesters in green and reds. Velvet for garments and accessories.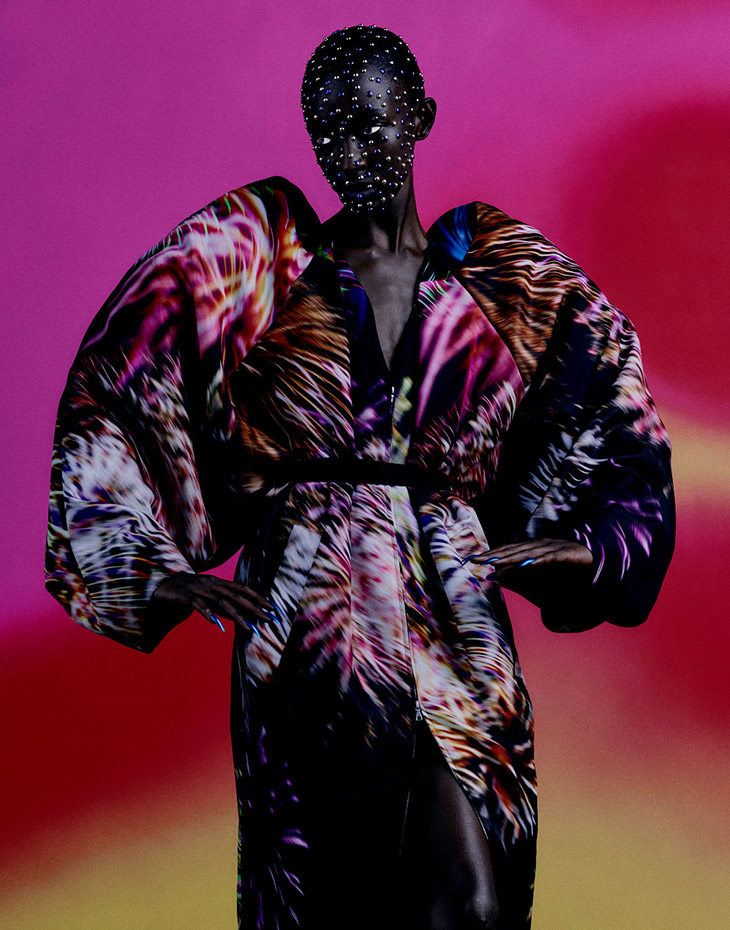 Big colourful stains replicate being doused with pigment at the Holi festival in India. The experience of blurred photography of night scenes of Antwerp & beyond – from the "Chiquita building "to the Central Station are shared with the last men's collection. Blurring photographs of the familiar brings imagery to a trippy, more abstract, and universal dimension: explosive fireworks, blurred flower prints as a conduit for joy. An arial photograph of a massive crowd printed in repeat replicates tweed, A small club, hard rock band. the audience caught in a red spotlight. Friend's sit around a dinner table, trompe l'œil embroidery and multi coloured beading, magnified pixelated images of flowers become abstracted motifs. Images of hand knot nets become diamond motifs." – from Dries Van Noten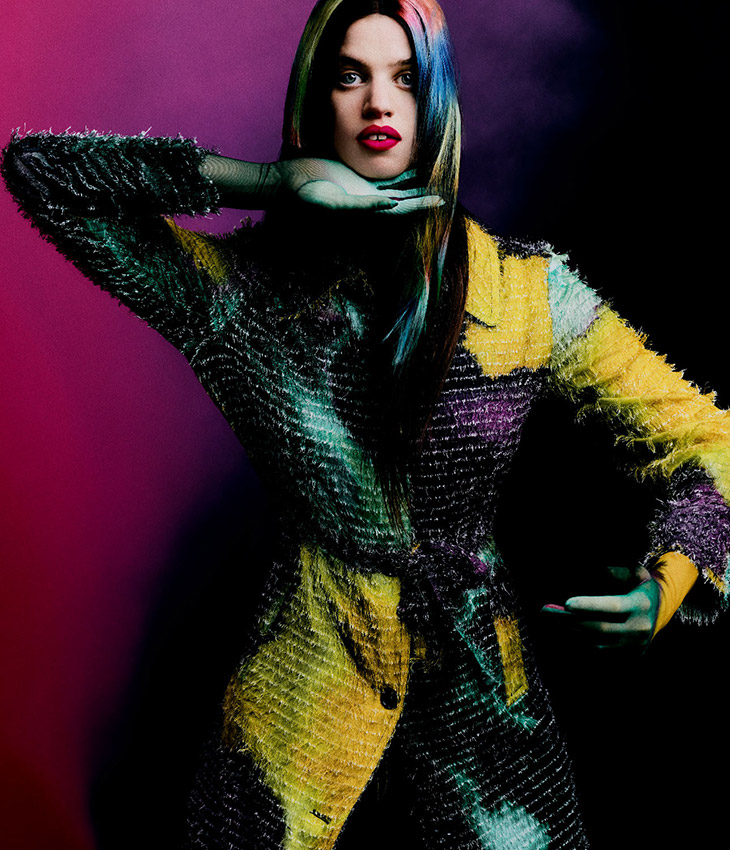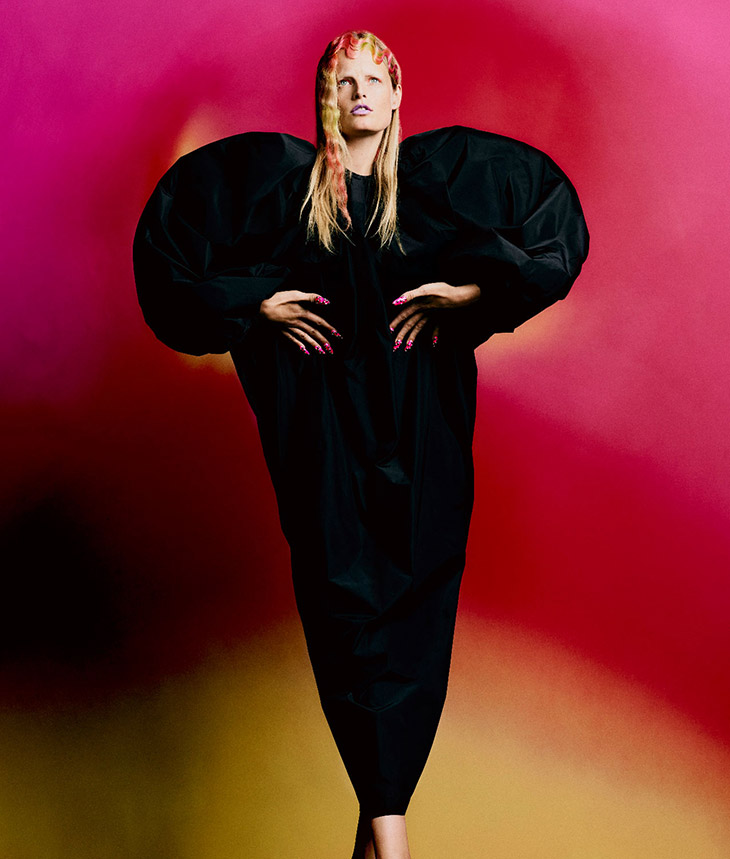 Fashion photographer Rafael Pavarotti captured the lookbook feeaturing models Adit Priscilla, Amane Taniguchi, Assa Baradji, Bella Kim, Chai Maximus, Eny Jaki, Evelyn Nagy, Fariya Simon, Fien Maes, Hannah Motler, Hanne Gaby Odile, Iekeliene Stange, Joanna, Kayako Higuchi, Lily McMenamy, Loli Bahia, Lynn Palm, Malick Bodian, Mary Duleu, Mila Van Eeten, Mohamadou Diakhite, Mountaga Diop, Moustapha Sy, Nicole Atieno, Nyarach Ayuel, Nyaueth Riam, Rouguy Faye, Sara Blomqvist, Sofia Steinberg, Sokhna Niane, Tessa Bruinsma, Topsy, Yilan Hua, and Zso Varju. In charge of styling were Dries Van Noten, and Nancy Rohde, with casting direction from Piergiorgio Del Moro. Beauty is work of hair stylist Sam McKnight, makeup artist Lucy Bridge, and manicurist Sylvie Mac Millan.