Missing Travel? These wooden world maps will take you on a journey around the globe from the comfort of your own home. A perfect piece of home decoration, they can help you remember the most exciting travels you undertook and dream about trips yet to come.
If you are looking for a statement piece for your home or office space, this striking wall décor is suited to any traveler's taste. Minimalistic, meaningful and inspiring, it can work for both travelers and those who love staying in. Created by the Ukrainian family-owned brand, Enjoy The Wood these 3D Wooden World Maps are made of high quality birch plywood with flawless engravings.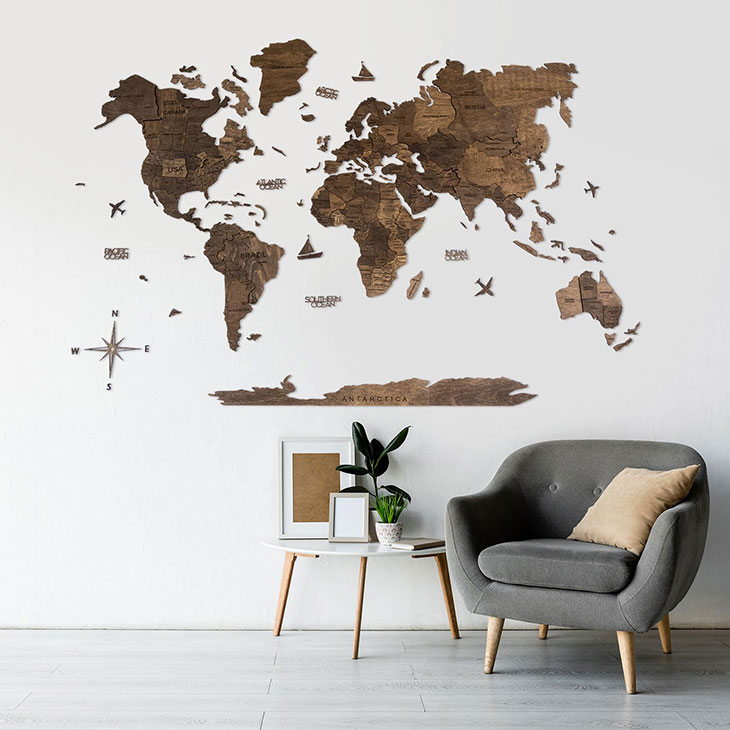 MAIN FEATURES
Sustainability – Enjoy The Wood uses eco-friendly materials, such as certified sustainable birch plywood. Birch trees are a fast-growing species native to northeastern Europe, known for their abundance and speed of growth. Using birch causes minimal devastation or destruction of biodiversity. This feature is making it a very sustainable choice that has little impact on the environment.
Craftsmanship – The maps are handcrafted in Ukraine by a family-owned business at their own manufacture. "Our World Wooden Maps are not just something nice that you put on your wall, it's about the journey that each of us takes, important and unique, no matter how big or small," – shares with DSCENE magazine one of the owners. Their goal is to bring the best quality to the customers, continuously perfecting the production processes and improving the quality and features.
Design – One of the easiest ways to keep track of the countries you've visited is by using this wooden world map. This perfect travel planner and memory board makes every space look truly different. With its natural look, it brings that deep sense of harmony each of us is looking for. With a wide selection of colors, sizes, and styles it is quite easy to achieve the look that best fits your décor sentiment. This allows you to pick your own option and instantly add a touch of color to your interior while creating an engaging focal point. Furthermore, design options with LED lights and luminous maps are also available.  
Packaging – The maps are also a perfect gift choice. Within the packaging you'll find: map pieces including ocean names, wooden planes, boats and compasses, double-sided sticky tape, instruction, corner stencils as well as a lifetime warranty.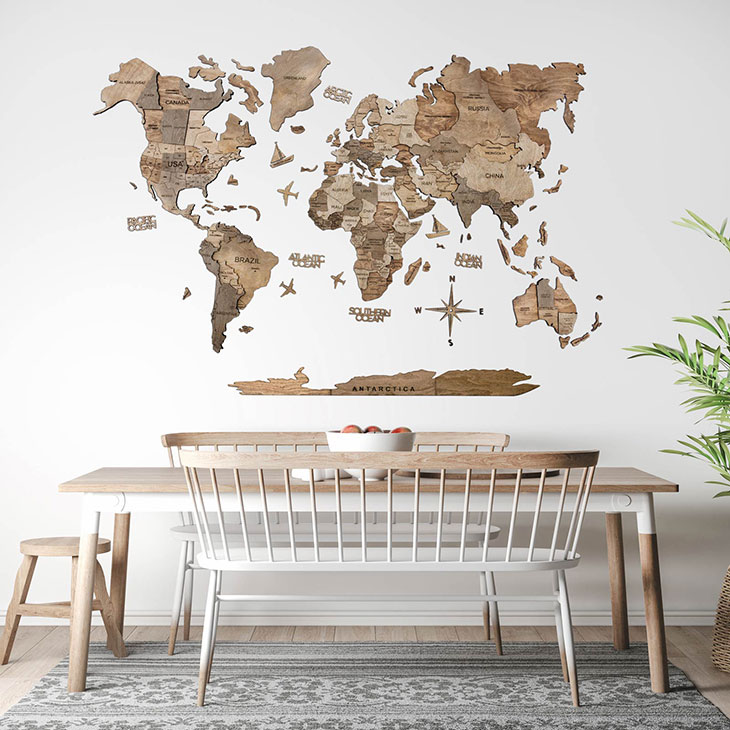 THEY COME IN DIFFERENT SIZES & TYPES
Enjoy The Wood's maps are available in different sizes and types, therefore make sure to choose the right fit for your room. From 2D to 3D, natural wood color to various colorful options, as well as LED and luminous options, there is a plethora of different combinations to choose from. If you want to keep it simple, go with natural wood colors or black and white designs. To add a dose of fun to your interior, you can choose from quite a few colorful options also including LED light features. 
Depending on the size of your room, make sure you find the right option raging from M to XXL. Available sizes are M – 100 cm x 60 cm (39"x24″), L – 150 cm x 90 cm (59"x35″), XL – 200 cm x 120 cm (79"x47″), XXL – 300 cm x 175 cm (118"x69").
The newest addition to the Enjoy The Wood family is the first 3D Luminous Colored Wooden World Map that features four massive updates. With 18 new colors, luminescence effect, magnetic feature and new LED backlight, it is even more versatile and customizable. It stores the energy during the day, and it can glow in the dark for up to 2 hours, thanks to the non-toxic magic paint. Additionally, this latest map can also hold magnets, helping you keep your best memories nicely displayed on your wall.
If you are not sure how the map will look like on your wall, there's Enjoy The Wood App to help you with that. You can try out different sizes and colors of the map on your wall and see what works best for you and your space. It is available via PlayMarket or AppStore. Simply select the map and tap the "Try on" button.
MAPS ARE EASY TO INSTAL
These Maps are first of all fun and easy to install. To assemble a map it takes just a few hours and what's important is that placing one won't damage your wall. You won't need any special tools or equipment, as everything you need comes in the box. It is important to note there is no drilling needed. It comes with a special double-sticky tape, therefore the only thing you need to do is to simply stick it to the wall.
Needless to say, this installation can be an amusing moment for the whole family. Not only does it look impressive on the wall, but it will also help you bring the household together while assembling the map.
The video below will help you if you still have some trouble selecting and afterwards installing your map:
PERSONALIZATION
Versatile and customizable, this map will fit any interior space, and perfectly match the personality of your home or even office space. The creators of the maps included multiple options allowing you also to personalize them. That way, with choices pretty much being countless, you can simply shape your own unique world map. 
The creators can also mark any city with a special symbol, such as heart, house, or a star for you or include a country or an island that you want (since the design is not a carbon copy representation of a true geographical map, some countries and islands might be missing).
Additionally, a great feature is the possibility of tracking all the places you've visited or have been dreaming of! To do so the Enjoy The Wood creators worked on making additional design elements, such as planes – 45 metal airplane push pins. Followed by flags – the design includes 287 flags of countries, but also state flags from countries such as the USA, Canada, and Australia. Also, there are 15 pieces in a pack to mark your favorite places included within the Push Pins Sightseeings box!
One more feature that we love is the special event marks – features a wooden board and a set of 40 colored pins, in addition to the 8 special events pins to mark your past, present, and future trips.
Finally, you can fit these wooden maps within any interior design concept you have on your mind by simply customizing the design elements yourself. There are no limits; the maps are a perfect addition to your living room, but also an office, or even a store or a coffee shop. All you need to do is let your imagination fly and create your own map style, and perhaps do so with help of family and friends while having fun doing so.