Winter has officially arrived, and we cannot deny it any longer. Now it's time to transition from your light fall clothing to warm and comfy winter layers, which for most of us includes our favorite hoodies. The humble hoodie has skyrocketed in popularity over the last couple of decades, becoming one of the most essential pieces of clothing a man can have in his wardrobe. Formerly restricted to gyms and other training grounds, the hoodie is now a staple of urban streetwear and the king of lounging. With the emergence of normcore and luxury streetwear it is now absolutely dominating the market. It's the king, parading down nearly every runway without a credible opponent.
For those who are already fans of the hoodie look, wearing one to the gym with a pair of jeans or sweatpants might be the perfect match. Layering a hoodie with a blazer or leather jacket over it may offer the perfect blend of comfort and sophistication for those of you who are still hesitant to wear hoodies. Our men's style editors have compiled a list of the best Fear of God Essentials hoodies. For those of you who are not familiar with the brand, it's a LA-based luxury streetwear brand. It was founded in 2018 by Jerry Lorenzo as a diffusion line of the main brand Fear of God. The brand's signature style features simple pieces with a oversized silhouette and a focus on comfort.
Scroll down for our edit of the best Fear of God Essential hoodies to buy now.
Fear of God Essentials Knit Pullover Hoodie 'Amber'
This Fear of God Essentials cotton-blend pullover hoodie is a must-have for your off-duty wardrobe. It's made of a soft waffle-knit that's excellent for lounging around the house and keeps you warm when layered over T-shirts and it's sure to become a work-from-home staple. The hoodie comes in a versatile khaki color and features a rubberized logo appliqué in black at the hood as well as a jacquard logo in black at the chest, a kangaroo pocket at the waist and rib knit cuffs and hem.
Fear of God Essentials Hoodie 'Cream'
With its loose-fitting design and Fear of God's trademark oversized silhouette, this cream hoodie embodies the label's signature street-infused look. Finished with a logo print at the chest, it gives a luxury take on traditional loungewear. The neutral sweater can go with anything, particularly your favorite pair of jeans.
Fear of God Essentials Pullover Hoodie 'Pistachio'
It doesn't get much better than this. This classic hoodie in a pastel green color is taking your athleisure to new heights. Keep it simple with loose-fitting black trousers and sporty-looking low-top sneakers.
Fear of God Essentials Hoodie 'Black'
This hoodie from Fear of God Essentials is pitch black and as comfortable as it gets. This hoodie is designed to be stretchy, lightweight, and durable, so it can handle the demands of your social calendar with ease. Pair with your favorite pair of denim and a solid pair of sneakers.
Find the latest Fear of God Essentials hoodies at GOAT.
Fear of God Essentials Hoodie 'Heather Grey'
There are a few pieces of clothing that you can't go wrong with, but the grey hoodie is one of them. Made of a silky cotton fabric that's soft enough to wear around the house, this hoodie looks great layered under a leather biker jacket or over formal trousers and a turtleneck.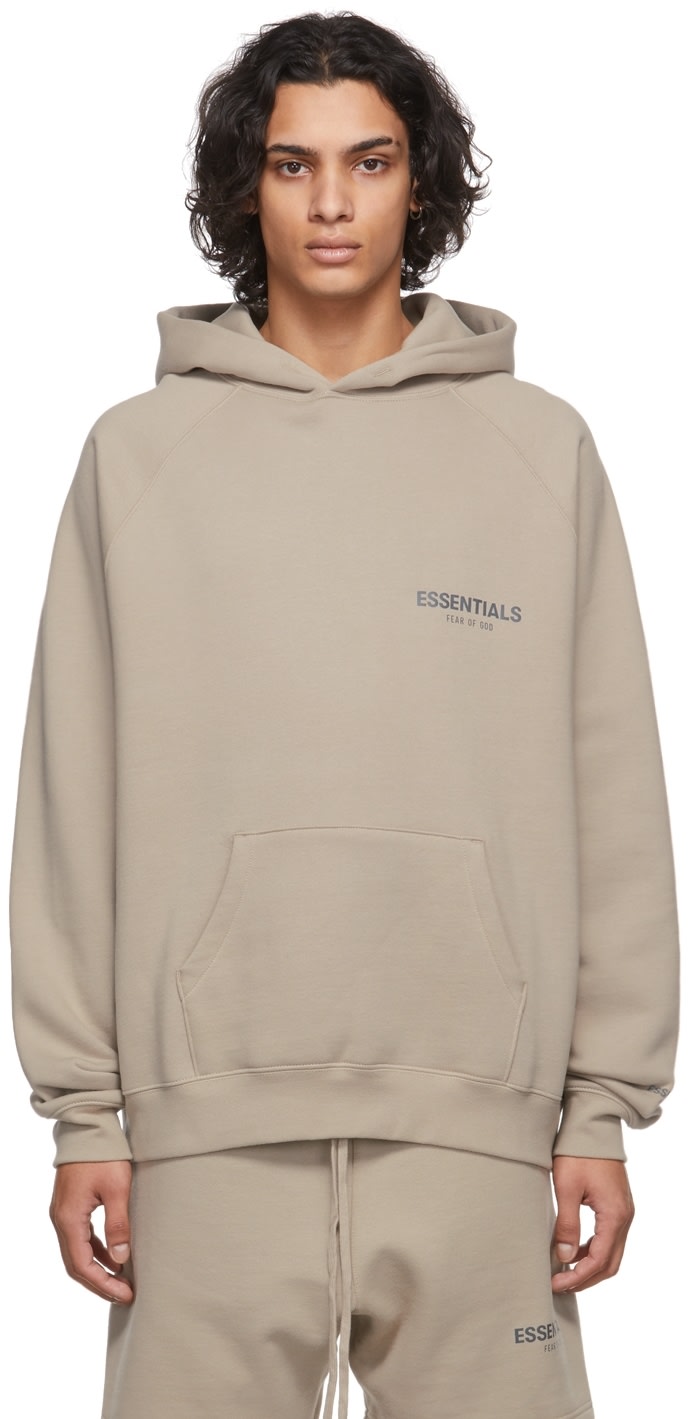 Fear of God Essentials Hoodie 'Tan'
An oversized hoodie is always a good choice. This long sleeve cotton-blend fleece hoodie in a tan color is part of the brand's Core Collection. It is made out of a supple cotton-blend material. The Essentials logo is printed in grey at the chest and sleeve. It features a kangaroo pocket, raglan sleeves and rib knit cuffs and hem.