Pop star Dua Lipa teams up with fashion photographer Daniel Jackson for the cover story of WSJ. Magazine's latest digital edition. In charge of styling was Lorenzo Posocco. Beauty is work of hair stylist Jennifer Yepez, makeup artist Samantha Lau, and manicurist Mei.
Something that I've realized over time is how little people actually know. I've made peace with the fact that people can think what they want to think, but no one really, truly knows what's happening behind closed doors. My circle's really tight, my family and my friends keep me so grounded, and it gives me some kind of comfort that not everything is out there that would take away from your life and privacy – Lipa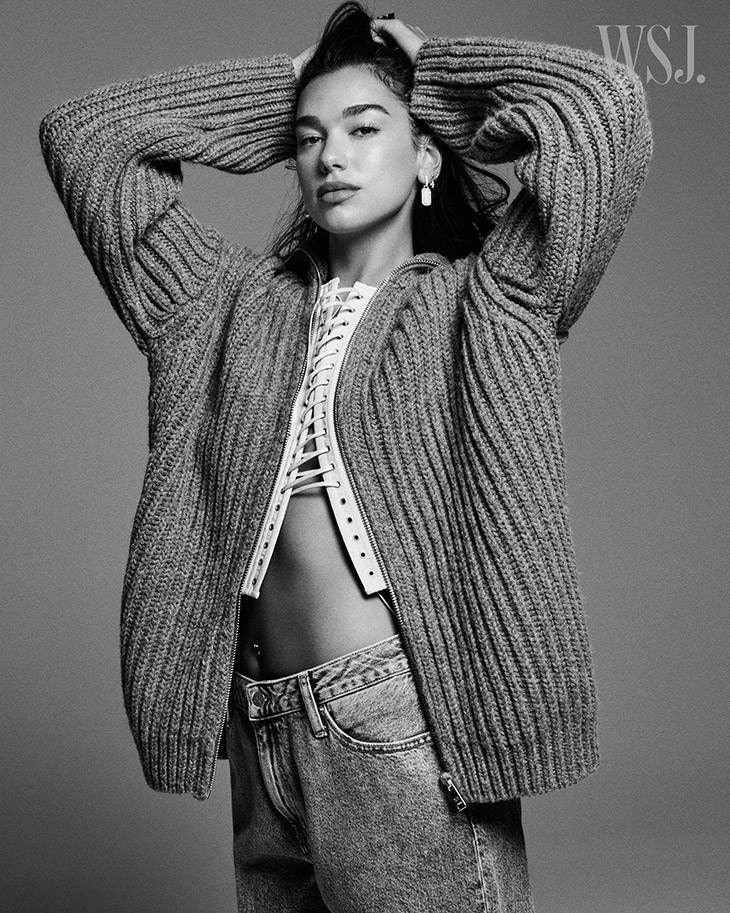 On launching Future Nostalgia during the pandemic:
"I always have this viewpoint that you have to be outside of your comfort zone for things to be rewarding," Lipa said on a recent snowy morning in Manhattan. "So when the pandemic happened, and everyone was worried about whether we should release the album, I was just like, F— it, maybe it's just what we need. While everyone's at home, maybe this is the album we should be putting out. It was scary, because you had no idea how long we were going to be in this pandemic. Everything was a big question mark. But I had a sense that we just had to do it."
"Nothing was planned," she says. "It was all like, Let's try this out—why not? The idea that people were liking the album was the extra driving force for me to create new things and work harder and try to give them more experiences."
On launching her newsletter, Service95:
"Since I was really young, I've always kept lists," she says. "My parents found it really funny, because they would find them all over the house, but it's something that I've done religiously—I try a new restaurant, I write it down. Movies I want to watch, books I want to read, places I want to see, drinks, recipes, everything. So all my friends send me messages like, 'I'm in Mexico City; what can I do?' And I'd say, 'Oh, this, this, this, you have to see this.'"
Inspired by this personal-recommendation engine, the newsletter, Service95, will also focus on new musicians, artists and designers and feature updates from around the world. "I've got journalists from Russia, from Hong Kong, from Nigeria," she says. "Once we move from newsletter to website, everything will be searchable, so wherever you are, you can find information about new music that's happening or new things to go and see and do."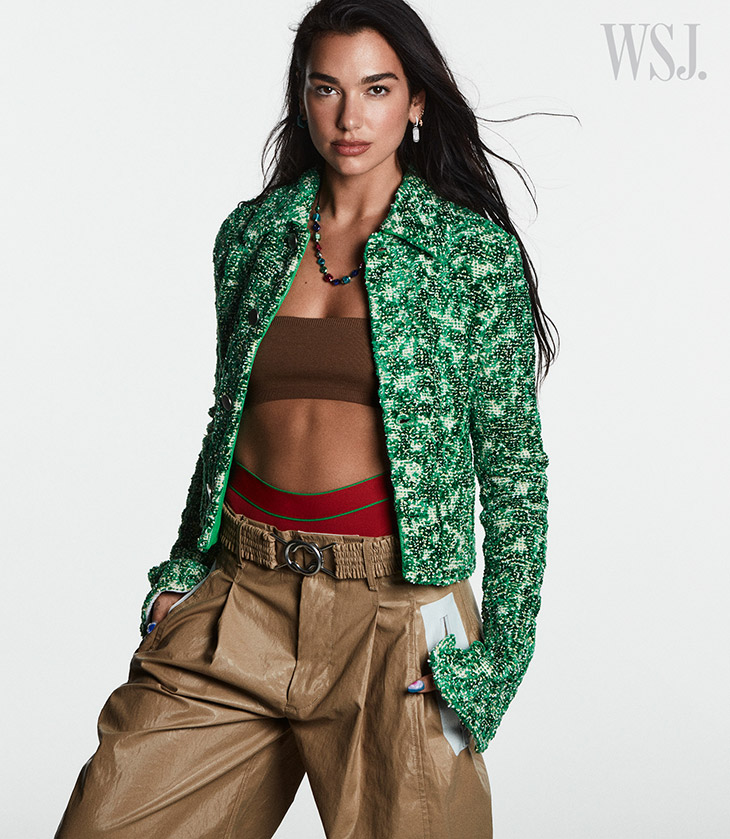 On her new podcast, At Your Service:
The first season will have a dozen episodes, with a tentative lineup that includes writer Lisa Taddeo, British Vogue editor in chief Edward Enninful, Russell Brand and musicians like K-pop superstar CL and Elton John. Lipa sees a connection between her interest in such narratives and her work as a songwriter.
"I think it's a lot about sharing experiences," she says. "When I make music, a lot of the time it's very personal experiences, but in the hopes that other people will listen and have it resonate with them. The same goes for Service95—that idea of togetherness."
Ben Mawson, who has been Lipa's manager since she was 17, on his first impressions upon signing her:
"She certainly wasn't fully formed as an artist," says Mawson. "She did have a very good voice, but the songs weren't really there. But she mentioned Madonna as a person to emulate, and I thought that was my type of ambition."
On juggling so many full-time-job roles:
"It's just something that's ingrained in me," she says. "I don't know what it is, but I feel like at any point the rug could be pulled from under my feet if I don't work hard enough."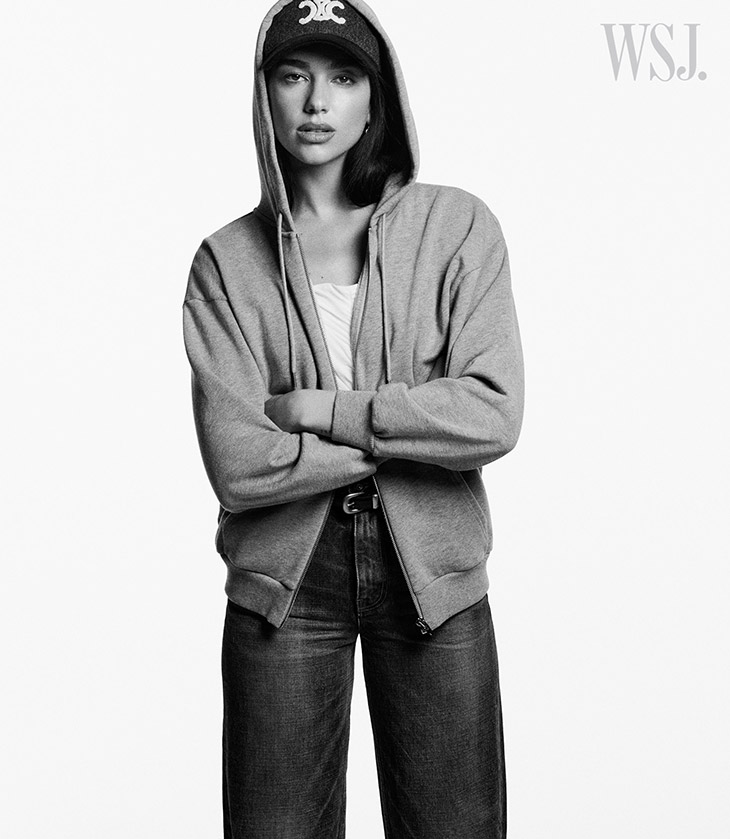 On retaining a strong connection to her Kosovar heritage:
"It's such a big part of who I am," she says. "Given my parents and how they came to the U.K., [the refugee situation] has always been something that's really close to my heart.
"I read a lot of comments from people telling me that I don't have a country, I don't have an identity, Kosovo doesn't exist. I lived in Kosovo, I know the lives that were lost. So for somebody to deny me my identity and my experience, it's hard for me to stand back and not speak up about it. So that's something that I will always do."
On how fashion has become more inclusive and diverse since her early modeling days:
Walking in the Versace show last fall gave her a new perspective. "Times have changed so much that you see beautiful models of all sizes, of all races, of different genders," she says. "It's amazing to have that now be the beauty spectrum when it was so limited before. Fashion is evolving so quickly, people are really being accountable and taking a stand for things that they believe in. And I love that I was a part of it now, in this time of change."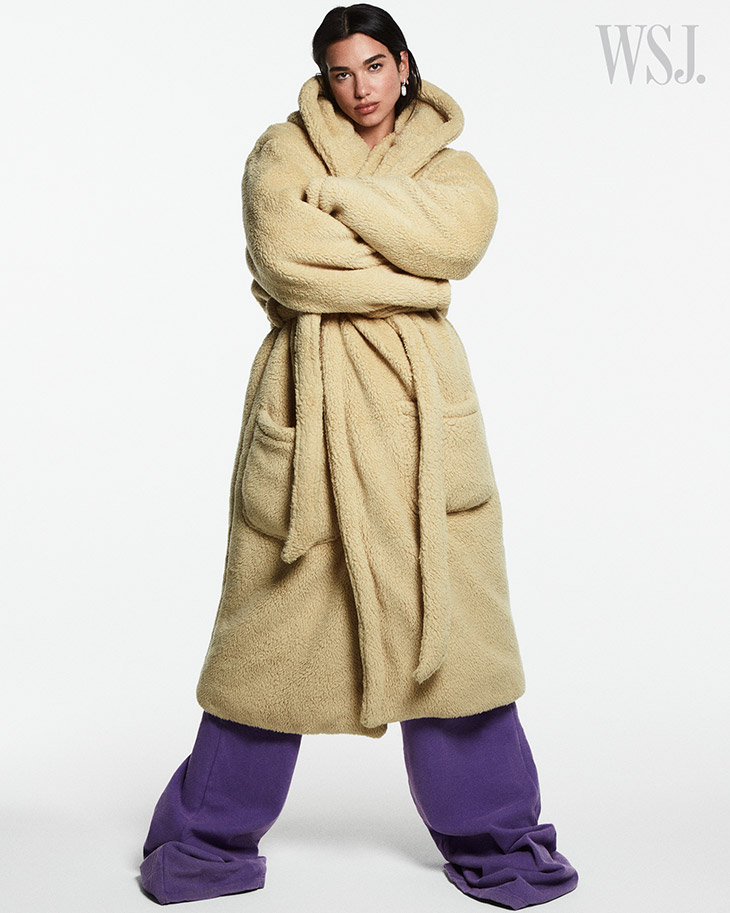 Director Matthew Vaughn on Lipa's movie debut for his upcoming feature film, Argylle:
"I've been around a lot of very famous people, and I think fame is becoming a non-commodity," he says. "Andy Warhol was right; everyone's becoming famous for doing nothing. And when I saw that interview, I thought, this girl's got it."
Vaughn will reveal only that Lipa's character plays "a pivotal role at a pivotal moment," adding that on set "she was very attentive, inquisitive and focused. She zoned in and listened. If I gave her notes, she took them, understood them and delivered."
On finding working on Argylle a little terrifying:
"Everybody was saying 'Oh, isn't this so similar to making a music video?' but it's not at all," she says. "In a music video, you really play to the camera, whereas in film, you have to forget the camera and get into character."
On being deep into making her next album:
"I've done a big chunk of writing: It's starting to take shape; I've got a lot of it recorded," she says. "It has a vision. It has a name, I think—for now. It's just been fun experimenting. I'm always going to make pop music, but it has its own unique sound, which is exciting and something that feels like a movement from Future Nostalgia. It's still in baby form, so we'll see as it progresses.
"In all honesty, it's probably not what my fans want to hear, but I'm in no rush."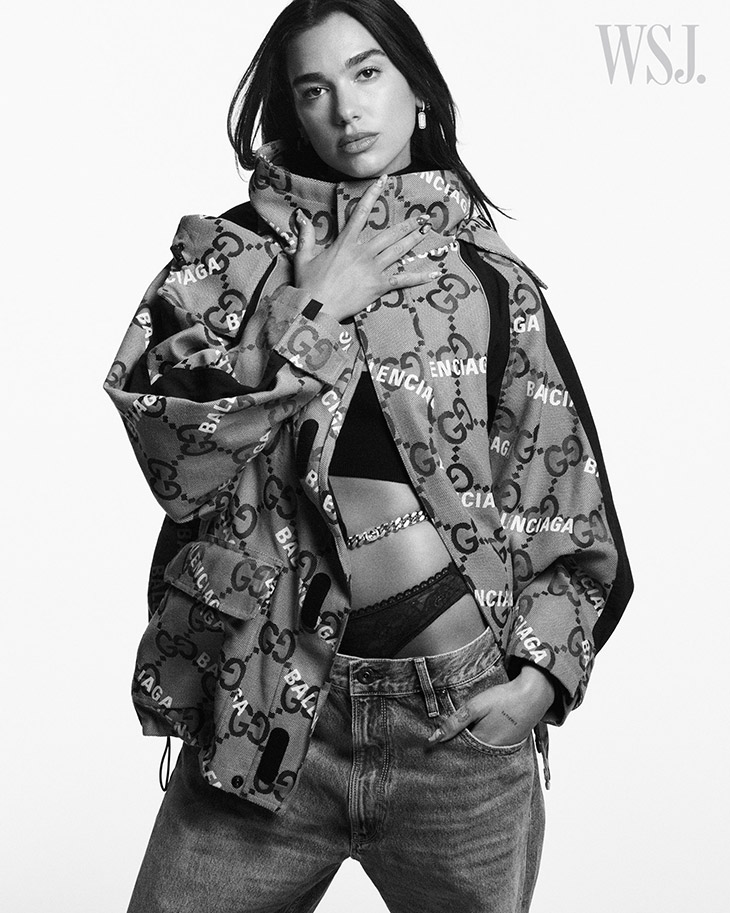 Elton John, whose duet with Lipa, "Cold Heart," went to No. 1 in the U.K. and is his first Top 10 hit in the U.S. in more than 20 years, on Lipa:
"When we collaborated, I was blown away by how professional she was," says Elton John, "She turned up so well prepared and was a joy to sing with. Her musical chops are substantial. She has so much presence—an elegant poise and sophistication that belies her youth."
Donatella Versace on Dua Lipa (the face of Versace's fall/winter 2021 campaign)
"Of course, no one can deny that she is a beautiful woman," says Donatella Versace, already known as an another of pop stars (J.Lo, Lady Gaga) before enlisting Lipa. "However, her voice has something so unique to it, and the way she looks you in the eye, with that mixture of wonder and confidence, made me understand that she is a true Versace woman. One who fights for her ideas, who is supportive of other women and wants to succeed."
"Walking down a catwalk is not as simple as it looks if you are not used to it, and if everyone behind you has walked hundreds of them," she says. "[Dua] gave me yet another glimpse into her work ethic. The way she owned that moment is just another example of her talent and, in fact, we can safely say she killed it with that wink in front of the photographers."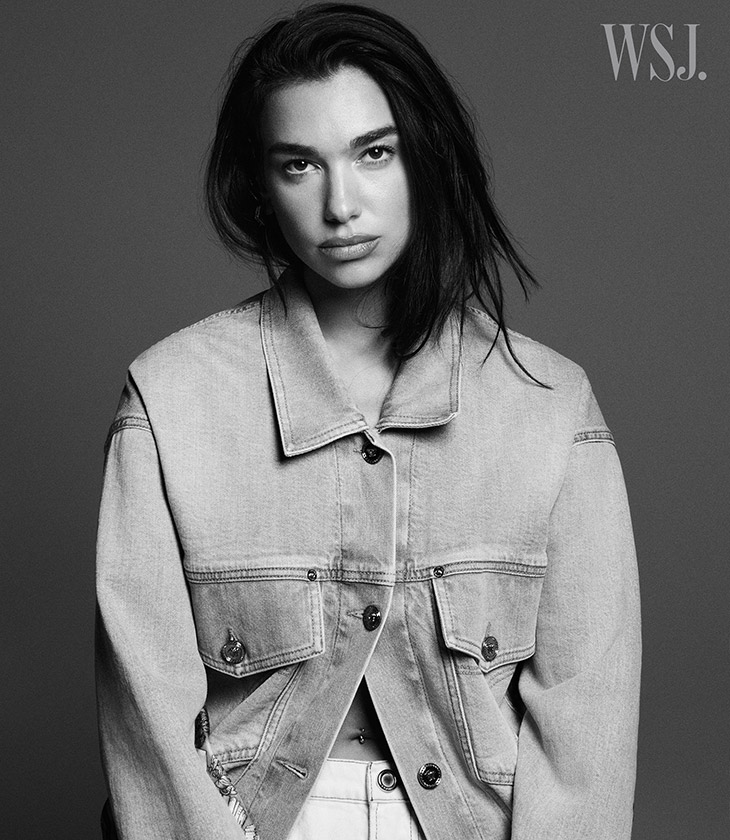 Profile written by Alan Light for WSJ. Magazine
Photography by © Daniel Jackson for WSJ Magazine, read more at wsj.com