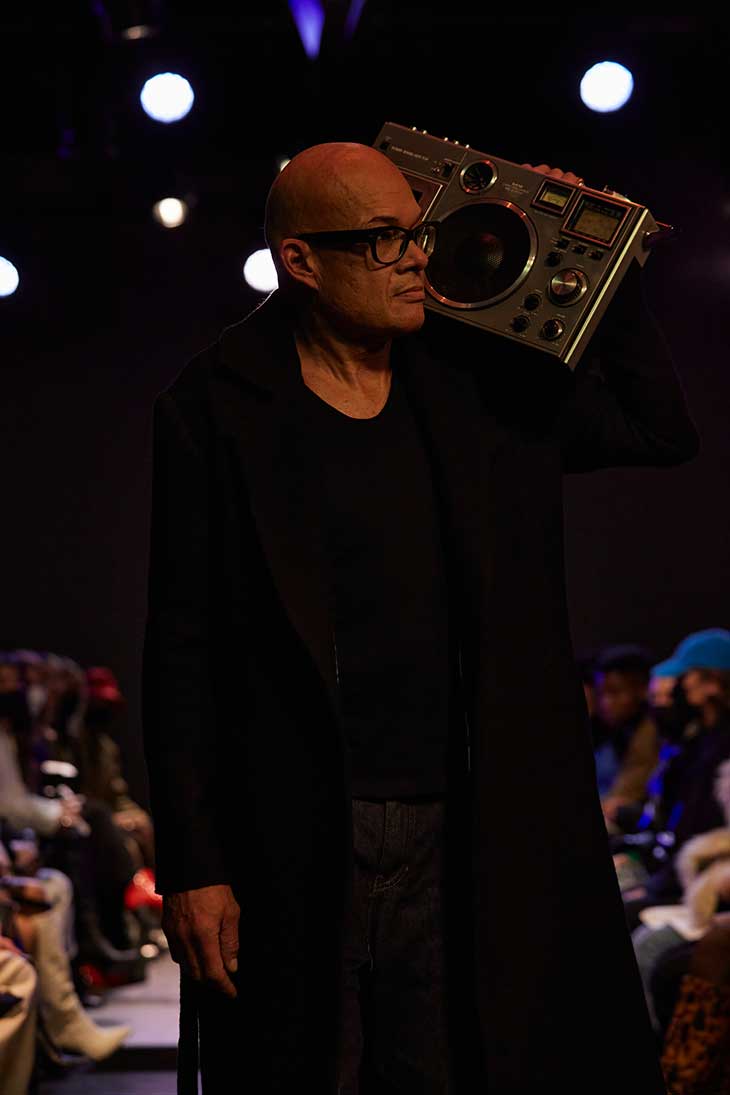 GUNTHER celebrates New York with its Fall-Winter 2022.23 collection, presented during the ongoing Paris Fashion Week. Founder and designer Naomi Gunther sends a modern love letter to the city, paying a tribute to her years spent in this complex, grand, intriguing, fascinating and disconcerting city that reveals the most intense emotions and inspirations.
DSCENE Fashion Director Katarina Djoric sits down with Naomi Gunther to talk about her new collection, love for New York, sustainability and future plans.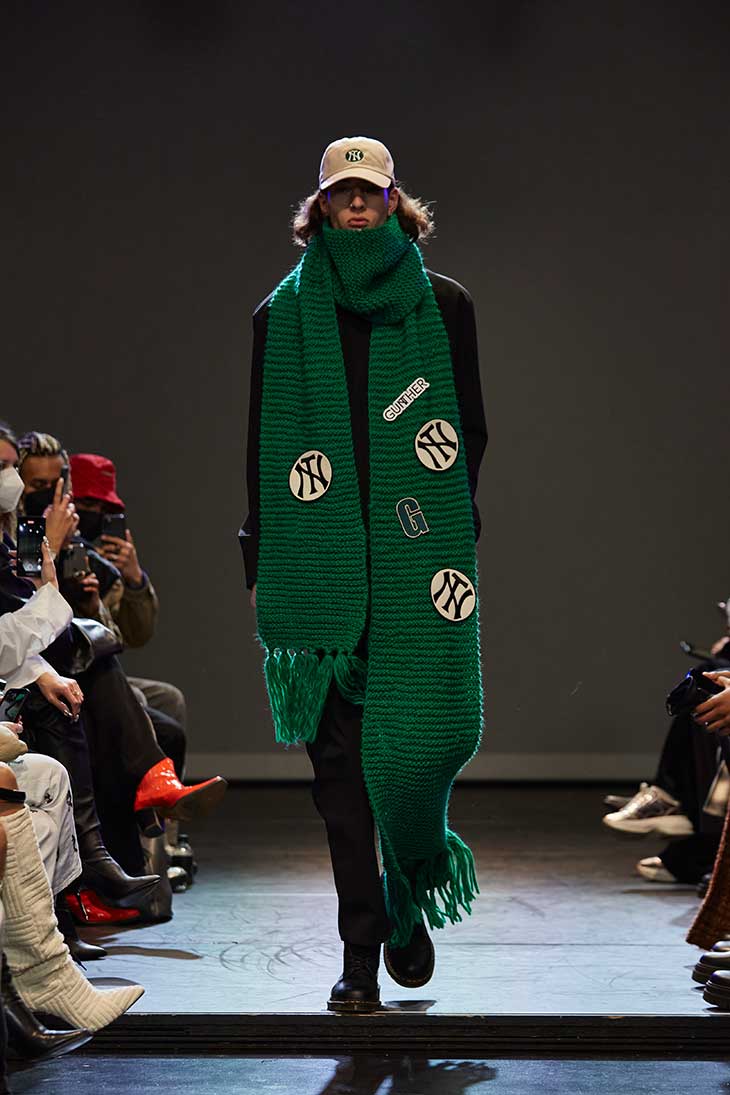 Why did you choose New York as an inspiration for this collection?
New York has always been my city of heart. I moved there for three years to pursue my studies in fashion. There, I discovered a total new sense of fashion, new attitudes and energies. I wanted to create a collection as a tribute to this fascinating city where sounds, lights, colors and emotions mix.
What do you love about the city?
As I said, I am really inspired by the energy in general. The way people dress in the street but also their attitude is something really unique. New York is the city where I fell in love with menswear, because I think it is a place where everything seems to be possible for men to express themselves.
It is mostly this energy that is irreplaceable and impossible to find anywhere else.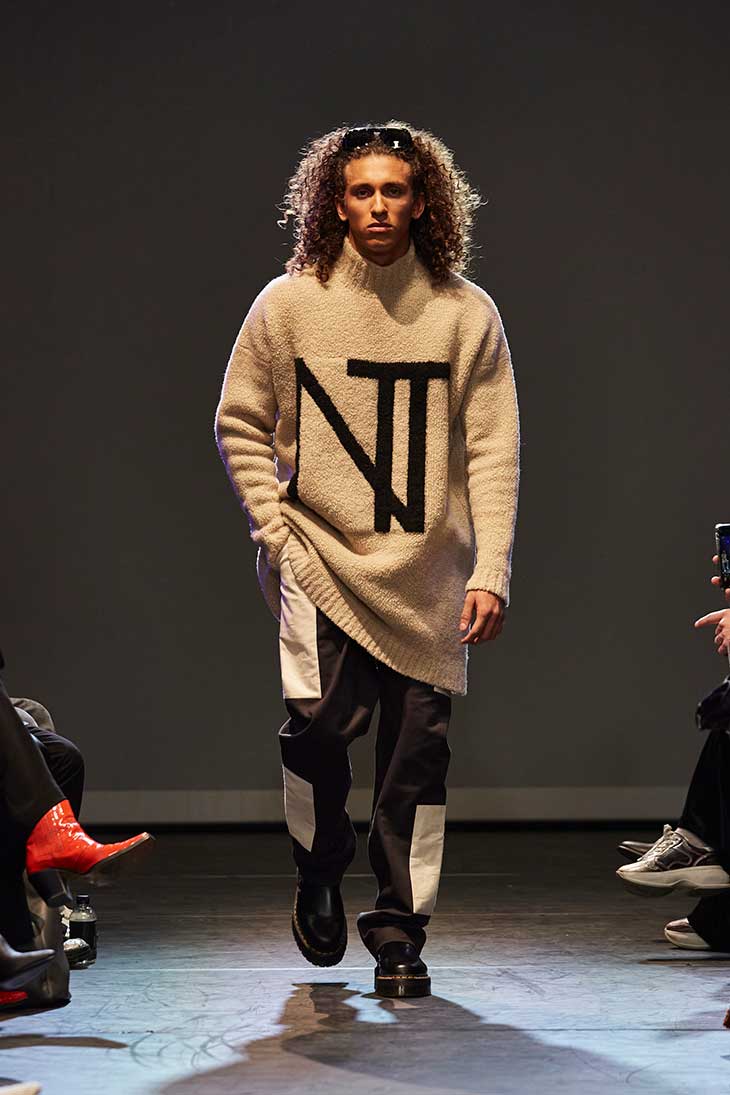 This collection mixes the American college wardrobe basics with tailoring pieces. How did you balance that?
GUNTHER's style has always been a balance between modern and urban silhouettes combined with a French savoir-faire in a more traditional way. I love that you can pair a couture coat with a jogger pants or style your bomber jacket with tailored pants in the most effortless chic way.
My wish is to offer a timeless wardrobe that combines the contemporaneity of urban culture with the opulence of a New York fantasy past.
What are your favorite pieces?
I would say "Le manteau Gotham", our long purple mohair coat because it reminds us the opulence of the 80's in New York with still a touch of modernity. I really like our hand knitted scarves as well because they bring a traditional savoir faire to urban silhouettes and they illustrate the perfect mix between Paris and New York.
Tell us a bit about the color palette. What was the inspiration?
In this collection, shades of black and gray meet purples, yellows and greens that form a palette of lights that bring to mind the magic of Broadway, yellow cabs or Central Park. The inspiration is the colors palettes of New York both during the day and at night.
In what ways have you evolved from your first collection?
I believe each collection is a new adventure, a new journey. I think three years later, we really managed to define a GUNTHER aesthetic with signature cuts, volumes & distinctive fabrics. We went further into developing our owns fabrics and surfaces of expression as well as bringing new accessories into the collection such as caps, jewelry, bags…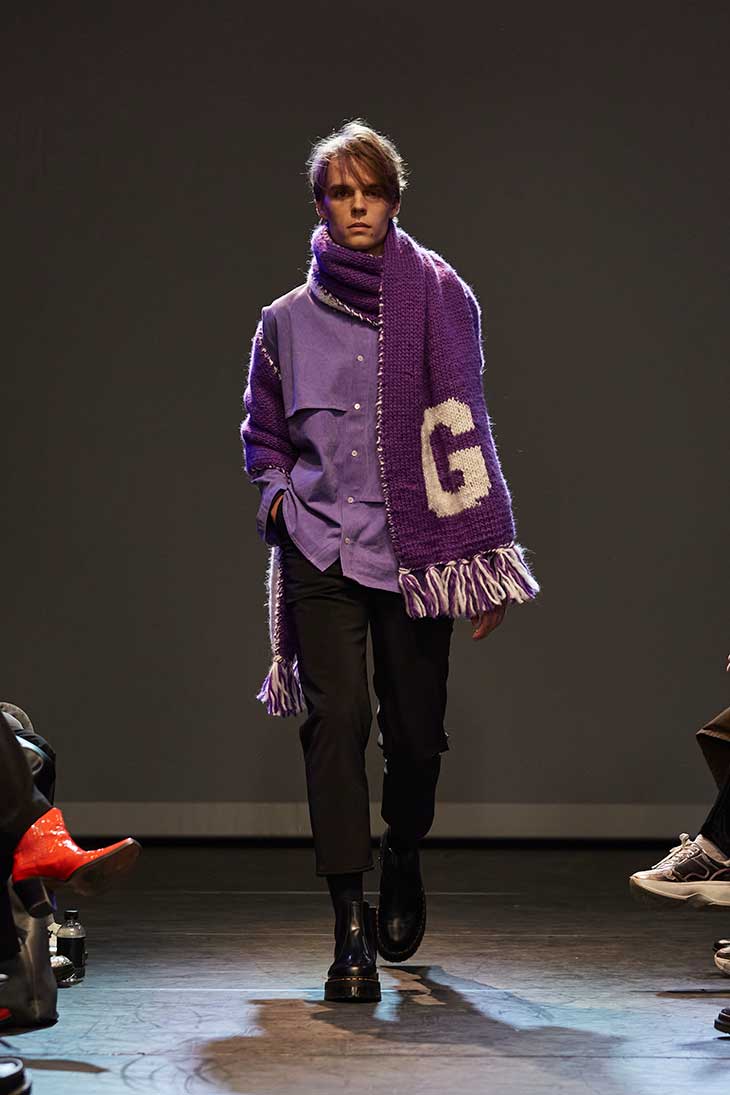 You were using some recycled materials for this collection. Is eco-friendly and ethically made clothing important to you?
Not only ethically made closing is important to us, but we also value and cherish our French traditional savoir-faire. Each piece we create is done by hand in a short circuit, with passionate craftsmen and women. We also created bags made out of only upcycled materials made in collaboration with the artist Daniela Alarcon. The materials used as fringes are recycled inner tubes that bikers in Paris have utilized and damaged film rolls for a surface decoration on our yellow tote bag.
In terms of fabrics we worked with recycled wools in many forms and other organic materials.
What is next for Gunther?
Our goal is to expend our points of sales around Europe and then further. We are also working on making the team bigger and focusing more on developing our own sewing atelier. Then, we want to be able to have a physical space in Paris to meet our customer and be able to make them discover the GUNTHER world even more.
And then of course working on SS 23 collection and preparing our next fashion show…
Keep up with Guther on Instagram – @guntherparis