Akris Fall Winter 2022 collection took Albert Kriemler and his design team to the graphic patterns of German Artist Reinhard Voigt but also back to work of an architect he collaborated with in the past. Inspired by his colored squares the collection lookbook was shot at the new building of the University of St. Gallen, coincidentally called the SQUARE.
This show-stopping building was designed by renowned Architect Sou Fujimoto. Back in 2016 Fujimoto collaborated with Albert Kriemler and since kept a collaborative friendship. The building is located in Swiss city of St. Gallen where the label itself hails from.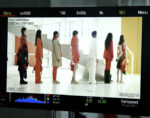 "Right away I had the idea to stage this collection at SQUARE, the University of St.Gallen's recently opened forum for the future of learning, designed by Japanese architect and friend Sou Fujimoto with whom I collaborated on our Spring /Summer 2016 collection. Sou's approach to the structure was guided by the idea of an open grid, a building floor plan divided into modular squares, where walls can be moved with ease," shares Albert Kriemler talking about the location choice.
For the Fall Winter 2022 collection Akris also prepared a short film accompanying the look book shoot, available above.
Photographer Bon Parinya Wongwannawat
Makeup Artist Linda Sigg
Models Lida Freudenreich, Lisa Lu