LOUIS VUITTON presented "Spirit", its fourth High Jewellery collection designed by Francesca Amfitheatrof. The Maison's Artistic Director for Watches and Jewellery captured the very essence of Louis Vuitton's spirit in the boldness, novelty and singular intensity of the collection. Featuring a 125 spectacular pieces, the collection is inspired by the power of mythological creatures, their liberty and strength.
Like a phoenix rising from the ashes to take flight, or a dragon breathing protective fire, the Louis Vuitton woman exudes amazing strength, energy and optimism. It is that very femininity – so emancipating and emblematic of the Maison – that I wanted to embody in Spirit.
– says Creative Director Francesca Amfitheatrof.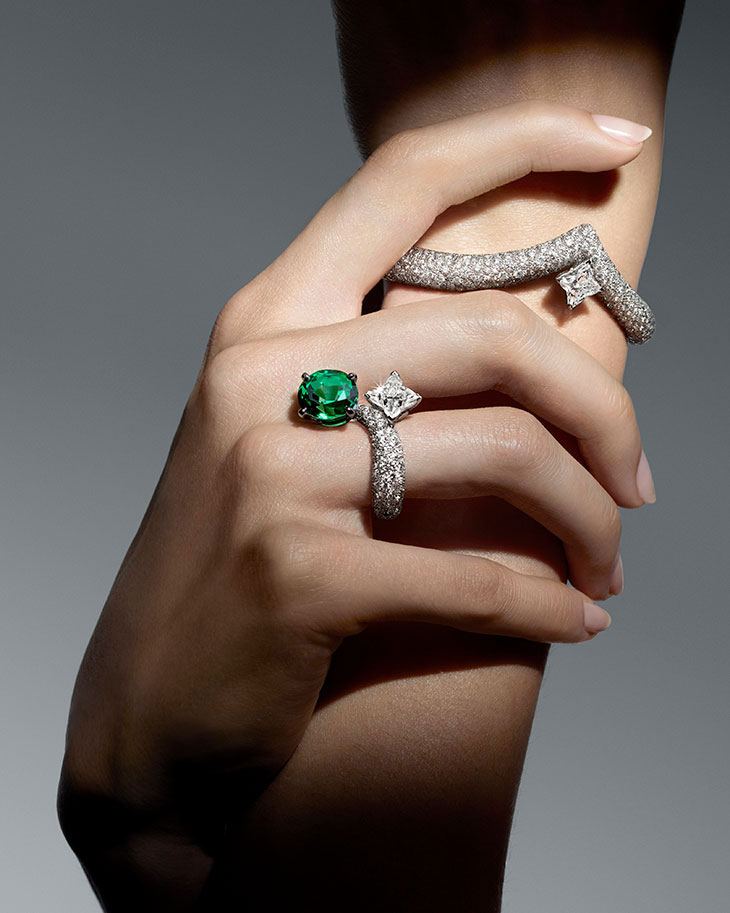 It took three years to source and bring together a magnificent gems used in this collection. The sapphires come from Sri Lanka, emeralds from Colombia, rubies from Mozambique. It required over 40,000 hours of work in the Parisian ateliers to make this astonishing collection.
This collection is set in five universes, that reflect Louis Vuitton's values: Liberty, Grace, Fantasy, Radiance and Destiny.
The designer uses triangle shapes and Vuitton Vs, forging a new, modern and high-impact visual language.
I used this shape in many pieces, playing with triangles of different sizes. It reads as the Vuitton V and resembles an arrow, which was the earliest graphic symbol ever created by humans – pointing the direction, it constantly urges us forward.  This provides Spirit with a graphic purity whose aesthetic force runs through every design, linking them like a precious, live energy.
– adds Francesca Amfitheatrof.