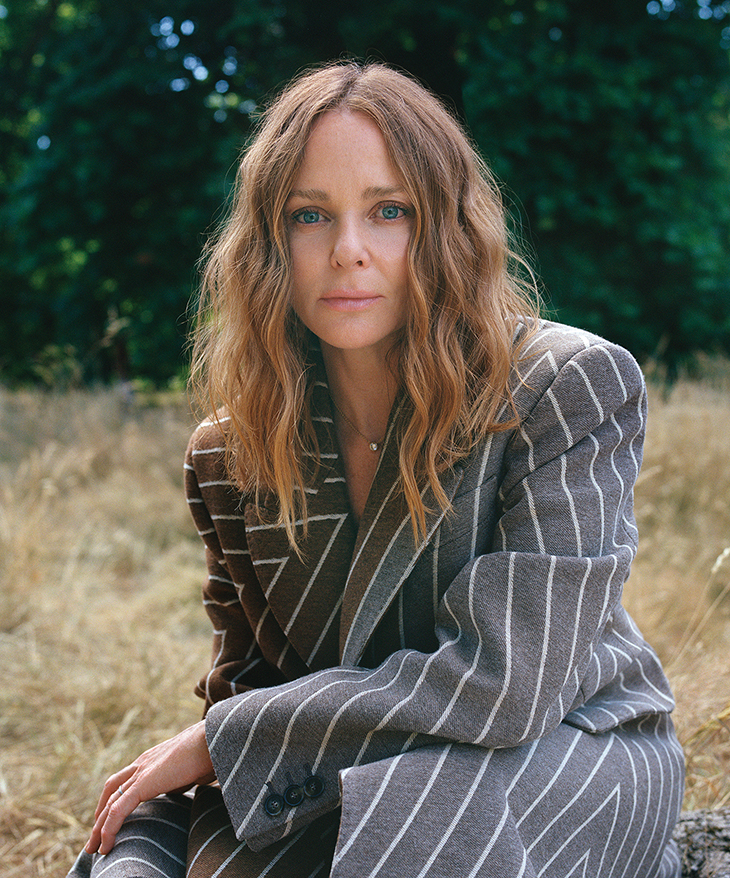 Designer Stella McCartney takes the pages of WSJ. Magazine's Women's Fall 2022 Fashion Issue captured by photographer Gabby Laurent. For the magazine Stella talks about her new skin care line, Stella By Stella McCartney. The line, that is made of 99 percent natural ingredients, consists of a cleanser, a serum and a cream moisturizer.
This month, Stella McCartney debuts a new luxury skin-care line made of 99 percent natural ingredients. In today's hyper-saturated clean beauty market, will she be able to break through?
Growing up, Stella McCartney remembers swimming in the loch at her family's High Park Farm in Scotland, its temperature so cold she felt as if she couldn't breathe. When she was under the water, the minerals in it seemed to glisten, bathed in rays of sunlight. When she emerged, her whole body tingled and her face would feel tight.
McCartney, now 50 and the creative director and founder of her namesake fashion brand, says her time on the farm was the inspiration that came to mind when she decided to branch into skin care. She was outside constantly, along with her three siblings and their parents, Paul and Linda McCartney. "It's probably the cleanest I've ever felt," she says, and the experience instilled in her a lofty goal: "It was like, God, if we can capture nature, that surely has got to be the best skin care in the world."
Her new skin-care collection, called Stella by Stella McCartney, debuts on the brand's website this month and consists of a cleanser, a serum and a cream moisturizer ($60, $140 and $105). Plastic packets made from renewable sources can screw directly into pumps or be removed from their frosted-glass housing for lighter travel. Buying only the refills saves customers between $15 and $30, depending on the product, and the first refill lowers the product's environmental impact by a third, the second by half, brand materials state. The products have scent notes of clove leaf and pine resin, which were created in collaboration with perfumer Francis Kurkdjian.
According to Statista research, the global market value for natural and organic beauty and personal care was $29.9 billion in 2021. Products that are marketed as clean, natural, organic or vegan have saturated the market, to the point where parsing the many buzzwords can be difficult. Sephora (owned by LVMH) has a clean-beauty section on its website featuring luxury brands like Tata Harper and Dr. Barbara Sturm (with products that can cost upward of $300), and more accessible ones such as Glow Recipe and Rihanna's Fenty Skin (most priced $45 and below). Celebrities have started natural skin-care and beauty brands, including Miranda Kerr (Kora Organics), Jessica Alba (Honest Beauty) and McCartney's friend Gwyneth Paltrow (the Goop empire).
McCartney's new skin-care line was created in partnership with LVMH, the luxury group controlled by the Arnault family group, which bought a minority stake in her label in 2019 following her split from former co-owner Kering.
She and the LVMH team banned close to 2,000 ingredients for her products, a number that exceeds EU regulations and includes commonly used materials like silicones, which aren't biodegradable, because of the pollution they cause. The ingredients are over 99 percent natural and include things like organic rock samphire, biotechnological lingonberry extract, wild harvested dulse algae extract and organic birch sap. (They say that the fewer than 1 percent remaining ingredients are synthetics that act as preservatives.) The R&D team at LVMH even sourced mineral water similar to what McCartney swam in as a child, which is in both the serum and the cream.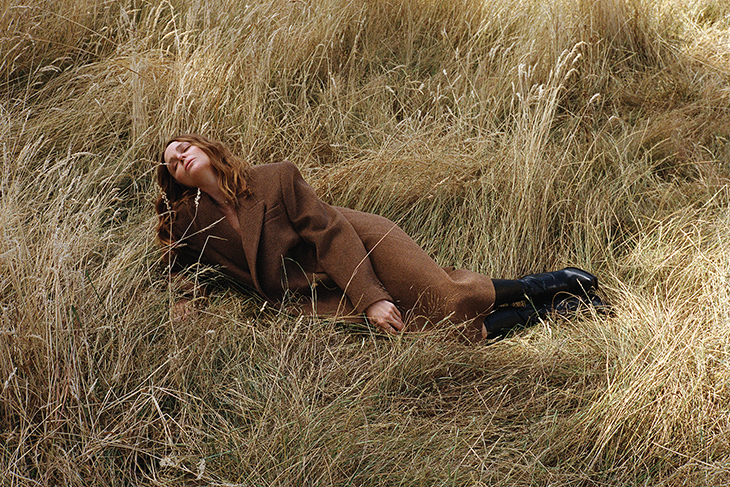 McCartney on her initial foray into natural skin care:
A longtime advocate of eco-friendly practices, she launched an organic range in 2007, when her brand was with what is now called Kering.
McCartney says that organic beauty as a category wasn't as desirable to luxury shoppers then. "It was like it had landed from outer space, and nobody could understand it," she says now.
McCartney on her competition:
"I was worried at the beginning, [development] is going to take two or three years and by the time we come out, this is going to be irrelevant." 
McCartney on launching only three products:
McCartney says she uses her three new products, which are unisex, twice a day. "I don't have the time or the desire to be that person who has 700,000 products in my bathroom," she says. "I want to have the purest, the simplest, the most core things." She abhors greasy cleansers ("my eyes always weep"), foamy ones ("too dry"), and makeup removers ("I want to skip that from my entire existence"). Still, she knows that offering only three means customers will continue to mix other things into their routine.
McCartney on the inspiration, research and development of the products as a family affair:
The three products took two years of research and development, and the serum and moisturizer took more than 100 formulations to perfect. Doing product development during lockdown meant enlisting an unconventional focus group for testing: McCartney's kids— Miller, 17, Bailey, 15, Beckett, 14, and Reiley, 11. "My youngest one said, 'Oh, Mom, I love the smell; it's really addictive,'" she says, miming the celebratory cheer she did in response.
"I found myself very luckily on my organic farm in the [Worcestershire] countryside," says McCartney, who is based between there and London. "[It was] spring, so I got to see the swifts and the swallows and life being born. I just saw nature, on heat, all around me."
McCartney on her opinion of the skin-care industry:
McCartney says the skin-care industry has gotten too comfortable with itself. "They're all relying on [the] same sourcing, the same manufacturing, packaging—it's all coming from the same place," she says of established brands.
McCartney on LVMH's big bet on her brand:
She says the investment by LVMH, which launched a new beauty maison for McCartney's line, "sends out a really, really loud signal from Mr. [Bernard] Arnault and from the entire group about how they see the future. I'm the guinea pig."
McCartney on her commitment to sustainability, as LVMH's special advisor role on sustainability matters:
At times, McCartney has referred to Stella McCartney the brand as a project: an incubator for finding the most eco- friendly practices and fabrics, with the hope that others in the fashion industry will emulate them.
"I wouldn't make anything if I felt like it was all being made in the way that I'm making it," she says. "I would gladly retreat from the room, go, 'Bye, then, it was nice knowing you! Now so- and-so can take over.'"
McCartney on being the "naughty kid" in the room when working with LVMH's sustainability team:
Describing the time recently when she ran into some of the Fendi team at the LVMH Prize for Young Fashion Designers competition. She says of their stance on fur: "'We're going to use recycled.' No, just stop using f—ing fur." (She says her adviser position at LVMH doesn't entail reviewing other brands' practices.)
Antoine Arnault, head of image and environment at LVMH, on McCartney:
"Stella's biggest and enduring success is her contribution to the LVMH executive committee in keeping us attuned to new opportunities in sustainability. She is straightforward, which is a very good trait, since we all need to decide and act quickly on our sustainable and environmental projects."
McCartney on how she balances all the facets of her business:
"That is the million-dollar question. We have a good run on structure, and then it goes to s—."
McCartney on her intuitive approach to her skincare brand being influenced by her mother:
"We'd take roses from our farm and she'd get them made into essential oils," says McCartney. "She was instinctive, she had no training in that. Basically she was closer to being an animal than to being a human."
McCartney on her father Paul:
McCartney gave the skin-care products to him for his recent 80th birthday. "So he's going to be a convert," she says. "I found huge inspiration watching my dad playing Glastonbury [music festival, in June]. When I grow up, I want to be like him."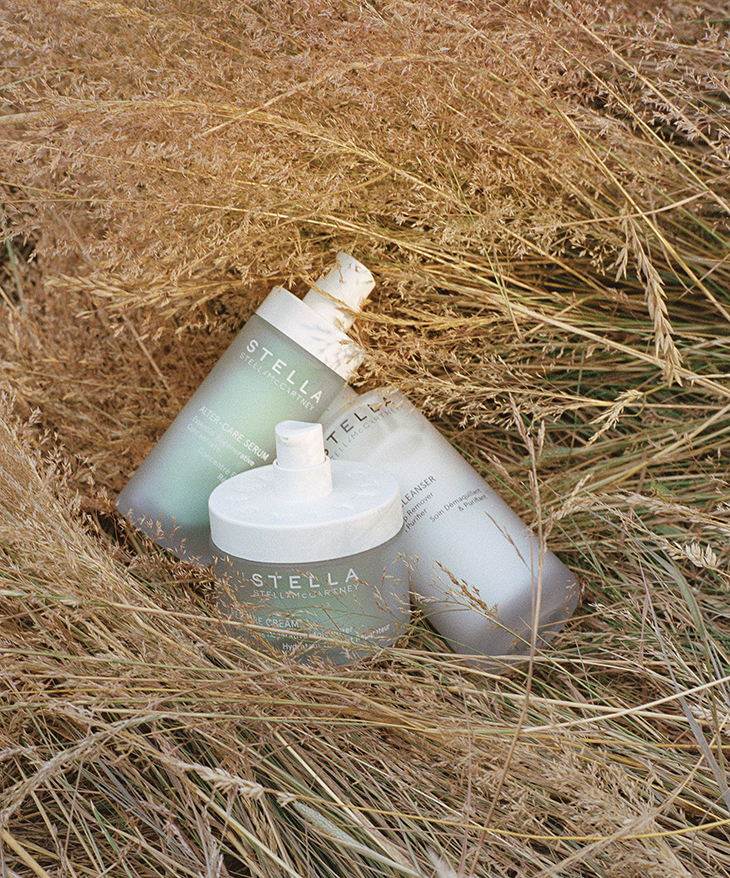 This article is featured in WSJ. Magazine's Fall 2022 Women's Fashion issue out on newsstands Saturday, August 27th. Discover more at wsj.com