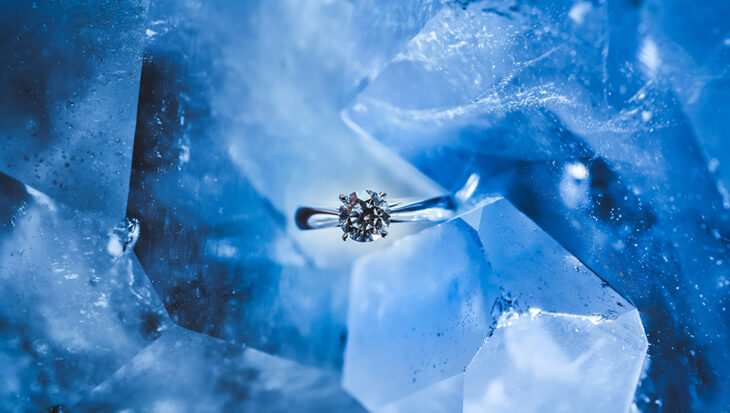 An engagement ring is a piece of jewelry you will wear for decades. While it's tempting to opt for trendy styles, you want to be careful about a design that will fade with trends as they come and go. But, that doesn't mean you have to opt for something classic without a modern flare. Many modern engagement rings borrow timeless styles that will look stunning for years to come.
Whether you're shopping for your significant other or are looking for inspiration for your ring, read on to discover engagement ring styles that are modern yet hold a timeless appearance.
Solitaire Engagement Ring
A solitaire diamond ring is a timeless classic. The solitaire setting features a single center stone with a simple band. No matter which type of stone and design you choose, a solitaire ring will always look stunning. The simplicity of the band and the single stone allows the diamond to really pop.
To maintain a more classic appearance, choose an oval-shaped or princess-cut diamond as the center stone. If you're looking for a more modern look, opt for a radiant or marquise diamond. Another timeless style that falls into the solitaire design is the round brilliant diamond ring. The main difference with this style is that the stone in the center is always round.
Accented Engagement Ring
An accented engagement ring is similar to a solitaire in that there is one diamond in the center. The key difference is that instead of a simple band, the band has accent diamonds on either side of the ring. This is another classic style that will always look beautiful. And, if a solitaire ring isn't enough bling for you but you want to keep an understated look, accented rings are the way to go.
Halo Engagement Ring
A halo engagement ring is another classic style that blends design qualities from solitaire and accented engagement rings. This elegant diamond ring features a solitaire diamond surrounded by a halo of smaller diamonds, similar in size to those on accented engagement rings. Halo engagement rings are incredibly glamorous and the perfect blend of modern and timeless.
Three-Stone Engagement Ring
Three-stone engagement rings are a popular style that's not only modern and timeless but steeped in symbolism. The design features a large center stone with two smaller stones flanked on each side. This style offers a lot of bling and glamour and is considered one of the most romantic options.
The symbolism of a three-stone diamond is a story that will be forever timeless. The three stones symbolize the past, present, and future. The large stone in the center represents the present commitment between two people. The two smaller stones depict the past and future with the past being the story of the couple, how they met, and their past lives before meeting, while the future stone embodies the lives the couple will build together.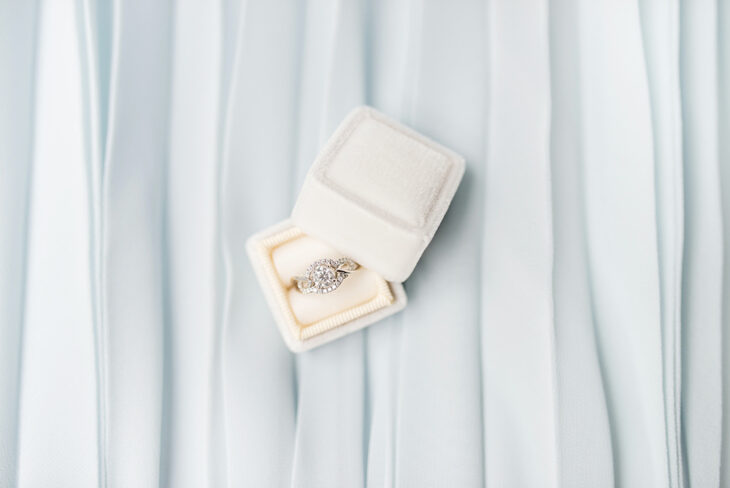 Customize Your Ring for a Modern Appearance
While each of these designs are timeless, you can add your own modern flair to any of them. The style of the rings themselves will always be classic but the adjustments you make not only put your own personal twist on it, but it makes the look more modern.
The diamond shape you choose for your setting can elevate the ring in many ways and there is no shortage to choose from: round brilliant, oval, emerald, princess, cushion, marquis, trillion, and more. Then, you can choose your metal. The most popular metals are white gold, yellow gold, rose gold, and platinum. If you can't decide between metals, two-tone styles are a great modern twist to the classic engagement ring.
If you want to get even more outside the box, opt for a classic style and choose a colored diamond such as emerald or champagne. There are some other stylish ways to twist a classic like the solitaire diamond. Instead of the ring set in the center of the band, you can choose a hover diamond, which has a floating appearance on top of the band. Another unique adaptation is the V band, where the band contours into a V-shape where the diamond sets.
Conclusion
When it comes to diamond rings, uniqueness is highly coveted, but that doesn't mean it can't still have a trendy design. With so many customizable options available, creating a diamond engagement ring that blends classic and modern elements is easily within reach. Don't settle for something trendy that you or your partner won't want to wear in thirty years' time; choose a ring that has it all.