Brazilian pop artist Anitta takes the cover story of WSJ. Magazine's November 2022 Innovator's Issue lensed by fashion photographer Gregory Harris. In charge of styling was Edward Bowleg III, with set design from Heath Mattioli, and production by Camp Production. Beauty is work of hair stylist Jesus Guerrero, makeup artist Hrush Achemyan, and manicurist Temeka Jackson. WSJ. Magazine's 2022 Music Innovator Anitta, who will be honored at the magazine's 12th Annual Innovator Awards along with 7 other cultural groundbreakers on Wednesday, November 2nd, talks about Envolver success, religious beliefs, the dangers of being politically outspoken in her country, and much more.
On her label wanting "Envolver" to be a duet with a male singer:
"I was so sure that it was going to be big. They were saying I couldn't make it happen by myself." Anitta went ahead solo.
Missy Elliot on Anitta's relatability:
As Elliott says, Anitta may have an outsize stage presence and distinct it-factor, but her secret sauce is her relatability. "Immediately you connect with her," Elliott says. "She feels like the girl up the street, even though you know she's a star."
On the skepticism of local industry folk about her global plans:
"They said, 'Well, you can try to go international, but that's impossible. Nobody's ever made it, the last person was Carmen Miranda,'" she says. "Impossible? This word just makes me want to go for it."
On being transparent about her plastic surgery, which include a nose job, jaw-shaping procedures and breast augmentations.
"It's nothing to do with me not being happy with myself," she says of the surgeries. "For me it's like changing my hair." She goes one step further: "Even if it's not good or the way I expected, I still like the process. I like the adrenaline."
J. Balvin, who calls Anitta his sister and frequent collaborator on the responsibility of representing your country on the world stage:
"There is a lot of pressure to say certain things or act in certain ways, not just for your country but for Latinos in general," he says.
On being politically outspoken in her country (having recently spoken out against current Brazilian president Jair Bolsonaro's far-right policies. Bolsonaro has in turn mocked her on Twitter):
"Half of the country wants to kill me, wants me to die, wants to punch me," she says. "My family gets scared, I just tell them, Yeah, [if they] come kill me, [I] will haunt [them] forever as a ghost."
On her religion:
She practices Candomblé, a Brazilian religion with roots in several African religions. It was passed down to her from her father. She'll wear a customary all-white outfit, sweep the temple's floors and do the congregation's dishes—she says it makes her feel like a normal person. Followers of Candomblé believe that each person has a connection to a specific orixá, or spirit. Anitta says her orixá is Logun Ede, who spends half the year with his father and half the year with his mother, picking up dramatically different traits from each parent. Logun Ede exemplifies the duality that Anitta sees in herself: her sensitivity and her toughness. "After I understood this in my religion," she says, "I understood myself."
On whether she'll sing and perform forever:
"Not forever. Hell, no." She says she'll keep making music for another five to six years, and then it's time to end her singing career.
On her acting ambition:
She's eager to "bring the butterflies," as she describes it. "It's pointless for me to keep pushing myself to keep doing things that won't fulfill new dreams. I've already done what was impossible," she says. "What is bigger than No. 1?"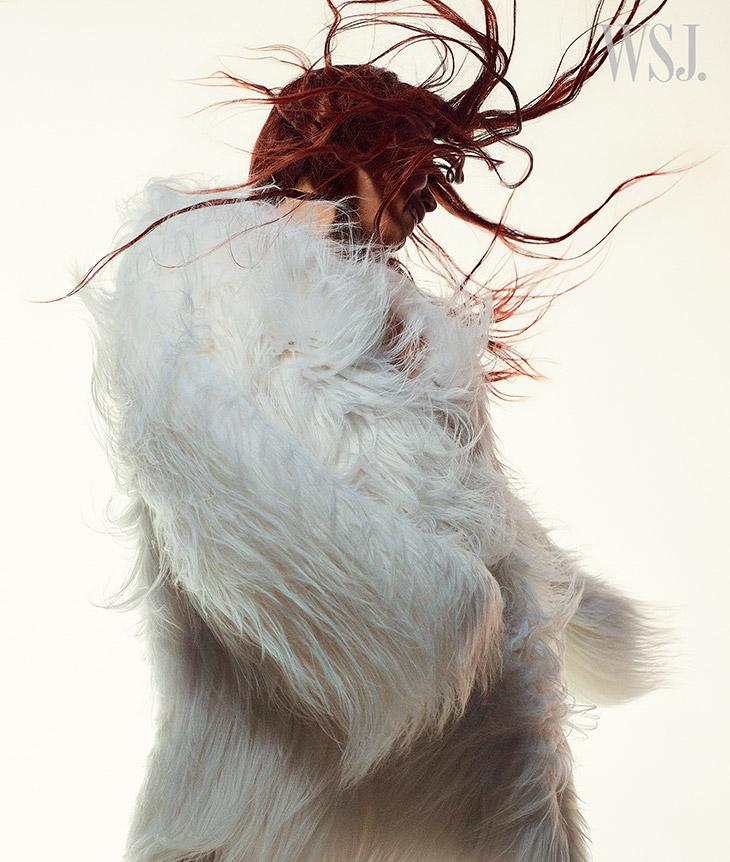 This article is featured in WSJ. Magazine's November Issue out on newsstands Saturday, November 12th. Photography © Gregory Harris for WSJ. Magazine, read more at wsj.com