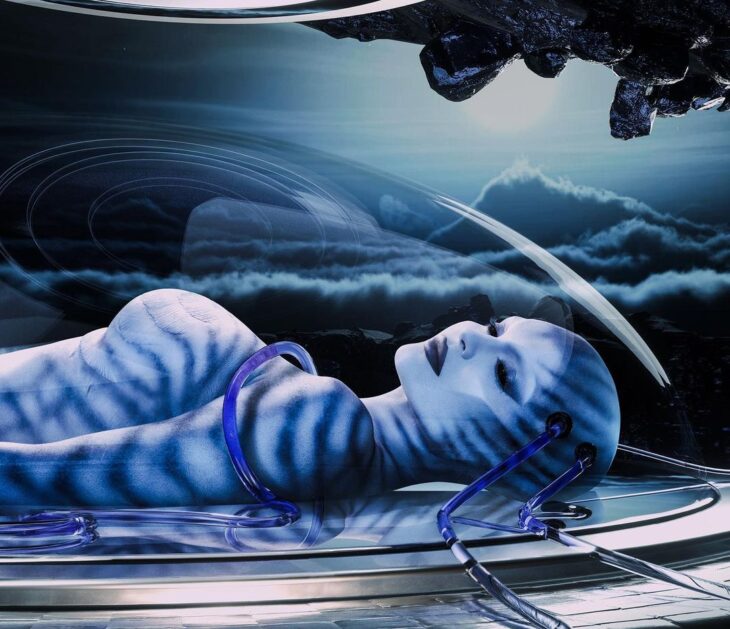 November is here, and while we're unpacking our Christmas decorations, it's time to round up the best costumes from the last night's Halloween. As we all know, month October is reserved for the spooky season and the sea of costumes. Even though Halloween is at the end of the month, the weekends behind us were marked by Halloween parties. Every year celebrities try their best to up their Halloween game, this year has been no different, so we present to you the best of this years celeb costumes.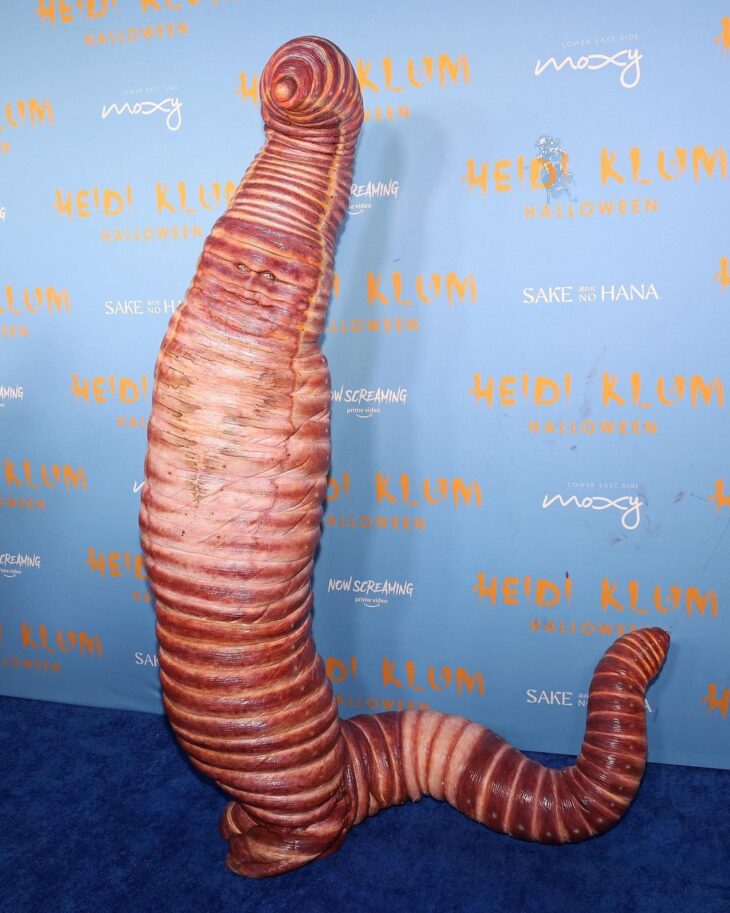 Heidi Klum as a Worm
The queen of Halloween herself has done it again! Heidi Klum is known for her extravagant Halloween parties, but better known for her elaborate and fascinating costumes. This year she showed up as a worm accompanied by her husband Tom Kaulitz as a fisherman. Through instagram Heidi showed us the whole process of getting into this huge and surely not comfortable costume, which shows us the lengths she'll go for this famous holiday.
Kylie Jenner as Bride of Frankenstein
We all know that Kardashian Jenner family goes all out when it comes to Halloween, from their Victoria's Secret costumes to Little Mermaid, XTina and more. This year, Kylie Jenner showcased a couple of costumes, but we loved Bride of Frankestein the most. Reality star and beauty mogul revealed a black-and-white imagery channeling the aesthetic of the original 1935 horror film Bride of Frankenstein. For the costume, Kylie paired a custom Jean Paul Gaultier couture gown by Glenn Martens with the imnpressive makeup and hair recreation.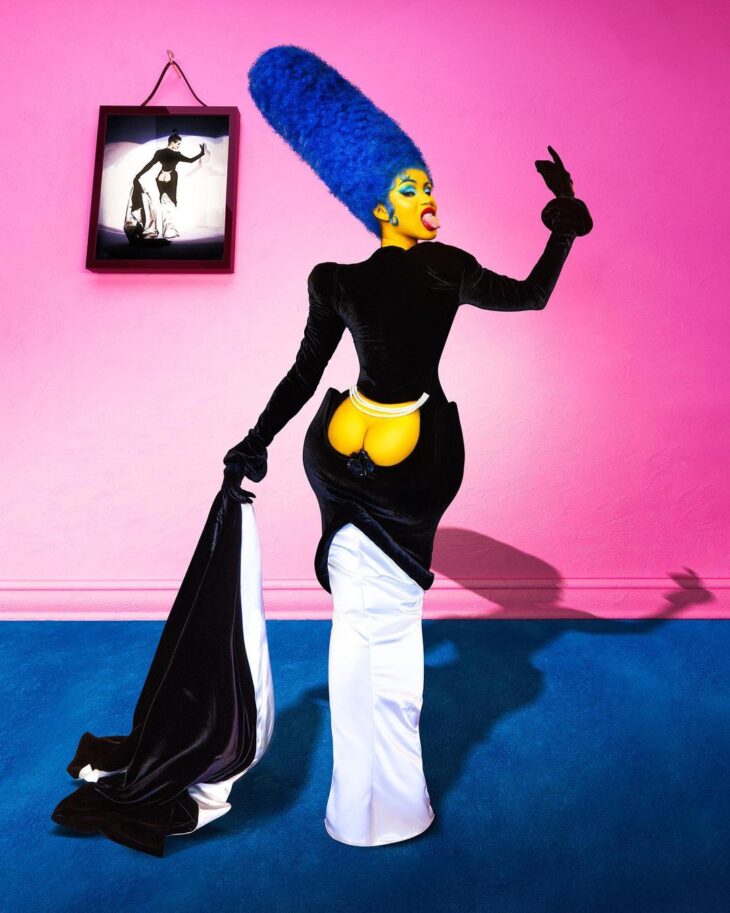 Cardi B as Mugler Marge
For this year, Cardi B showcased her love for Simpsons, by dressing up as a sexier version of the shows matriarch Marge Simpson. With her skin painted yellow and sky high blue hair, Cardi B dressed herself into a vintage Mugler design featuring a butt cutout rebuilding aleXsandro Palombo's iconic pop artwork 2013 series Marge Simpson Style Icon in Thierry Mugler.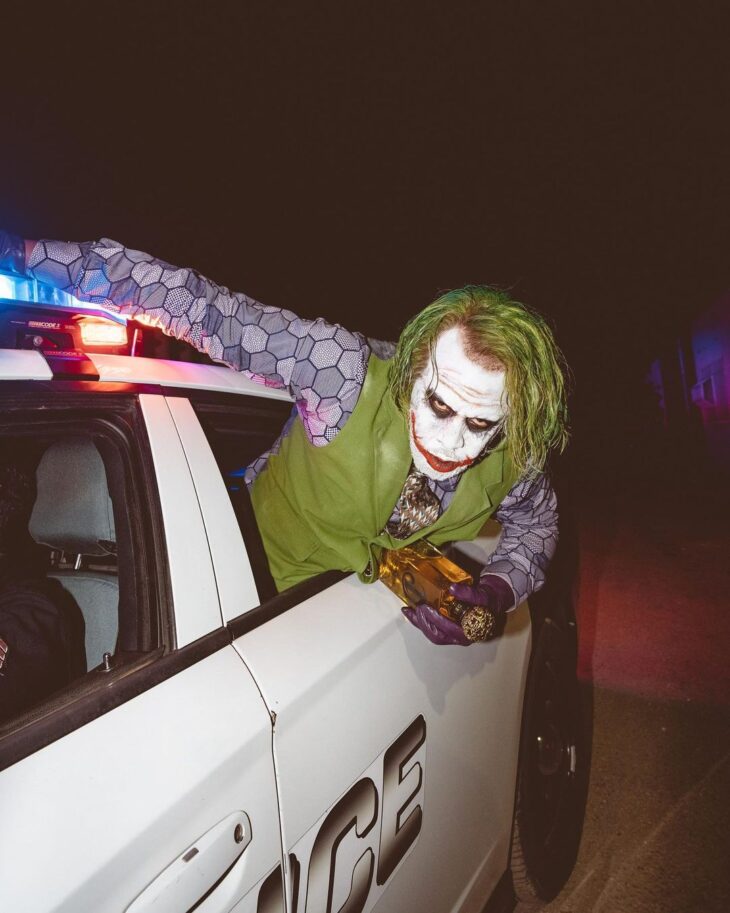 Diddy as The Joker
We bet you wouldn't guess who is behind this mask if we didn't tell you. Introducing his brand new tequila brand, Diddy transformed himself totally to get into the character of the iconic Joker. Pulling off the complete makeup and hair transformation as well as the personality, Diddy wowed everyone on social media.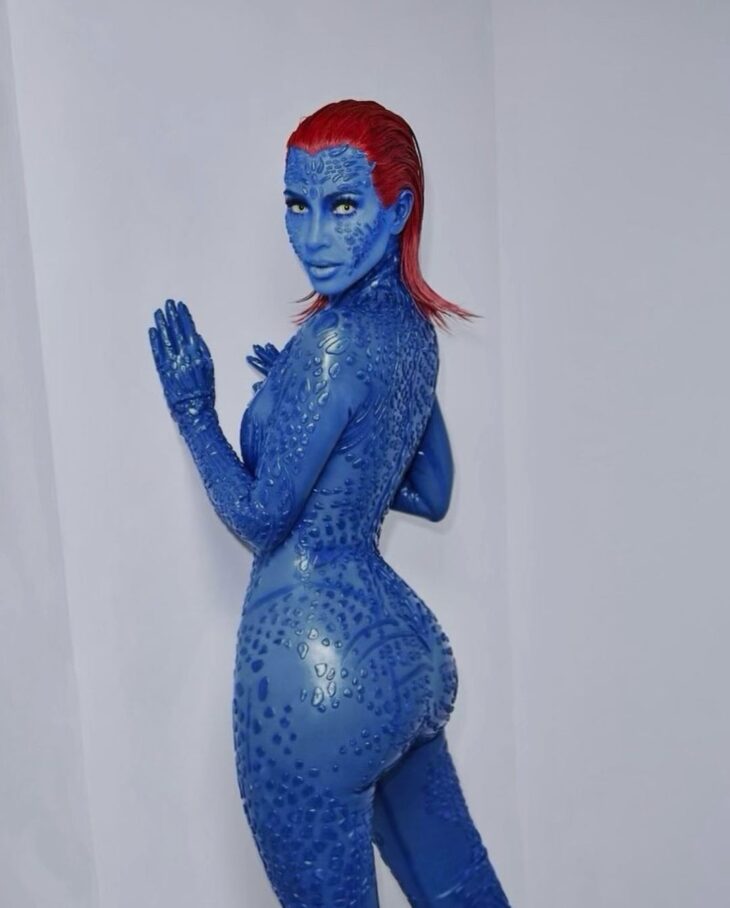 Kim Kardashian as Mystique
We've been used to Kim Kardashian's provocative outfits for Halloween, but this year Kim mixes the sexiness with Marvel fantasy, dressing up as Mystique from X-Men movies. For the occassion, she wore a red wig, creepy colored contact lenses and a skintight blue latex bodysuit. Dressed in the costume, Kardashian attended Tracee Ellis Ross' birthday party which apparently wasn't a Halloween party, but that didn't stop her in wowing all the attendes with her superhero costume.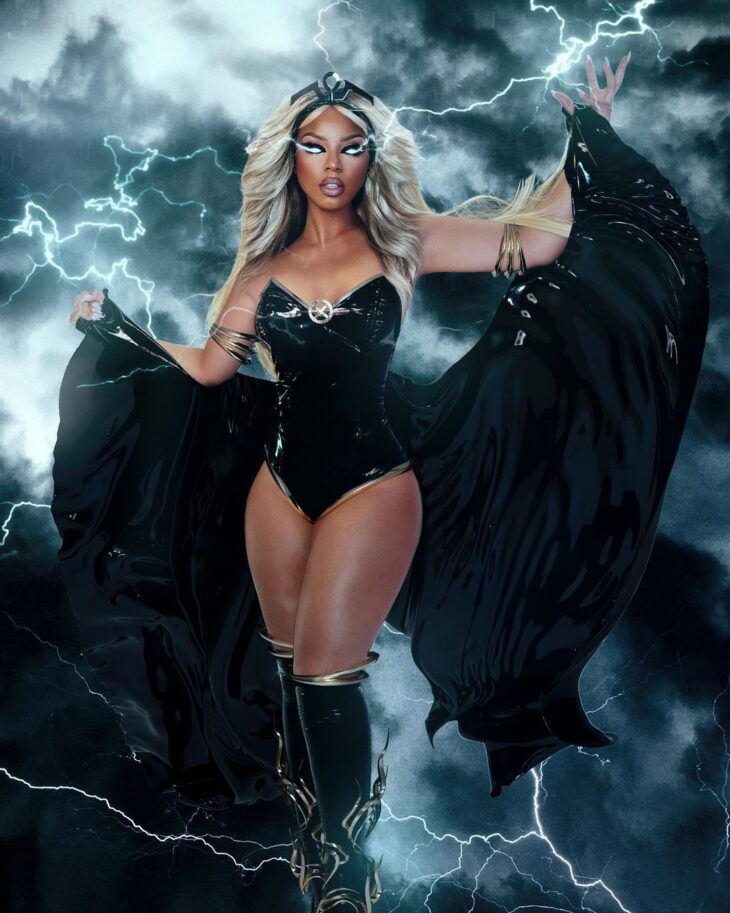 Chloe Bailey as Storm
X-Men franchise seems to be very popular with the ladies this year, given that singer Chloe Bailey also introduced herself as the character from the movies. Playing the weather goddess Storm, Bailey slipped into a skin tight latex bodysuit and knee-high boots with a long black cape. Upping her outfit was the special effects and the background making her look like just like the comic book superhero.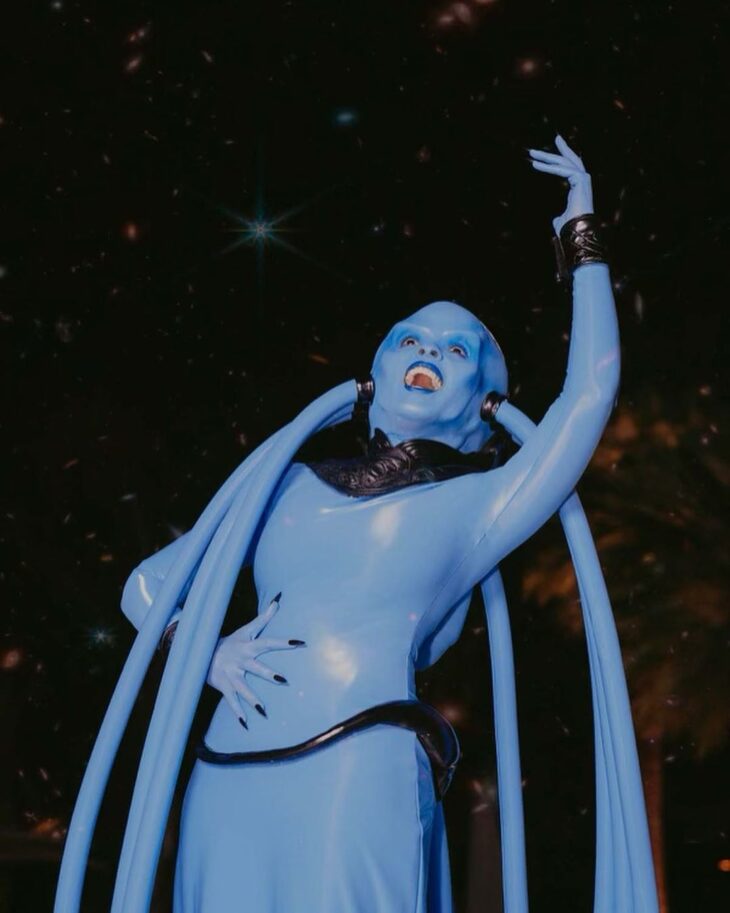 Janelle Monae as Diva Plavalaguna
You could say Janelle Monae was in her element for this Halloween channeling the Diva Plavalaguna from cult classic film The Fifth Element. Dressed in a blue skintight latex top, long skirt with curved hemlines and head-to-toe tentacles, Monae became the topic of the social media. listing her as the best dressed this Halloween.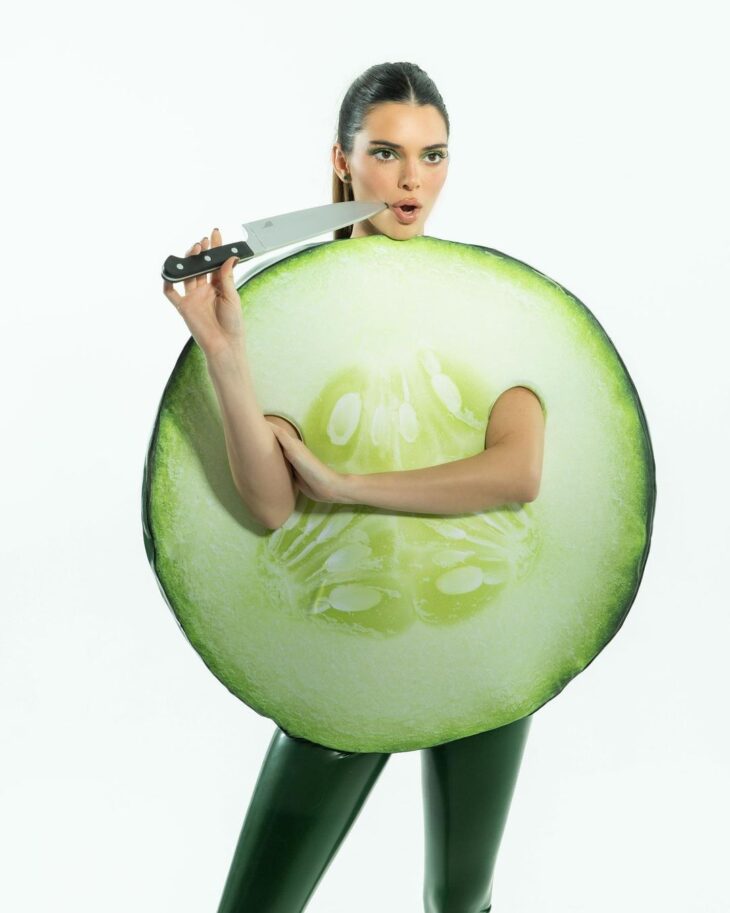 Kendall Jenner as a Cucumber
Who doesn't remember the viral video of Kendall Jenner cutting a cucumber in the brand new season of The Kardashians. Well, Kendall decided to play along the joke and make fun of herself also by dressing up as a huge cucmber slice, with green latex tights representing the cucumber skin. We surely hope her cutting skills are improved now!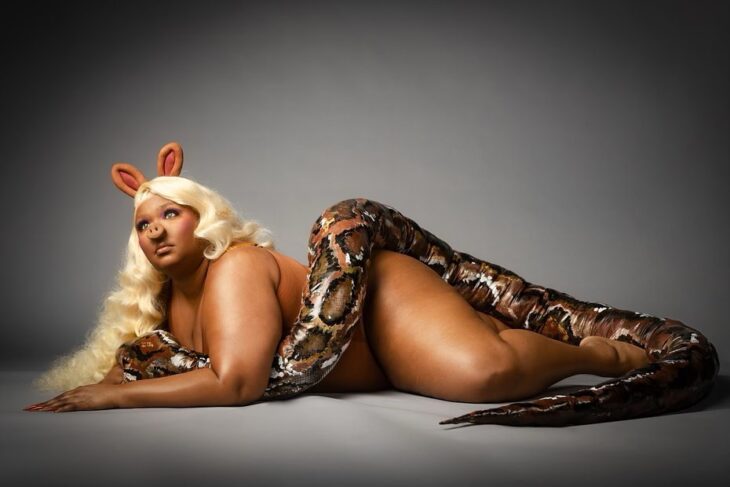 Lizzo as Miss Piggy
Honoring her forever icon, Lizzo stripped down for a sexy Miss Piggy Halloween costume. The singer recreated one of the character's iconic photoshoots from the 1980s, donning a blond wig, pig nose and ears to transform into the prissy porker featured with a faux snake covering the parts of her body.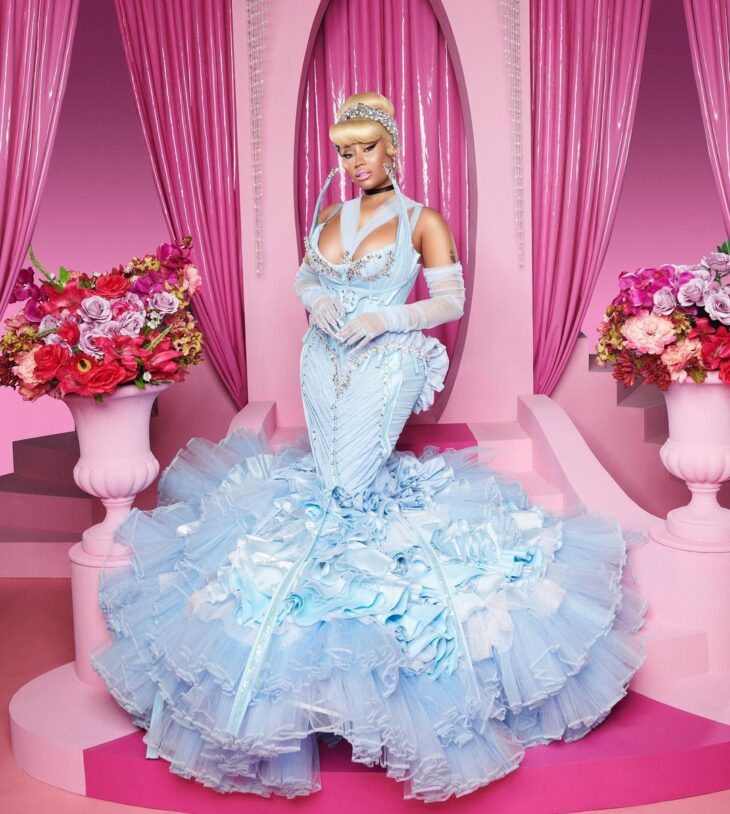 Nicki Minaj as Cinderella
Nicki Minaj trades her Barbie Dreams for Cinderella or as she says Chunderella. For this Halloween, Nicki decided to transform into her own version of Disney princess fantasy. Minaj dressed herself in a curve hugging blue mermaid gown, with some provocative cutout details on the back, making this Cinderella a provocative one.