Taiwan is a beautiful country situated in East Asia. It is unlike anywhere else in the world and has so much to offer.
The locals in Taiwan are friendly and welcoming, and the country's scenery is stunning. There is a perfect balance between serene national parks, beautiful beaches, and urban skyscrapers.
You certainly won't be short on things to do when you visit Taiwan. You'll be able to view Taiwanese art at one of the many galleries, shop at the markets, and browse the museums.
8 Things to Do in Taiwan
If you've got a trip to Taiwan coming up soon, here are eight things to add to your itinerary.
Check Out a Local Food Market
Taiwan has a wide range of popular food markets that sell national dishes and fresh fruits and veggies. The locals of Taiwan love healthy foods, and it's a key component of their culture.
You can feed your food obsession (literally) by trying foods that you've never previously given a go. Afterward, you can head off to one of the tourist attractions or entertainment facilities in the area where you're staying.
Visit a Tea House
Taiwan has an incredible tea culture. It's filled with cute tea houses that are perfect for a soothing hot drink. Even if you're not a huge tea lover, you can still appreciate the excitement of the incredible tea culture in the country.
Some of the popular Taiwanese tea-related attractions include:
Pinglin Tea Museum
Taipei Tea House
Maokong Tea Houses
Maokong Gondola
Jwu Jiu Teahouse
Shizhuo, Alishan, Tea Farm
Head to the Northern Coastline
Taiwan's Northern coast is a stunning area of the country, and you won't find anywhere else in the world like it.
The coast is home to a range of rock formations that have formed over the last 4,000 years. It's the perfect place to take a relaxing stroll in the fresh air at the start or end of your day.
Enjoy the Hot Springs
There is an active volcano situated in Taipei, which gives rise to Beitou Hot Springs. You can take a soothing soak in the springs for the ultimate day of self-care.
The prices are reasonable, so you won't need to spend too much while you're visiting the springs. You can wind down in some of the best spas, bathhouses, and restaurants in the country.
Check Out the Night Markets
There are more than 70 night markets in Taiwan, all of which have something unique to offer. These popular night markets offer a selection of dishes that you simply must try while you're visiting the country!
Make sure you try some xiao long bao, tian by la, and coffin bread. To wash these dishes down, consider trying some Zhen zhu nai cha (bubble tea) or Taiwanese beer. Regardless of the food and drink you choose, you can guarantee that you'll be dining on a budget at one of the incredible night markets in Taiwan.
Explore the Red House
The Red House refers to Taiwan's large outdoor plaza. It's a popular landmark amongst locals and tourists, and it's packed full of activities.
At the plaza, you can enjoy a hot cup of tea or coffee and a bite to eat in one of the restaurants, cafes, or tea houses. You can also enjoy shopping and exploring the local area to learn more about the Taiwanese culture.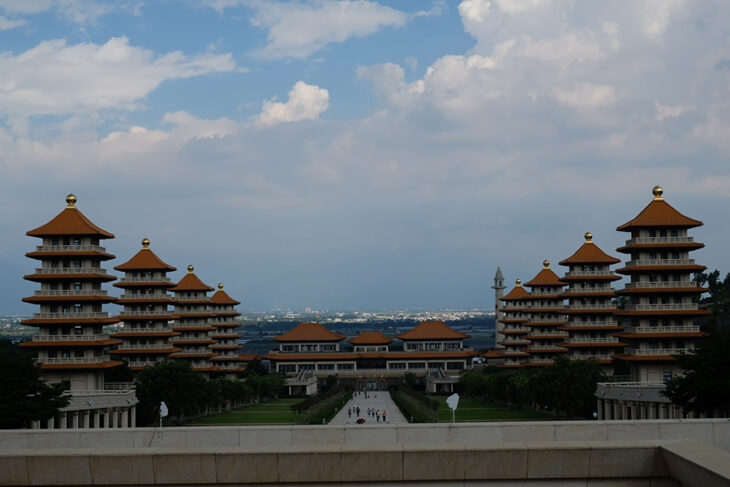 Head to Fo Guang Shan Monastery
Fo Guang Shan Monastery is a breath-taking monastery. It houses an international Chinese Mahāyāna Buddhist organization and is home to hundreds of monks.
The monastery is open for you to view as a member of the public and you can easily spend all day exploring the area. You'll quickly become enthralled by everything that Fo Guang Shan Monastery has to offer.
Go for a Long Hike Up the Mountains
Taiwan is home to a wide selection of mountains that are perfect for those of you who love exploring the outdoors. You can surround yourself with nature and breathe in the fresh air while escaping the hustle and bustle of the Taiwanese markets and tourist attractions.
If you're up for a challenge, climb up Jade Mountain, which proudly boasts a summit that sits 4,000 meters above sea level. Thanks to this mountain, Taiwan is known as the world's fourth tallest island.
Other great Taiwanese mountains to consider climbing include Yangmingshan, Yushan, Hehuanshan, Xueshan, and Dasyueshan Mountain.