An influential artistic capital of Senegal, Dakar, was chosen as the location for CHANEL's latest Métiers d'art show. Leading the international cultural scene, particularly in fields dear to CHANEL, such as fashion, cinema, dance, literature, contemporary art and music, Dakar marks the beginning of an ongoing exchange between the House and Senegal.
The location choice follows the numerous meetings over the past three years between house's Creative Director Virginie Viard and friends of the House who have either lived there, are carrying out artistic projects there, or who are drawn to the city's creative effervescence.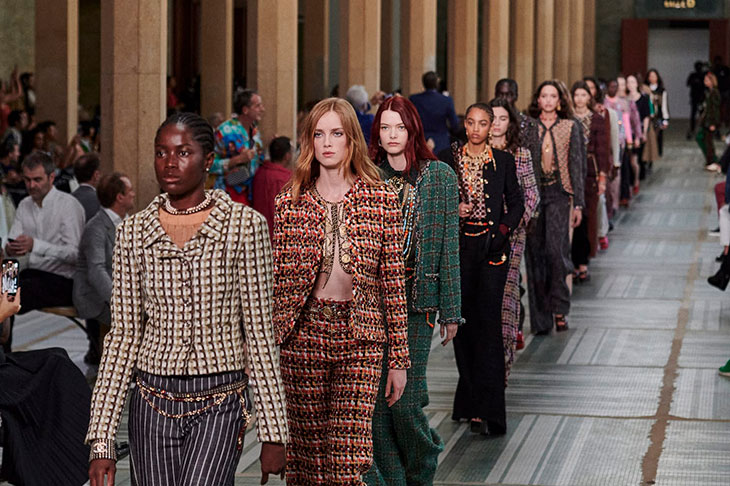 Going beyond the runway show, it's the event as a whole that I took into account. We've been thinking about it for three years. I wanted it to happen gently, over several days of deep, respectful dialoguing.
– Virginie Viard.
The collection features an abundance of plant motifs, lines and geometric shapes, as well as lace, sequins and sparkling pendants. The color palette comes in warm colors, including orange, red, hues of brown and beige.
The silhouettes are elongated, with fitted coats, tight, flared trousers, seventies-inspired collars, platform shoes. It also features oversized sweatshirts, in vivid colors with flower embroideries, multicoloured tweeds and dresses shorter at the front than behind.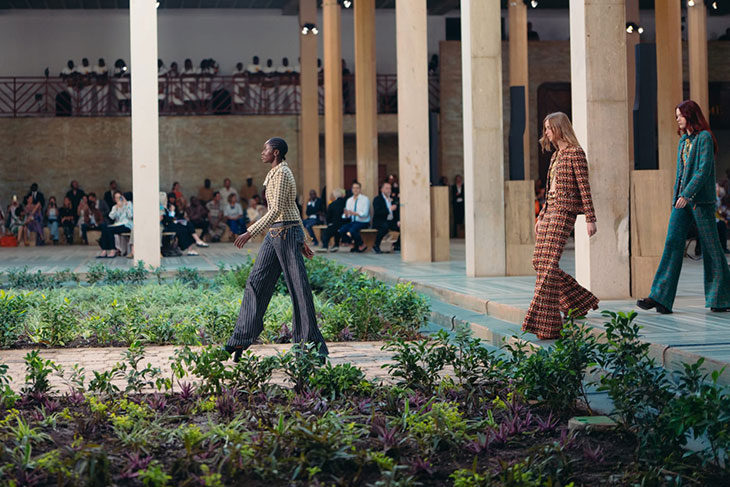 Real dialogues, nourished over the long term, it is this human and warm dimension that motivates my work and that I try to re-transcribe. I put all my soul into it. These marvellous encounters from which artistic adventures like this one are born, that's what drives me.
– Virginie Viard.
The inspiration comes from Viard's love for the '70s, a popsoul-funk-disco-punk decade with its fascinating freedom, symbolised by an explosion of energy. Trying to bring rhythm of the funky decade into our lives today, the designer celebrates the codes dear to the House, with the floral motifs, embroidery work, intertwined pearls, forests of jewelled buttons and dazzling sequins.
Ever since she took over as Artistic Director in 2019, her modus operandi has remained the same: meeting, dreaming, and building together, with others – says the press release.
Discover all the runway looks from the Chanel Dakar show in DSCENE's gallery: