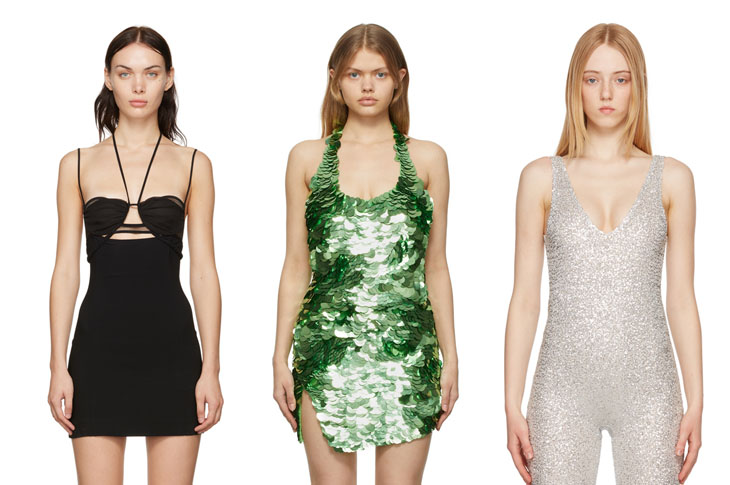 Finally! It's Decemeber and yes, we can officially enter the festive season. Oh yeah, it's time to seriously amp up the partywear section of the wardrobe. This time, we put together a shopping list with pieces that will look great under the neon lights of the clubs, but you can later use them in different stylings for other occasions. The combinations are reduced, but your attitude and desire to play should be at the maximum.
We earn a commission when you follow the link to make a purchase. Click here to learn more about how we make money.
SEQUINS
It is not at all surprising that sequins are the favorite material in this festive part of the year, and with a touch of retro and space aesthetics they give a special glamorous look. Pieces inspired by futuristic space travel and vintage glamor of the 70s and 80s are now considered a hot trend on the fashion scene. Our sequin outfit would definetly consist of The Attico green mini dress that steals the spotlight, Maison Margiela navy sequin gloves and Paco Rabbane pink nano sequin bag. Combine it all together, or split the garments and tone them down with simple pieces, either way your party look is going to be the talk of the night.
THE ATTICO
Green SUPERATTICO Sequin Dress
Available for $2450 USD – HERE

MAISON MARGIELA
Navy Sequin Gloves
Available for $1250 USD – HERE

PACO RABANNE
Pink Nano Sequin Bag
Available for $890 USD – HERE

The LBD
The little black dress is a wardrobe staple that never goes out of style. Combined with details, such as bags and shoes in stronger colors, it will give a completely different impression. It is always a great solution when you don't know what to wear for a celebration or party. There is no fashion failure with a little black dress, and it gives you many opportunities to always look different. Even though almost every designer nowadays has its own iterration of the LBD, we chose the most attractive pieces from Nensi Dojaka, Valentino and Courrèges.
NENSI DOJAKA
Black Double Mini Dress
Available for $1185 USD – BUY HERE

VALENTINO
Black Embroidered Minidress
Available for $5000 USD – BUY HERE

COURRÈGES
Black Swallow Minidress
Available for $950 USD – BUY HERE

JUMPSUIT
Jumpsuits are so airy so cool. Season after season, fashion designers continue to include this fashion "must have" item in their collections. You can find it in various colors, different materials, shorter or longer lengths, one thing is for sure you can't miss out with it. This piece of clothing is very comfortable and at the same time very wearable for every ocassion. If you don't like the monochromatic model of overalls, complement it with fashion details. You can't go wrong whether you put on a belt, necklace, bracelet, big ring, earrings, brooch, jacket, leather jacket or top off the combination with a striking bag and good shoes.
PARIS GEORGIA
Black Slit Jumpsuit
Available for $540 USD – BUY HERE

FIDAN NOVRUZOVA
Black Cotton Playsuit
Available for $585 USD – BUY HERE

PUSHBUTTON
Silver Sleeveless Jumpsuit
Available for $665 USD – BUY HERE

SHOES
When we talk about shoes with heels, the question becomes serious: even lovers of flat shoes cannot deny that they have succumbed – at least sometimes – to the charms of the stiletto model. On the other hand, it is well known how a nice pair of heels can radically transform an outfit. It's all about choosing the right model and it doesn't necessarily have to be a 12 cm heel. You can, for example, focus on timeless and always elegant – kitten heels or on models with wide and medium heels. You can also choose super classy moccasins that are the stars of this fall and winter season. But among the most fashionable suggestions of the season are shoes with unusual heels, slingback models and shoes with eclectic applications and precious details. Our top picks for this season's parties are Magda Butrym pink wrap heels, Paris Texas taupe high heel boots and viral Mach & Mach Black Bow heels.
MAGDA BUTRYM
Pink Wrap Heels
Available for $970 USD – BUY HERE

PARIS TEXAS
Taupe Holly Tall Boots
Available for $1795 USD – BUY HERE

MACH & MACH
Black Bow Chain 140 Heels
Available for – $1195 USD BUY HERE

BAGS
From oversized bags, to more unconventional styles, these are the bags vying for a place in your party wardrobe. Bags took center stage on the catwalks this season. In the bag trends of the new season, we find different shapes and sizes, trendy designs that will become the next fashion obsessions, but also classic bags that are destined to become a part of our everyday routines. However, if you'd like to shine on the dancefloor with your brand new bag, we recommend you cop yourself a Coperni Black Swipe Mini bag, Bottega Veneta Purple Studded Clutch or Balenciaga Lindsay Bag. You can't go wrong with these!
Coperni
Black Swipe Mini Shoulder Bag
Available for $660 USD – BUY HERE

BOTTEGA VENETA
Purple Studded Clutch
Available for $2950 USD – BUY HERE

BALENCIAGA
Black Small Lindsay Shoulder Bag
Available for $1950 USD – BUY HERE