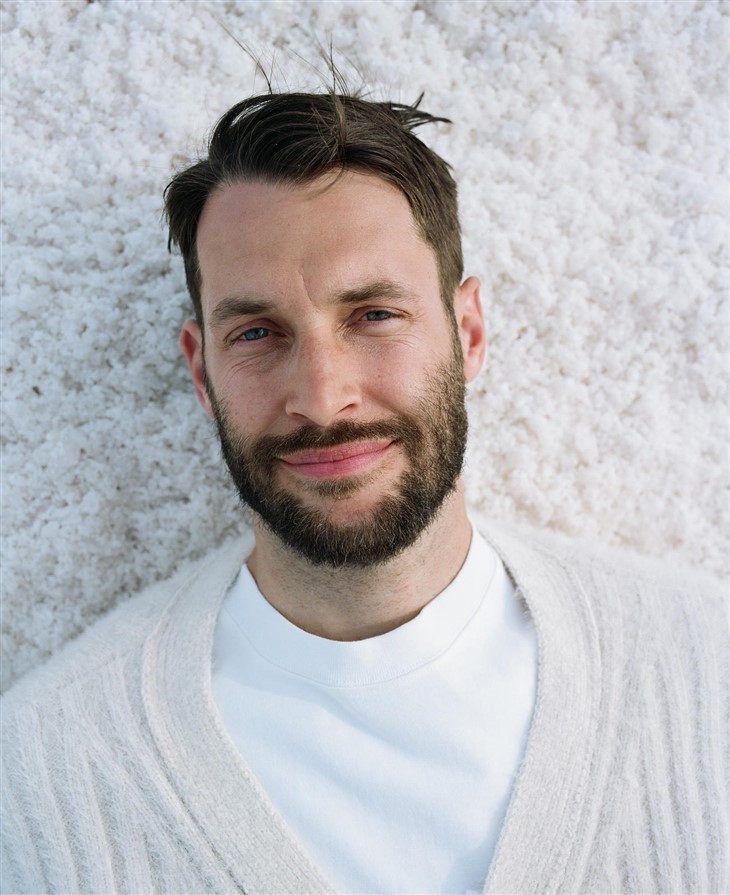 If there's anyone who knows how to harness the power of social media, it's Simon Porte Jacquemus. From an oversized straw hat to a miniature bag, the young designer's creations are all over social media, and he counts a number of influential figures among his fans. He does not hide that he likes being commercial, although many classify him as a conceptual artist and say that he floats between asymmetrical, deconstructed cuts and ladylike lines. From decorative ribbons, tied in a knot and bow, feminine details on dresses and pullovers, to coats which layer the look, with draped details, all the way to playful, fun, asymmetrical tops and blouses, Jacquemus offers fantastic French chic, which turns even a bad day into a fun one. So, what do we know about this popular designer?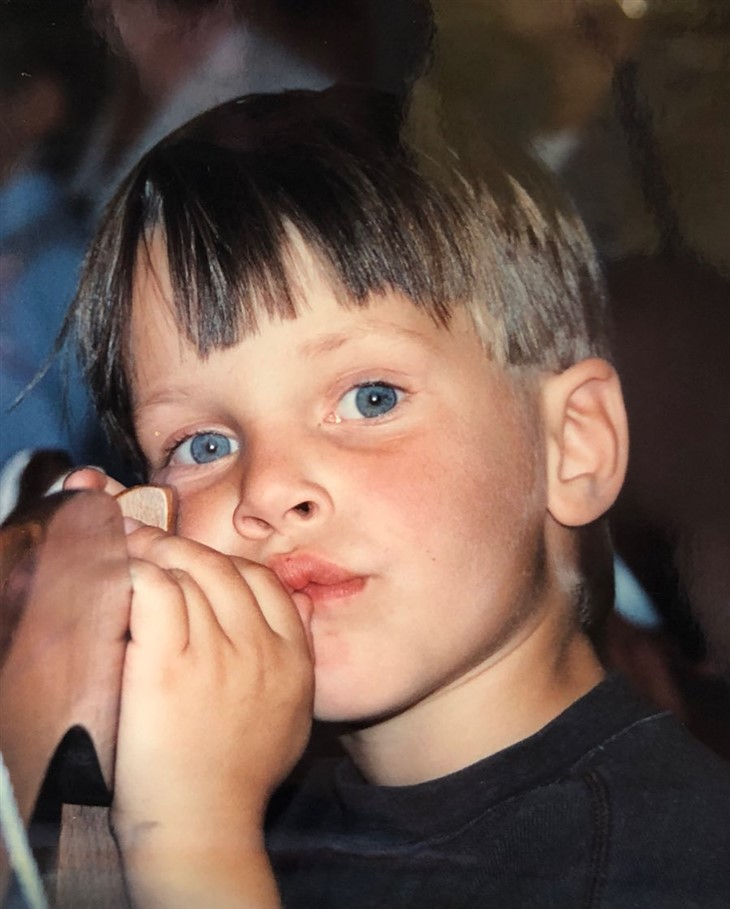 Early Life
Simon Porte Jacquemus was born on April 10, 1990 in the village of La Livinière, located in the Languedoc-Roussillon region of France. He grew up in a small village in the South of France, where he spent much of his time playing in the fields and forests surrounding his home. He has said that his love of fashion was sparked by his mother, who worked as a seamstress and taught him how to sew. Jacquemus has also been open about his upbringing in a small village in the South of France and the influence that it has had on his work. He has credited his childhood spent playing in the fields and forests surrounding his home with helping to shape his love of nature and his appreciation for the beauty of the natural world, which often comes through in his designs. The guidance to start his own label was provided by Comme des Garçons, where he worked shortly and became a very good friend to founder Rei Kawabuko and her husband Adrian Joffe. Jacquemus began his solo career in fashion at the age of 19, when he launched his first collection under the Jacquemus brand. Despite being self-taught and having no formal training in fashion design, he quickly gained attention for his unique and innovative approach to design, which blends traditional French craftsmanship with a modern, avant-garde aesthetic.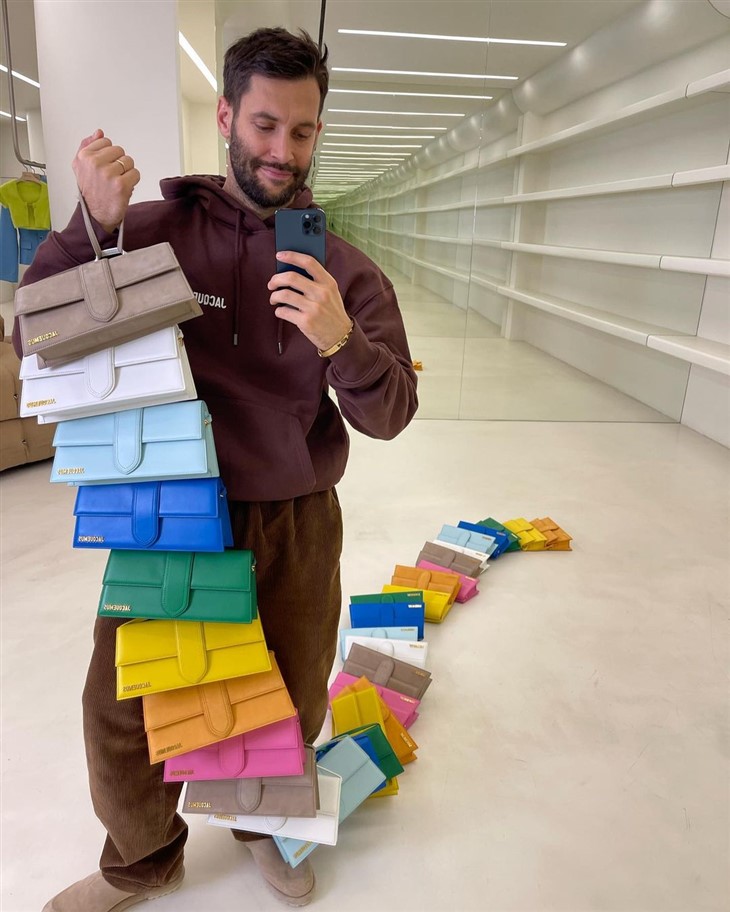 The World of Jacquemus
Jacquemus was founded in 2010, when Simon Porte Jacquemus launched his first collection under the Jacquemus brand. In the early years of the brand, Jacquemus focused on creating collections that were both visually striking and wearable, and quickly gained a loyal following among fashion-forward consumers. He also became known for his unconventional marketing strategies and bold use of color and pattern in his designs. Jacquemus has continued to expand and evolve over the years, releasing a number of successful collections and collaborating with a number of artists and musicians on projects outside of the fashion industry. Today, the brand is known for its bold and playful designs and has a strong presence on social media and in the fashion industry. It has received widespread acclaim for its work and has been recognized with numerous awards and accolades, like finalist of LVMH Prize for Young Designers in 2014 and LVMH Special Jury Prize in 2015 and of course the prestigious ANDAM Fashion Award in 2016. But it wasn't until 2018 that his brand started getting the worldwide attention it deserved.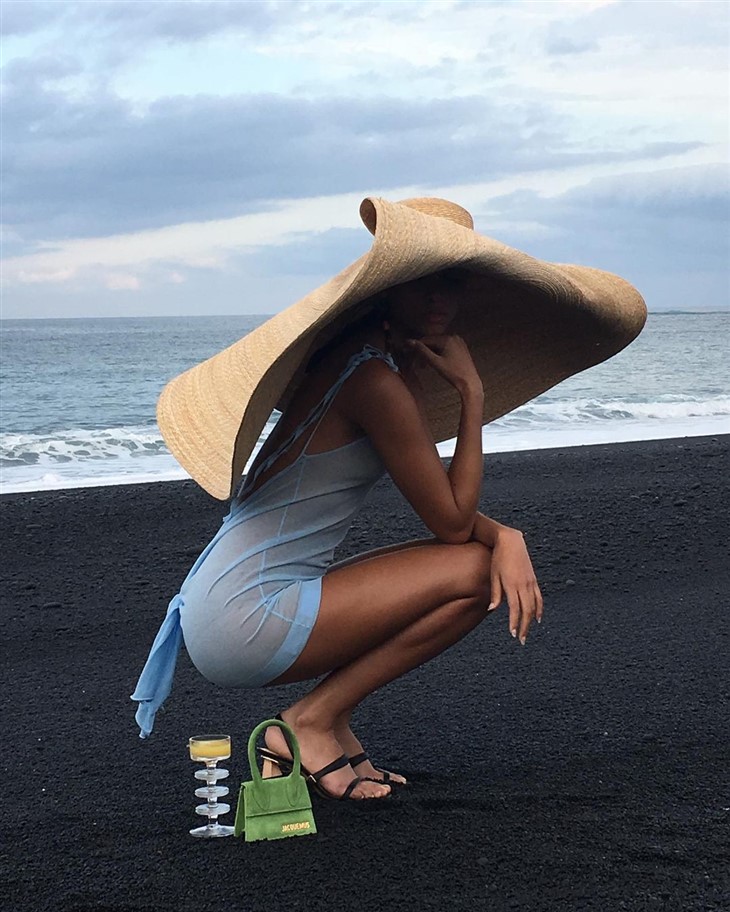 The world fame started off when celebrities like Emily Ratajkowski, Rihanna and Jessica Chastain wore the now famous La Bomba hat on their vacations. The La Bomba hat was first introduced by Jacquemus as part of the brand's Spring Summer 2018 collection and has since become a popular and iconic item among fashion-forward consumers. It has been worn by celebrities and influencers and has been featured in a number of high-profile fashion editorials and events. The hat is made from straw and is available in a range of colors, including natural straw, black, and white. It has a wide brim and a round crown, and is known for its dramatic, oversized silhouette. The hat is often worn as a statement accessory, and has become a key part of Jacquemus' brand aesthetic. As a part of the same collection, Jacquemus introduced another viral product, Le Chiquito Bag. It is made from high-quality materials, such as leather and canvas, and is available in a range of colors and finishes. The bag is known for its small size and versatile design, which allows it to be worn as a crossbody bag or carried as a clutch. Both of these items have made Jacquemus a household name in the world of fashion. Also, the bags became almost a focal point of every collection.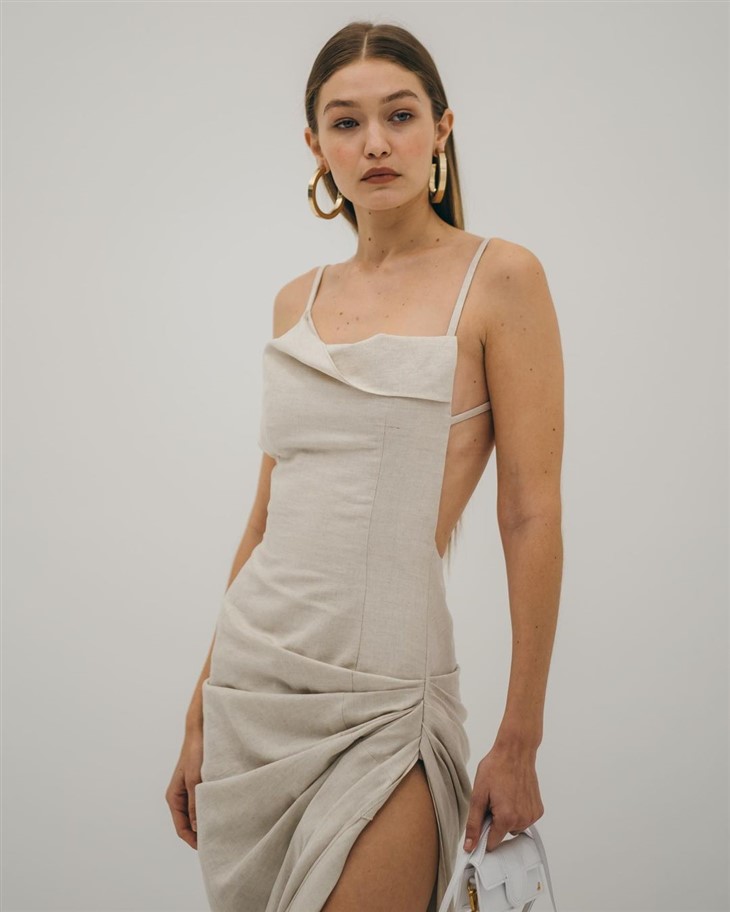 Continuing his virility, Jacquemus took his designs to Paris Fashion Week and wowed everyone with the Fall 2020 Collection, introducing a monochromatic collection, filled with his signature design techniques. Though, one moment definitely stole the show. Gigi Hadid appeared in La Robe Saudade flaunting the dress with her signature walk and a sassy hair flip that later became the most viral moment of the show. Of course it brought a lot of attention to the collection and the dress itself, which later saw many iterations and became one of the most popular styles of the French brand.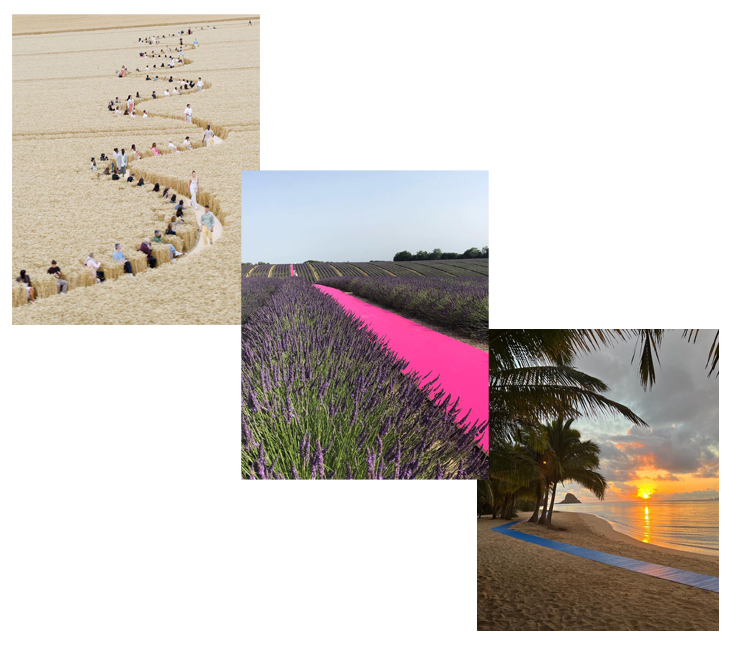 If there is one thing the French designer doesn't miss is his sense of finding a good location for his shows. From his Summer 2020 collection, celebrating the 10 years of brand, held at Provance's Lavender fields, L'Amour Collection held at wheat fields of Us, a commune in the Val-D'Oise region of France, to the Le Splash collection which travelled to O'ahu, the designer doesn't stop to impress us with his design as well as location aesthetics. His most recent collection also held outside was the Le Papier collection, where models walked through the salt marshes of Aigues-Mortes in the south of France. The collection and the location might have been inspired by Simon's soon to happen' wedding to Marco Maestri, which was also held at a picturesque location of Charleval.
Simon Porte Jacquemus opened his first store for his fashion brand Jacquemus in Paris, France in 2020. The store, which is located in the Marais neighborhood, features a minimalist design and showcases the brand's collections of clothing, accessories, and home decor. Prior to opening the store, Jacquemus primarily sold his collections through his website and at select retail locations around the world. The brand has since opened additional stores in other cities, including Los Angeles, California and Tokyo, Japan. Also, to celebrate the releases of certain bags and accessories, the brand opened up small pop-up shops designed like huge vending machines where you could buy your favorite Jacquemus piece. The stores became the main topics of Tik Tok and Instagram, making it an IT spot in Milano, Paris and London. These temporary stores allow the brand to test new markets and create a sense of exclusivity around its collections.
Collaborations
Simon Porte Jacquemus dived into the world of collaborations in 2017, when he teamed up with Le Bon Marché. In 2017, Jacquemus partnered with Parisian department store Le Bon Marché to release a limited edition collection of clothing and accessories. The collection included a range of pieces inspired by the south of France, including oversized sunhats and lightweight linen clothing. Following up, the next year he did a collection with Uniqlo consisting of casual clothing and accessories. The collection featured simple, classic pieces with a modern twist, such as oversized T-shirts and denim jackets. Continuing the sportswear journey he also teamed up with Converse for a range of low top and high top styles. Also, Porte ventured into makeup when he joined forces with L'Oreal Paris to release a makeup collection inspired by the south of France. But, the collaboration which got the most buzz is the one with Nike. The collection featured Jacquemus's signature minimalist aesthetic, with clean lines and a monochromatic color palette and it caused a frenzy of customers wanting to cop their own piece of this amazing collaboration which made the lists of the best collaborations this year. Switching to accessories and homeware, Jacquemus also collaborated with homeware brand Tekla consisting of sleepwear and pieces for the home.
Why Is He So Popular?
We already established that Simon Porte Jacquemus' fame came with social media presence. But what makes him unique is his storytelling around every collection, which is documented through his carefully selected Instagram posts and color coordinated content. It all makes even more sense when he showcases his inspirations, like his mother, who tragically passed away, or his grandmother who is his main star when it comes to dressing up. During coronavirus she became viral for modelling the latest Jacquemus pieces and she modelled them so well like she was in the campaign herself. She even landed the cover of Elle with his grandson! Also, Simon is someone who is very tight with his celebrity fans like Dua Lipa, Jennie from Blackpink, Pamela Anderson, Vincent Cassel and Tina Kunakey. In the era of influencer marketing, Jacquemus is killing the game with his strong and fun social media presence, dressing the biggest stars of today and designing timeless pieces that steal our hearts every season.