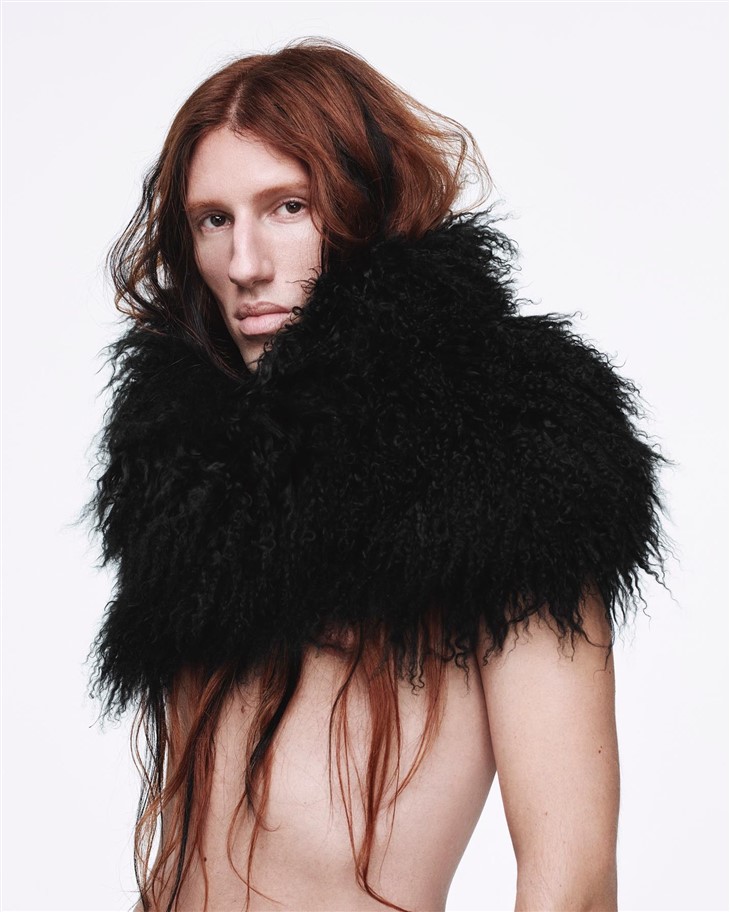 French designer Ludovic de Saint Sernin, who has won the hearts of some of the internationally renowned stars with his genderless garments, is the talk of the fashion world right now. Ludovic de Saint Sernin is one of the most interesting designers on the international scene and with his eponymous fashion brand he has won the attention of the most famous celebrities in the world, who competed to wear some of his prestigious clothing. Today, his name is even more popular given the fact that a couple weeks ago he became the Creative Director of fashion brand Ann Demeulemeester. Being in the fashion world for a short time, let's find out who is this trendy French designer.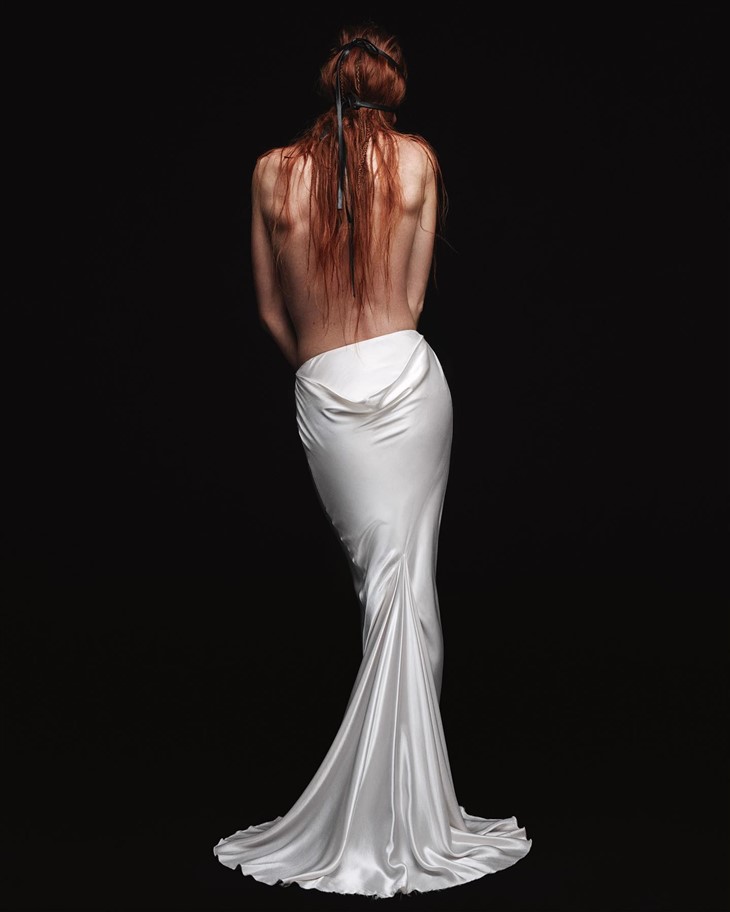 Early Life
Born in Brussels in 1991 and raised in the Ivory Coast, Ludovic de Saint Sernin studied fashion in Paris and attended the Fashion Design course at l' ESAA Duperré. De Saint Sernin lives in Paris, where he moved when he was eight. He grew up with a simple, straightforward upbringing full of support and encouragement, despite his family's more traditional career paths. Following his graduation he did internships at some important fashion houses such as Dior and Yves Saint Laurent to finally land at Olivier Rousteing and Balmain. In 2016 he founded his own eponymous fashion label, and soon after he managed to achieve the final place in LVMH awards. Ludovic de Saint Sernin's garments soon established themselves on the market as they were easily recognizable: the designer created many genderless garments, delicately transgressive and with jewel inserts. He himself confessed to Vogue that some of his high fashion collections were born after some of his painful sentimental breakups, but that's all we know about his personal life, as he likes to keep it very private.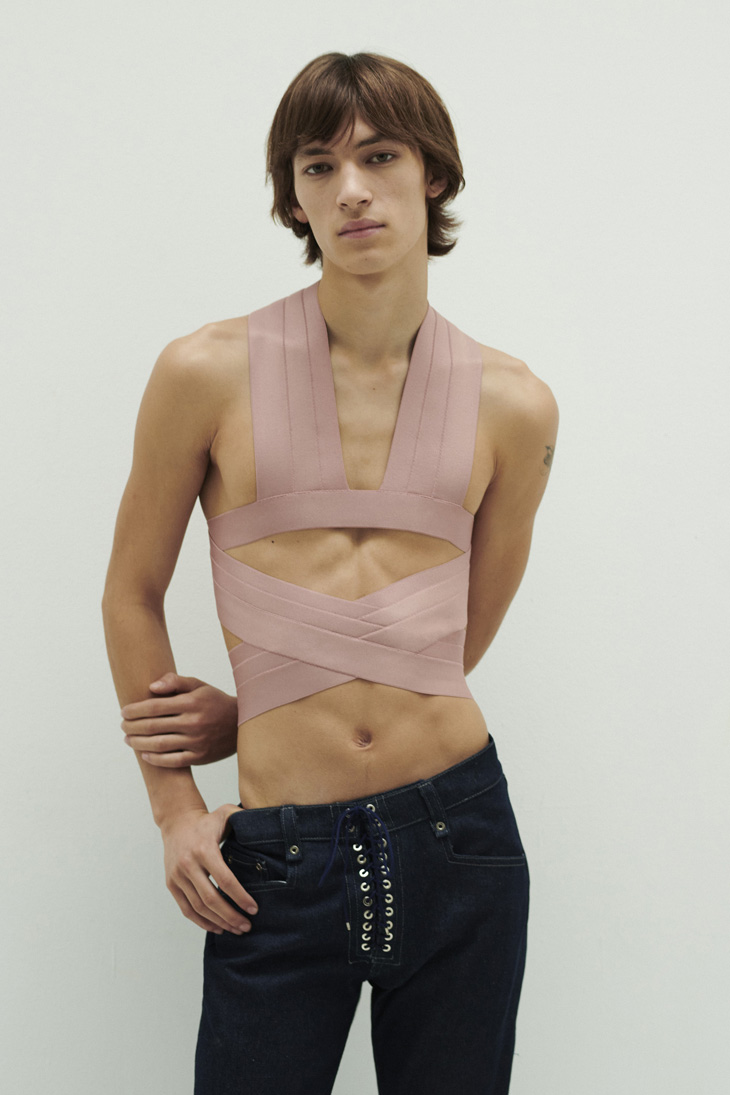 The Birth of His Eponymus Label
Founded in 2018, as we mentioned above, his eponymus label became popular from the very beginning. Eroticism and sensuality are iconic constants of Ludovic's collections. His debut show was off the main Paris week schedule, but was remembered by critics. There were 11 looks in total, but the style was clear even then: slit tops, intricate jumpsuits and, of course, lace-up bottoms that appeared from collection to collection. His first show as an official participant of Paris Men's Fashion Week made even more noise: a collection called Wet'n'Wild was shown on the roof of the Center Pompidou. One of the most memorable outings from that runway went viral on social media, featuring a shirtless model wearing a bath towel that, according to the designer, was actually soft as a cloud and made from premium merino wool. The designer wanted things to look like they just took a dip in the pool: bandeau tops, very low rise pants, sheer white tees and a dress – on one of the few "feminine" outings. The designer always works very subtly with the 2000s theme in general. The majority of the clothes and accessories are made in France and sustainable practices are always closely followed, consciously shortening the supply chain and maintaining a close relationship with all ateliers.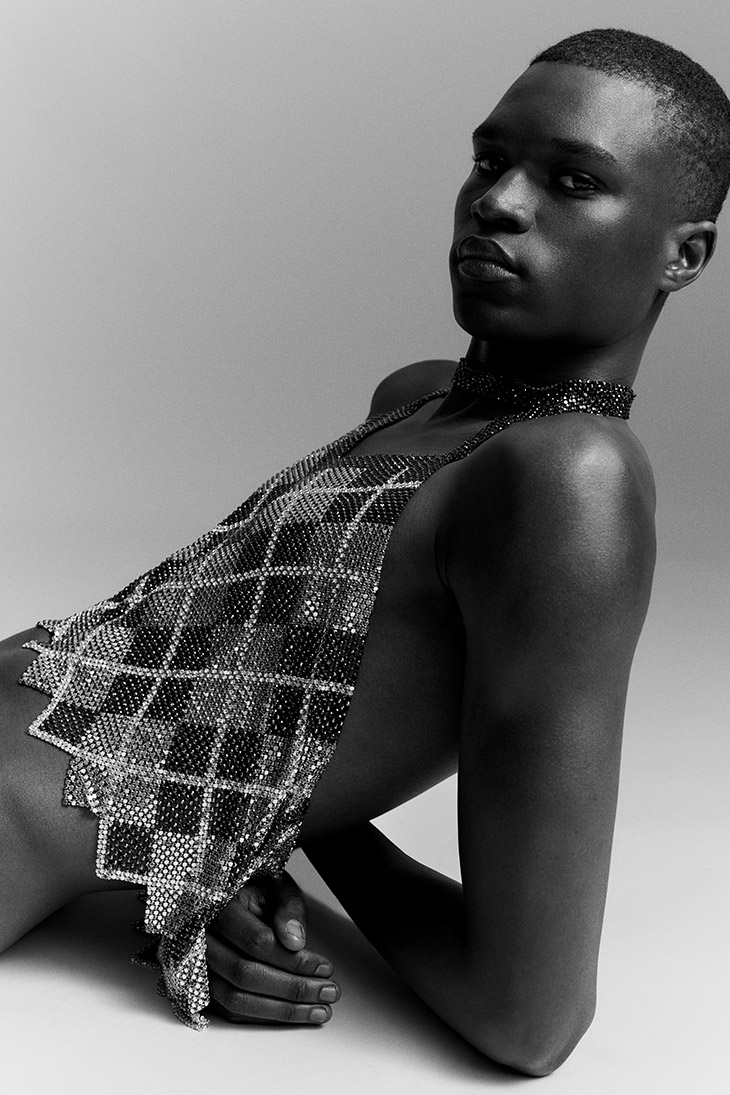 It's hard not to notice that in almost every collection of the brand there are outlets with models on which there are almost no clothes, and what seems to be ready to fall out of them. The designer considers it a signature of his brand and admits that the main thing for him is the human body, which is simply dressed and undressed. Above all, he likes to develop Spring Summer collections (the brand's official online store has a separate tab with clothes for the beach), but even when he works on Autumn Winter collections, he represents not the cold season in Paris, but the weather conditions in Los Angeles. Despite his brand being on the men's fashion week schedule, both women and men enjoy purchasing his clothes. From the beginning, Ludovic wanted his label to be for everyone. The designer himself admits that since his school days he has been buying things in the women's departments and since then he simply has not seriously thought about whether he wears men's or women's clothes. In the fashion show of the latest collection of the Ludovic de Saint Sernin brand, the number of "feminine" releases increased significantly. The most memorable dress from the recent show was the one worn by Bella Hadid, simple, yet so effective, which also broke the internet. It's obiviously his super power as a designer, and we're so excited for the next collection and it's viral moment.
Ann Demeulemeester
The news that Ludovic de Saint Sernin is becoming the Creative Director of the well-known brand Ann Demeulemeester came two weeks ago with a press release from both brands and accompanying set of pictures starring designer himself, wearing pieces from the Ann Demeulemeester archive, interpreting them anew. Ludovic will make his debut at the brand with a show in March 2023 during Paris Fashion Week.
Authorship and autobiography gain centrality, as Ludovic de Saint Sernin shapes the Ann Demeulemeester traits around his vision, proclivities and individuality, offering a first-person reading and the connection with today's audience that comes from that. – from Ludovic de Saint Sernin and Ann Demeulemeester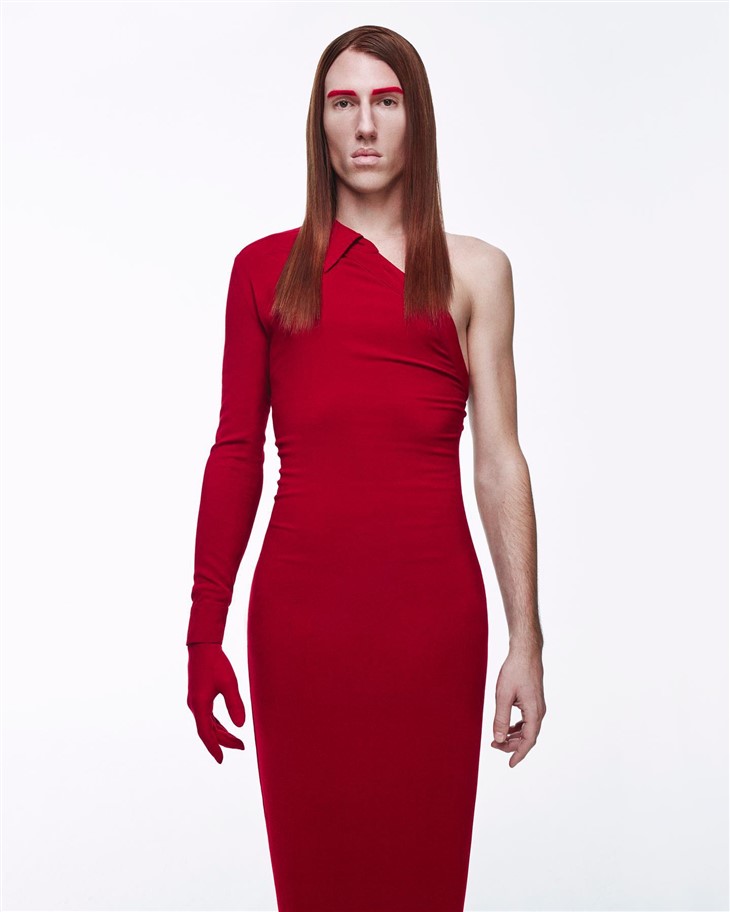 For commercial reasons, he has to design clothes for Ann Demeulemeester taking into account the specifics of the female body. The fact is that the "genderless" clothes that Ludovic envisions have a number of obvious flaws: it is extremely difficult to achieve absolute universality and very often initially his things are made with a vision of a thin man (like the designer himself). At the same time, by showing men things with decor and elements that we once associated exclusively with the women's wardrobe (slits, corsets, sheer textures, crop tops), it still undermines gender barriers. And hopefully one day he finally will.