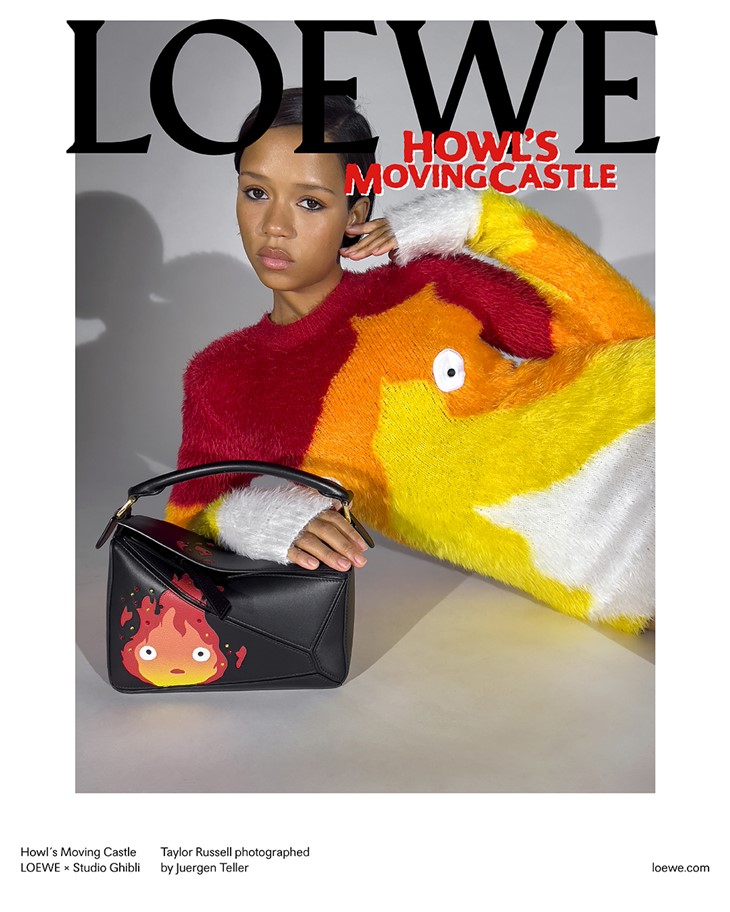 Fashion house LOEWE launches its final Studio Ghibli collection, which this time draws inspiration from Howl's Moving Castle. LOEWE celebrates the arrival of the capsule at Selfridges', where it takes residency from February 1, with an exclusive pre-launch of the capsule collection 24 hours before general release. The LOEWE x Howl's Moving Castle collection features the film's key characters – Sophie, Howl, fire demon Calcifer, as well as Markl, Heen, Turnip Head, and the Witch of Waste – animating clothing and accessories: drawn as leather or shearling intarsia, turned into embroidery on leather or textile, decorated with crystal and stud inlays on leather. The campaign was captured by Juergen Teller, starring brand ambassador Taylor Russell, Rianne van Rompaey, Hyunji Shil and Oliver O'Sullivan.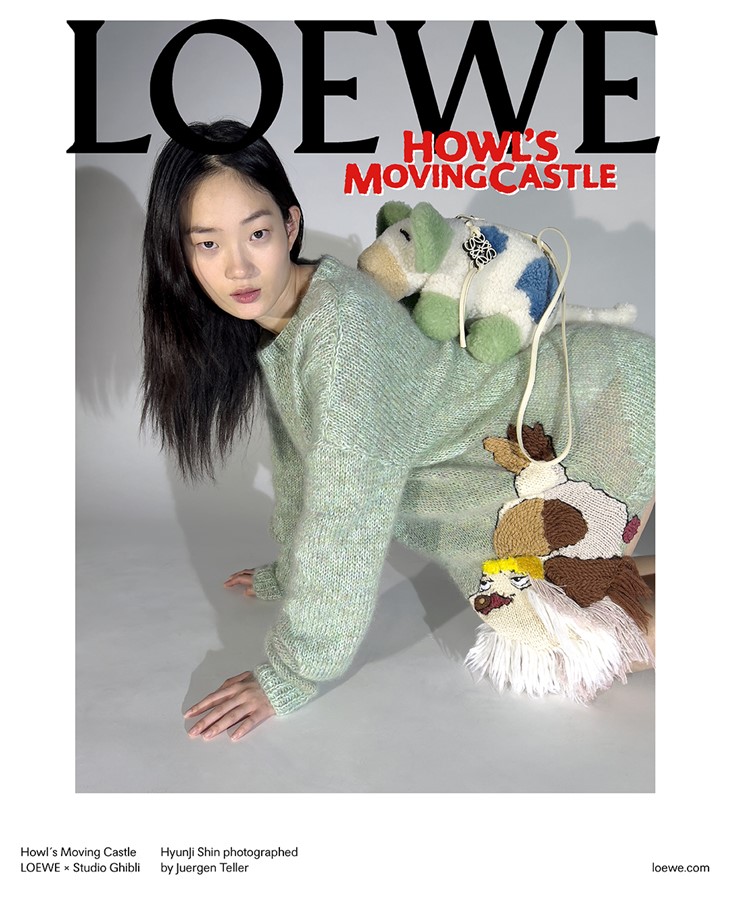 The world we are living in needs a counteract: not as an escape, but as a different outlook. This, to me, is what Hayao Miyazaki's animated films for Studio Ghibli are about: a commentary on the moment and an alternative to it, always heartfelt, fulfilling, full of fantasy and sentiment. This is also the reason why the final installment of our collaboration with Studio Ghibli feels more timely than ever. – Jonathan Anderson
The characters appear on bags including the Puzzle, Flamenco, Hammock, Amazona, Luna, and Bracelet pouch, on small leather goods, on jumpers, jackets, and shirts, with details such as appliqué, raffia or feathers making them stand out as if they were alive. Scenes of the film are printed in the lining of tweed jackets, or all over shirts and shorts. Feathers on a cardigan create a magical fluttering and silhouettes allow the characters to be the real protagonists on each piece. The castle itself is featured too, as a collage of bits and remnants from our signature bags such as the Puzzle, Flamenco, Amazona, and Hammock, assembled to create a distinctive shape.
One of my favorite Miyazaki creations is the 2004 fantasy epic Howl's Moving Castle, which is one of the most commercially successful Japanese films in history. Loosely based on a 1986 novel of the same title by Diana Wynne Jones, it tells a story of loyalty and compassion against a backdrop of magic, imposing technology and the destructive effects of war, which makes it incredibly resonating. Set in a fictional kingdom at war, Sophie is the story's protagonist, a quiet young milliner who is turned into an elderly woman after being cursed by a witch who enters her shop. The metamorphosis transforms Sophie into a heroic central figure, who encounters a wizard named Howl and gets caught up in his resistance to fighting for the king. – Jonathan Anderson