Fashion designer Philipp Plein presented his PLEIN SPORT Fall Winter 2023.24 Collection on Saturday, 14th of January, during the ongoing Milano Fashion Week Men's. The collection honors the stylistic codes of Plein. It is body conscious whilst remaining confident and highlights sports performance, technology, and futuristic motifs. Plein, as always, wanted to include details not immediately attributable to sport, to have a contrast between active apparel/accessories and decontextualized graphics (baroque, chrome, 3D, pixel and tropical).
With innovation at its core, a key feature of this ground-breaking concept is the PLEIN SPORT TRUCK. First debuted during the SS23 event, the brand introduced the first mobile store that will travel across Europe to several cities to bring them the full offering of PLEIN SPORT. As well as being a functioning mobile store, this new piece of technology acts as a powerful attraction for consumers, delivering the philosophy and culture of this dynamic brand. It allows the brand to evolve and provides a new way of shopping for all ages. PLEIN SPORT is a leader in bridging the gap between the sport and fashion world, combining the highest quality of sportswear and the most advanced technological solutions whilst keeping style at it's core. – from PLEIN SPORT
The mens collection includes the Dripping Fluo, with new labels with slogans (ES HIGH PERFORMANCE PLEIN SPORT EQUIPMENT) and graphics of a tiger scratch with symbols of reference PLEIN SPORT brand DNA. Within the WOMEN'S looks, there is a touch of Baroque and an exotic touch with the magical birds of Paradise.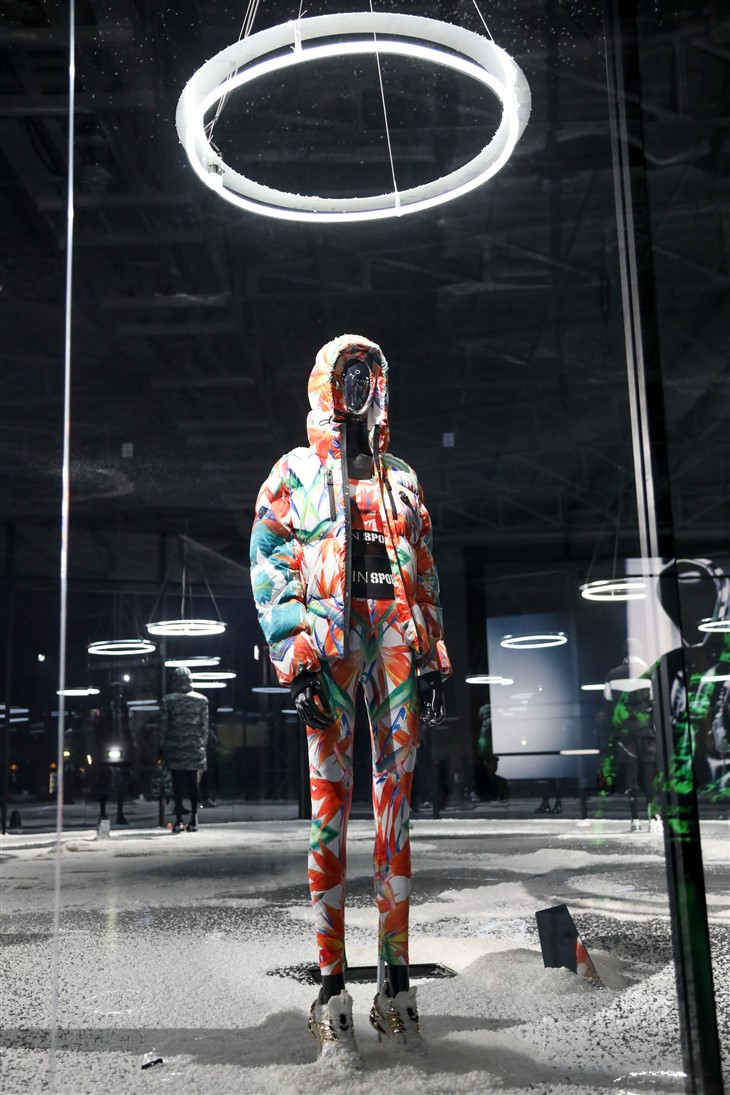 PLEIN SPORT is functional, versatile, and engineered to support an active lifestyle. From achieving a personal best on a mountain hike to hitting an ace on a tennis court, PLEIN SPORT takes you into the future of fitness. Each item is designed uniquely, combining industry-lead technology with style and comfort. One of the key elements of the collection is the camouflage design, inspired by the power within. The looks also include touches of fluorescent contrast details, with accents of hot pink, fluorescent green, burning orange on classic bases of grey and black. – from PLEIN SPORT