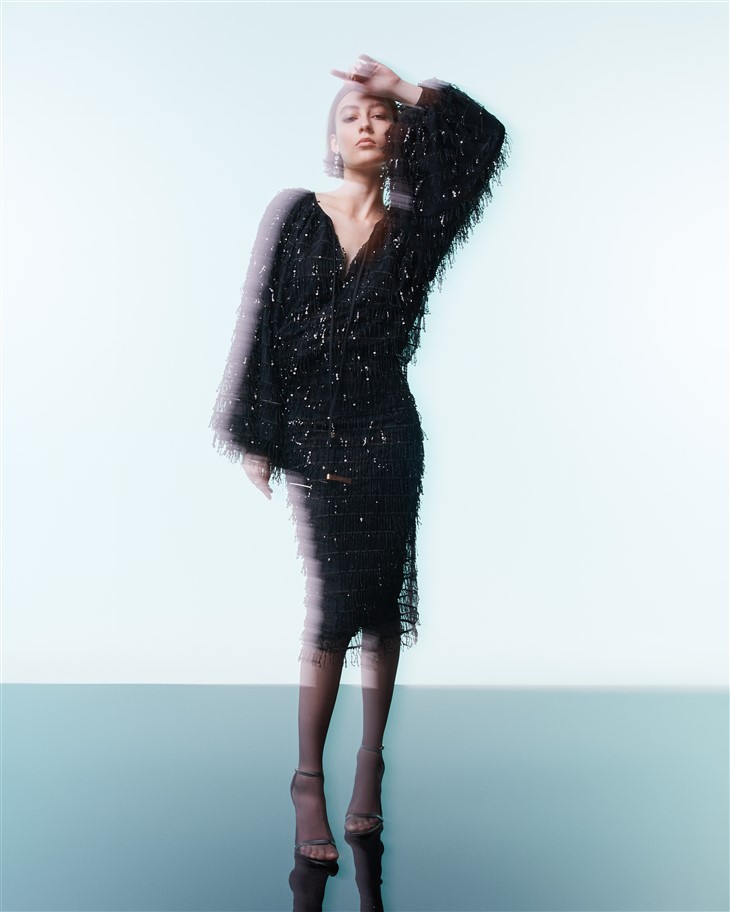 Fashion house PHAEONIA presented their Fall Winter 2023.24 Womenswear Collection titled Roaring Eighties, inspired by a night of glamour, light and life that comes alive. The Great Gatsby meets Studio 54. The Stars & Stripes aristocracy contaminates itself with disco tracks mixing the Roaring Twenties and the years of hedonism, two moments of great economic but also artistic boost. Fluidity and cleanliness, elongated lines like a supple Elsa Peretti, micro fringes to create embroidered scratches. And from the women friends of Halston and Andy Warhol, the mind wanders in a homage to the suggestions of Jackson Pollock. With a sophisticated dripping that becomes embroidery, the new emblem of an abstract expressionism to be worn on the skin.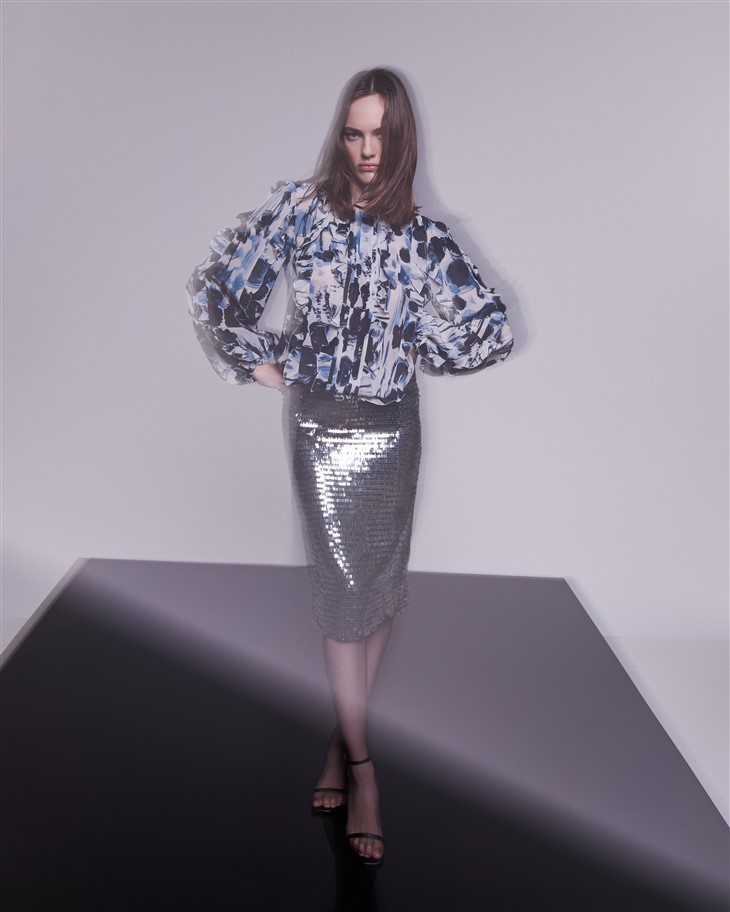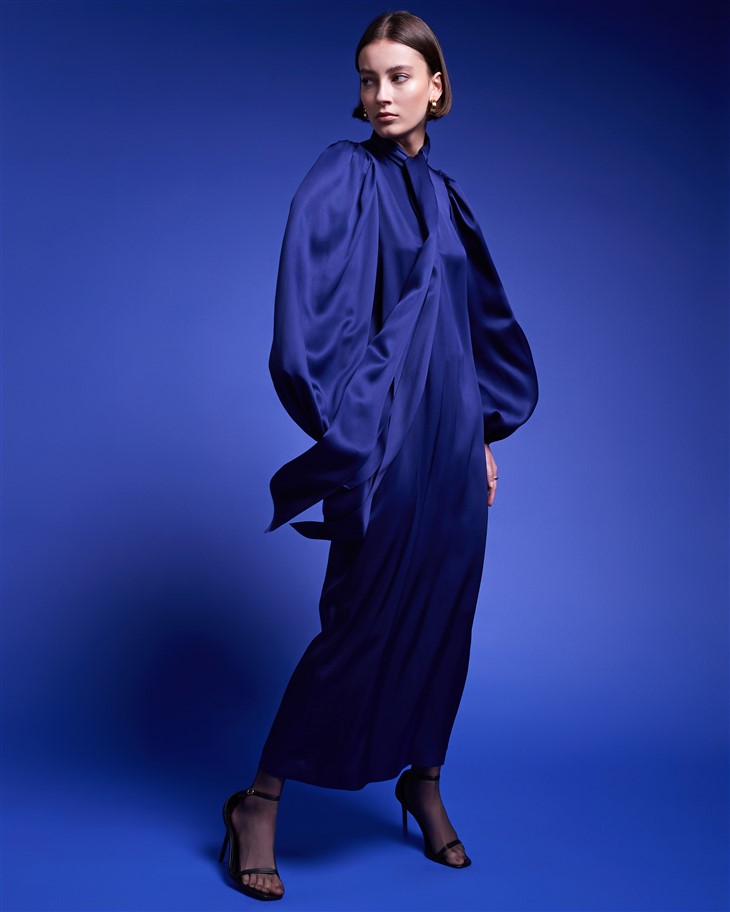 The shirt is mutant, it becomes a dress, it becomes a cape. This is the first step in a natural evolution, with the inclusion of new pieces designed to complete the story of that world born from the strength of personality and contrasts. We are moving towards a total look under the banner of collisions. Absolute graphisms and couture soul. Raw canvas and precious reverberations. Shiny and matt. Daywear and evening. The imperative is to play with combinations that are always eye-catching. For a wardrobe that speaks the same language, declined in a palette that is a mechanism of chromatic synchronies, from black and white to bright blue, powder pink and intense burgundy. Drops of sensory memory born from fabrics, from heavy satin to impalpable tulle, touching antipodes but always with a soul and a story. To envelop the body with a material that lives.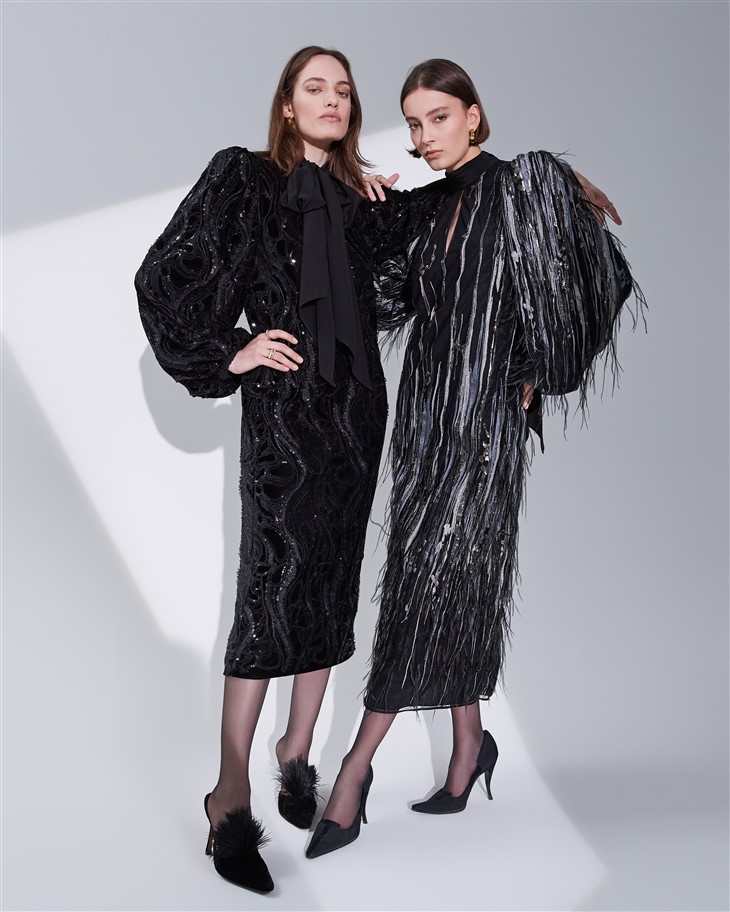 Focus on the three-dimensionality of the dress. And on its kinetic magic. Because a dress becomes an experience, affecting the senses. The rustle of embroidery on an embroidered skirt that intrigues at every step. The micro-vibration of feathers that are a pretext for introducing the graphic part. The sequins set running creating a mirrored pavé, an all over that brings light into the eye. The soft sensation on the skin of silk velvet for a black cape with ton sur ton embroidery. Light superimpositions of transparencies that act like brushstrokes to create the final colour effect, recalling painting techniques. Scarves and bows deliberately left open, cutting the whole. The result is a visual sign that cannot be forgotten.