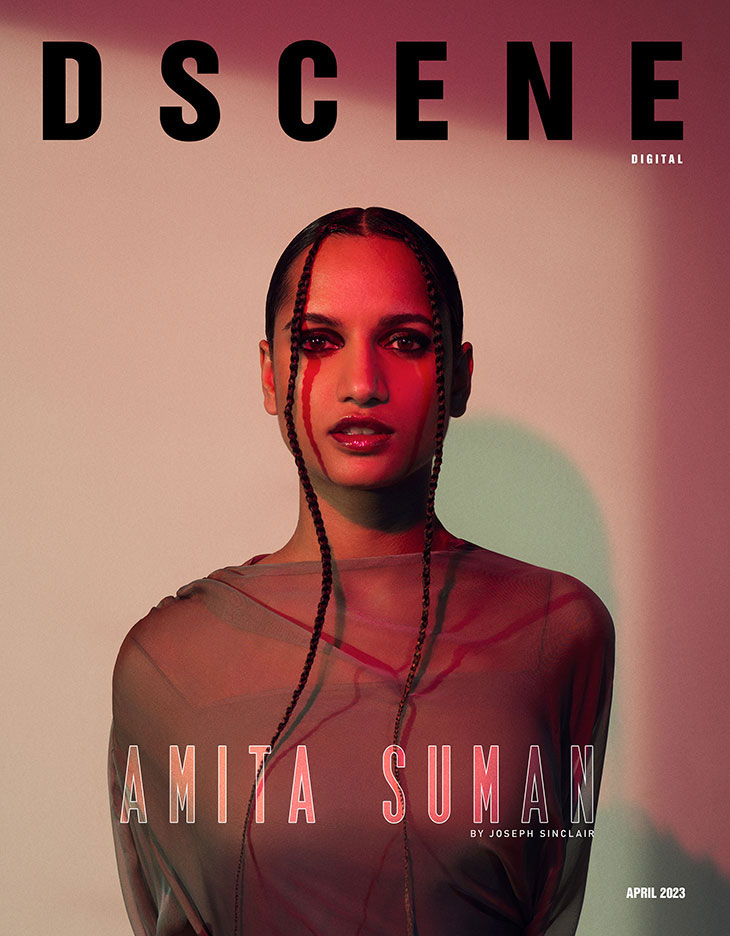 "Shadow and Bone" star AMITA SUMAN is DSCENE Magazine 's April 2023 cover star! Born and raised in Nepal, Amita moved to London at a young age, not familiar with the culture and language. Anita is a true true example of someone who follows their dreams, she learned the language, fell in love with acting, and quickly landed her first roles on screen. Suman is also known for her humanitarian work. She is now working with UNICEF to help young girls living in poverty get an education.
"Shadow and Bone" season 2 premiered on Netflix two days ago, you can now stream all the new episodes.
DSCENE Magazine teams up with Amita for April 2023 digital cover story captured by fashion photographer Joseph Sinclair. In charge of styling was Olga Timofejeva, with beauty from hair stylist Bjorn Krischker and makeup artist James O'Riley.
Continue reading for our conversation with Amita talking about her determination to venture into acting, Inej Ghafa in "Shadow and Bone" and people watching in New York:
Hi Amita, nice to have you at DSCENE! Can you tell us a bit more about yourself? – I'm a British Nepali actor. I was born in Nepal, moved to sunny seaside Brighton in 2004. As for now, I've just come back from the Shadow and Bone premiere and press in Los Angeles. It was so busy and I'm feeling blessed I got to experience all the hype with the cast.
What inspired you to pursue acting? – I used to live a very secluded village life back in Nepal. I saw a TV set for the first time and I was totally hypnotised. I started conversing with the people in the TV screen and asking them how can I join you? I sat for hours with my grandpa [Amita's grandfather was the village priest] and one day that dream came true here in England.
Can you remember your first casting? – I travelled to London from Brighton; I was 17 at the time. It was for a lead role in a short film, type cast role of a Muslim young girl who was running away from home and they wanted me to chop off all my hair.
How did that casting go? – I was honestly just excited to have an audition! Was I awful? Yes, yes, I was haha. Thank god for drama school!
Unfortunately, there is still a discrepancy with roles for people who look like me but it's amazing to see the change and I'm so incredibly grateful that my career path as been unique and freeing. I hope to see so many more brown people taking up space in the industry!
Was acting something you always wanted to do? – Yes. Although during the good old times at school I was always fascinated by the prospect of becoming an inventor. I used to have a book of ideas, but they were all impossible.
Would you say that your career path was hard? – I will say I have had to battle with type casting my whole career, even now. Unfortunately, there is still a discrepancy with roles for people who look like me but it's amazing to see the change and I'm so incredibly grateful that my career path as been unique and freeing. I hope to see so many more brown people taking up space in the industry! I hope this is just the beginning for me, I'm on tip toes, ready to take a leap into the next phase.
It's the first time in history an Indian song from the epic movie RRR won an Oscar! I'm still celebrating that win!
You star as Inej Ghafa in Netflix's hit show Shadow and Bone. Can you tell us a bit more about the show and your experience filming it? – I've made great friends because of this show. I absolutely loved exploring the character Inej, what she stands for, her struggles and her humanity. She is an anti-hero, she is vibrant and this season she is afraid she might become the evil she has witnessed, for it has left its hellish marks on her body, it terrifies her.
How would you describe the atmosphere behind the scenes? – A bit of everything. I pass time by with a competitive game of chess between takes. Freddy is usually taking the best behind the scenes photos on his film camera. Kit is talking about something really interesting, and everyone is ears. Jack, I like to steal hugs from every five mins. Dani has an amazing voice, it's a treat when I catch her singing. When we had night shoots, Lewis – our S&B DJ, would crack on a banger every time we stepped on set, the whole crew and cast would join in. Set life was the best it could get.
What's the last TV show you binge-watched? – "The Last of Us" – wow is all I have to say for that.
And what is your favourite show currently on TV? – All-time favourite has always been "Friends"… especially when life gets hectic, it's my escape. Loving The White Lotus right now.
What kind of role is interesting to you, and what would you like to play next? – I'm open to it. As long as the character has an arc, a strong reason to live or die for. Will my dreams of being in a Bond movie, roles such as Allie Hamilton, the bride, or working with Directors such as Darren Aronofsky, Ruben Ostlund, Craig Gillespie, James Cameron come true? One day I hope, what's the point in dreaming small?
Besides acting, what is something you enjoy doing? – I love people watching which I know sounds creepy. I have every intention of reading a book in a café or sunny spot in a park but instead I end up reading the colours people are wearing, how they're walking, the expressions on their face. I was doing my usual walk from Central Park to Manhattan, my headphones fell out and I'm so glad it did because I couldn't believe what I was hearing from the people passing by. Snippets of fuck I'm getting fired today. The company wants an extra 7 million. My daughter is pregnant, but the asshole has doesn't want it. Take your headphones out in NY!
I also enjoy brunches with friends, sewing, swimming. Random things.
Photography Joseph Sinclair at John Parkinson Agency using LEICA – @josephsinclair
Stylist Olga Timofejeva at The ONLY Agency – @olgatimofejeva
Hair Bjorn Krischker @ The Wall Group using Sebastian Professional – @bjornkrischker
Makeup James O'Riley @ One Represents – @jamesorileymua
Stylist Assistant Sophie James