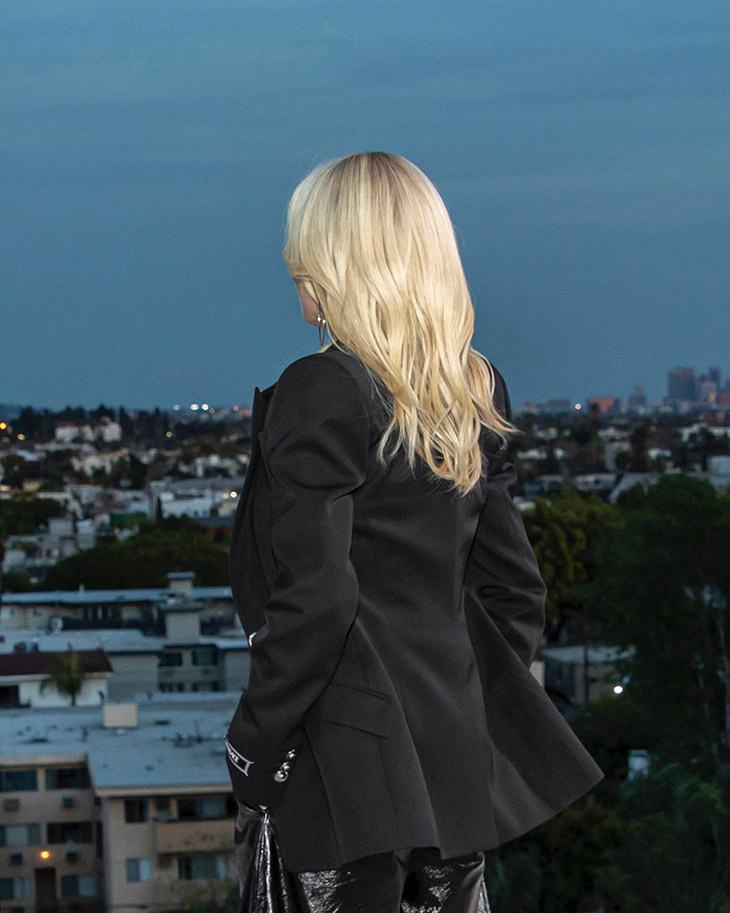 The iconic Italian designer Donatella Versace sat down for an interview with WSJ. Magazine's contributor Derek Blasberg just before the brand's Fall Winter 2023 show, held yesterday in Los Angeles. Donatella talked about the new collection, her favorite Versace red carpet and runway moments, her Oscar night plans, and much more.
When I do something, I do it big. I don't do simple – Donatella Versace
On why she's doing her latest show in Los Angeles:
DV: Versace has been recognized for dressing stars for a long time, back when nobody dressed them. We were the only ones!
I love L.A. because it's full of freedom, full of interesting people.
For me, L.A. means a lot of things. It means freedom, it means natural, it means celebrities, movies, art, fashion. Here you can have everything together."
On the first time she came to LA:
DV: I don't remember the very first time, but I always loved to come here. I have fantastic memories. I did a lot of advertising campaigns over the years, always with my gang of models: Naomi [Campbell], Christy [Turlington]. We had all these fabulous moments in L.A.
On where she goes when she's in LA:
DV: For me—it's so L.A.—the first thing I do is go shopping. I always love Chrome Hearts especially.
On whether she goes hiking as seemingly everyone does in LA:
DV: No, no, no. I'm not a hiking person!
On what her idea of Hollywood was when she was growing up:
Hollywood was a dream! Like fashion was a dream too. Actually, everything was a dream at that time. The world I'm living in now was a dream. I remember the images of those fabulous actresses: the strength that they project, how beautiful they look, how fierce they were. For me, the ideal woman was a woman on a red carpet in L.A.
On what her brother Gianni thought of LA, red carpets, and actresses:
DV: We came together [to L.A.] only once or twice. But he was very shy, Gianni. In all of our relationships with actresses, it was me who had to do the talking. Gianni would say to me, "I'd like to see her in that dress." And then I would go to tell her to try it on. Gianni thought that if you dress a star, some of the stardust will stay with you. He understood the power of celebrity and power of stars on the red carpet.
On the iconic fashion moment during Versace's fall 1991 collection, when Cindy Crawford, Linda Evangelista, Christy Turlington and Naomi Campbell walked out together, arm in arm, at the end of a show lip-synching the song "Freedom! '90," by George Michael. He had recently released the music video starring those models and he was sitting there in the audience.
DV: I remember it like it was yesterday! Everything happened at the last moment to make the girls walk together. Gianni was mesmerized with those girls, the supermodels. He felt like, wow, they made the clothes look fantastic. For him, it was not just about the clothes; it was also about the girls and how they wore them. We were all backstage in another position, and Gianni said, "Let's send them together."' And I said, "Wait a moment, we have to fix the dresses," so we changed the dresses. Naomi was in a long dress, so we had to quickly put her in a short one. All of these things happened in one minute backstage and then—bang!—they were hugging each other and lip-synching on the runway.
On whether she knew it would be such an iconic moment:
DV: Actually, yes, I did! I could feel the enthusiasm from the audience. I was looking at the monitor with my mouth wide open.
On the inspiration for this latest collection:
DV: This collection was inspired by a campaign in 1995 with Steven Meisel. At times, I go through old campaigns and photography, and I was looking at this one and I thought it was particularly fabulous. The clothes were simple, but the strength! I said, Why do the clothes project such strength? It's because the clothes are pure. It was the cut of the dress and the quality of fabric. It was almost couture. I started from that. [The concept is to] take away all the extra things on the dress and just go to the pureness of the cut and shape and quality of fabric. A little bit couture but not that expensive.
On who the models in the campaign were:
DV: Kristen McMenamy, Linda Evangelista and Madonna.
[Madonna] is so relevant today! For me, she was one of the first feminists. And she still is now.
On whether this season's creative process was similar to past seasons:
DV: No, usually for prêt-à-porter, you do the first samples in factories, and then you do the fitting and you adjust. This time, I cut every sample, from the first sample, in the atelier in Milan. So we follow every little step in making the outfit. We are very careful about the little things that maybe you don't see, but it gives a fabulous shape to a dress.
On the secret to a strong L.A. look:
DV: It's very important to think about tailoring. When you factor in tailoring, cutting it in a good way, you're going to look fabulous. It doesn't matter your body, it's going to look better.
On which actress's style she admires right now:
DV: Lady Gaga. I adore her. I love how she interprets her clothes, the way she wears it. It's not the clothes that wear her. I like Angela Bassett. I love her strength.
On her famous Versace jungle-print dress that Jennifer Lopez wore to the Grammys in 2000being responsible for the creation of Google Images. There were so many searches for the dress, Google's engineers realized they needed an image search.
In fact, when Jennifer Lopez came to Milano to do my fashion show [and to wear a new version of the jungle-print dress in 2019], I worked with Google to do my whole set and do the screens.
On whether she thought it would be such a big deal at the time:
DV: Absolutely not. I had no idea.
On whether there is a chance for another moment like that when a single dress changes the course of technology:
DV: You know what, these things happen if you don't think about it. If you think about: How can I do a dress like the J.Lo dress? it's never gonna happen, you know? That moment was a combination of how J.Lo wore the dress. She was very young and she was very naive, in a way, because the dress was very revealing. But she didn't realize how revealing it was, she told me, until she was half way through the red carpet. There was an innocence, too, of Jennifer when she wore that dress, which was mixed with being sexy.
On her favorite Oscars and red carpet moments:
DV: For sure, Gaga, when she arrived on the red carpet [of the American Music Awards] on a white [human] horse. That was an entrance! Another one is Angelina [Jolie] with a black ball gown when she pulled her leg out [on the Oscars red carpet]. The leg went viral, the image went everywhere. Sometimes you don't know which dress is the best, but when you see someone wearing the dress it can become fantastic.
On the emphasis on social media, the red carpet gowns, and what moves the needle:
DV: Versace started on the red carpet. Now every fashion house understands the importance of the red carpet. What I care about more is seeing young generations wear Versace. Kids—they look at the Versace archive and they write to me: Can I buy this? How much does it cost? Gen Z ask me this, and I'm very proud.
On whether she thought the Y2K and '90s style would come back so soon:
DV: No. Ha! But it did. Gen Z has such an interest in the archive, and I didn't realize why. We make great evening clothes. I don't want to be full of myself, but we really do make evening clothes because we think a lot about a woman's body, how to make it look its best. The work we used to do in the beginning, we still do now. A lot of attention is on the cut of clothes, the embroidery, the fitting—that's the most important thing to make a girl feel sure about herself. The goal is to make a woman feel better. Empowerment.
On whether its true that her son, Daniel [Beck], is named after an Elton John song:
DV: Yes, absolutely. Elton gave my son his first piano, a fantastic piano brought to him, because Daniel is a musician. And he said, "I can't touch this! It's Elton John's piano!"
On what she'll wear to be Elton John's date for his famed Oscar night party:
DV: I have to really think about my looks. It's not like I wear the first thing I find, eh? I'm a very complicated woman!
DV: Maybe I'm going to change twice, at least. I don't like to wear the same thing for too long.
On what she would tell a young person who asks for her advice:
DV: I tell them to go to someone else. I don't give advice. I never follow a script. We're in Hollywood, but I'm not an actress.
Read more at WSJ. Magazine's official website: wsj.com