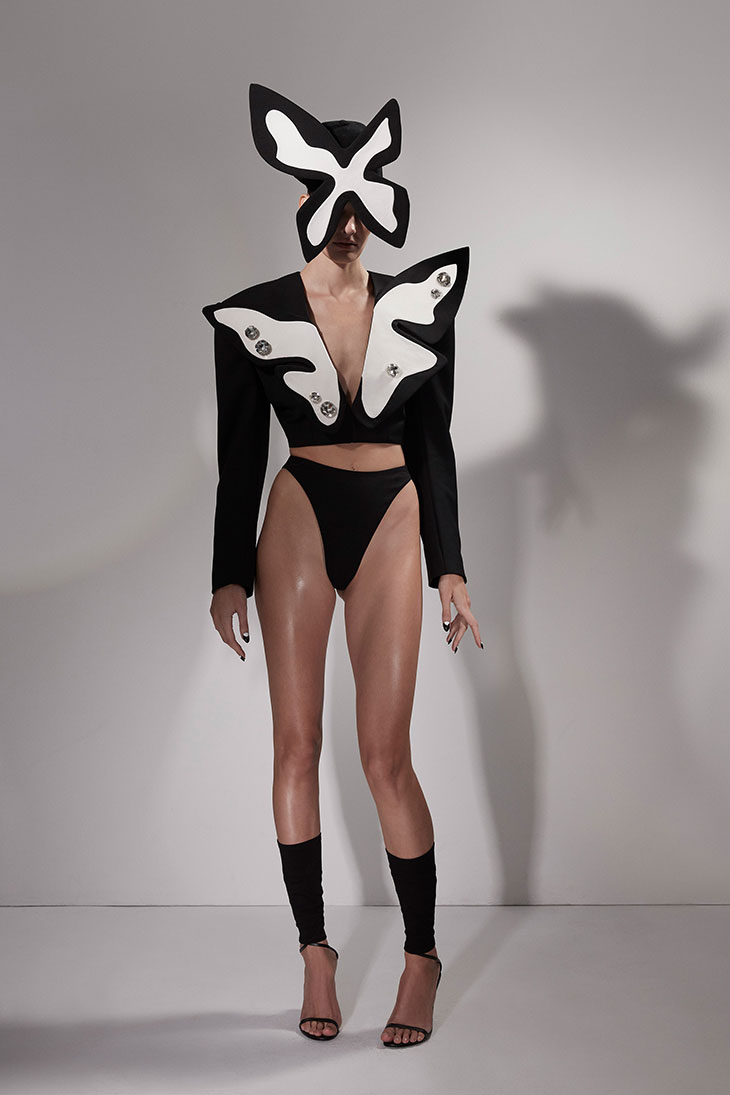 Discover AREA Pre-Fall 2023 collection lookbook captured by fashion photographer Roe Ethridge and styled by Katie Burnett. In charge of Creative Direction was Area's Piotrek Panszczyk, with beauty by Hair Stylist Tamas Tuzes, Makeup Artist Janessa Pare and Manicurist Yukie Miyakawa.
The butterfly is a motif that appears over and over again throughout the AREA world. Designers are opting for a more graphic and abstract approach, resulting in bold psychedelic prints and color-blocked intarsia. Building on the theme of decay that inspired their Spring Summer '23 collection, they delved into the world of nocturnal butterflies and moth holes, skillfully translating their essence into our fabric development. Using the timeless prince of Wales suiting and iconic denim with hand-beaded distressed crystal moth holes, they create a unique and fashionable look.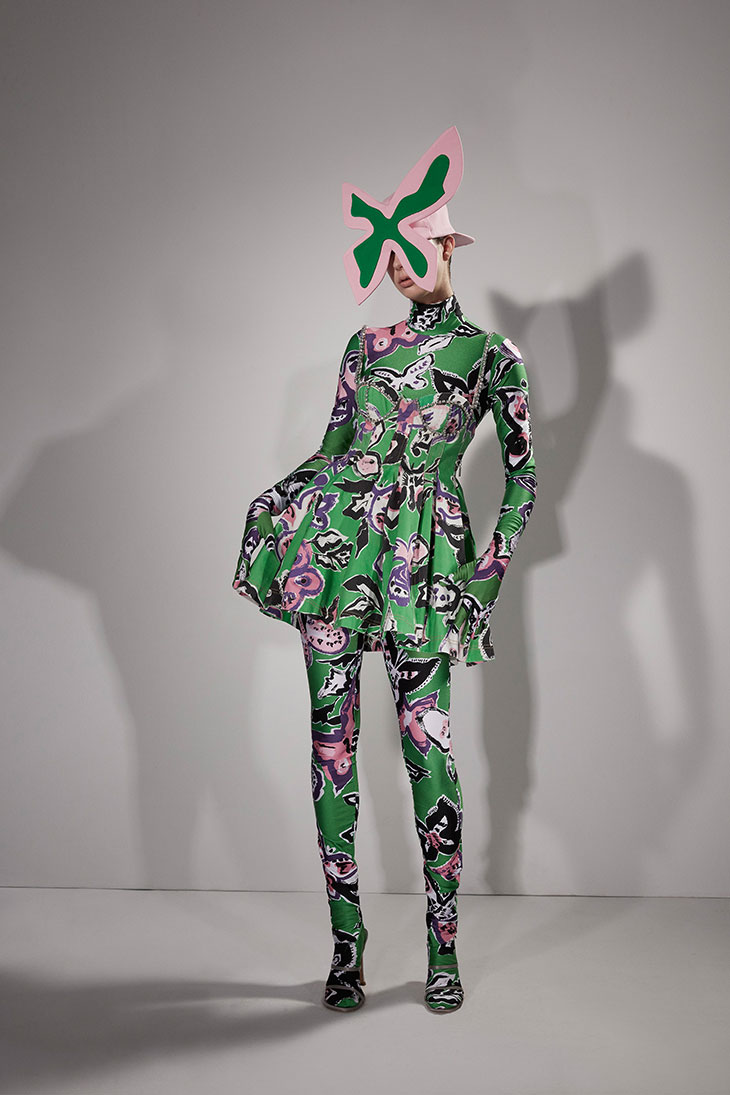 This season we started by drawing and cutting layers of contrasting fabrics into graphic butterflies seen throughout the collection as exaggerated lapels on jackets, eveningwear, and dramatic hand-crafted felt wool caps. The concept is also realized as metal harness created by different layers of butterfly shapes and incorporating signature AREA crystal. – says the press release.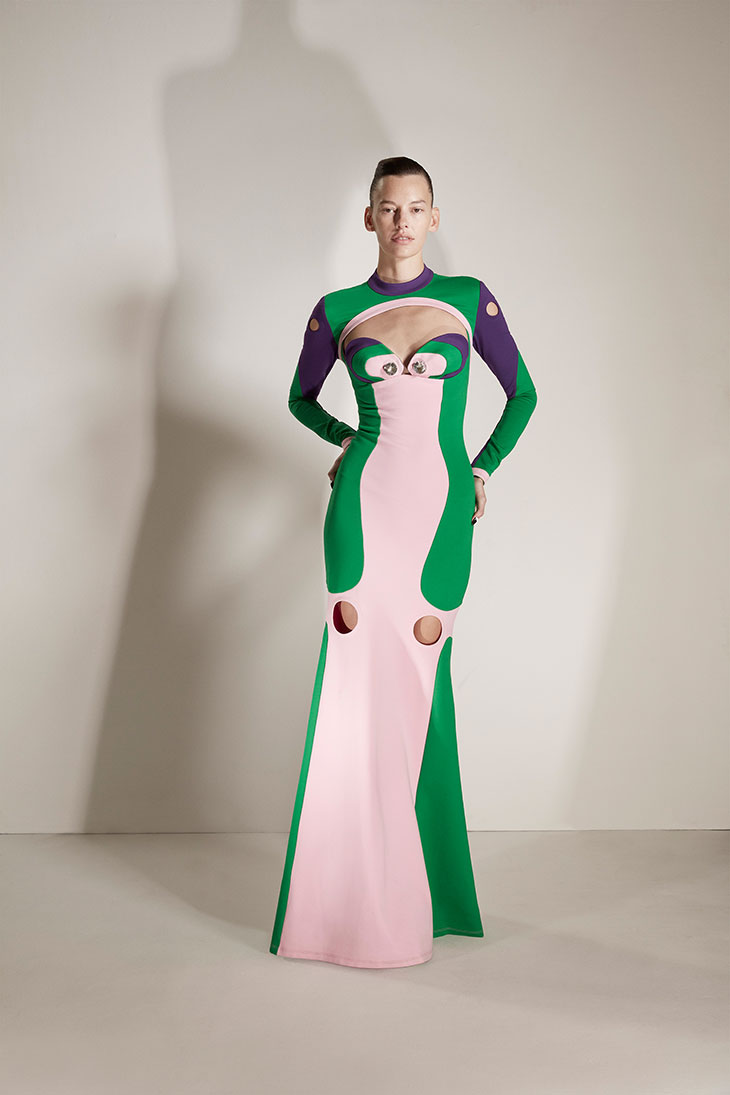 The designers incorporated daring butterfly-shaped cutouts into the collection, featuring harness tops, mini shorts, and an oversized hoodie with fluttering butterfly accents. The pieces are crafted from high-quality painted-edge leather and Japanese raw denim. The concept was transformed into vibrant jersey dresses featuring color-blocking, reminiscent of 70's motocross attire, adorned with oversized crystal gems.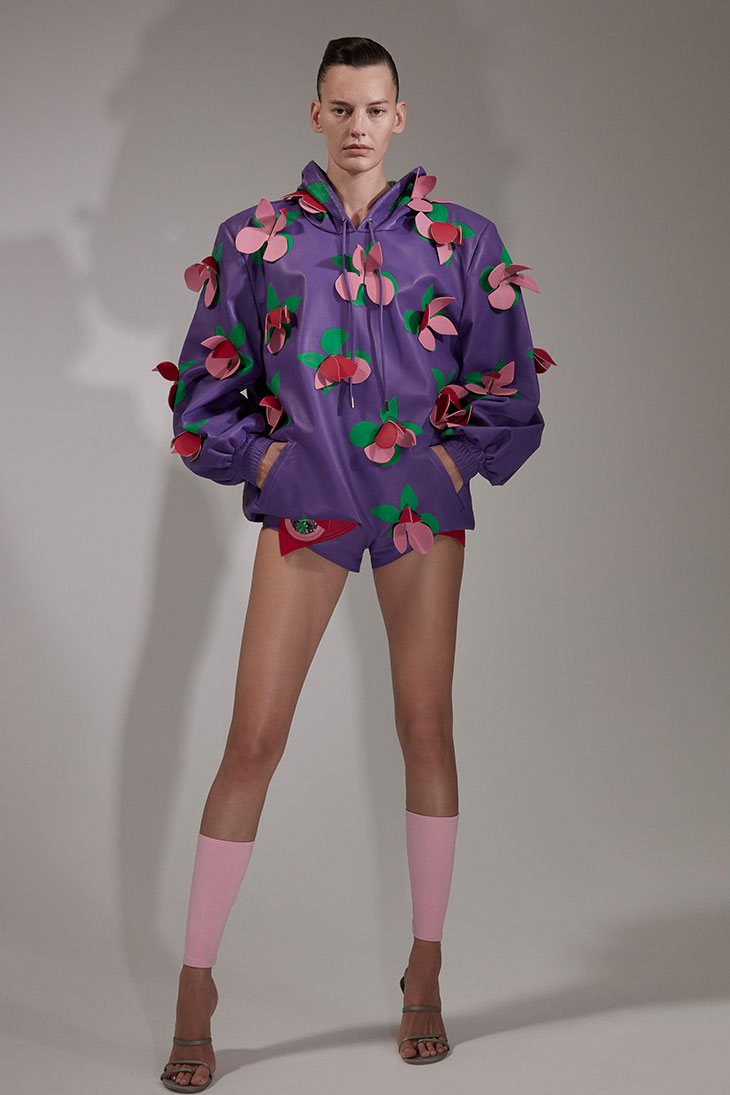 This season's print and embroidery collection embraces the psychedelic 70's vibe with abstract butterfly motifs in shades of pink and purple, complemented by black and white accents, all set against a lush green backdrop. This fabulous print is showcased on glossy spandex and denim separates that are simply perfect for daytime wear. These mesmerizing butterflies are transformed into stunning pieces of art through intricate embroidery techniques, featuring a kaleidoscope of multicolored crystals and bugle beads. The end result? Dazzling trims, elegant evening tops, and breathtaking dresses.
Inspired by the delicate beauty of butterflies, the collection explores the edgier side of fashion by distressing classic wardrobe staples like denim and suiting. Of course, Area put their own unique spin on the concept, as only they can do. The process started by crafting moth holes with a distressed appearance, which were then adorned with circular bugle beads and crystals to impart a precious touch to the distressed look.