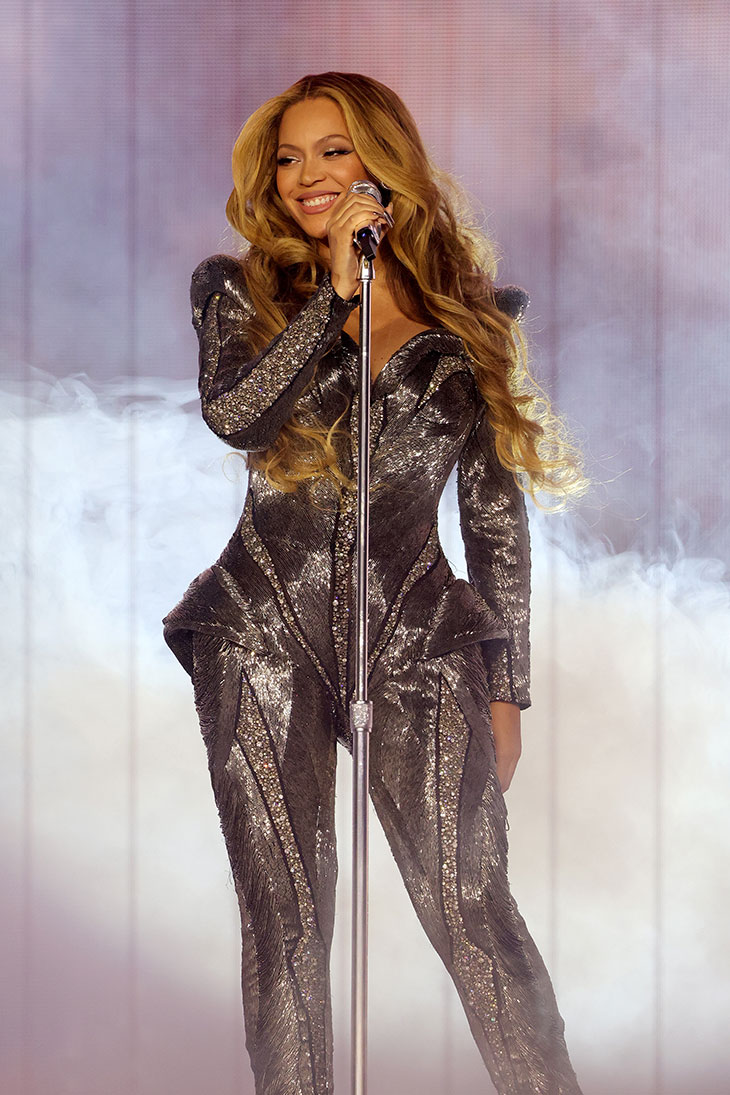 After seven years, Beyoncé has returned to the spotlight with a groundbreaking solo headline tour that surpasses all expectations. This extraordinary live spectacle is a celebration of music, art, and unapologetic Black pride. The concert spans nearly three hours, and fortunately, Beyoncé has an extensive catalog of music spanning over two decades to choose from. The Renaissance Tour is a mesmerizing journey into a world of lavishness, embracing elements of sci-fi disco decadence and sensuality and as expected, the stage production is as extravagant and awe-inspiring as you can imagine.
Dare to be bold and fierce as you prepare to attend Beyoncé's electrifying tour. Your outfit must exude the same level of energy and star power as the one and only Queen Bey. Beyoncé's spellbinding stage presence, coupled with her commanding vocals and mesmerizing dance moves, never cease to amaze and leave audiences in awe. Behold, fashionistas!.
We've scoured the style scene to bring you five flawless outfit ideas that will have you channeling Beyoncé's iconic essence and standing out from the crowd. Prepare to make a statement and unleash your inner diva with these breathtaking ensembles that are sure to captivate all eyes.
We earn a commission when you follow the link to make a purchase. Click here to learn more about how we make money.
Flawless Diva
A vision of perfection and glamour, her every move exudes confidence and grace, captivating all who cross her path. With a style that is both timeless and daring, she commands attention and admiration. She is the embodiment of elegance and sophistication, a true icon of fashion and beauty.
Indulge in a bold and self-assured attire that exudes an effortless vibe. Introducing the ultimate statement piece: a sleek and form-fitting jumpsuit in a daring shade of crimson or jet black. Find a piece with intricate cut-out details or a daring plunging neckline to channel Beyoncé's iconic allure. Strap on those stiletto heels and adorn yourself with bold gold jewelry pieces, like oversized hoop earrings and layered necklaces. It's the perfect pairing for a fashion-forward look. Achieve the ultimate glam with a chic and full-bodied hairdo, and make a statement with a daring crimson pout for that added touch of fierceness.
Athletic Fashionista
Beyoncé's killer dance moves and athletic prowess are the talk of the town. Sporty chic is the new black! Get ready to embrace your athletic side with a trendy athleisure-inspired look. Elevate your athleisure game with the ultimate fashion icon's signature style. Combine high-waisted leggings or biker shorts with a crop top that boasts a bold graphic print or the iconic "Beyoncé" logo. Elevate your style game with an oversized denim jacket or a bomber jacket for the ultimate streetwear edge. Complete the ensemble with a pair of cozy sneakers or bold chunky boots. Sporty backpacks are the ultimate accessory this season. Don't forget to tie your hair up in a sleek ponytail or braids for maximum comfort and style.
Glamorous Goddess
The epitome of elegance and sophistication, the Glamorous Goddess exudes an aura of divine beauty. With every step, she commands attention and admiration, her radiance illuminating the room. She is a vision of perfection, a true embodiment of grace and style.
Unleash your divine essence with a stunning and otherworldly attire. Indulge in the ethereal charm of a flowing maxi dress, drenched in a soft pastel hue or adorned with a shimmering metallic fabric. Capture Beyoncé's show-stopping red carpet style with dresses adorned in intricate details such as lace, sequins, or feathers. Elevate your look by pairing it with strappy sandals or embellished heels. Accessorize your ensemble with exquisite jewelry pieces, like delicate earrings and layered bracelets, for a touch of elegance. Get ready to turn heads with effortless glamour. Embrace loose waves or an elegant updo to elevate your look. Keep your makeup natural with a touch of bronzer and a glossy lip for a fresh and radiant finish.
Urban Queen
Behold the Urban Queen – a vision of modern royalty. Her style reigns supreme, commanding attention with every step. She exudes confidence and power, a true force to be reckoned with. Her fashion choices are bold and daring, a reflection of her fearless spirit. She is the embodiment of urban chic, a true icon of our time.
Embrace the urban queen aesthetic and channel Beyoncé's edgier side like a true fashionista. Elevate your wardrobe with a stunning pair of high-waisted distressed jeans or sleek leather pants. Elevate your style game with a chic crop top or a trendy graphic t-shirt. Get ready to turn heads with a chic and edgy look by layering with a sleek leather jacket or a trendy bomber jacket. Exude confidence and style like a true fashionista. Elevate your style with a pair of striking boots, whether it be edgy combat boots or daring thigh-highs. Chunky jewelry is the ultimate statement piece this season. Elevate your look with oversized hoop earrings and layered chains that exude confidence and style. Transform into an urban queen with a bold red lip and sleek, straight hair.
Formation Chic
"Formation" by Beyoncé has become a cultural phenomenon, and now you can pay homage to this iconic song with a look that exudes confidence and power. Get ready to slay with a bold and fierce ensemble that will have you feeling like the queen you are. Embrace the power of minimalism with a monochromatic ensemble in either striking black or pristine white. Make a statement with a sleek and sophisticated tailored pantsuit or a bold and structured jumpsuit as the centerpiece of your outfit. Complete your look with pointed-toe heels or ankle boots for a chic and sophisticated touch. Channel Beyoncé's fierce attitude with statement sunglasses and a wide-brimmed hat as your accessories. Minimalistic makeup is the new trend, with emphasis on a flawless complexion and a daring cat-eye.
Experience the ultimate Beyoncé extravaganza as you bask in the glory of her electrifying performances and celebrate her iconic style. Get ready to channel your inner Queen Bey with these five outfit ideas that perfectly capture her iconic fashion sense while still allowing you to express your own unique style. Embrace your inner goddess and exude confidence as you prepare to attend the show of the season. Remember, the key to a truly unforgettable experience is to let your diva shine.
IN CASE YOU MISSED IT: Beyoncé Is Teasing Her Own Hair-Care Line