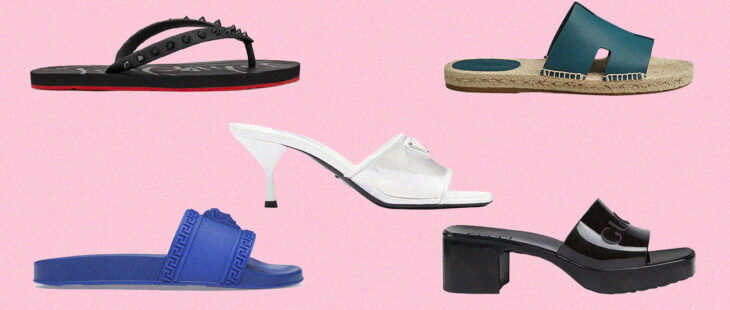 Indulge in the opulent realm of high-end footwear and prepare to elevate your fashion game for the upcoming Summer of 2023. As we gear up for the new season, it's time to explore the essential footwear that will make an unexpected fashion statement and establish the trend for the upcoming months. We handpicked the very best pieces of luxury footwear from StockX that will undoubtedly attract any fashion aficionado seeking to elevate their shoe game.
Each pair has been carefully chosen to embody a seamless blend of exceptional artistry, top-quality fabrics, and innovative style. From timeless classics to cutting-edge statement pieces, our list encompasses a diverse range of styles, ensuring there's something to suit every taste and occasion. Prepare to unveil the footwear that will elevate your summer wardrobe and make a daring sartorial statement in the summer of 2023.
Elevate your fashion game with the Gucci 60mm Slide Sandal in black rubber. Effortless style meets everyday comfort in these sleek and contemporary model that showcase Gucci's iconic design aesthetic. The modern and edgy vibe is exuded by the black rubber construction, while this waterproof and durable material renders them ideal for a variety of settings, be it lounging by the pool or running errands in the city. The design is minimalist with the iconic Gucci logo on top, lending a touch of elegance and brand recognition to the overall appearance.
Featuring a cozy 60mm platform sole, the sandals offer a discreet elevation while ensuring optimal comfort. With its molded footbed, this footwear provides both cushioning and support, resulting in a comfortable walking experience that lasts all day. Not only are they fashionable, but they are also practical – the slip-on feature provides effortless wearability, making them ideal for individuals with a busy lifestyle. The black color's versatility effortlessly complements a wide range of outfits, from casual ensembles to more dressed-up looks.
These Gucci sandals are an essential accessory this summer, whether you're looking to enhance your everyday attire or adopt a relaxed summer aesthetic. A testament to Gucci's commitment to luxury and modernity, they blend fashion-forward design with comfort.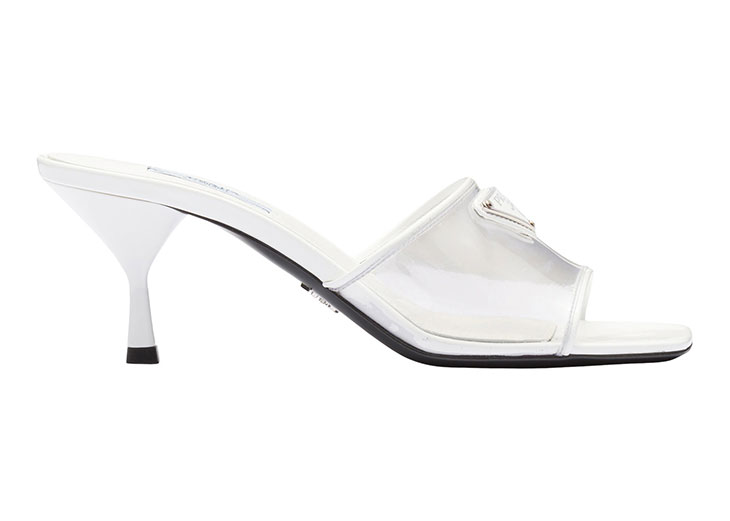 Experience the contemporary sophistication of Prada through the White Patent Leather Plexiglas 65mm Mule Sandals. The Italian brand's footwear design philosophy is on full display with these exquisite model, featuring a blend of refined contours, opulent fabrics, and a modern sensibility. The upper has been meticulously fashioned from top-notch patent leather in a flawless white hue. The luxurious sheen of the glossy finish elevates the overall aesthetic and exudes sophistication. The design's minimalism is emphasized by a clear Plexiglas strap that runs across the vamp, producing a bold contrast against the white leather, embellished with the enameled metal triangle logo for an iconic note.
Featuring a heel height of 65mm, these sandals strike the perfect balance between fashion and functionality. With a mid-height heel, these shoes offer a comfortable lift that's perfect for any occasion, from casual to semi-formal. Every aspect of these sandals bears witness to Prada's meticulous attention to detail, form the impeccable craftsmanship to clean lines and precise stitching, showcasing the brand's commitment to quality.
The Prada Plexiglas 65mm Mule Sandals in White Patent Leather are a versatile and statement-making footwear option that can elevate any ensemble with ease. Paired with tailored trousers or a flowy dress, these sandals exude contemporary elegance and timeless style, while embodying luxury and sophistication.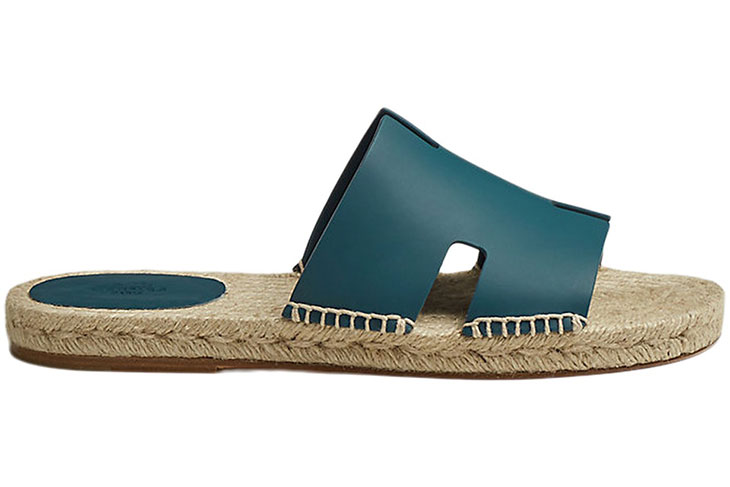 Indulge in the ultimate expression of opulence and sophistication with the Hermes Antigua Espadrille in Bleu Canard calfskin leather. A true testament to the French Maison's artistry, these exquisite espadrilles exude impeccable craftsmanship and timeless elegance. Made from the finest calfskin leather and featuring a stunning Bleu Canard color, these espadrilles will make a true fashion statement this summer. The stunning blue hue injects a pop of vitality into any ensemble, while the buttery leather material guarantees both longevity and a cozy feel. The traditional jute rope sole, which is a hallmark of espadrilles, adds a touch of rustic charm to this luxurious model. A delightful lightweight and breathable texture makes them an ideal choice for balmy summer days.
The Hermes Antigua Espadrilles are a true testament to the brand's commitment to exquisite craftsmanship and precision. Each pair is meticulously handcrafted, ensuring unparalleled quality and attention to detail, from the meticulous stitching to the impeccable finishing.
The model is the perfect choice for any fashion-forward individual looking to make a statement while staying comfortable, whether you're taking a leisurely walk by the beach or exploring the city. Indulge in opulence and embody the innate grace of Hermes with these enchanting espadrilles.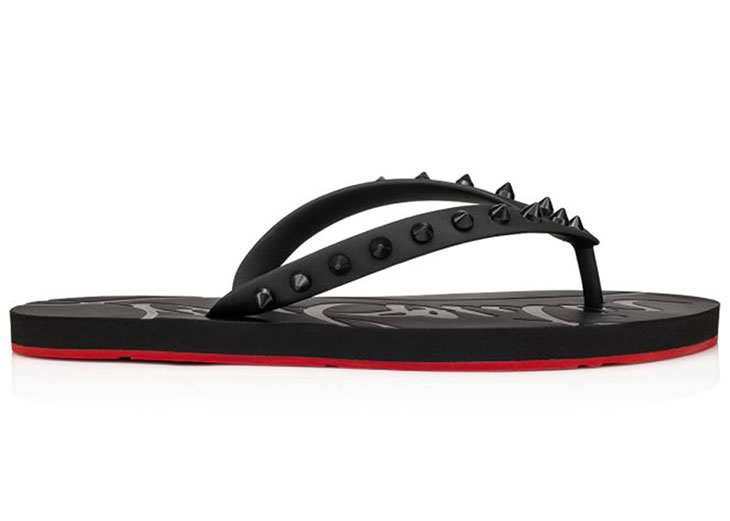 Experience the ultimate in summer minimalism with a touch of high fashion flair with the Christian Louboutin Loubi Flip Slide in Black Black. These luxurious slide sandals are a perfect embodiment of Christian Louboutin's iconic style, featuring exquisite craftsmanship, attention to detail, and a touch of glamour.
Boasting an iconic spike strap, molded directly into the rubber, it adds an edgy and glamorous touch to the design. The spikes not only enhance the overall look but also represent the brand's unique fashion sense. A supple and featherweight rubber construction ensures both resilience and ease. The fabric provides a delightful sensation when worn, rendering them ideal for extended summer outings.The unmistakable signature of Christian Louboutin is none other than the iconic red sole, here showcased on both the inner and outer sole, elevating the overall aesthetic with a touch of opulence and refinement.
As you amble down the sandy shores or grace a chic summer gathering, the Christian Louboutin Loubi Flip Slide in Black Black seamlessly merges ease and elegance, guaranteeing a mesmerizing arrival at any destination.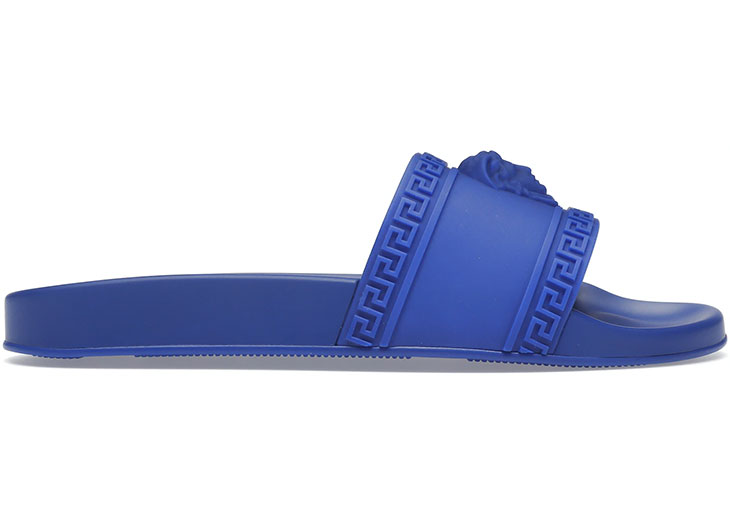 Enter a realm of luxury and refinement with the Blue Versace Palazzo Slides. The essence of the Italian brand's distinctive style is embodied in these iconic slides, which combine luxury materials, impeccable craftsmanship, and a vibrant color palette. The eye is instantly captivated by the rich blue hue of the Palazzo Slides, creating the confident aura that injects a burst of personality into any outfit. The iconic Versace Medusa head motif embellishes the wide strap, showcasing the brand's unmistakable logo and symbol of power and allure.
Crafted with premium materials to provide optimal comfort and long-lasting durability, the slides feature a soft rubber utilized in the upper, ensuring a secure and comfortable fit. The footbed, molded for cushioning and support, enables a comfortable and effortless stride. These Palazzo slides by Versace showcase an evident attention to detail in every aspect – the precision, the flawlessness, and exquisite craftsmanship.
When it comes to relaxing poolside or elevating your casual look, the Versace Palazzo Slides are a bold and striking accessory. Effortlessly blending style and comfort, they allow you to fully embrace the essence of Versace and exude confidence with every step.
This article is sponsored by StockX, but all opinions are our own.