Luxury house FENDI unveiled its Fall Winter 2023.24 Haute Couture Collection, that makes couture traditions both human and accessible, on July 6th, during the last day of Paris Fashion Week. Designer Kim Jones and the skilled artisans at the Fendi ateliers continue to imbue couture traditions with a human touch, incorporating a sense of volume, fluidity, drapery, and comfort. Rejecting the concept of "costume," they embrace a softer approach that empowers women through clothing, pursuing a supple quality that not only provides versatility in how garments are worn, but also creates a tactile experience.
The collection emanates an aura of apparent simplicity with concealed complexities. A great deal of emphasis is placed on volume, draping, and sculptural forms accomplished by intricate and meticulous pattern cutting, which frequently results in garments with a single seam. This remarkable achievement is conveyed subtly rather than loudly, through second-skin silks, intricately knitted single-piece designs, and elegantly draped neoprene tailored furs and Fendi chevron feathered shearlings. The emphasis is not only on the garments' aesthetic appeal, but also on their functionality and wearability.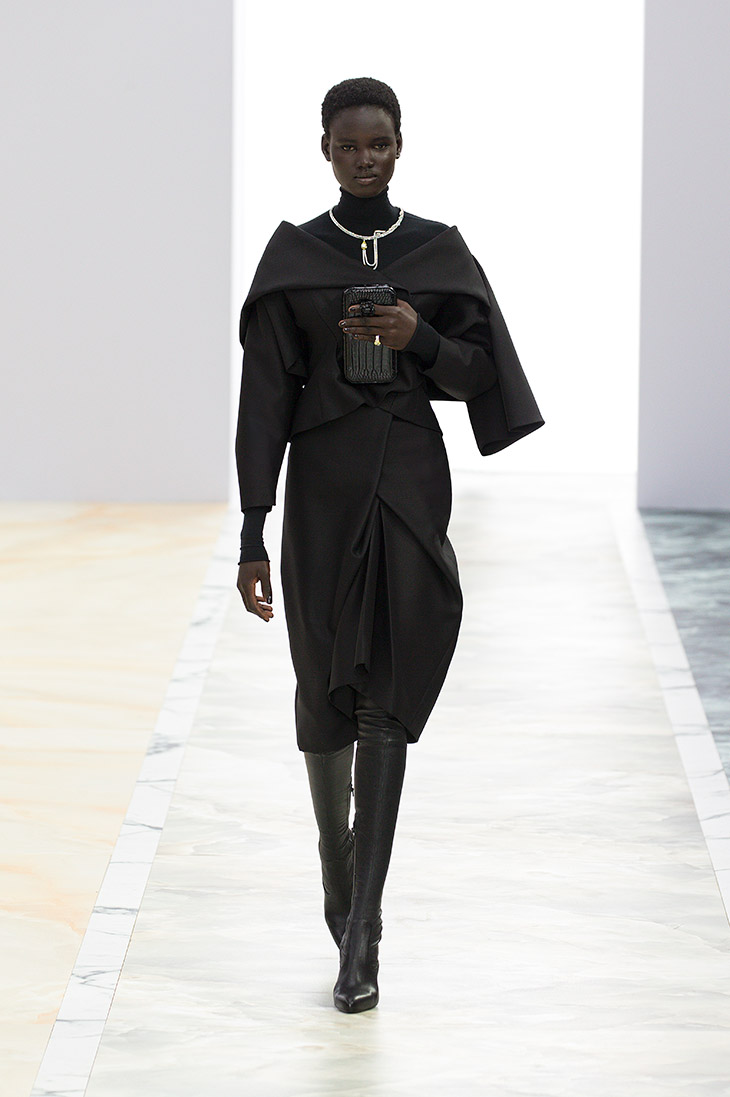 This season, we wanted to concentrate on the achievement of fluidity, drape and shape through couture techniques, bringing these elements together with the attitude of today. We worked on a template based on Delfina's high jewellery. If there is no jewellery, the idea is still present through the colour palette and embellishment in the collection; the clothes themselves take on the idea of jewellery. Colours come from flesh tones as well as that of stones: black diamonds, rubies, sapphires. There is a play of soft and hard, flesh and stone. – Kim Jones, Artistic Director of Fendi Couture and Womenswear.
The collection's precision and emotion are also reflected in Delfina Delettrez Fendi's approach to high jewelry, which coexists harmoniously with the apparel. The concept of a couture ensemble extends to the domain of jewelry by introducing a series of unique pieces. These timeless creations simultaneously capture the spirit of today, featuring an exceptional Fendi color palette of white and yellow diamonds, alongside green, orange, and pink Padparadscha sapphires and spinels. The collection's pink spinels, showcased in the 'Undarum' set, required forty years to gather and are unlikely to be replicated in nature again.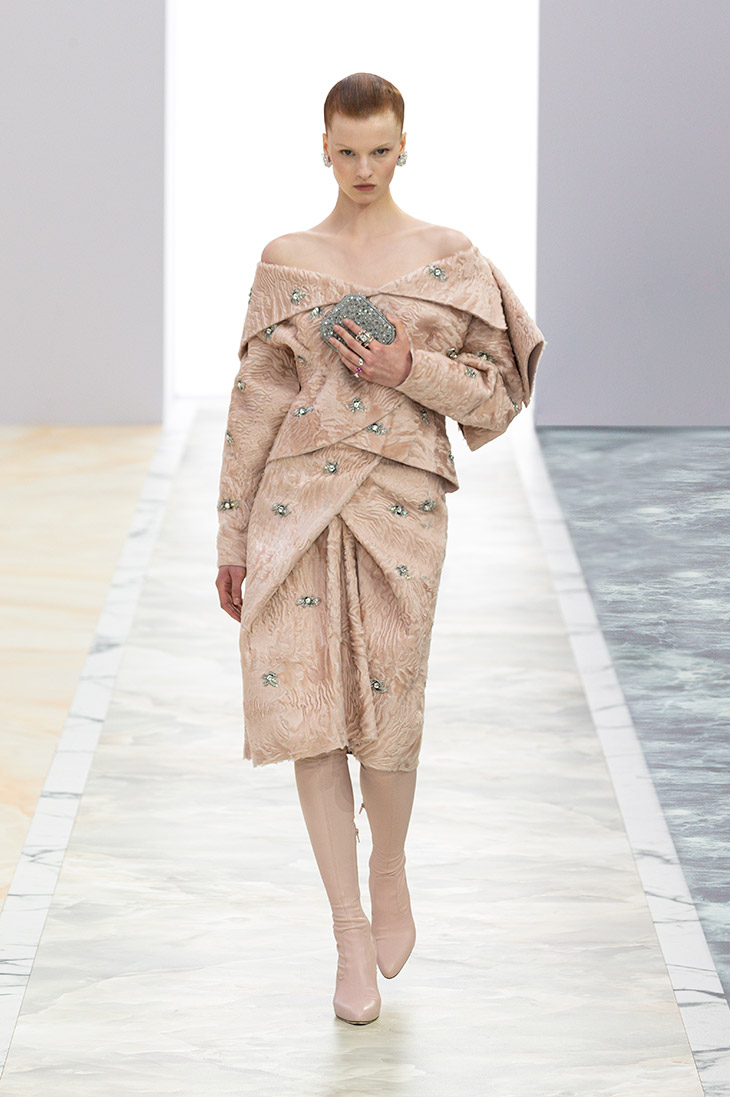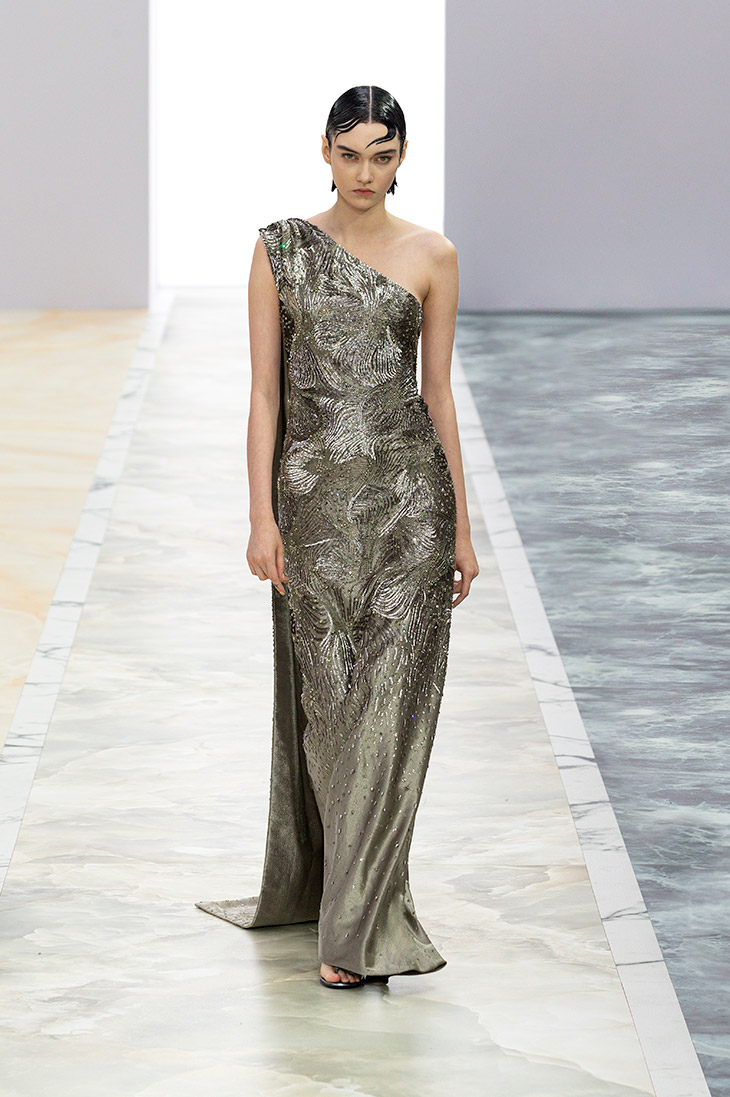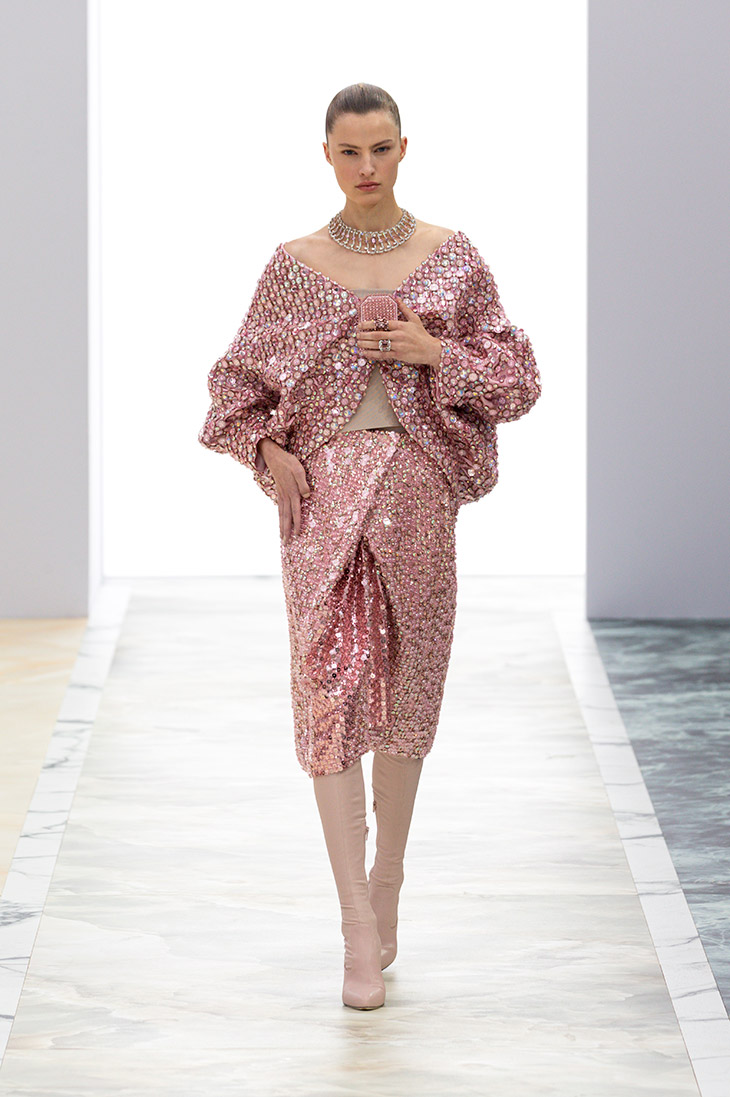 There is an emotional relationship that I have with the jewellery in the collection that I hope the women who will eventually wear it will have too. There is an obsessive precision you need to make jewellery like this, such small objects that have such strength, meaning and personality. And yet, in the end, they have a direct and intimate relationship to the body; they are a profound and personal extension of the woman. – says Delfina Delettrez Fendi, Artistic Director of Jewellery for FENDI
The discreetly multifaceted nature of the couture collection reaches its peak in embroidery techniques that bridge the worlds of apparel and jewelry. As models hold their jewel box minaudières, the ambiance is intensified by jewel-like embellishments strewn across their attire or layered in a complex composition of tonal sequins and stones. The final look, which emanated a shimmering rose radiance, required 1200 hours of meticulous handwork.
Discover every look from the Fendi Fall Winter 2023.24 Haute Couture Collection in the gallery below: