Mark your calendars for London Fashion Week September 2023, set to run from Friday, 15th to Tuesday, 19th. The highly anticipated event brings together fashion, culture, and technology, showcasing the boundless creativity and innovation that London is renowned for.
The provisional schedule boasts an exciting mix of both digital and physical shows, featuring a diverse array of emerging and established designers. The BFC Community will be well-represented with iconic names such as Burberry, JW Anderson, 16Arlington, and Simone Rocha, alongside the introduction of the 23/24 NEWGEN cohort, making their LFW debut with AARON ESH, DERRICK, Kazna Asker, Tolu Coker, and The Winter House.
In its tradition of supporting global talent, LFW September 2023 will continue to extend its show space to Ukrainian designers, hosting Ukrainian Fashion Week as a testament to its dedication to fostering international creativity.
Stay tuned for a week filled with captivating fashion displays, pushing the boundaries of style and embracing the essence of London's fashion-forward spirit.
Friday, September 15th
9:00 Paul Costelloe – Runway
10:00 Stefan Cooke – Runway
10:30 – 12:30 Noon by Noor – Presentation
11:00 LAUGESEN – Runway
11:30 – 13:30 PHOEBE ENGLISH – Presentation
12:00 Bora Aksu – Runway
12:30 – 13:30 RIXO – Presentation
13:00 EDWARD CRUTCHLEY CATWALK INVITE ONLY
14:00 DI PETSA – Runway
14:30 – 16:30 EIRINN HAYHOW – Presentation
15:00 Huishan Zhang – Runway
16:00 Mark Fast – Runway
16:30 – 18:30 ANCUȚA SARCA – NG NEWGEN – Presentation
17:00 FASHION EAST – Runway
17:30 – 19:30 Sarah Regensburger – Presentation
18:00 Natasha Zinko – Runway
19:00 Ahluwalia – Runway
20:00 HARRI – NG NEWGEN – Runway
21:00 Chopova Lowena – Runway
Saturday, September 16th
9:30 – 11:30 The Winter House – Presentation
10:00 Eudon Choi – Runway
11:00 JW Anderson – Runway
12:00 ROKSANDA – Runway
12:30 – 14:30 Completedworks – Presentation
13:00 FEBEN – Runway
14:00 Molly Goddard – Runway
14:30 – 16:30 ABIGAIL AJOBI – Presentation
15:00 16Arlington – Runway
15:30 – 17:30 RAY CHU – Presentation
16:00 Sinead O'Dwyer – Runway
17:00 S.S.DALEY – Runway
18:30 – 20:30 Kazna Asker – Presentation
19:00 Richard Quinn – Runway
20:00 LABRUM London – Runway
21:00 KWK by KAY KWOK – Runway
Sunday, September 17th
9:00 Sinead Gorey – Runway
10:00 MASHA POPOVA – Runway
11:00 J E CAI – Runway
12:00 SUSAN FANG – Runway
12:30 -14:30 HELEN KIRKUM – Presentation
13:00 TOVE – Runway
14:00  Holzweiler – Runway
14:30 – 16:30 JENN LEE – Presentation
15:00 KNWLS – Runway
15:30 – 17:30 Spencer Badu – Presentation
16:00 Simone Rocha – Runway
17:00 yuhan wang – Runway
18:00 ERDEM – Runway
18:30 – 20:30 PĪFERI – Presentation
19:00 HALPERN – Runway
20:00 Paolo Carzana – Runway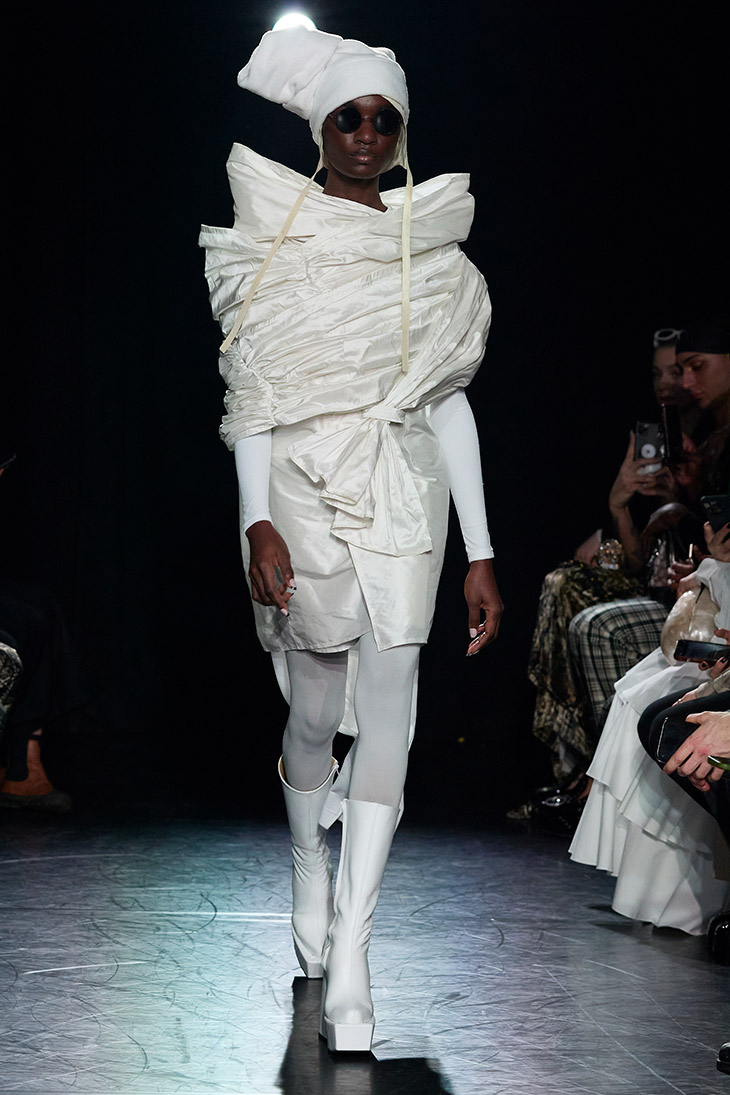 Monday, September 18th
10:00 TOLU COKER – Runway
11:00 Emilia Wickstead – Runway
11:30 – 13:30 palmer//harding – Presentation
12:00 SUPRIYA LELE – Runway
12:30 – 14:30 Malone Souliers – Presentation
13:00 Chet Lo – – Runway
14:00 Ashish – Runway
14:30 – 16:30 EDELINE LEE – Presentation
15:00 SRVC – Runway
16:00 Burberry – Runway
17:00 MARRKNULL – Runway
18:00 AARON ESH – – Runway
19:00 Dilara Findikoglu – Runway
20:00 University of Westminster MA – Runway
21:00 On|Off – Runway
Tuesday, September 19th
10:00 Ukraine Fashion Week presents: GASANOVA, My Sleeping Gypsy, NADYA DZYAK – Runway
11:00 8ON8 – Runway
12:00 FROLOV – Runway
13:00 ASAI – Runway
14:00 APUJAN – Runway
15:00 Helen Anthony – Runway
16:00 University for the Creative Arts (Epsom) – Runway