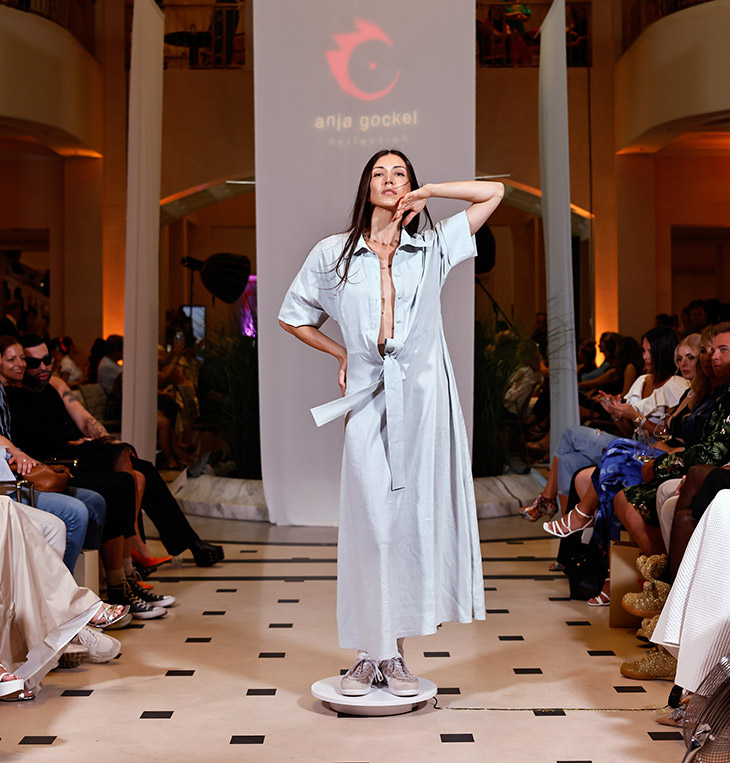 'You can survive 30 days without food, three days without water and only three minutes without air.'
Anja Gockel – 'AIR'
With the presentation of her sustainable Spring Summer 2024 collection titled 'Air', German designer Anja Gockel takes her inspiration from air, an element which is vitally important for all of us. It determins our lives, climate and can appear in various ways: on the one hand warm and soft, on the other hand stormy, freezing and destructive. Moreover it gifts us our life and therefore we should do all to appreciate and protect this essential element.
With her charming collection, Anja Gockel delivers a magic, blithe and dreamy atmosphere that focuses on highest quality. However she also encourages her audience to protect and save this luck nature offers us.
SPRING SUMMER 2024 COLLECTIONS
As location, prestigious 5-star Hotel Adlon Kempinski Berlin which is often named as one of the most beautiful hotels worldwide and welcomes countless celebrity guests, has been chosen. It is situated in the main boulevard 'Unter den Linden' in the heart of Berlin, at the corner of Paris Square and opposite of Brandenburg Gate, Germany's most renowned landmark. This picturesque location emphasized the very special atmosphere of this fashion show.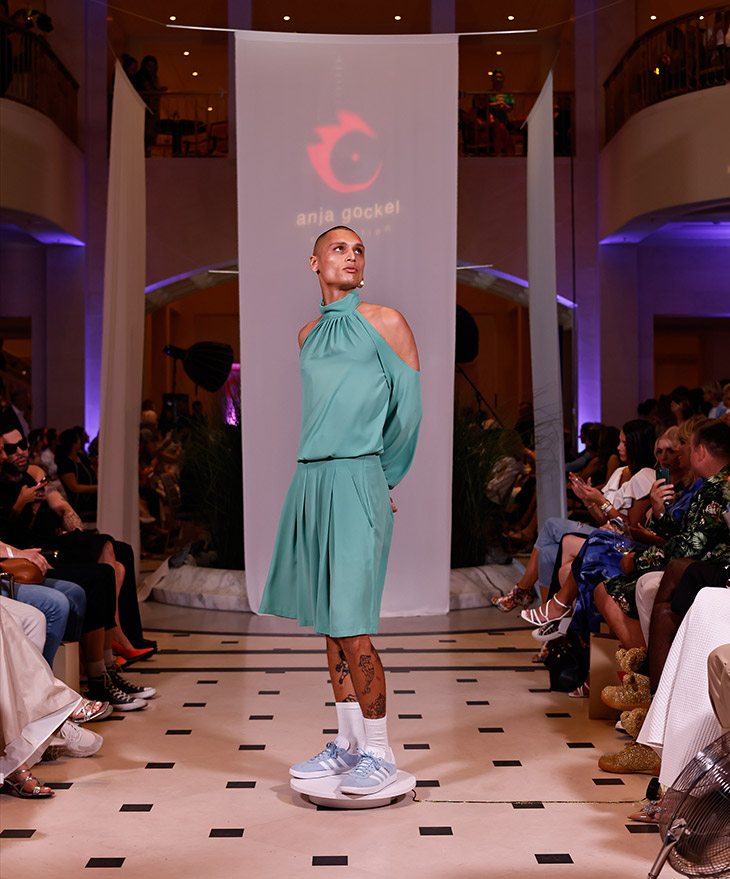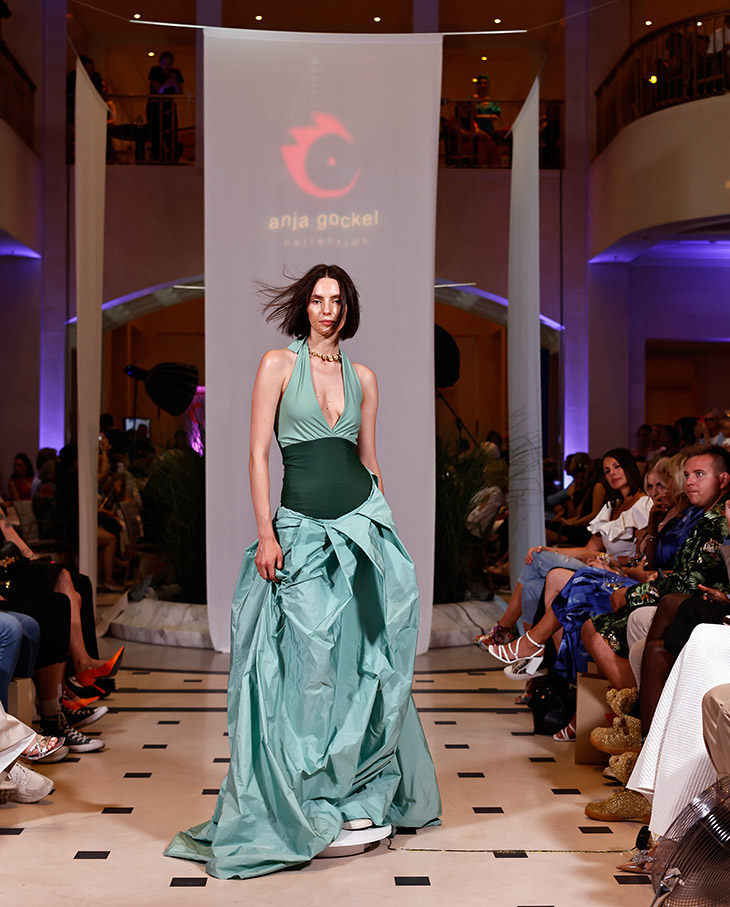 'Air' can be also interpreted as an element of creativity. With the introduction of her Spring Summer 2024 range, Anja Gockel wants to encourage her audience to stay curious and observe all the small miracles life and our surrounding has to offer.
Worth of mentioning is also the fact she chooses a very diverse, unique model cast. With this choice she emphasizes that her line is wearable for everyone and does not exclude anyone.
The silhouette of numerous outfits of this line is kept rather loose and therefore they radiate a very blithe, summery character. Summertime, and the living is easy. The shapes are often focused on the shoulders and they are then vividly moving downward, like a fresh summer breeze.
Precious pieces that are provided with striking floral prints are the perfect addition for long summer days. This summery idyll is underlined by birdsong which was composed by Valentin Brunner. With that pattern- and music choice, the designer underlines once more her dedication to the beauty of nature.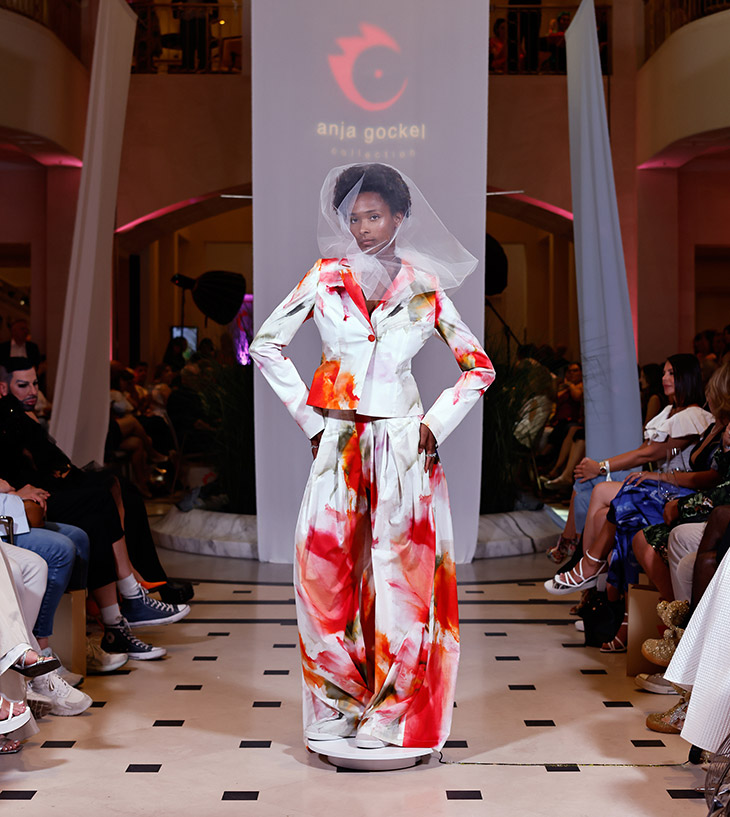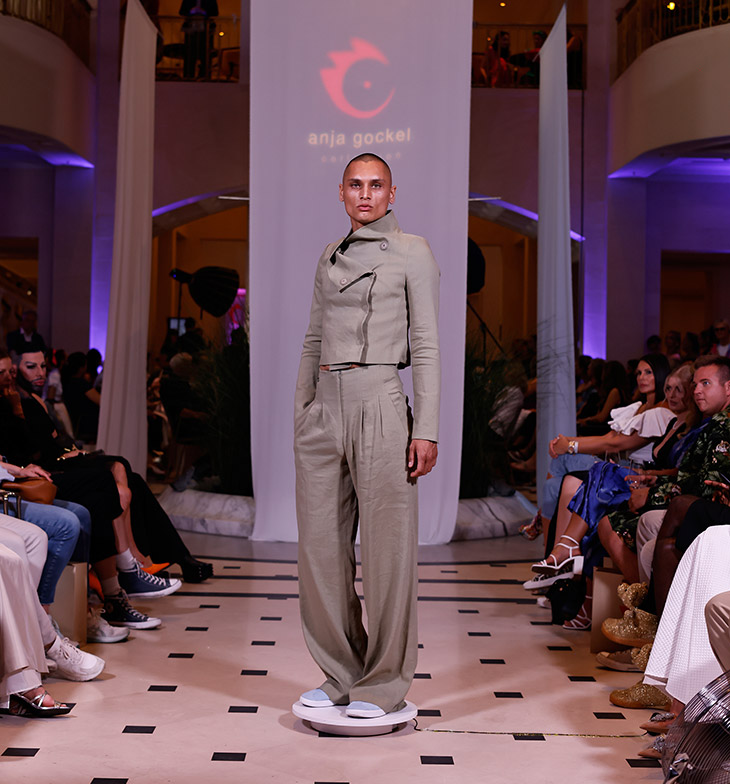 The colour palette contains a lot of soft, graceful pastel hues, for instance mint, lavender, rose and sky blue. These delicate colours remind us of a walk through a summer landscape. Moreover several classic tones must not be missing in this line, such as emerald green, white, dove, silver, midnight blue. In addition to that, a couple of lively, bold tones are applied, such as scarlet, orange-red and apricot. They are repeatedly vividly mixed and matched together and remind us to stay optimistic and enjoy the beauty nature offers us. This colour choice emphasizes the summery, fresh character of these creations.
'Air' shows the movement of the wind until a storm arises. The mood that has been light as a feather changes as a windstorm appears. Finally it rains on the runway and the lightness disappears with the weather change. The whole collection is a magic, blithe and summery Spring Summer 2024 line that stays in mind because of its highest quality and wearable, urban-chic character.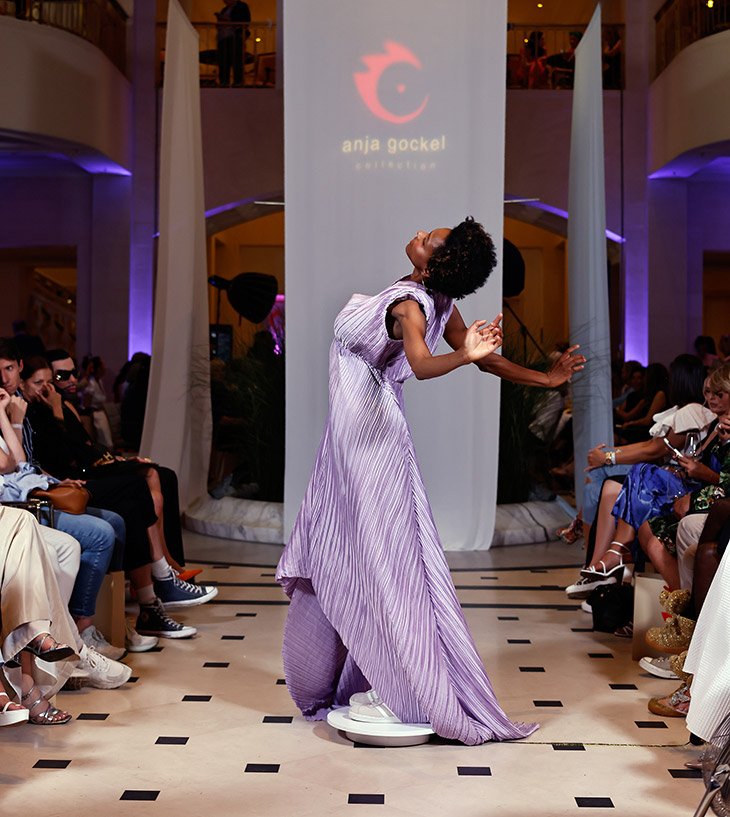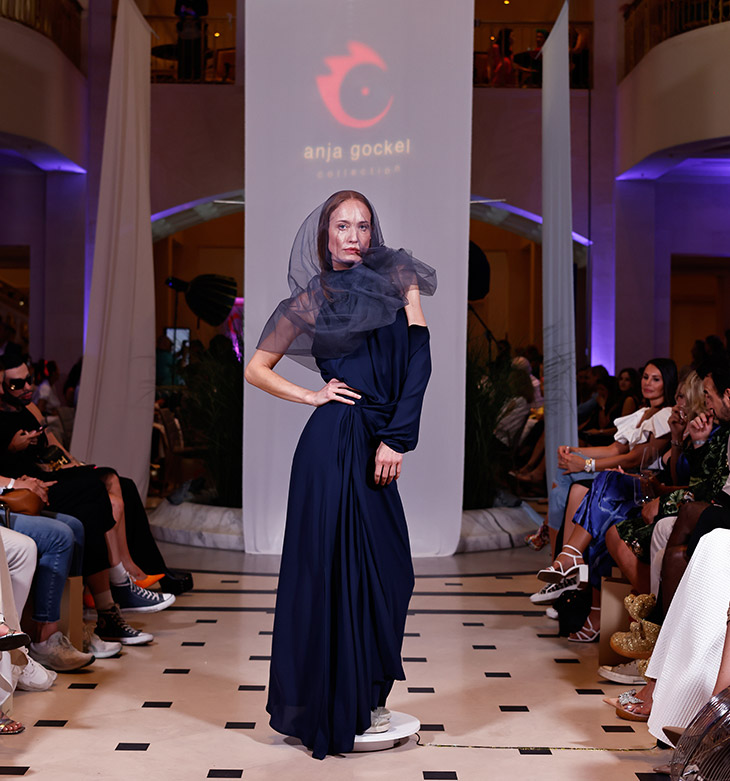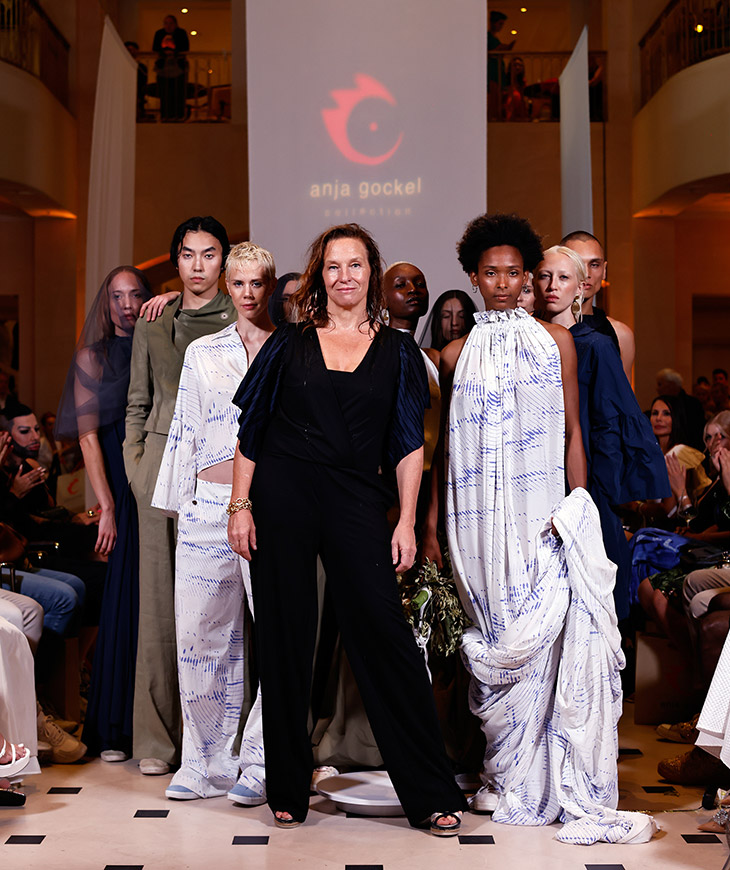 Review by Sussan Zeck for DSCENE Magazine
Images ©ANJA GOCKEL GMBH