Nestled in the heart of Manhattan on Great Jones Street, a transformative experience awaits patrons of Great Jones Distilling Co. The street, steeped in history, whispers tales of artists and dreamers, none more influential than the iconic Jean-Michel Basquiat. Just a short distance from where Basquiat once lived and painted, the distillery unveils "The Basquiat Bar,"an immersive homage to this legendary artist.
Upon entering the bar, visitors are immediately transported to the electric era of the 1980s New York art scene. The walls are adorned with rare prints and evocative photographs of Basquiat, capturing candid moments of the artist in his element. Every corner of the space tells a story, reflecting the raw energy and rebellious spirit of a young Basquiat navigating the vibrant streets of Noho.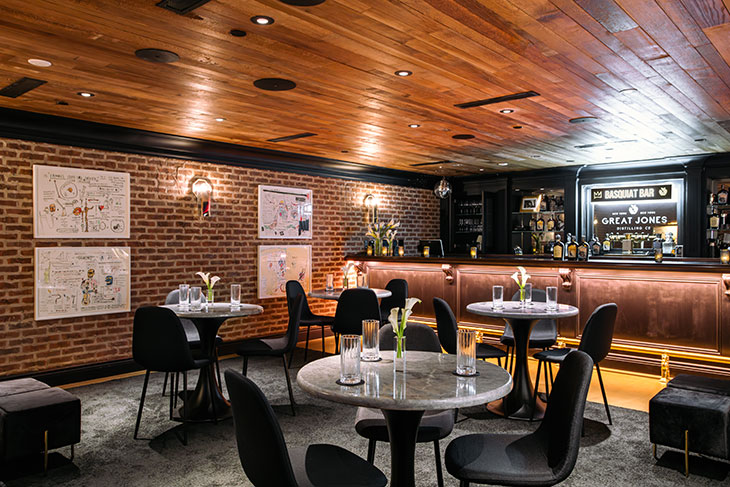 "The Basquiat Bar" is not just a tribute in aesthetics but also in atmosphere. Drawing inspiration from The Mudd Club – one of Basquiat's favored watering holes – the speakeasy-style environment is intimate, reminiscent of underground New York bars where artists, writers, and musicians converged to create and celebrate. Soft lighting, velvet couches, and vintage decor contribute to an ambiance that is both nostalgic and chic.
But what truly brings the experience to life is the curated menu of Basquiat-inspired beverages. The signature cocktail, The J.M.B, is an art piece in itself. Made with Great Jones Straight Bourbon, the drink combines the richness of red bitter aperitivo with the sweetness of molasses and the tropical zest of fresh pineapple juice. Finished with a splash of lime, it's a sensory experience that bridges the gap between past and present. The menu doesn't stop there; each drink tells a story, inspired by different phases of Basquiat's life and his ever-evolving artistry.
However, it's essential to acknowledge the profound synergy between the bar's location and Basquiat's history. Great Jones Street isn't just any street in Manhattan; it was Basquiat's playground. It was here, in the Noho district, that he lived, dreamed, and painted some of his most iconic pieces. To have a bar dedicated to his legacy, just steps away from his former studio, creates a poignant connection between place, artist, and visitor.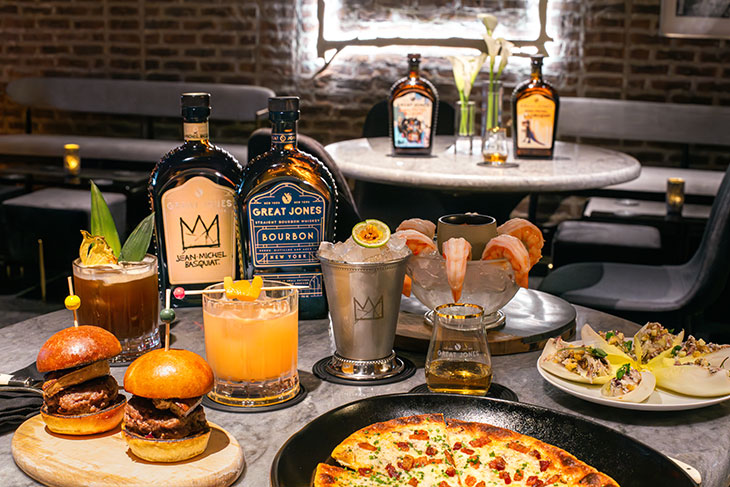 Lander Otegui, Senior VP of Marketing at Proximo Spirits, encapsulated this sentiment, stating, "As a Bourbon from New York City – distilled on the same street that Jean-Michel Basquiat called home – we are proud to celebrate the legacy of such an iconic New Yorker. As we look to establish ourselves as a neighbor and fixture on the famous Great Jones Alley, we're inspired by the artists and tastemakers who impacted the culture of New York City in such a dynamic way. This collection offers consumers a piece of New York history, marrying art and whiskey, within the growing Bourbon category,"
In addition to drinks, the bar features snippets of a broader initiative by Great Jones Distilling Co. to celebrate Basquiat. This includes a limited bottle collection adorned with Basquiat's artwork and specially crafted tours offering deeper dives into the artist's influence on New York's cultural landscape.
As word spreads about this unique venture, "The Basquiat Bar" is quickly becoming a must-visit for both art aficionados and whiskey enthusiasts. Its success isn't just in its exquisite offerings but in its ability to evoke emotion, stir memories, and resonate with the heartbeat of a city that never sleeps.
The Basquiat Bar is open Thursday, Friday and Saturday evenings from 6-10PM, serving a menu of Basquiat-inspired small bites and signature cocktails