Harper's Bazaar Magazine presented it's September 2023 ICONS Issue with the covers featuring three captivating personalities: Kendall Jenner, Paul Mescal, and Doja Cat. Each cover star brings their own distinct charm and enigmatic aura to the forefront, embodying the essence of modern glamour and captivating readers. In charge of photography was Mario Sorrenti, with styling from Beat Bolliger and Edward Bowleg II.
Kendall Jenner, a name synonymous with global pop culture, has evolved from her days on "Keeping Up With The Kardashians" to becoming one of the fashion industry's most sought-after models. "It's not always the easiest industry to be in,"- Kendall said, "It can be really cutthroat and intense sometimes."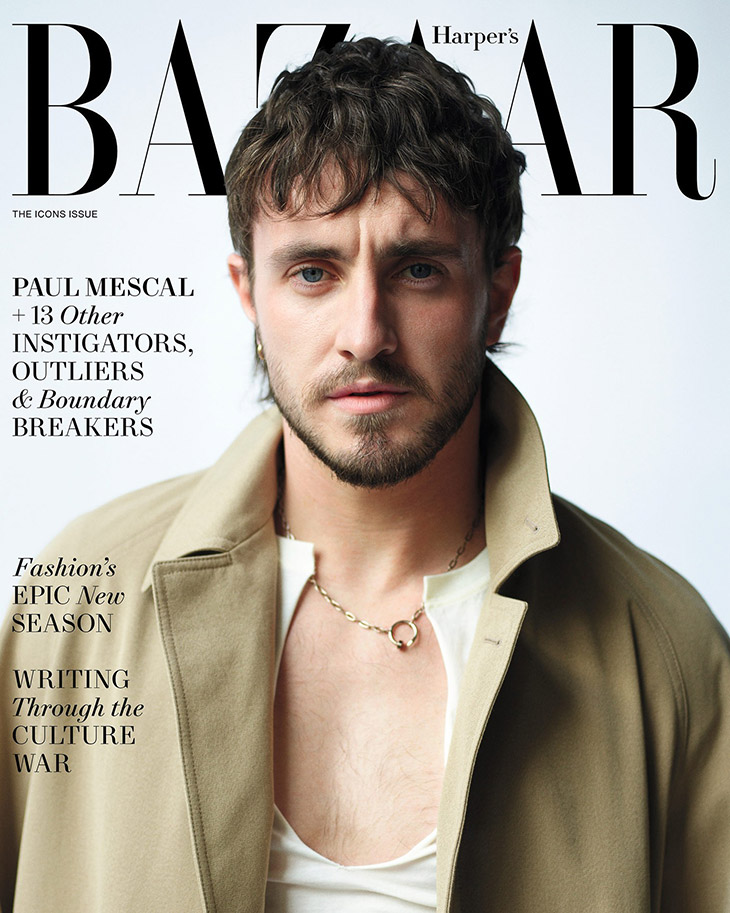 Paul Mescal's meteoric rise to Hollywood stardom has been fueled by his soul-stirring performance in "Normal People." Mescal has several projects currently in the works, including Garth Davis's adaptation of Iain Reid's book Foe, Richard Linklater's adaptation of Stephen Sondheim's Merrily We Roll Along, as well as Ridley Scott's Gladiator 2.
Doja Cat, the fearless pop icon, continues to redefine stardom on her own audacious terms. Underneath the provocative and occasionally trippy façade lies a musical journey that spans more than a decade. Her mainstream breakthrough with "Say So" paved the way for a cascade of hits, tours, and even a Grammy. With her upcoming album "Scarlet" and an arena tour on the horizon, Doja Cat's artistic evolution is a testament to her versatility and commitment to pushing artistic boundaries. Doja Cat delves into her ever-changing fashion sense in this issue, offering insights into her creative process and her memorable Met Gala appearance. She speaks candidly about her music, her influences, and her relationships, offering a rare glimpse into the multifaceted world of an upcoming icon.
Harper's BAZAAR ICONS Issue explores Kendall Jenner's enigmatic allure, Paul Mescal's cinematic journey, and Doja Cat's fearless artistry. Harper's Bazaar Magazine's September 2023 issue will be available on newsstands from August 29th.
Photography © Mario Sorrenti for Harper's BAZAAR, read more at harpersbazaar.com