Fashion house Bottega Veneta announced the arrival of its newest footwear sensation – Orbit. The new line of unisex trainers stands as a testament to the brand's unwavering commitment to impeccable craftsmanship and style evolution. A harmonious blend of classic and casual, these low-top lace-ups are carefully crafted to resonate with the discerning tastes of modern individuals. Far removed from the noise of fast fashion, they serve as a testament to meticulous design and an ode to individuals who are always on the move.
Orbit is an exemplification of Matthieu Blazy's profound understanding of motion as an essential concept. These shoes boast an ergonomic innovation that caters to the comfort seekers and the fashion-forward alike. They come with a promise of remarkable comfort, hugging your feet in a warm embrace, without sacrificing style. The carefully chosen mesh fabric echoes the signature Intreccio, a nod to the house's codes.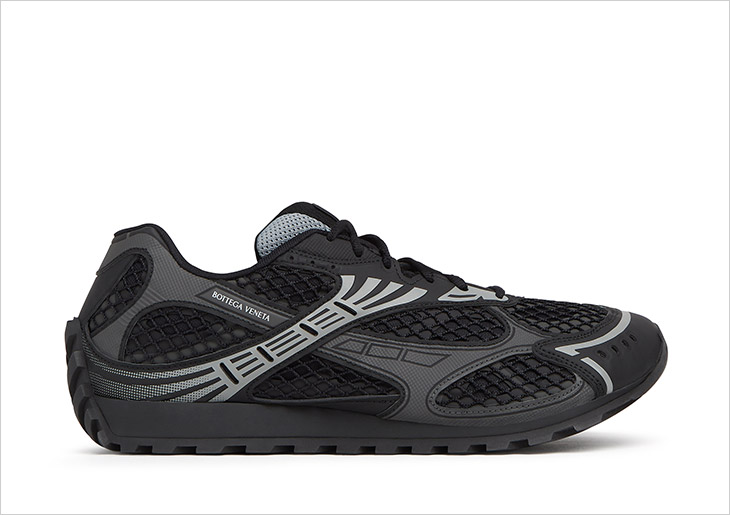 Orbit brings to life a seamless integration of function and style, serving as a versatile addition to everyday attire. Whether paired with trousers or dresses, these sneakers add a subtle yet distinctive flair to your outfit, serving as a hallmark of timeless dressing. The well-considered design elevates the everyday uniform, offering a stylish take on an essential trainer. Designed to flatter the foot elegantly, the sneakers are an epitome of understated luxury, reflecting individual style and a penchant for timeless dressing. It celebrates uniqueness and personal style.
The Orbit line extends its versatility to its color palette, available in an array of hues to cater to every taste. For women, the selection blossoms in shades of Silver/White and Silver/Parakeet, injecting a burst of vibrant energy and a touch of femininity into the range. Men can find their stride in choices of Black, Silver/White, and Silver/Parakeet, a palette that mirrors sophistication and a modern aesthetic. The brand transcends gender boundaries, offering a line that celebrates diversity and inclusivity, with sizes that accommodate everyone.
The Bottega Veneta Orbit sneaker line brings a harmonious fusion of comfort and style, these sneakers are an embodiment of the modern spirit: dynamic, progressive, and timeless.