In the shadows of the illustrious Manhattan Municipal Building, fashion brand Cucculelli Shaheen unveiled their vibrant Spring Summer 2024, "American Venus," Collection,  inviting attendees to experience an artistic love letter to New York's wild energy and romantic Beaux-Arts beauty tinged with urban grit.
Drawing inspiration from the original "American Venus" who modeled for the iconic statue gracing the building's pinnacle, the collection immerses itself in the interplay between the delicate aesthetics of the Beaux-Arts era and the dynamic pulse of the modern city. This season, the brand brings unexpected fusion where vintage allure met contemporary edge.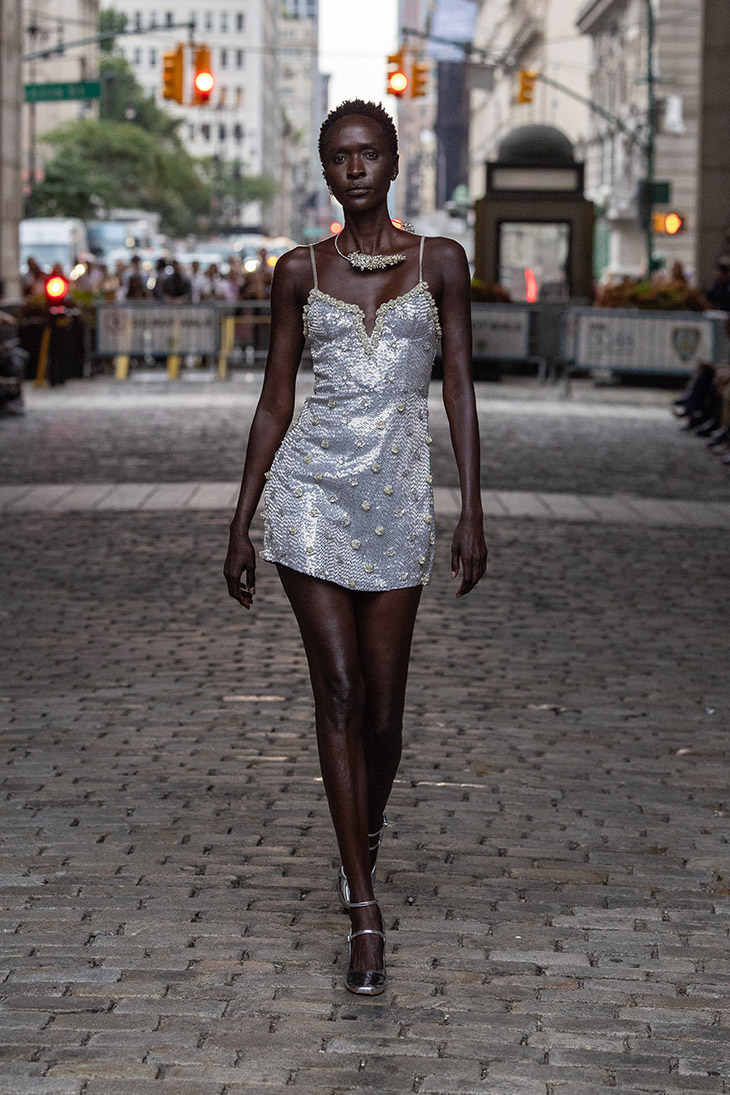 In an innovative twist, the brand introduced the "Crystal Grid" technique, a lightweight sparkling sensation, mirroring the gentle play of sunlight over the city's skyscrapers. As Co-Creative Director, Anna Shaheen recounted, the collection's color spectrum emerged from a serendipitous springtime walk across the Manhattan Bridge at sunset, where the golden hues of the city skyline melded with the warm tones reflecting off the building's golden statue. This vision blossomed into a line rich with motifs reminiscent of the Beaux-Arts era, with prominent features including the Lock + Key Lace motif and metallic leaves and florets, harkening back to the gilded statues that were prominent during that period.
Not to be missed are the standout styles of the season: the versatile East-West jacket, adaptable with slouchy pants or high-waisted wide legs, offering an enticing blend of downtown western noir and Beaux-Arts sophistication. An updated matching set featuring a relaxed collared top paired with trousers presents a sartorial splash in silk twill or as a fully beaded glamourous spectacle.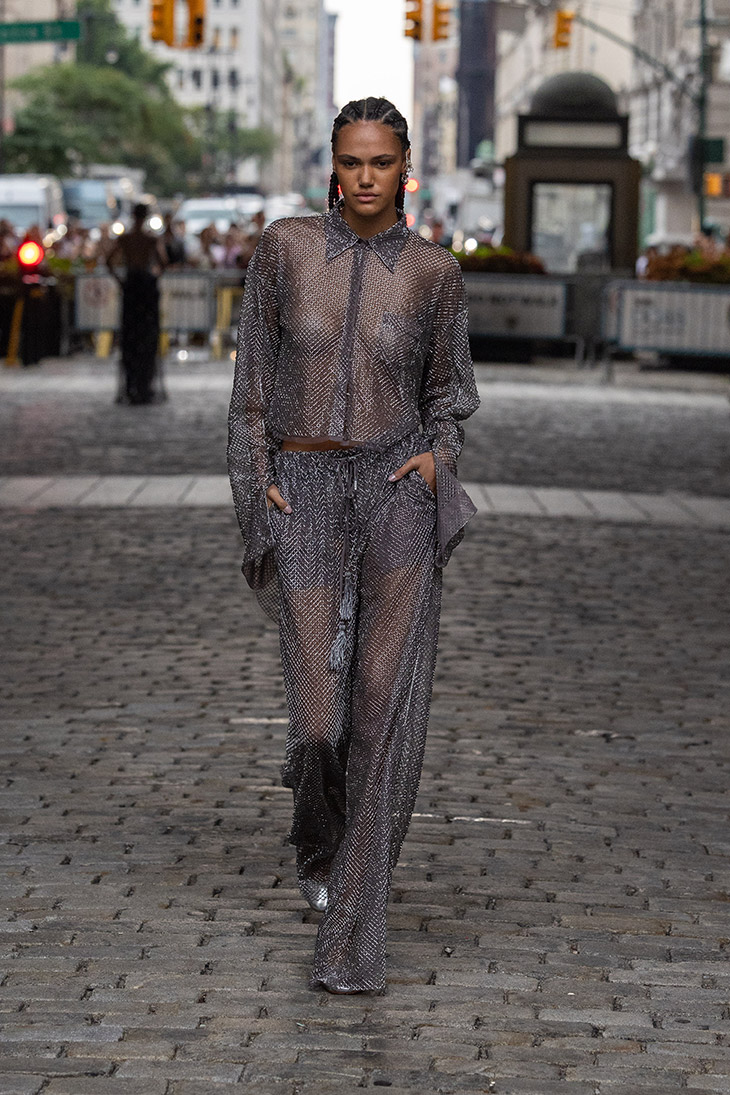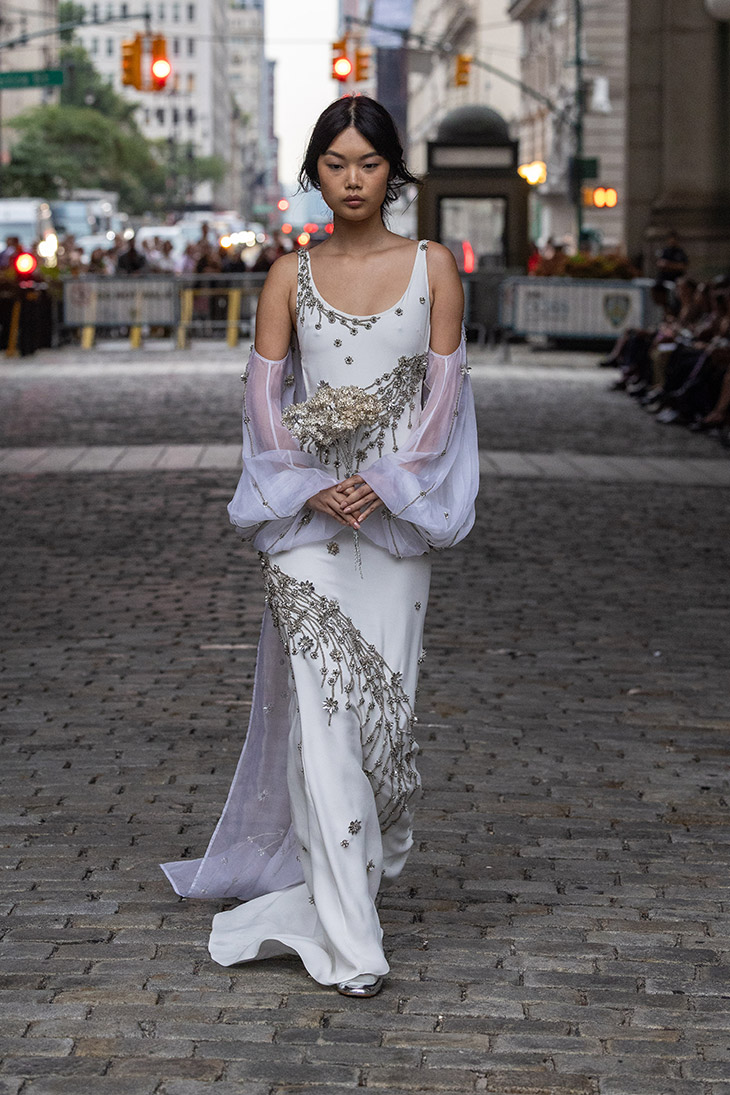 Emphasizing the brand's deep-seated love for the bustling energy of New York City, Co-Creative Director Anthony Cucculelli expressed, "We love the energy that doing a show during NYFW brings. As we are always inspired by living and working in New York City, the show allows us to really showcase that kinetic feeling live and in motion with our community"
As the sun set, giving way to a diffuse glow, the runway pulsated with the moody chaos of downtown New York's soundtrack — an edgy, twangy, and slightly wild melody that resonated with the collection's vibrant spirit. Adding a splash of celebrity sparkle, the runway saw appearances from RuPaul's Drag Race Season 12 winner, Jaida Essence Hall, along with renowned models like Nariah Noelle, Anisha Sandhu, Emma Gu, Anyon Asola, and Mijo Mihaljchic, embodying the eclectic and vibrant spirit of the collection.
The Cucculelli Shaheen Spring Summer 2024 Collection is a triumphant homage to New York City, that offers a rich tapestry of history, innovation, and the electrifying promise of the streets that inspired it.