Fashion brand Del Core debuted its Spring Summer 2024 collection, aptly named "Slices of Reverie", on Wednesday, September 20th, during the ongoing Milan Fashion Week, The collection is a harmonious fusion of architectural elegance and natural forms, capturing the complexity and simplicity that each domain brings.
SPRING SUMMER 2024 COLLECTIONS
The Del Core Spring Summer 2024 collection's creative journey started from the imagination of urban expeditions, where nature is envisioned through the lens of architecture. This balance between organic and inorganic elements yields a new incarnation of the Del Core woman – she is poised and vertical, yet effuses a delicate bloom with sculptural flaps, like a flower with a steely stance.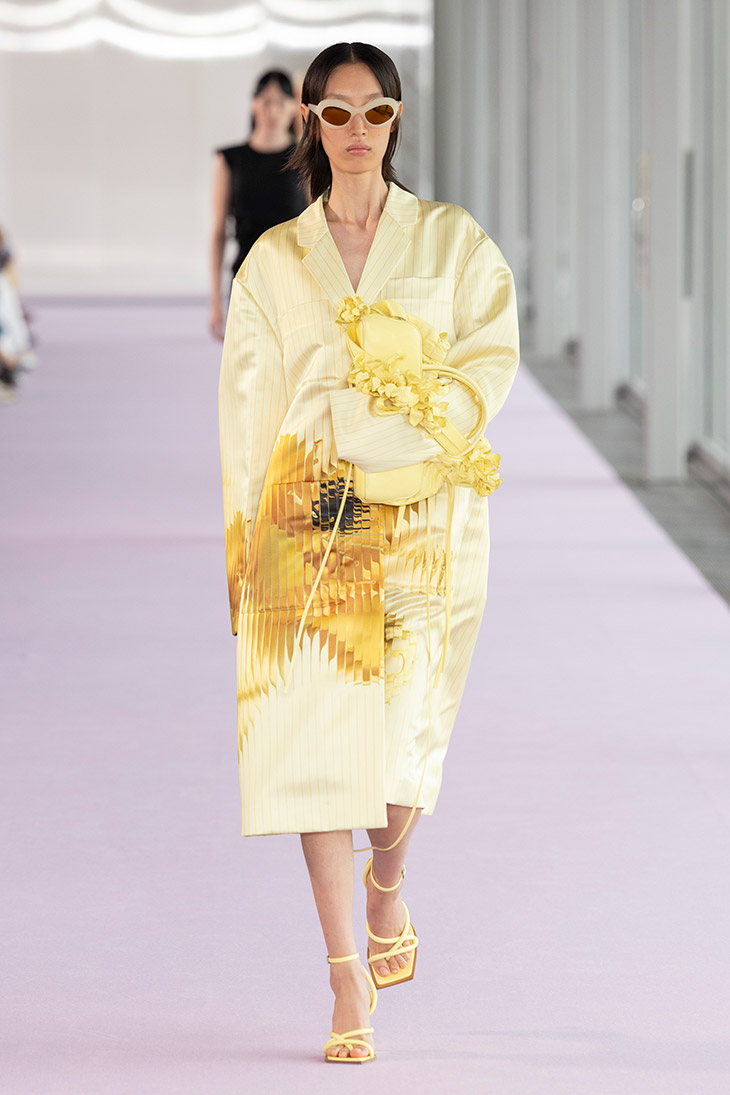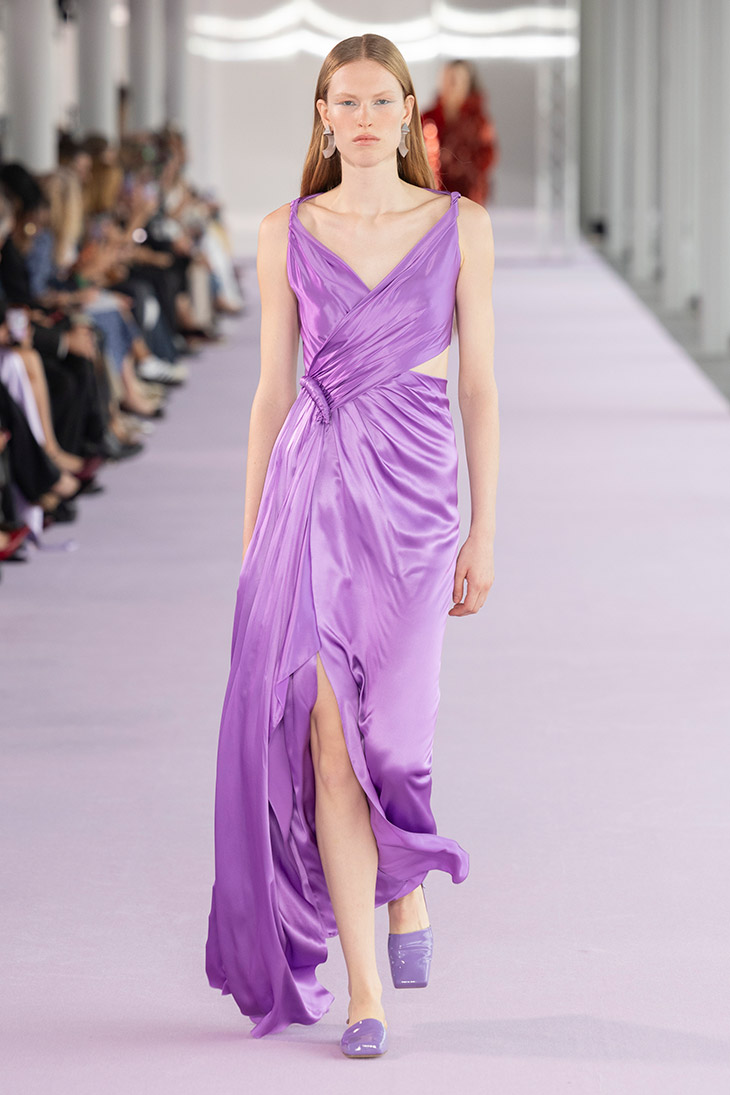 High heels or flats, the Del Core woman explores an urban angle to the very concept of "mutant glamour." She dresses in strong-shouldered tailoring, elongated and lean, with verticality accentuated by subtle pinstripes. Satin coats in the collection feature precise, sharp volumes and are emblazoned with sliced, deconstructed architectural images of flowers.
Asymmetric draping adds a layer of movement to the garments, complementing lingerie-inspired camisoles and floor-sweeping cardigans that embody a languid lightness. The collection features intricate detailing like needle-like sequins on jackets and dresses, and hard resin bustiers created with 3D printing techniques, marking a culmination of man-made and natural elements.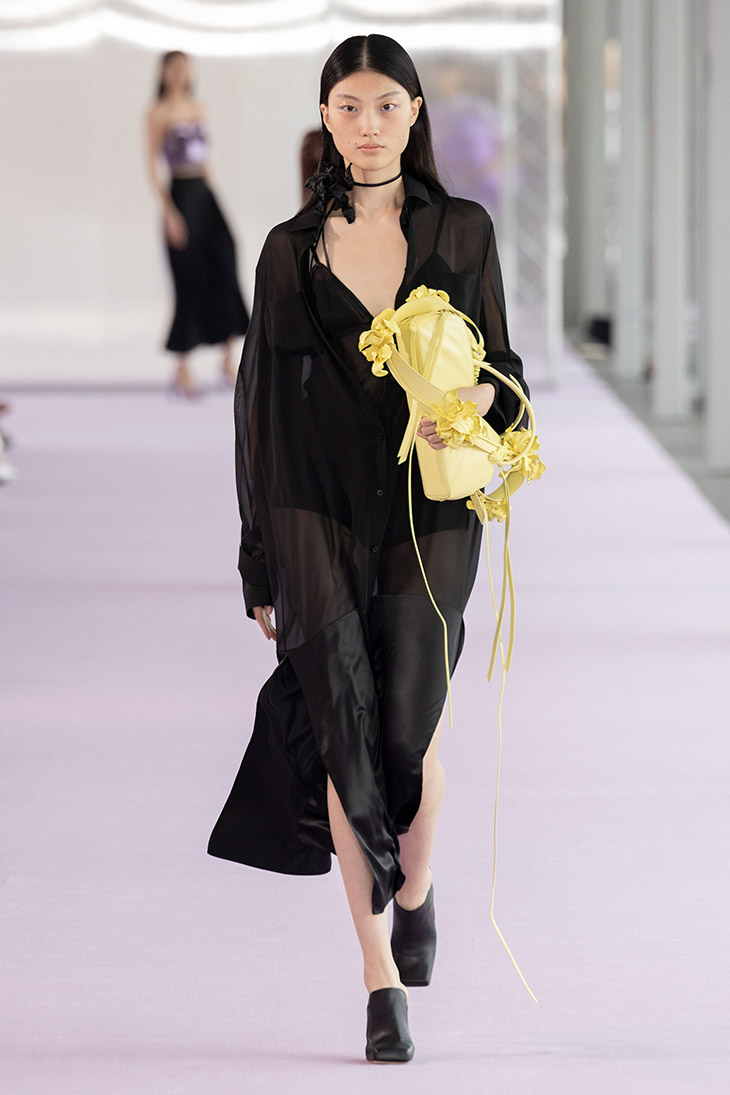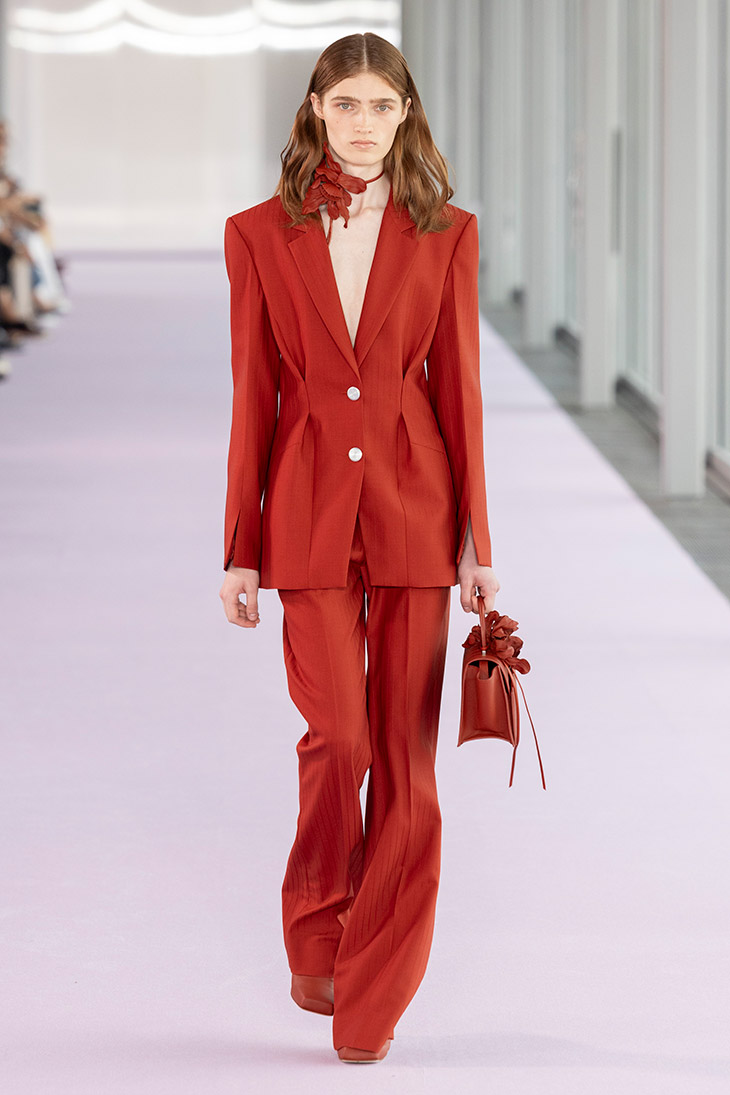 The color palette is a symphony of pale yellow, mauve, and gray, balanced by deep notes of red and black, giving chromatic life to this urban fantasy. Accessories are not an afterthought; leather flowers wrap around the neck or adorn the straps of padded bags, while sculptural earrings and graphically designed handbags act as mini-architectures for the body.
This collection reaffirms Del Core's ethos: clothing as not just a tool to change appearance, but also mindset. It's an elegant blend of form and function, of the architectural and the organic, delivering a syncretic vision for Spring Summer 2024.