Diotima, a brand birthed in the fertile grounds of artistry and craftsmanship, continues to redefine the contours of Caribbean style with its Spring Summer 2024 collection titled "Nine-Night". The fusion of history with contemporary fashion finds a fervent advocate in Rachel Scott, the visionary founder and creative director behind Diotima, who intricately crafts narratives that resonate deeply with her Jamaican heritage.
SPRING SUMMER 2024 COLLECTIONS
In Diotima Spring Summer 2024 collection, the collaboration between Scott and renowned artist Laura Facey takes a central stage, metamorphosing into a form of exquisite corporeal representation. The inception of this collaboration was somewhat serendipitous, stemming from Scott's profound connection to Facey's hauntingly evocative exhibition, which led her on a journey of reflection upon the Caribbean's complex history and the legacy of slavery. Their online connection blossomed into a vibrant creative partnership, grounded in mutual respect and a shared vision of interpreting the haunting energies that pervaded Facey's original exhibition.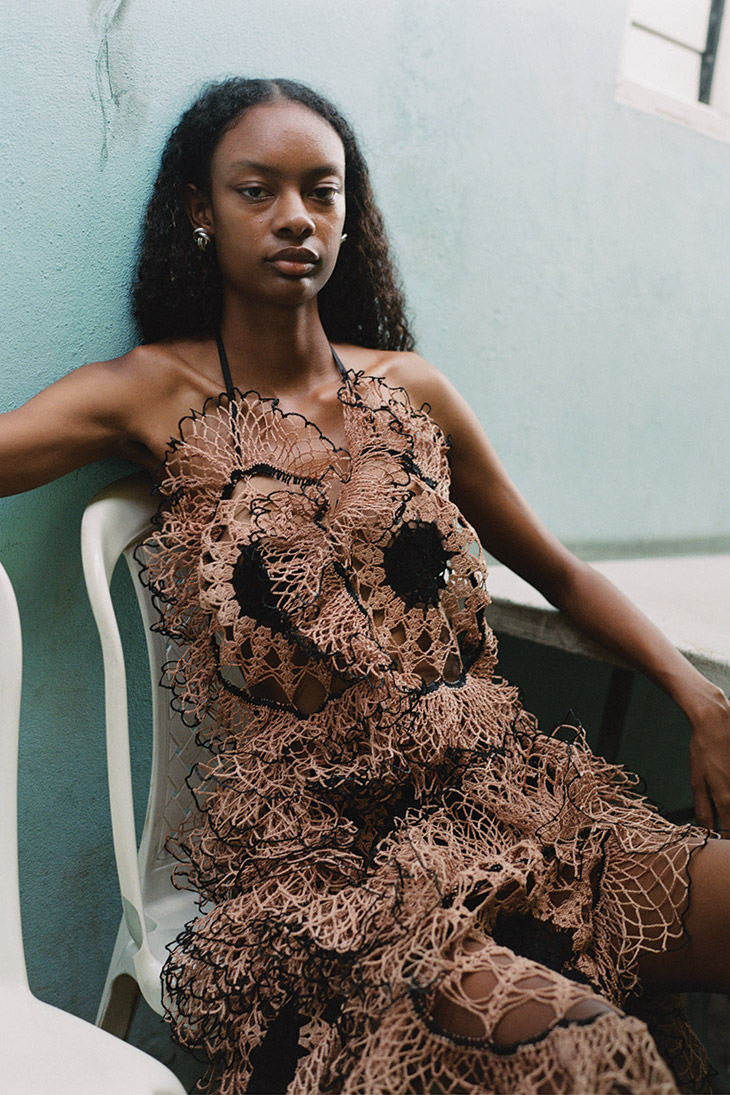 Within the "Nine-Night" collection, elements from Facey's work find new life and embodiment. A striking example is the transformation of the chalk drawing "Seed", created in 2022, into a print on cotton. This piece has been preserved in its entirety, with Scott masterfully draping it around the body to create a visual narrative that is as poignant as it is innovative. Miniature versions of Facey's wood-carved hearts also find a home in the collection, strung delicately from the neck, abdomen, and ear, forming a harmonious blend of art and fashion that echoes with the heartbeat of Jamaica.
Scott's trajectory as a designer has been nothing short of a homage to her rich cultural background. Launched in 2021, Diotima emerged as a vibrant bridge between the traditional and the contemporary, with a keen focus on nurturing artisanal communities in Jamaica. The brand stands as a beacon of sustainable fashion, fostering autonomy within the communities at the frontline of climate change effects.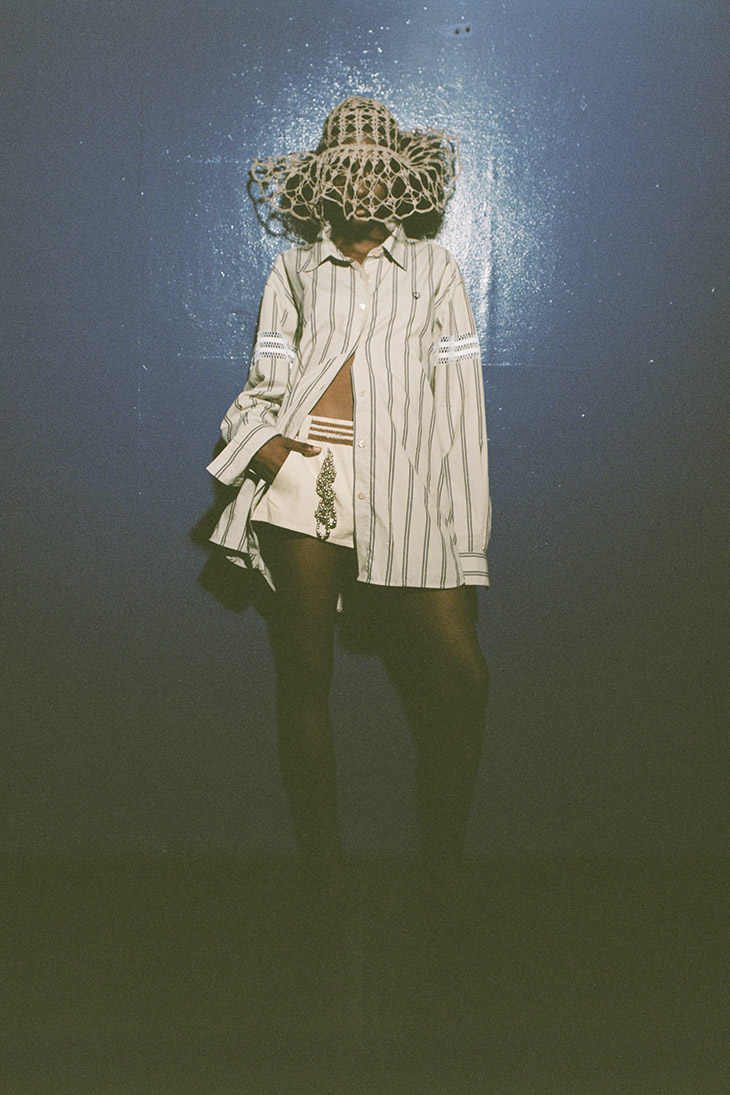 Every piece in the collection narrates a tale that goes beyond mere fabric. The craftsmanship reveres the savoir-faire of Jamaican artisans, weaving heritage tweeds from the UK with tropical wools and basketweaves from storied Italian mills. It's a dialogue that harks back to the connections forged during the Windrush era, and a conscious effort to expand the definition of luxury beyond the confines of Europe.
At its core, Diotima embodies a form of sustainability that transcends materiality. Scott advocates for an approach to fashion that isn't exploitative but rather nourishes the roots from which it springs. Through limited, made-to-order collections, the brand champions responsible production, focusing on the beauty and craftsmanship that can only be achieved through a deep respect for both heritage and the environment.
As Diotima continues to evolve, it stands as a testament to Scott's dedication to crafting a fashion narrative that is both expansive and deeply rooted in her Jamaican heritage. Through the lens of Eros, as taught by the enigmatic figure of Diotima in Plato's "Symposium", Scott seeks to build anew, creating a sartorial love letter to beauty itself – a vision that promises to redefine the paradigms of fashion and sustainability in the modern era.