Fashion house JW Anderson has showcased a remarkable Spring Summer 2024 Womenswear Collection during the ongoing London Fashion Week on September 16th, breathing fresh life and ingenuity into the world of fashion. The collection is a poetic fusion of pragmatism and playfulness, where garments are envisioned not merely as clothes but as pieces that invite interaction, misusage, and a touch of playful irreverence.
SPRING SUMMER 2024 COLLECTIONS
The collection epitomizes a playful exploration into the realms of proportions, where clothes are not confined to conventional boundaries. They shrink, curve, tilt, and expand, promising a dynamic wardrobe that celebrates both the mundane and the extraordinary. This visionary approach births garments like the hoodie, the perfecto, the bomber jacket, and the blazer, each piece offering a clear purpose yet coupled with a crafty, innovative twist.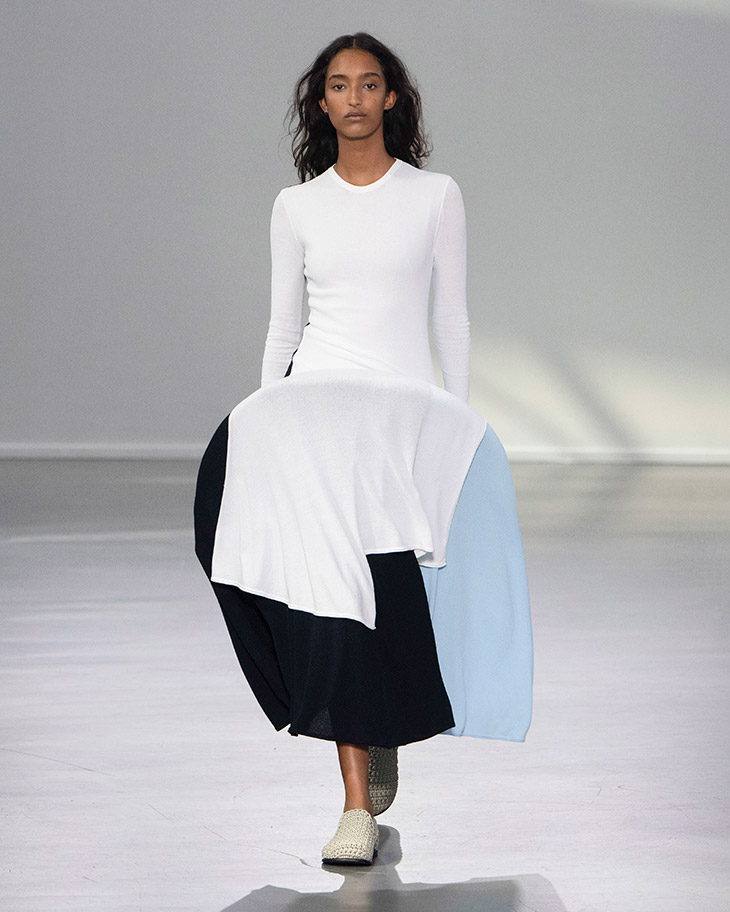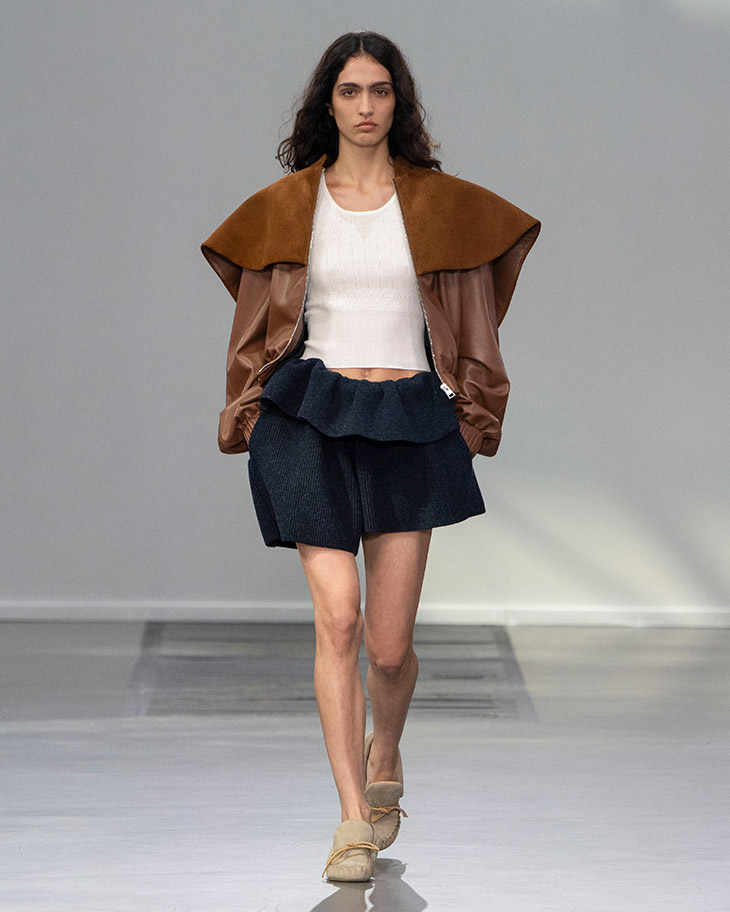 Beyond the functional appeal of the clothes, the collection ventures into the artistic domain. Elements like padding, knotting, and draping lend a touch of artistry to everyday items, while the crochet and moulding techniques introduce a palpable texture and depth, giving rise to a plainness that is anything but plain. It's fashion with a hint of fun, a functionalism kissed by the playful muse.
The JW Anderson Spring Summer 2024 collection unfolds a narrative where the lines between daily wear and art blur. Everyday staples morph into wearable art pieces, with the act of manual moulding replacing traditional draping methods. Sublime simplicity is captured by tactile pieces that find unexpected partners, creating looks that are undone yet impeccably coordinated.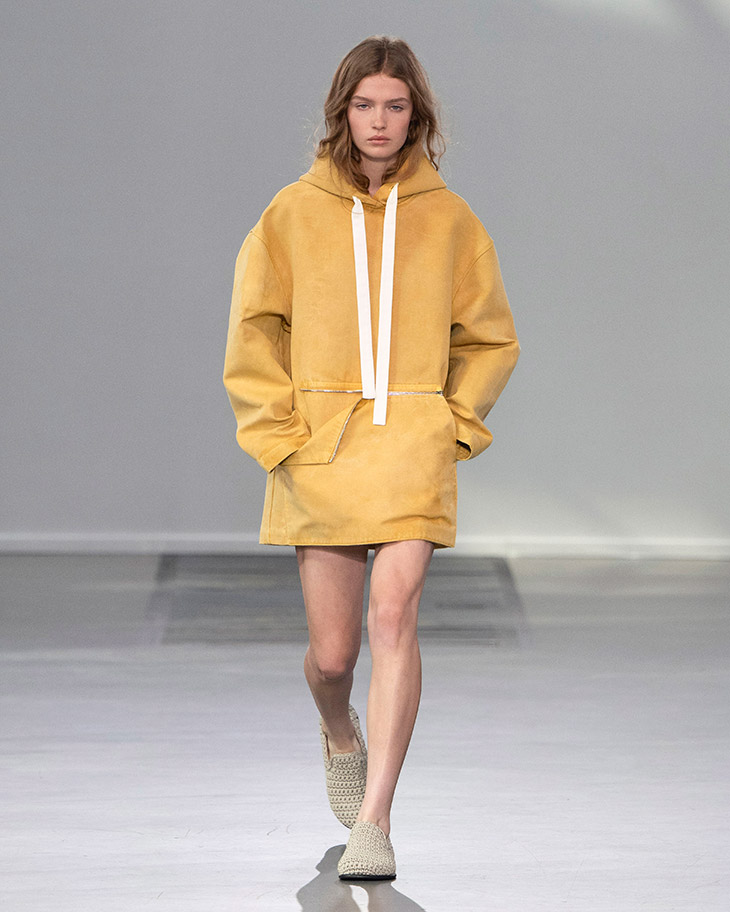 For the season, designer Jonathan Anderson brings inflated sportswear – the exaggerated forms meet airy silhouettes, resulting in a vibrant explosion of volume and extreme texture. The colour story here is rich and earthen, punctuated by bursts of saturated hues, feather sprays, and elements boasting a high-shine finish, crafting a visual symphony that resonates with modern sensibilities.
Not forgetting the allure of the night, the collection redefines elegance. Traditional evening dresses are transformed, with unconventional curvatures at the waist and striking details that break the monotony of softness. A glimpse of a jarring wing detail or a rigidly curved form beneath a skirt's hips bring a dramatic twist to the ensemble, promising an evening look that is both chic and avant-garde. The collection also brings lightness with a twist – soft, draping forms float gracefully on the body, with materials intricately crossing and weaving around in suspended harmonies. It's a delicate dance of fabric, encapsulating grace and innovation in equal measure.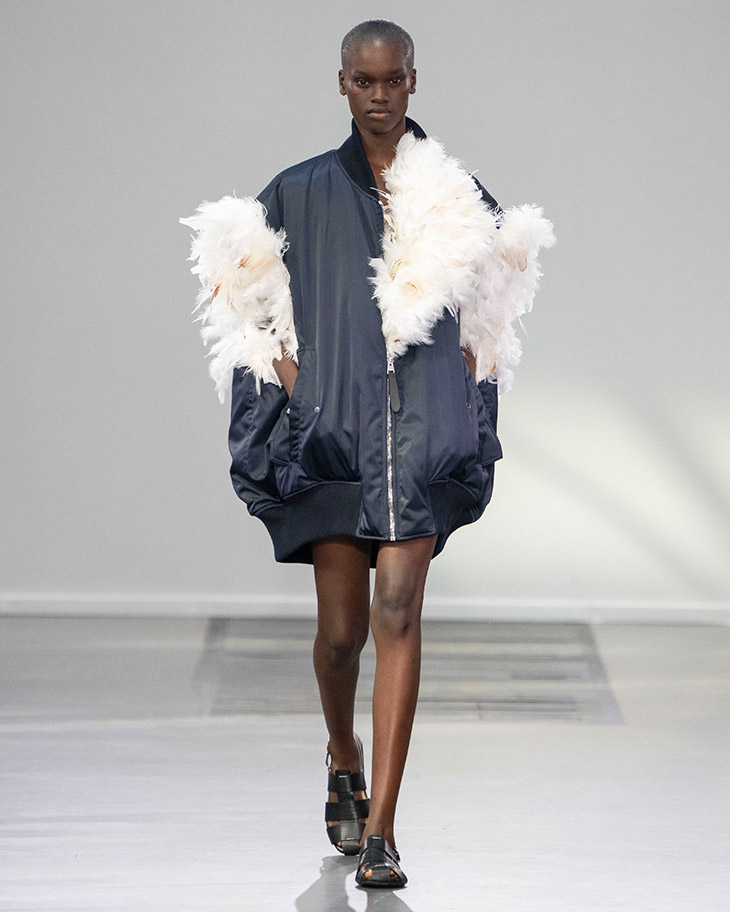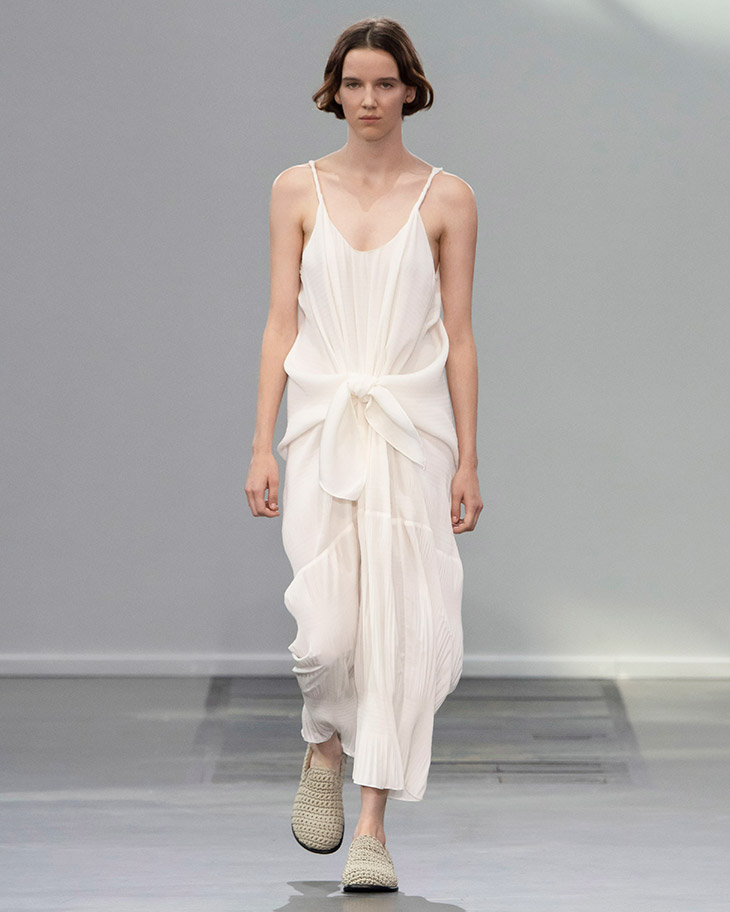 For the season, "The Corner Bag" is reimagined in monochrome hues inspired by citrus peel and a clay-like tonal chain link. Its soft trapeze silhouette with rounded edges, adorned with a distinctive pinch detail and chain link. The spirit of innovation and craftsmanship defines the JW Anderson Spring Summer 2024 Womenswear Collection.